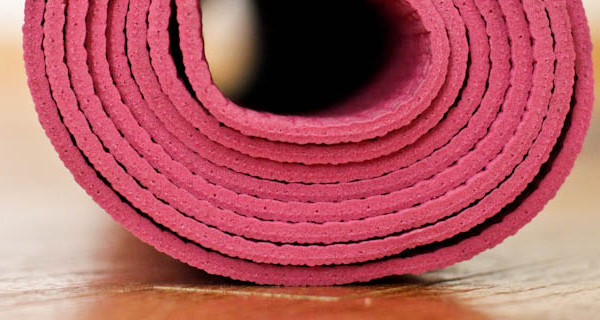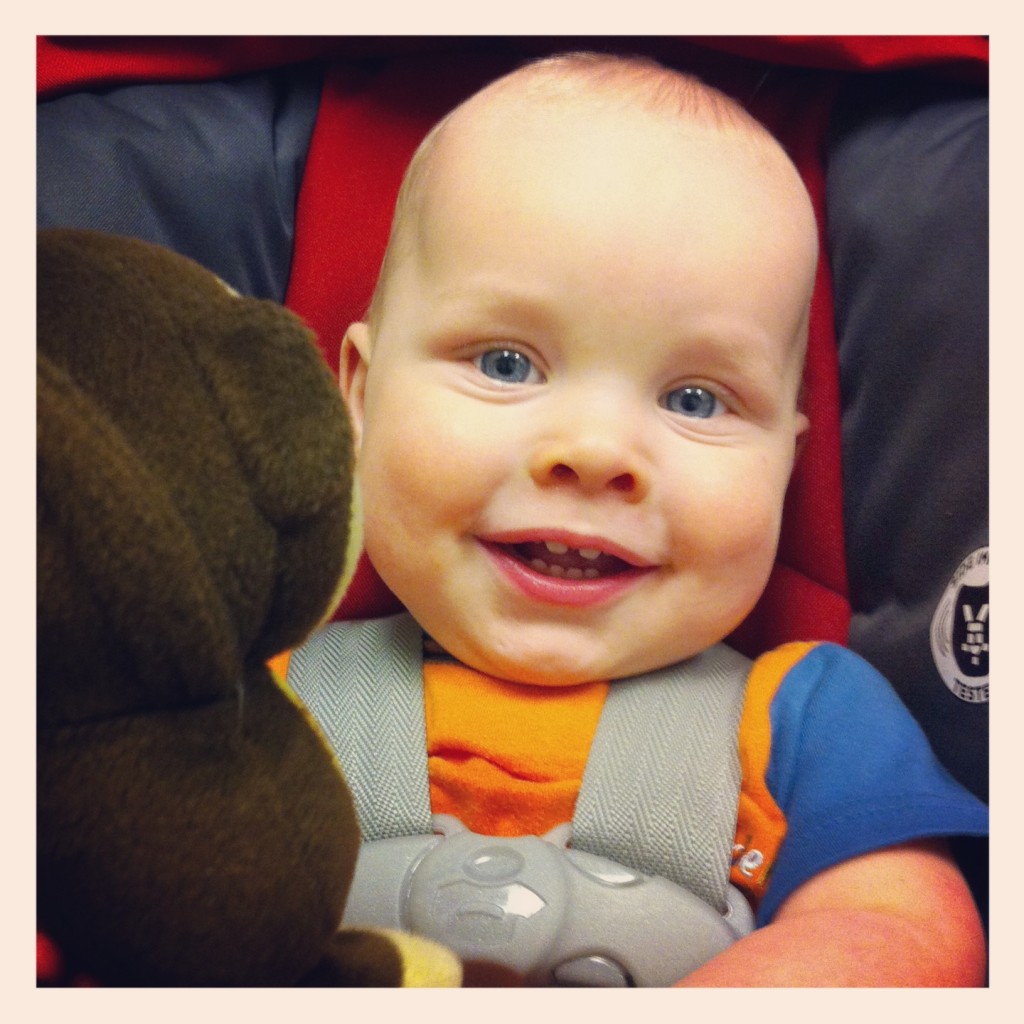 I am 8 months post partum and the sleep deprivation of the first months of L's life is starting to wane. It's amazing what a little sleep can do for your energy levels! Our routine is starting to develop and I feel that I can finally put some real focus and determination into my workouts, which I am loving!
All of my skinny pre-L, post-M clothes are starting to fit and I am gaining my confidence back. Having babies and the resulting weight gain/body changes can be difficult to digest. For me, the insecurity that I felt from being overweight most of my life started to creep into my mind again. The self-doubt can be extremely toxic and clouds my mind in really nasty ways. I thought that I was free of all of that garbage, but here I am 4+ years later dealing with it once again.
I sometimes find myself discrediting the progress that I have made so far (I've lost 35+ pounds and SO MANY inches in the last 8.5 months) in addition to creating doubt in my ability to fit back into my size 4/6 clothes (seriously, I've done this twice before, I know what I'm doing and how to best take care of my body… why doubt myself and the Lord?).
I have been working out since I was cleared by my midwives at 6 weeks post-partum, but have been fitting in workouts during naps, episodes of Sesame Street and my evening adult time with Allan. Honestly, making time for a workout was starting to rule my day and I hated it. I found myself resenting my kids when they would wake early from a nap and interrupt my workout, I was unhappily behind on my daily to-do list and purposely missing playdates and running errands in favor of trying to squeeze in a sweat session. All in the name of what? vanity? endorphins? a smaller jean size? It was seriously NOT worth it. I vowed to myself that once L was waking once per night (or less) I would make it a point to be in bed by 10 PM and up for the day by 5:30 or 6 AM to fit in my workout and get ready for the day prior to breakfast with my family.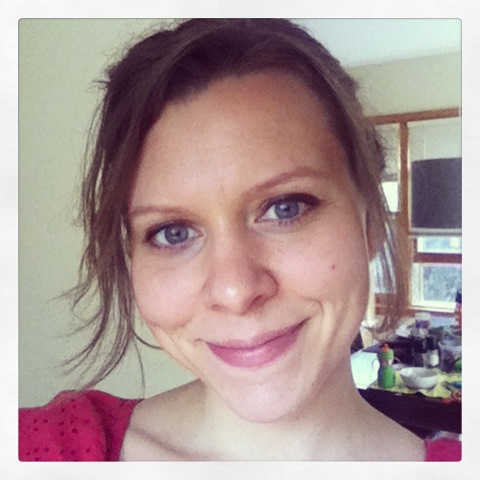 L has been sleeping really well for the last few weeks. So, it was time to follow through with my promise to myself. It's taken a little bit of work, but I am FINALLY following through.
So, what am I doing to motivate this night owl into becoming a morning person?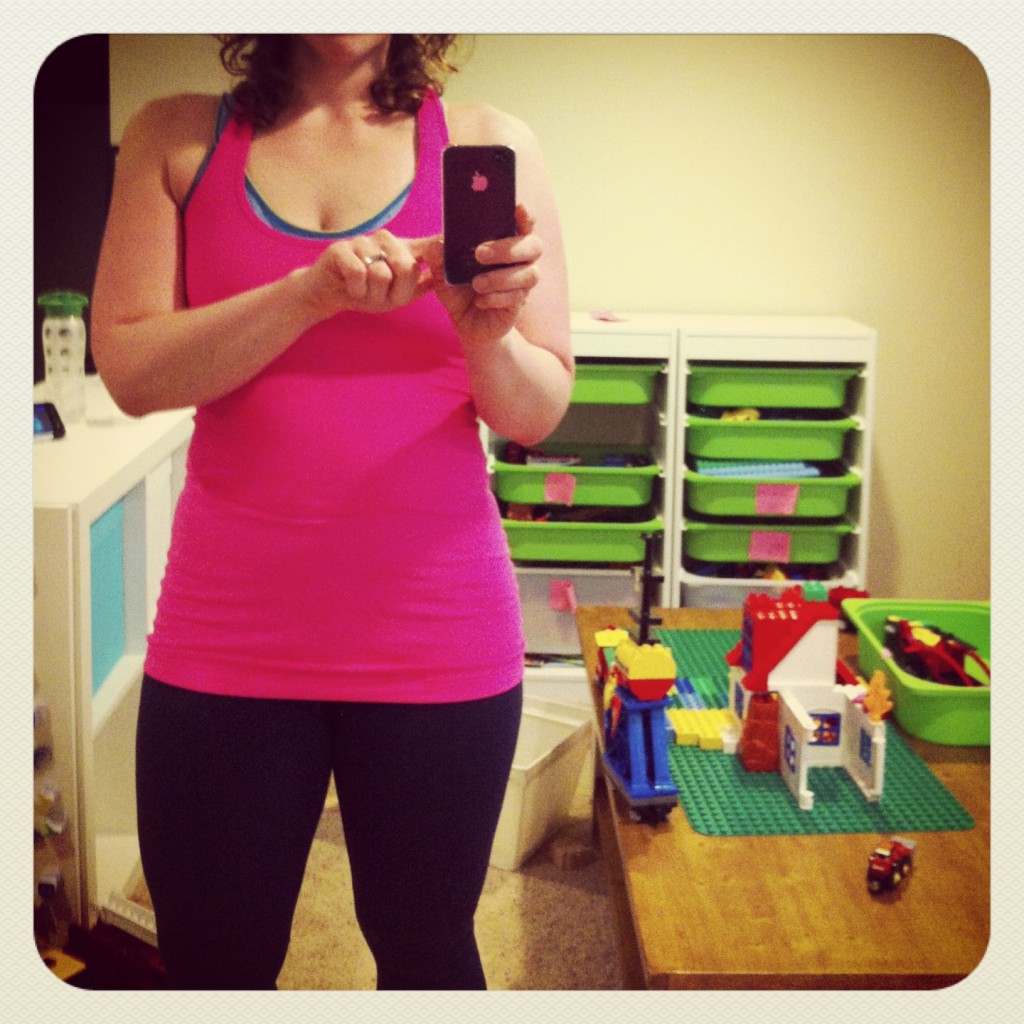 First of all, I bought some new Lululemons.

I got my first ever pair of wunder unders (on sale!), a tank that doesn't ride up while doing inversions and a pair of crops that are perfect for sweaty cardio sessions. Yes, they were expensive, but thankfully I was able to find some of it on sale. Quite honestly, I am going to wear these items over and over again. Plus, I feel hot in them, which helps to keep me motivated to wake up and workout. Sometimes I find myself hanging in my workout clothes all day long because I love them so much. P.S. nursing mamas, check out the Moving Comfort Rebound Racer Bra
 it gives fabulous support, plus the straps have velcro for easy access.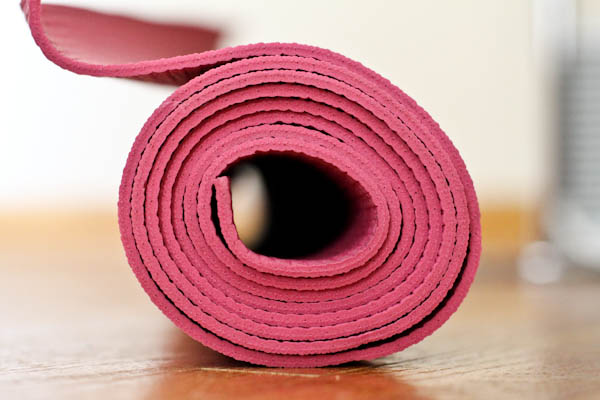 I am back on my mat. I bought a package at Blooma to use on Barre and Vinyasa classes. I loved Blooma's prenatal classes when I was pregnant with L and was so excited to go back to enjoy the classes they offer for mamas that aren't expecting. I recently stopped attending Barre classes, because I felt that they were aggravating an existing hip injury that I sustained while pregnant. However, once my hip heals up, I plan to try going back, because I loved the energy of the class. My favorite class, though, is the Thursday 6 AM vinyasa flow class taught by Nan. I've only been twice, but both times she has completely pushed me out of my comfort zone and empowered me in so many ways. The class is life changing. Plus, I learned how to do a headstand and a handstand!
I bought a new strength training book. I loved Rachel Cosgrove's, The Female Body Breakthrough
, when I read it and completed the strength training plan before getting pregnant with L. So, when I saw that Rachel was releasing a new book, Drop Two Sizes
, I immediately pre-ordered it. This week I began the strength training program and it does not disappoint. I can already feel my body responding and changing!
I signed up for a Zumba class. My friend, Renea, teaches a Zumba class once per week through Community Ed and I jumped at the chance to, once again, shake my booty with a room full of women. We have such a great time and Renea is a wonderful instructor. I leave class dripping with sweat, confident, silly and free. It's the perfect mid-week refresh and a serious calorie torcher.
This is what my weekly workout schedule looks like:
Monday: 6 AM Full body lifting session at home, per Drop Two Sizes
Tuesday: Evening Zumba class
Wednesday: 6 AM Full body lifting session at home, per Drop Two Sizes
Thursday: 6 AM Vinyasa or active rest
Friday: 6 AM Full body lifting session at home, per Drop Two Sizes
Saturday: Optional metabolic workout, per Drop Two Sizes
 or active rest with the family
Sunday: Active rest with the family (walks, bike rides, playing in the yard or gardening)
Namaste!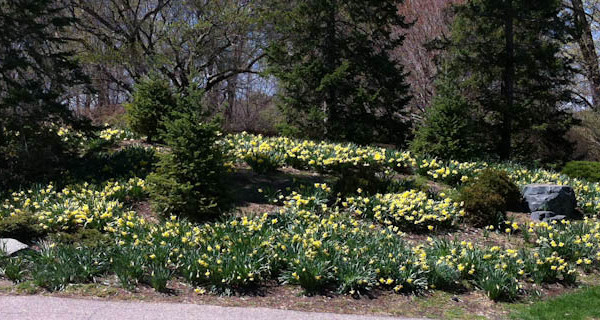 Yes, I know it's late in the day on Friday and a new weekend is upon us, but, I DO want to talk about LAST weekend. Please indulge me for a moment… we are still playing catch up from Allan's trip to St. Louis last week, where he judged the AIGA St. Louis design show. We missed him while he was gone, but I am so proud of the man that my husband is becoming. It's really cool to see others realizing what I've known all along – Allan is an amazingly talented man.
On Friday our playdate was cancelled due to pink eye, so we accompanied my parents to the MN Landscape Arboretum, which was free for the day. It was such a beautiful place and we will definitely be back as a family to roam the gardens and pick up tips for our own yard. Their toddler play area inspired me to create a special space in our back yard especially for the kids to experience and play with nature.
Luke was unimpressed.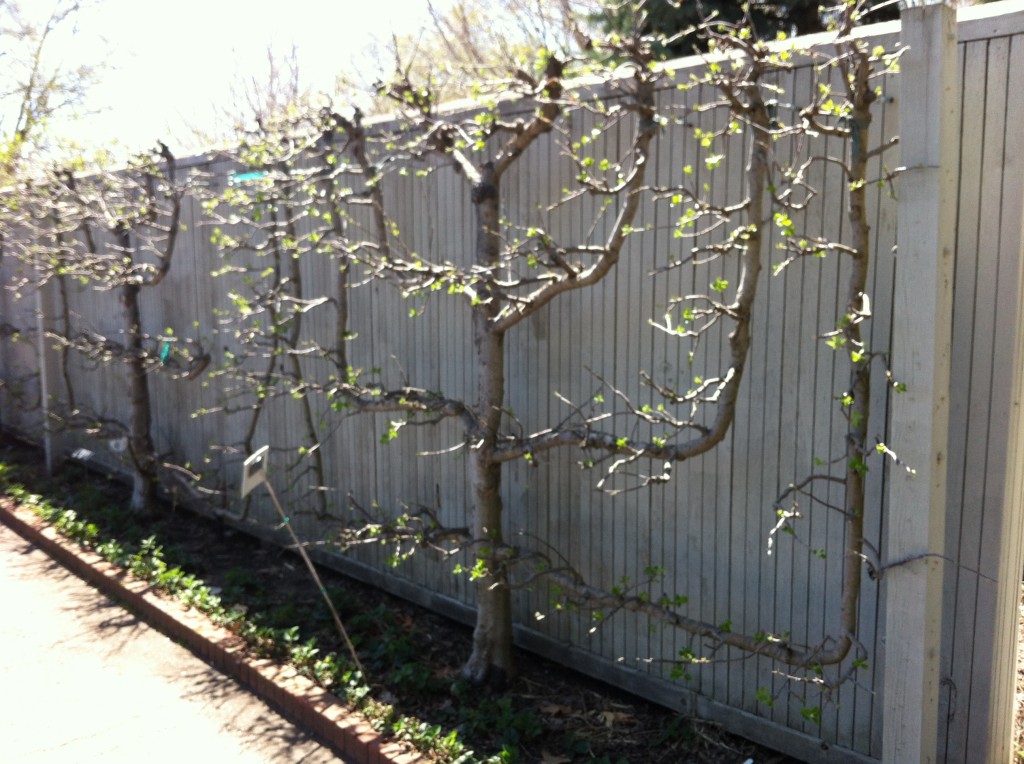 These are apple trees that were trained to grow along this fence. Here is a description of the method used to train the apple trees. I would love to do this with a row of honeycrisp apple trees!
Daffodils in full bloom!
On Saturday we went to opening day of the Mill City Farmer's Market with my parents.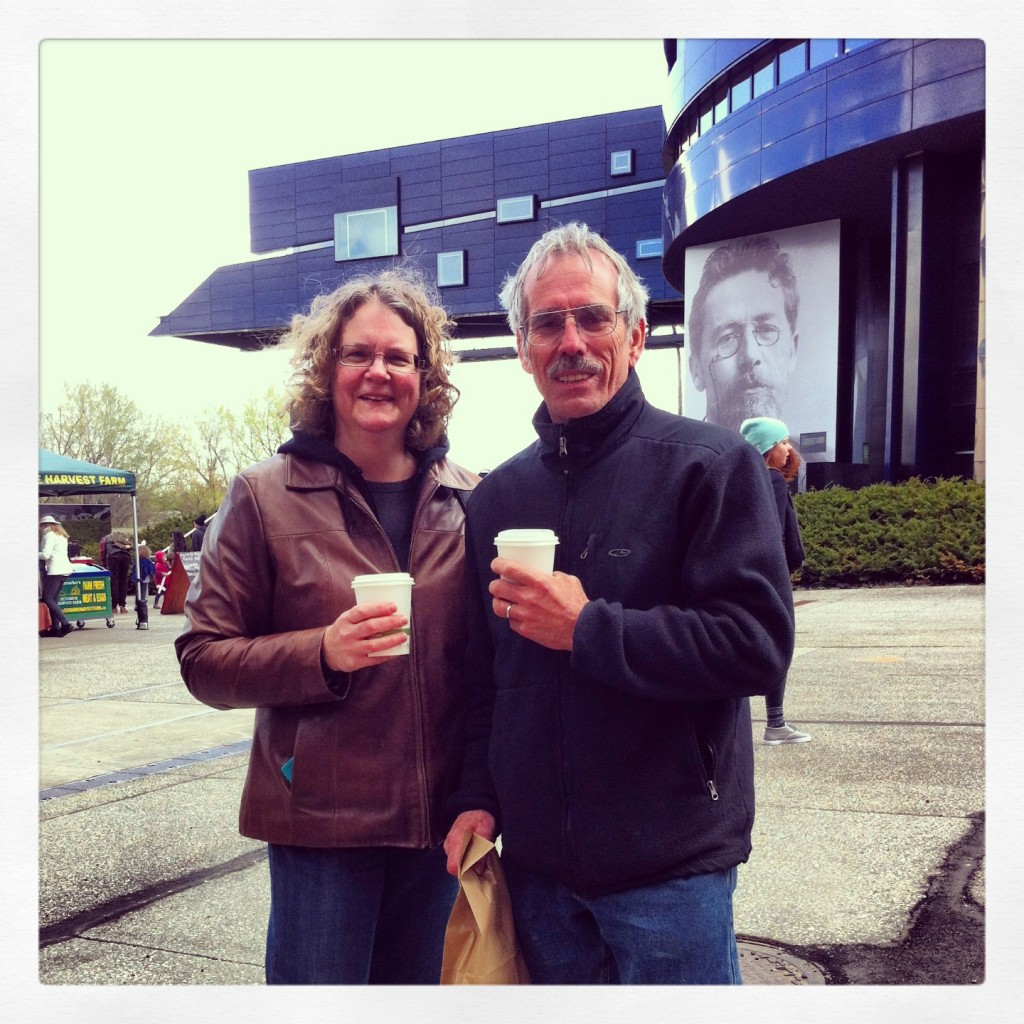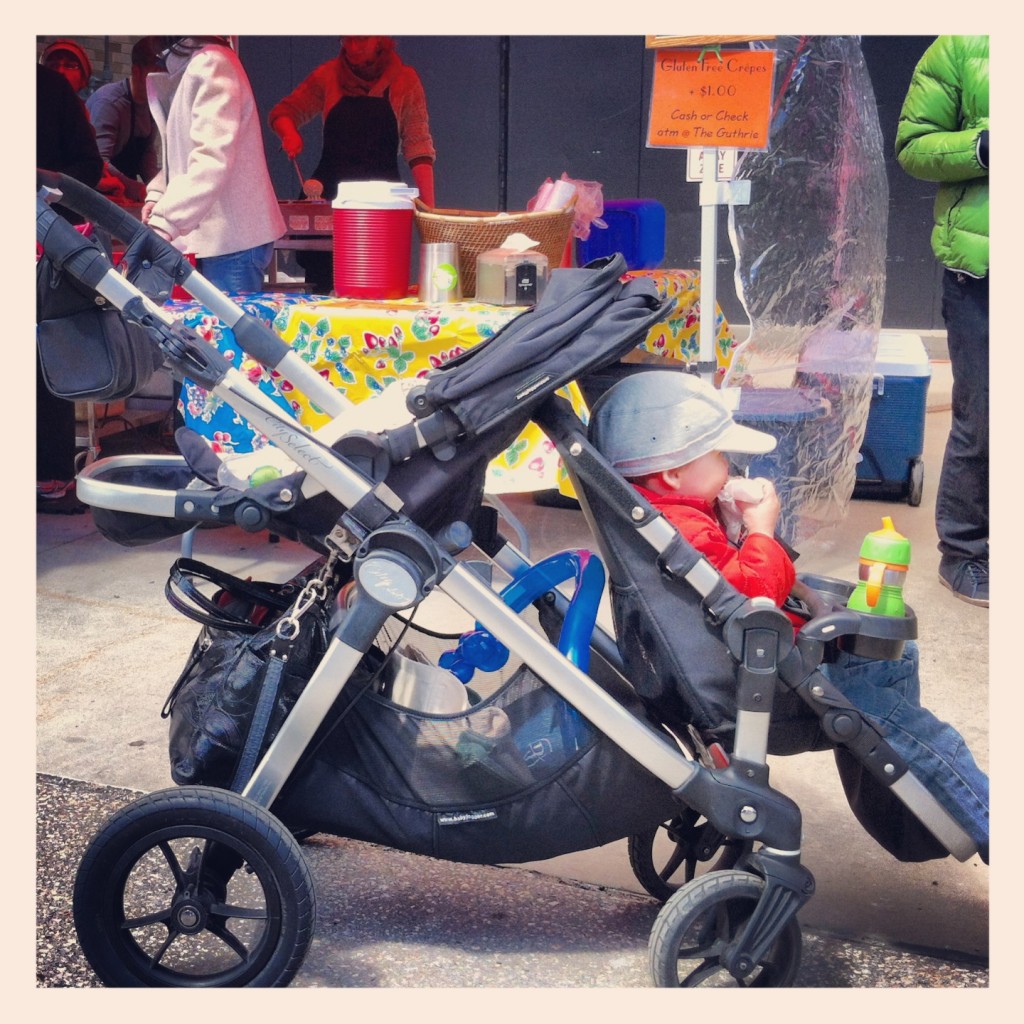 Rollin' deep in front of the Spoonriver crepe tent!
Before we switched to a gluten-free diet, we loved to stop by the Spoonriver crepe stand while at the market. So, we were so excited to see that Spoonriver now makes gluten free (and dairy free!) crepes.
M and I split a honey and cinnamon crepe – it was amazing! I was only able to talk M into sharing a small piece with me.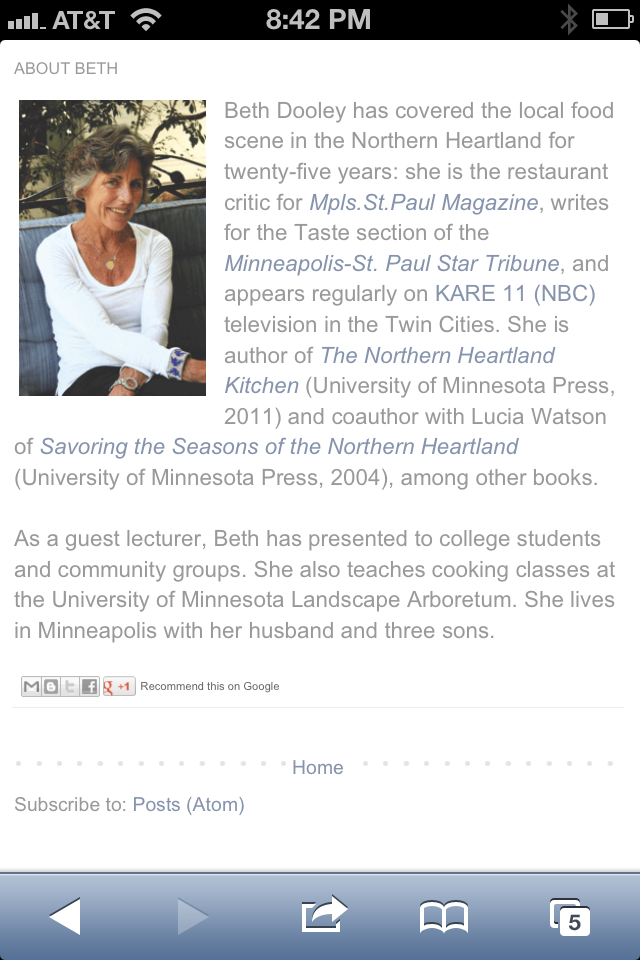 While at the market I met the inspiring, Beth Dooley, who signed my copy of her new book, Minnesota's Bounty: The Farmers Market Cookbook
. I am so pumped to start cooking from this book!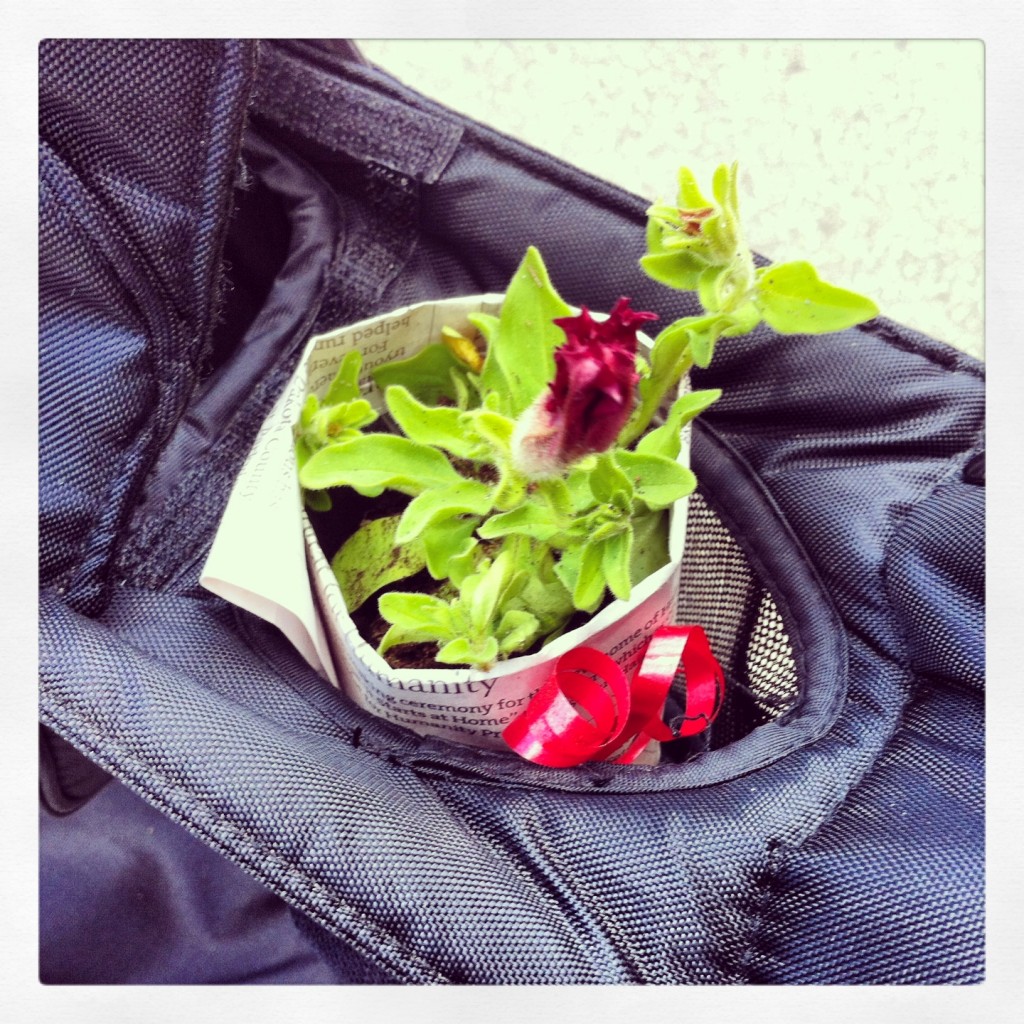 The flower that M planted for me for Mother's Day.

On Sunday we spent the day as a family brunching at my favorite restaurant, French Meadow, then we had everyone over to our house for dessert.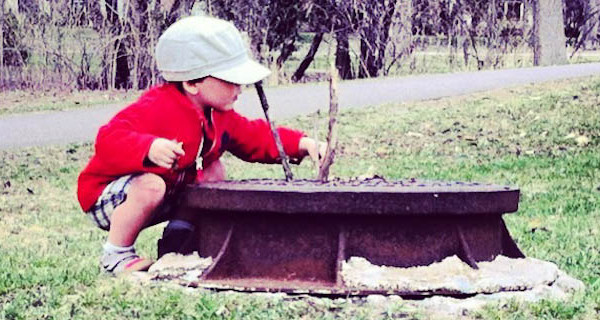 Here are a few of the things we have been enjoying lately.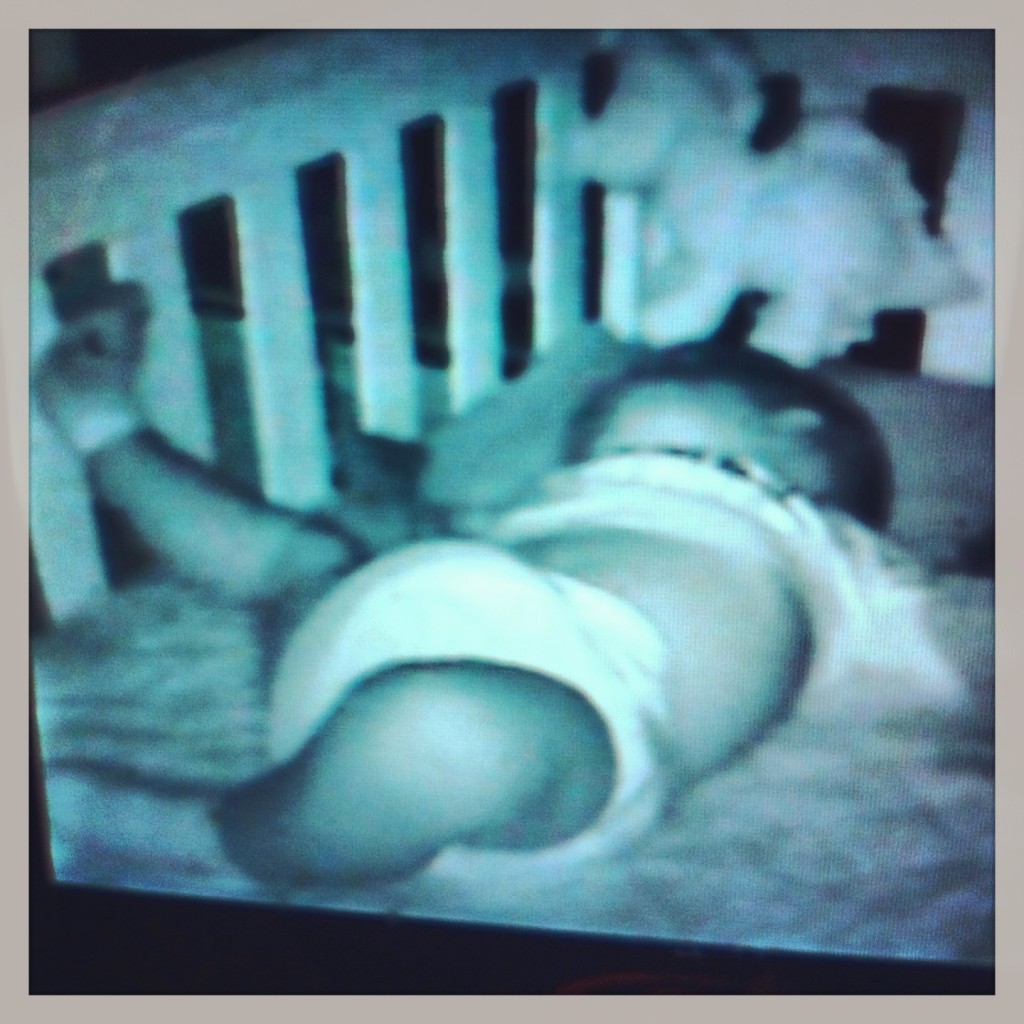 1. Lots of restful, bliss-filled naps.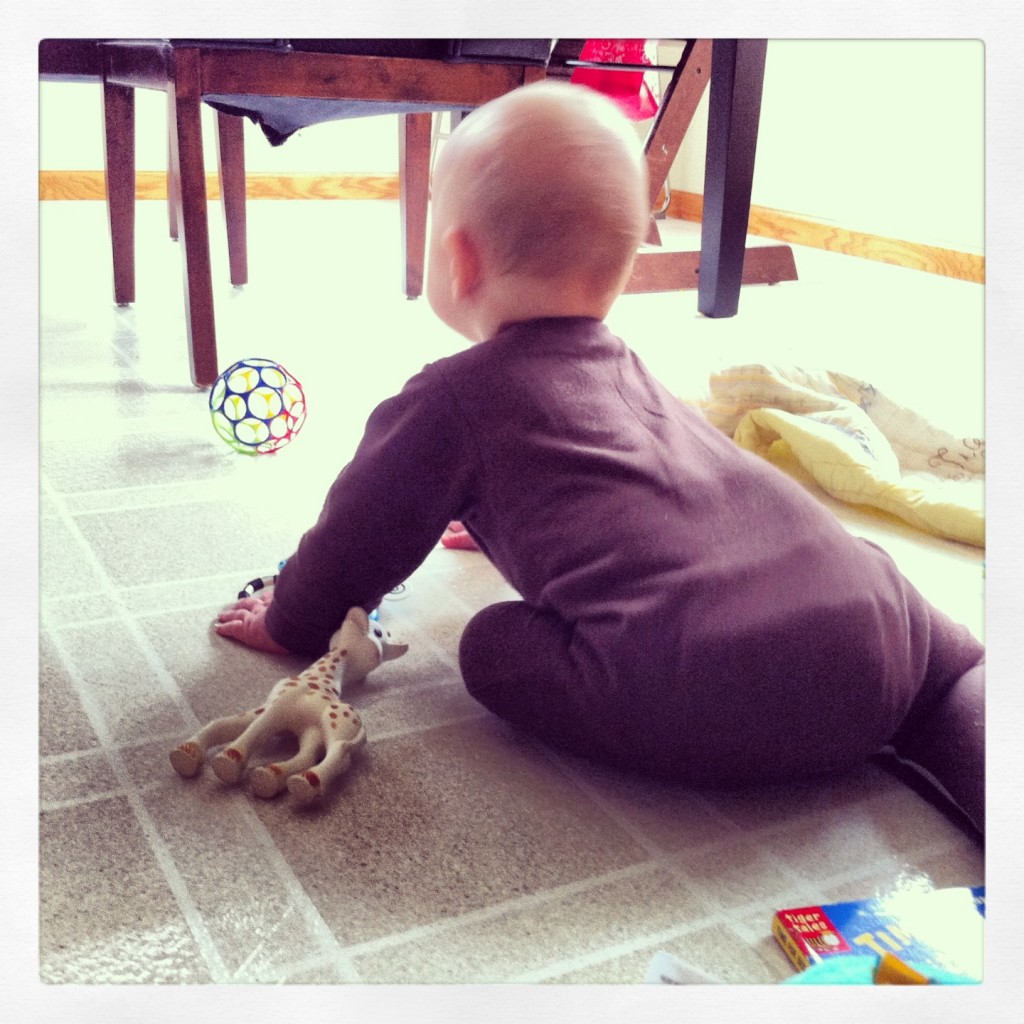 2. Interest in crawling.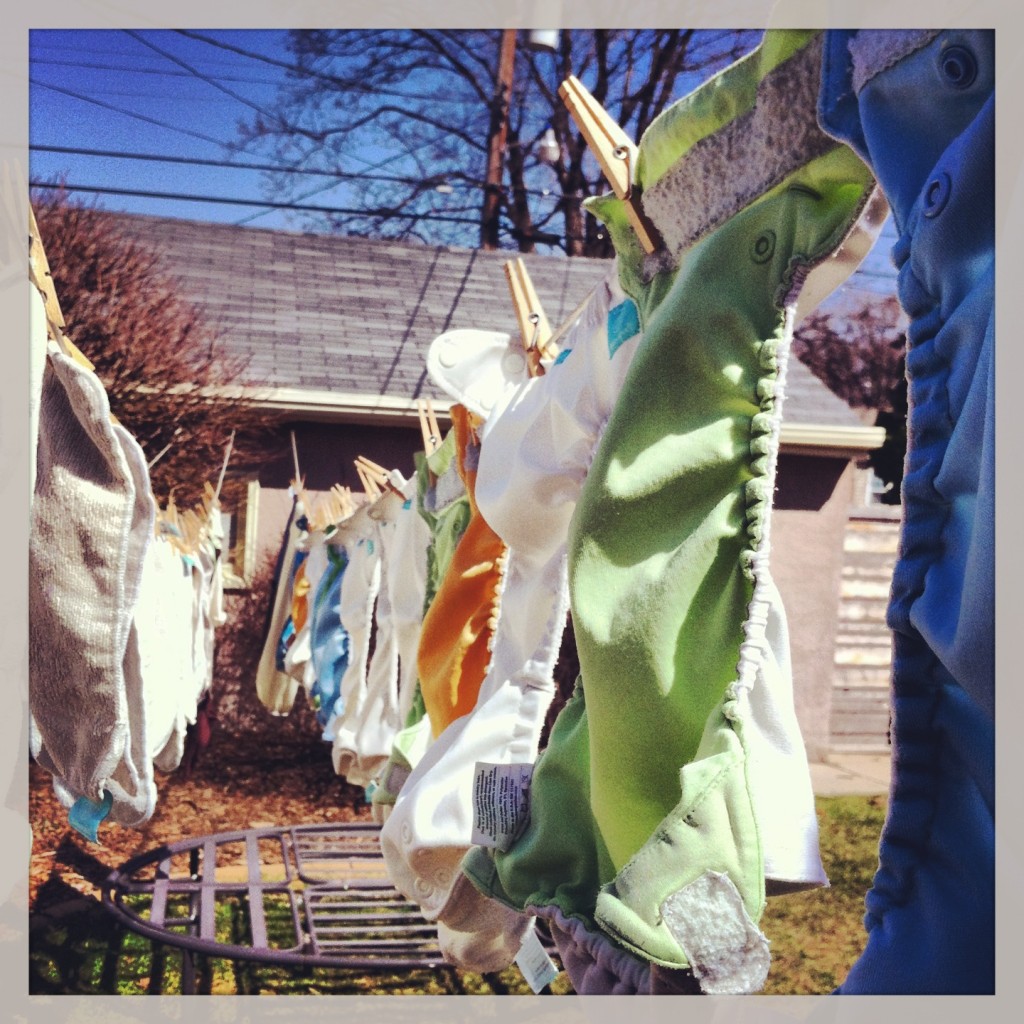 3. Freshly sun dried diapers.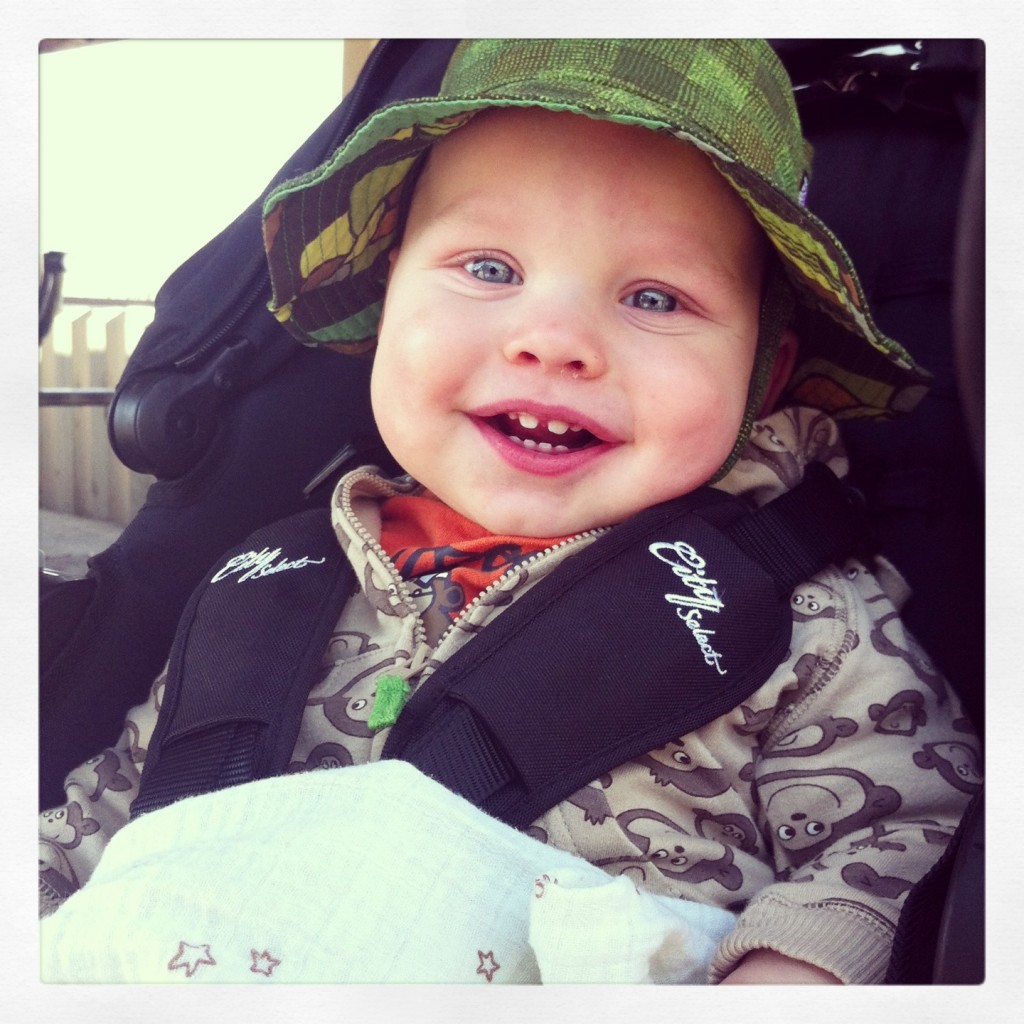 4. Sun-filled trips to the Zoo.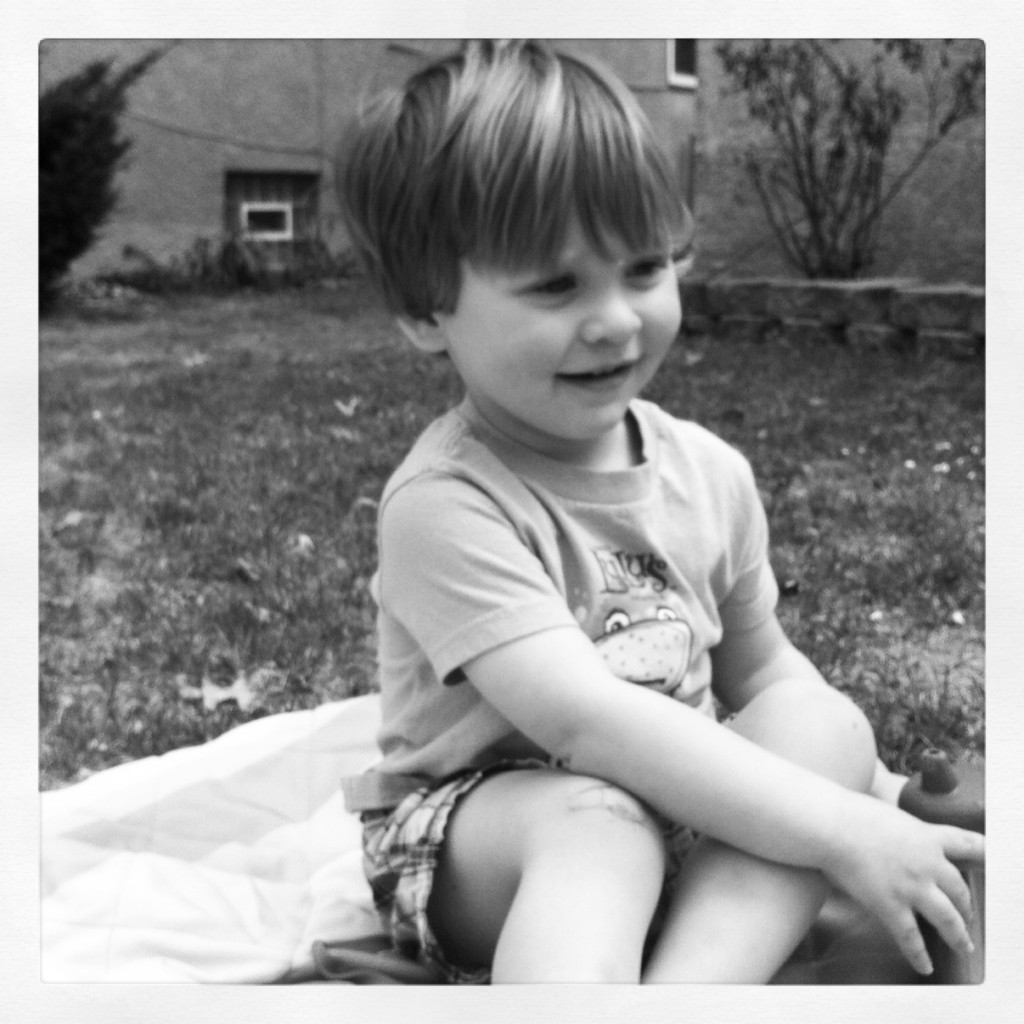 5. Picnics in our front yard.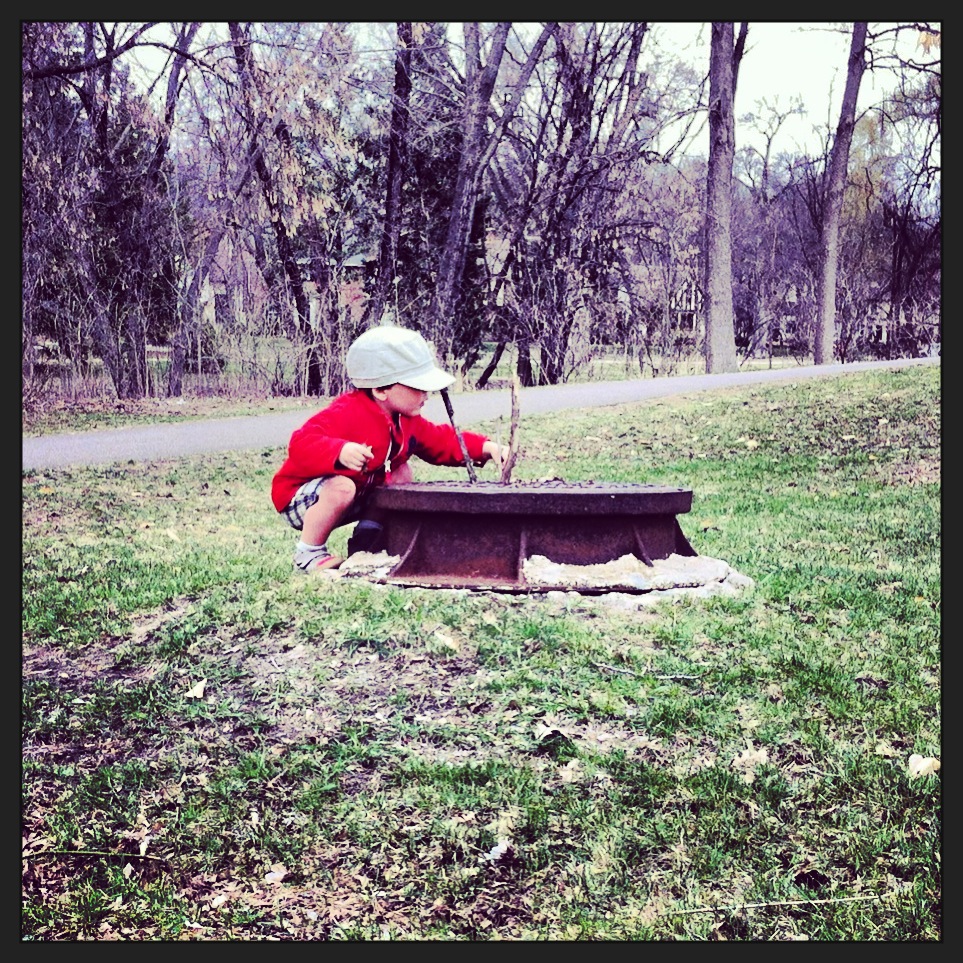 6. Nature walks along the creek.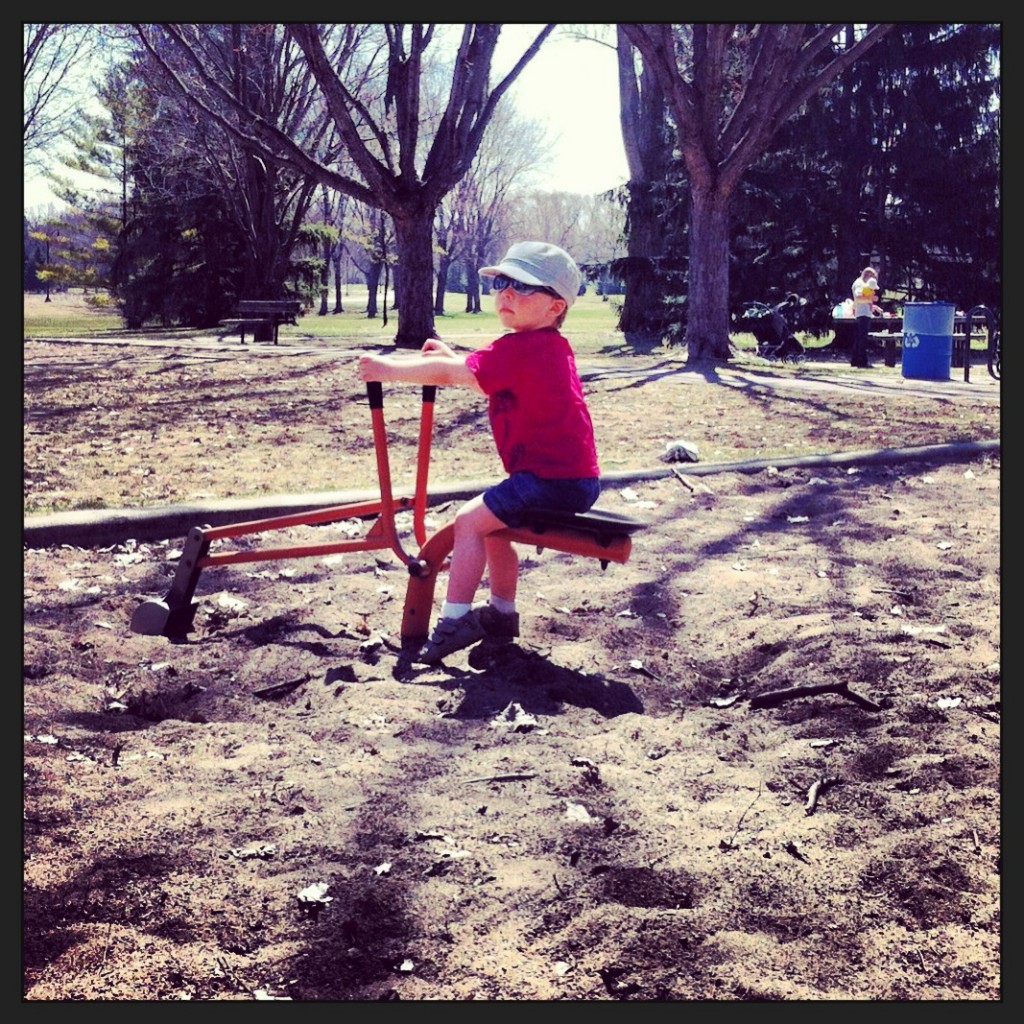 7. Local playgrounds.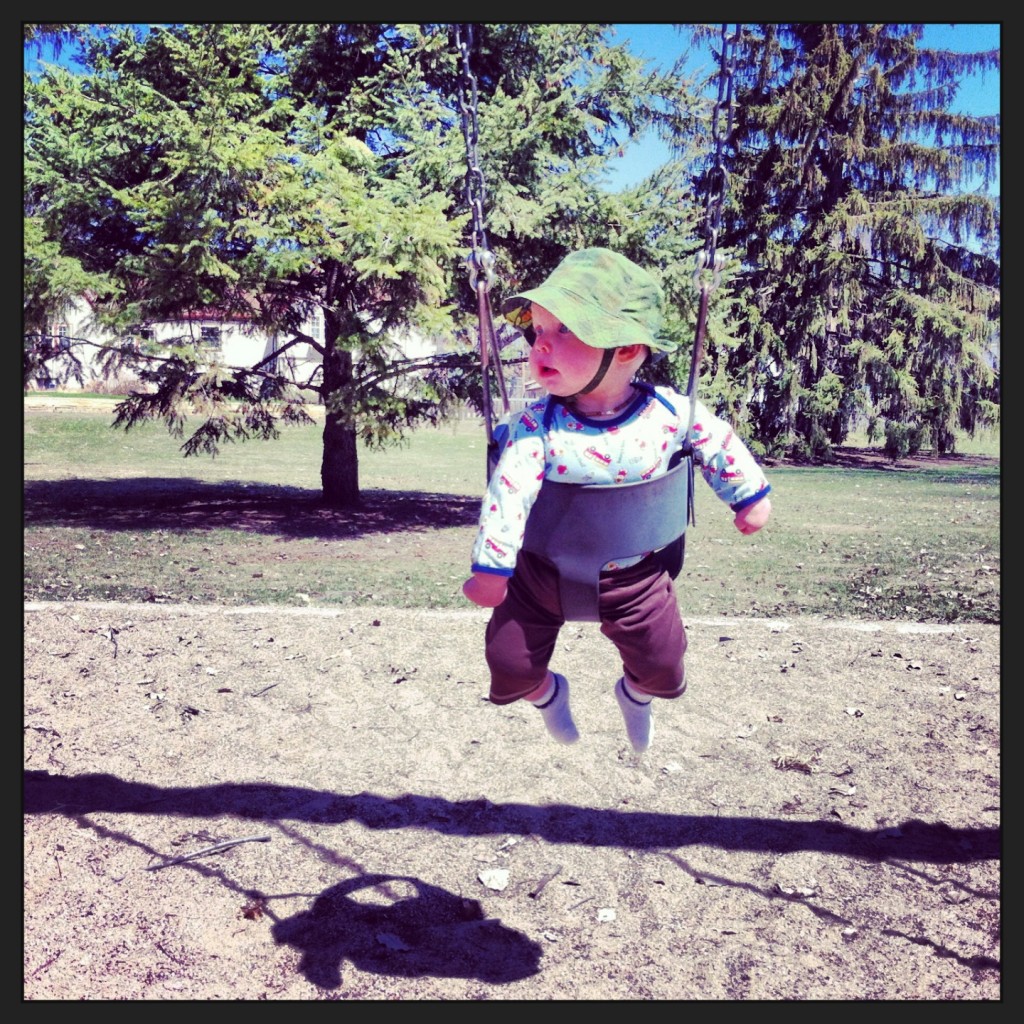 8. Swinging.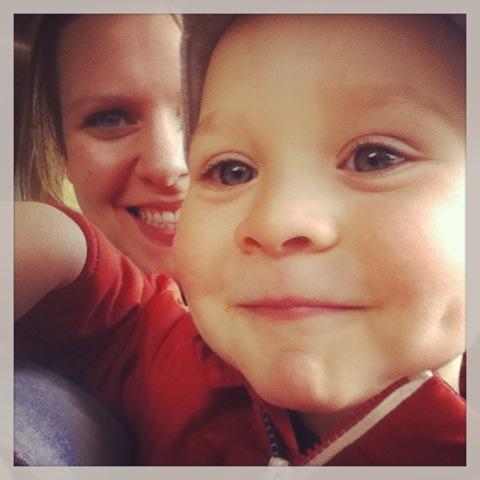 9. A one-on-one date to tots yoga at Blooma and out for fresh juice and muffins at Tao Natural Foods.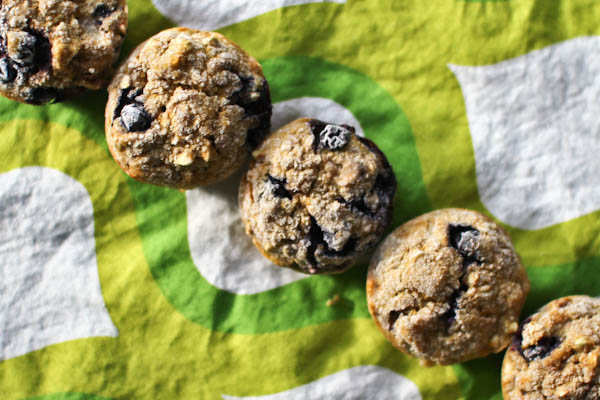 10. Blueberry-Zucchini Snack Muffins.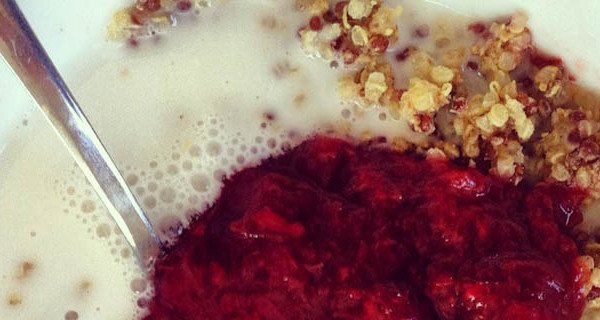 I posted this picture last week and got lots of requests for the recipe, so I thought I would pop in while the kids finish up their naps to share this very simple recipe that has become one of my go-to snacks.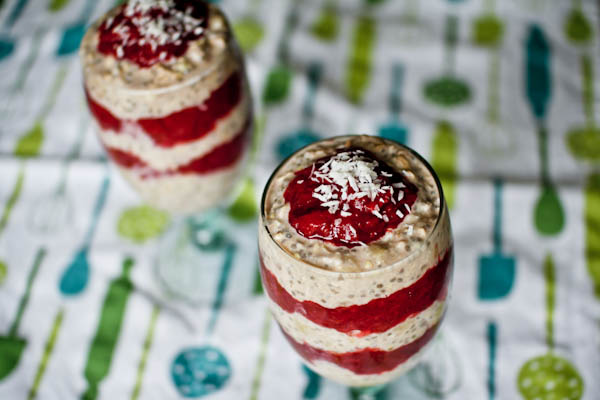 I love to top my Quinoa Protein Cereal with either fresh berries, banana or Rhubarb Strawberry Sauce. Also, be on the lookout for a new twist on Rhubarb Sauce this spring.
This recipe is inspired by Gina's Cookie Dough Cereal, which is another wonderful breakfast and/or snack option.
As you already know, I am a big fan of acquiring proper nutrition by eating a plant-based clean diet filled with lots of fruits, veggies, healthy fats, gluten-free whole grains and lean meat. However, the unfortunate state of our land, sea and air has made it very difficult to (safely) acquire necessary nutrition from food alone. Couple that with a toddler's finicky eating habits along with a strong desire to eat bread, muffins, bananas and nut butters all day long and my little guy could easily be left with a nutritional deficit.
Now, don't get me wrong, M is an amazing eater. He loves most fruits and vegetables and will usually try just about anything I put in front of him. Plus, if you indulge him in some entertaining literature (aka The Bearenstain Bears, Dr. Seuss or Little Critter) during dinnertime he will devour just about anything.
With the guidance of our pediatrician, chiropractor and my own research I started M on a few supplements to round out his already healthy diet. I get a lot of questions about the "pills" that I give M and thought that I would share with you what works for us.
Since we started supplementing M's diet and omitting all gluten and most dairy we have seen a marketed improvement in his elimination. As a young toddler, M would oftentimes get bouts of toddler diarrhea, that I feel was inhibiting his ability to confidently potty train. Since we made this change in his diet he has been symptom-free and is now going potty on his potty chair like a champ.
Please note that I am not a doctor, I am simply a well-informed Mom. The following are products that we actually use and like. I was not compensated in any way for this post and used my own money to purchase these products. This is not meant to be a replacement for medical advice. Please check with your pediatrician before adding any supplements and/or vitamins to your child's diet.
Every day M takes the following dairy-free and gluten-free supplements, which we purchase on Amazon,
Vitacost or iHerb (use code TIV632 for $10 off your first iHerb order!), depending upon current sales and available coupon codes.
This might look like a long list of supplements and vitamins resulting in a mountain of pills… and it is. We used to get out every pill every morning during breakfast, which was cumbersome and oftentimes I would simply skip giving M (or myself) some of the supplements out of laziness. Then I developed a better system. Once a week I sit down with our basket of vitamins and supplements and three weekly pill boxes, one for each of us, and I put all of the supplements into our boxes. The pill boxes then go into the fridge. Each morning while making breakfast, Allan takes out the boxes and sets them on the table to be taken after breakfast. This is a serious time saver, as the weekly sorting only takes me a couple moments longer than the daily sorting.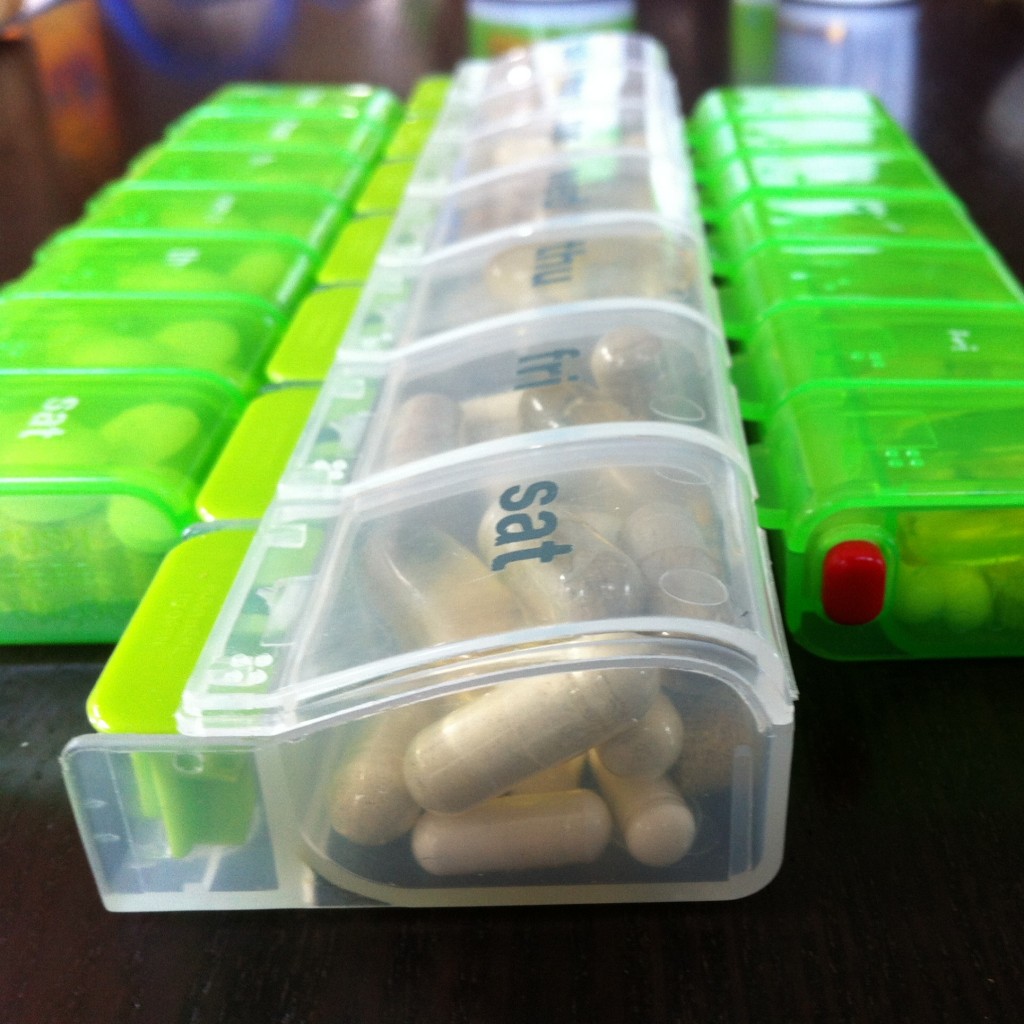 Please note that this post contains affiliate links. Thank you for supporting the blog, as I receive a very small percentage of sales. You can always google the supplements on your own if you would like to opt-out.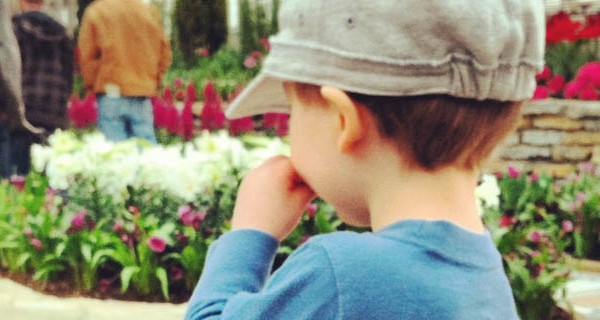 Warning: this is a completely random post induced by my sneezy/stuffy state of being.
Happy Earth Day!
We celebrated by reading one of our favorite books.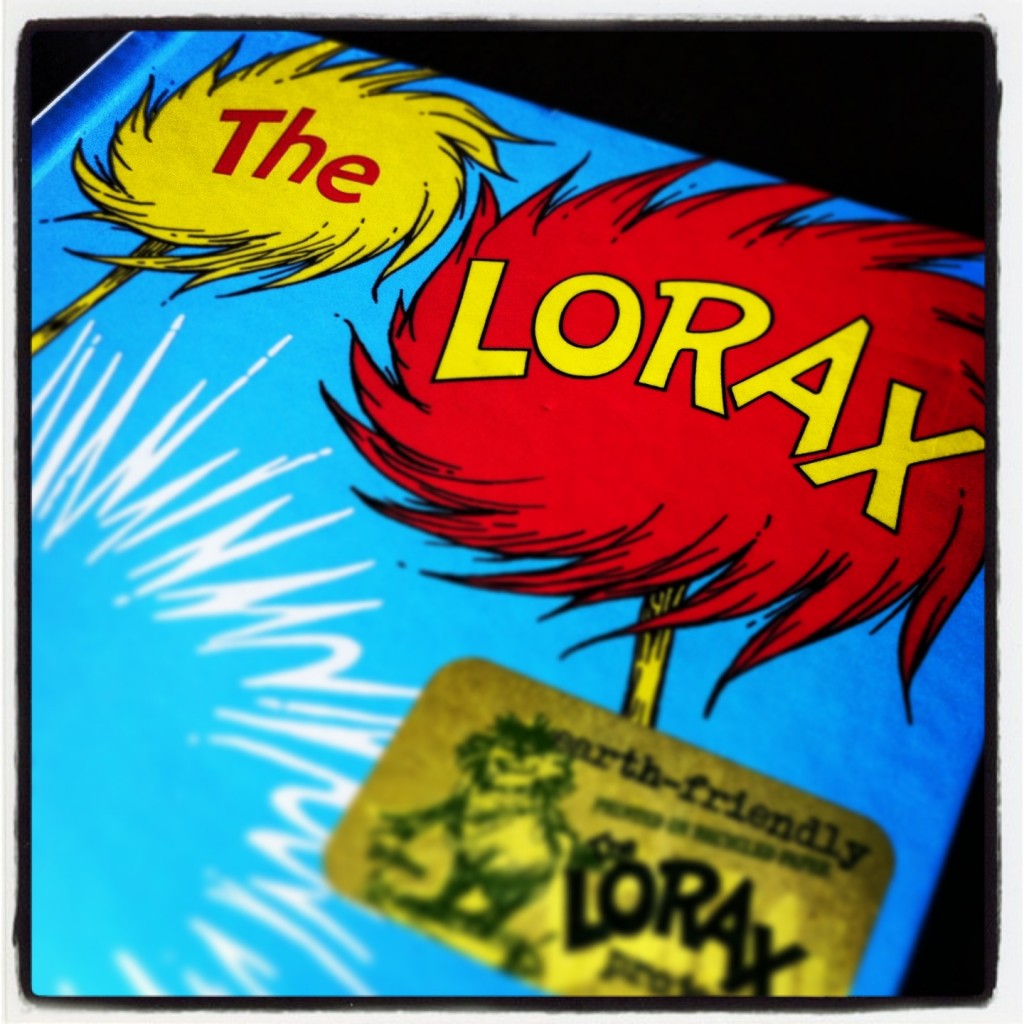 We are hunkering down for yet another snow storm that is forecast to hit tonight. We could get up to 10″ of snow! When will Spring finally arrive? Well, it looks like it could get into the mid 70′s by the weekend!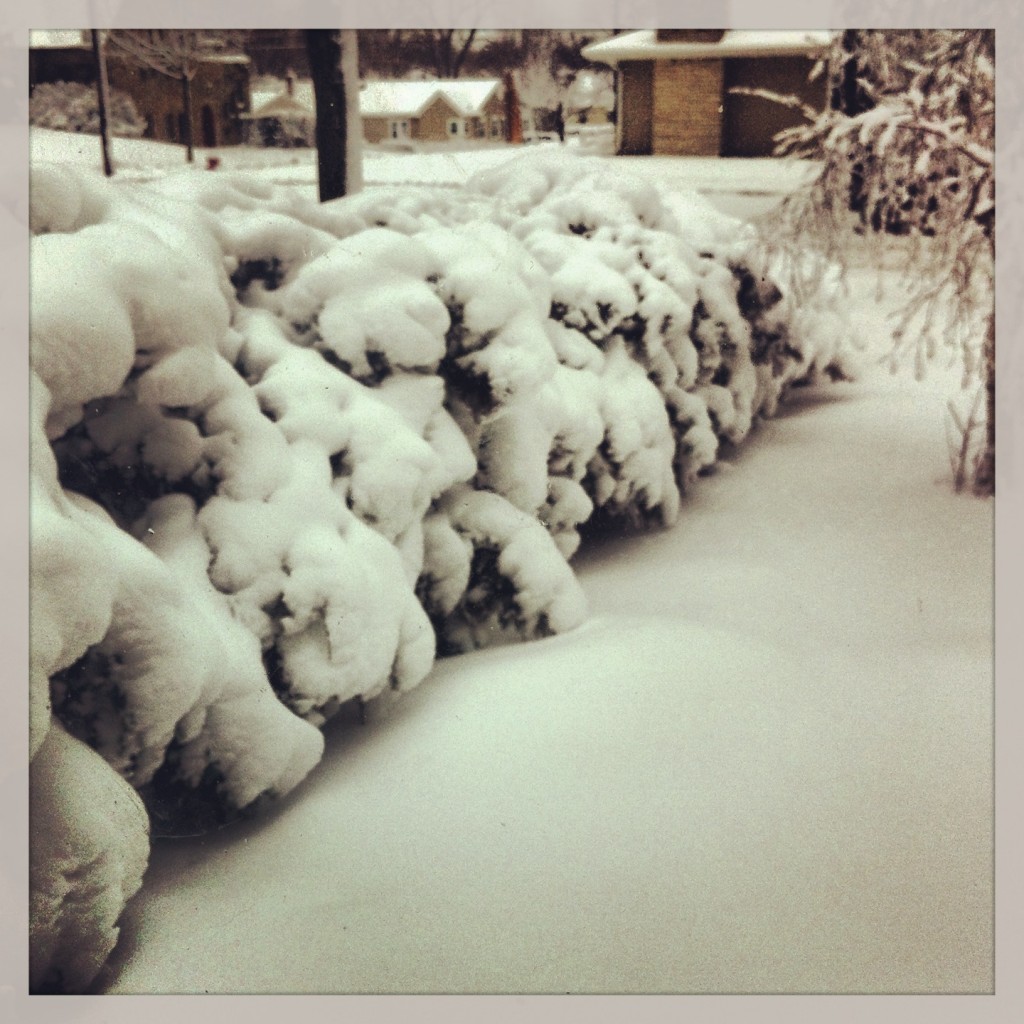 Truly I tell you that the weather here in MN can change on a dime. As many of us forecast, the weather will go from Winter to Summer without a hint of Spring in between.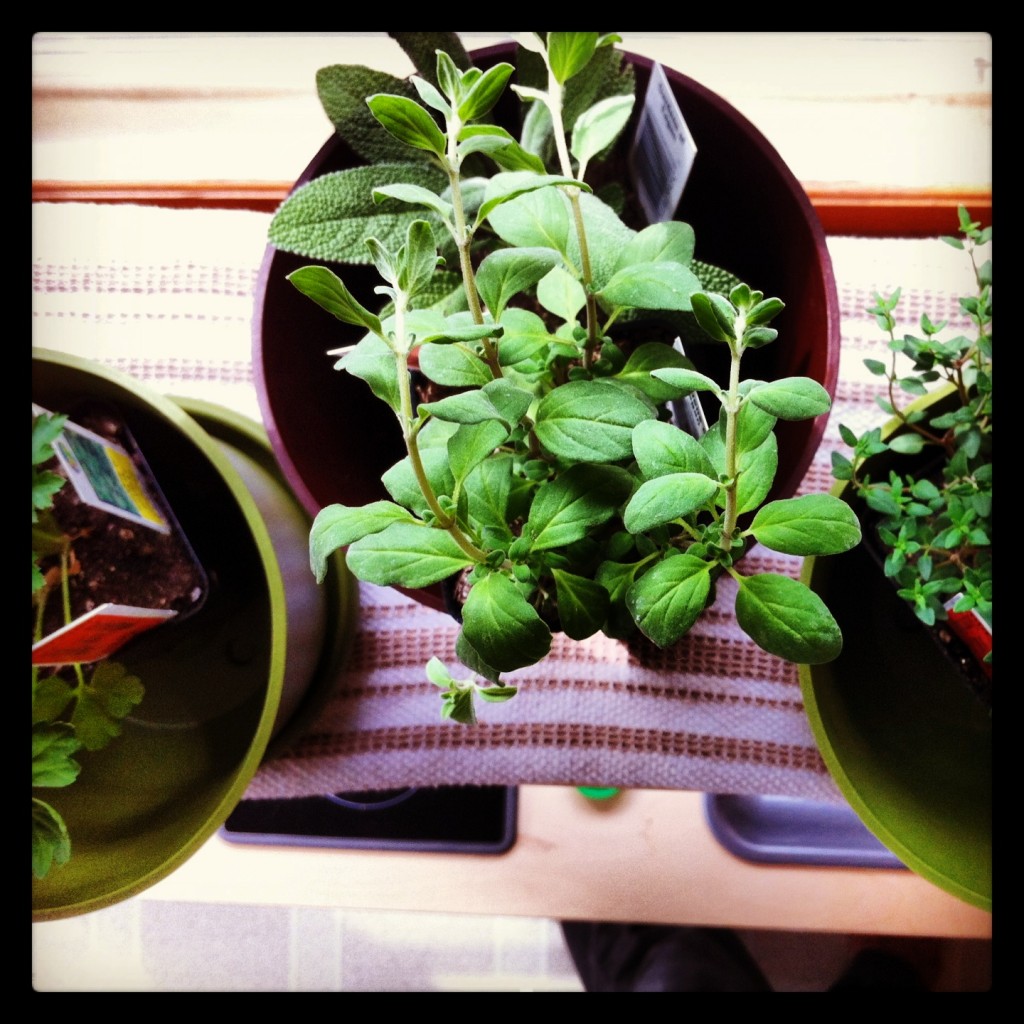 In honor of Earth Day, I had planned to plant our new herbs from Gardens of Eagan that we picked up last week, but, alas it was too cold, wet and rainy this morning to venture outside with the boys. We were really excited to plant them in their new bamboo homes that we picked up at EGG|PLANT Urban Farm Supply over the weekend. Maybe tomorrow we will lay down plastic in the living room and plant the beauties inside. What are you doing to celebrate Earth Day?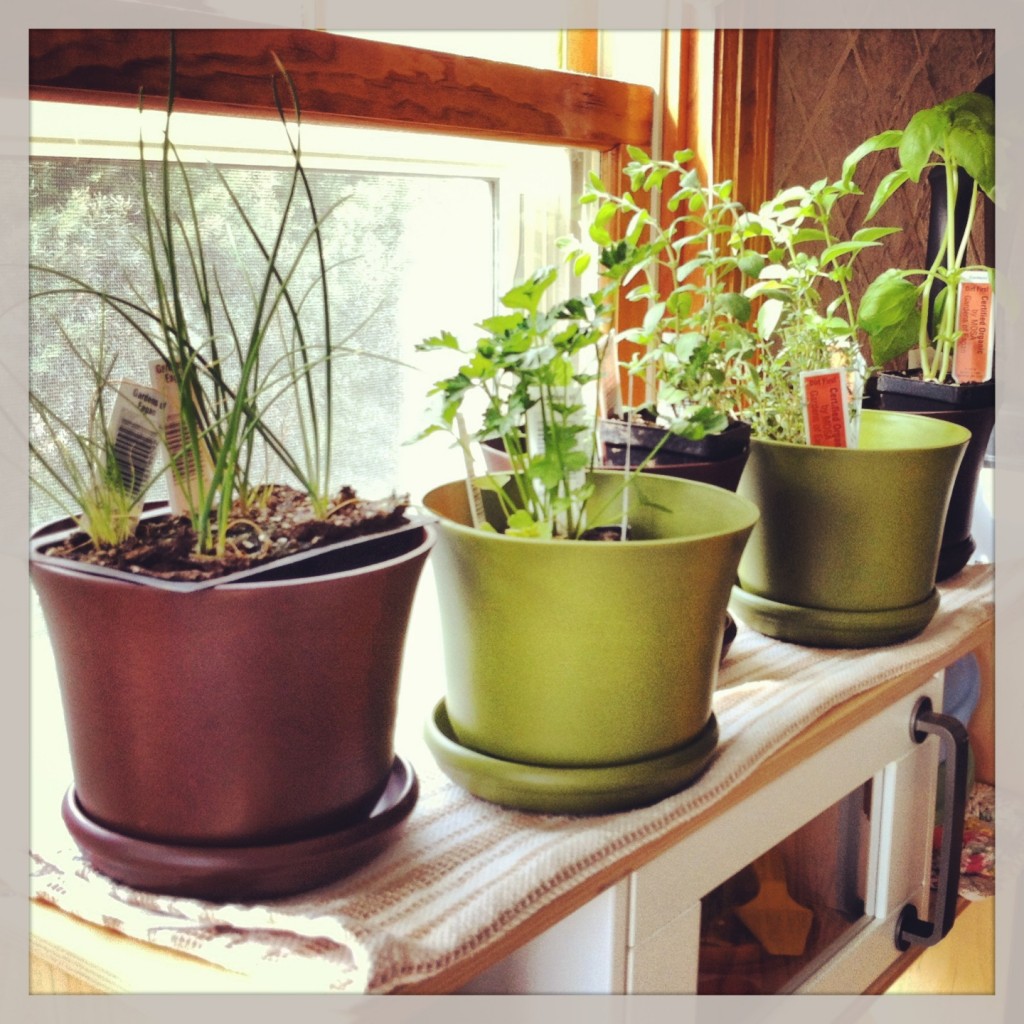 I am thinking forward to our garden and have requested that Allan build a few raised beds for my Mother's Day present. I still have to decide where to put the beds and what size we would like. When doing my research I stumbled upon Earth Easy's lovely site where they sell FSC certified raised beds in all sorts of configurations. Oh how I would love one of these beds along with a few salad tables and tomato towers. If only money and time were unlimited! Are you planning a garden this year?
Some very wise words from Dr. Seuss this morning:
Like, I always tell my boys: YOU can make a difference!
Looking to be inspired to create positive eco-friendly changes in your life? Check out a few of my other green minded posts:
- Zero Waste :: Eliminating Paper Towels
- Notes from my Conversation with an Eco-Friendly Expert
- Wise Acre Eatery :: Yummy Eco-Friendly Dinning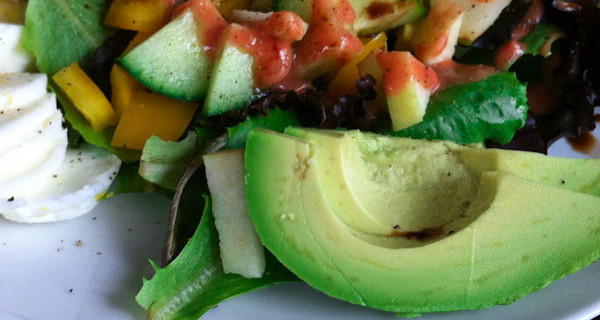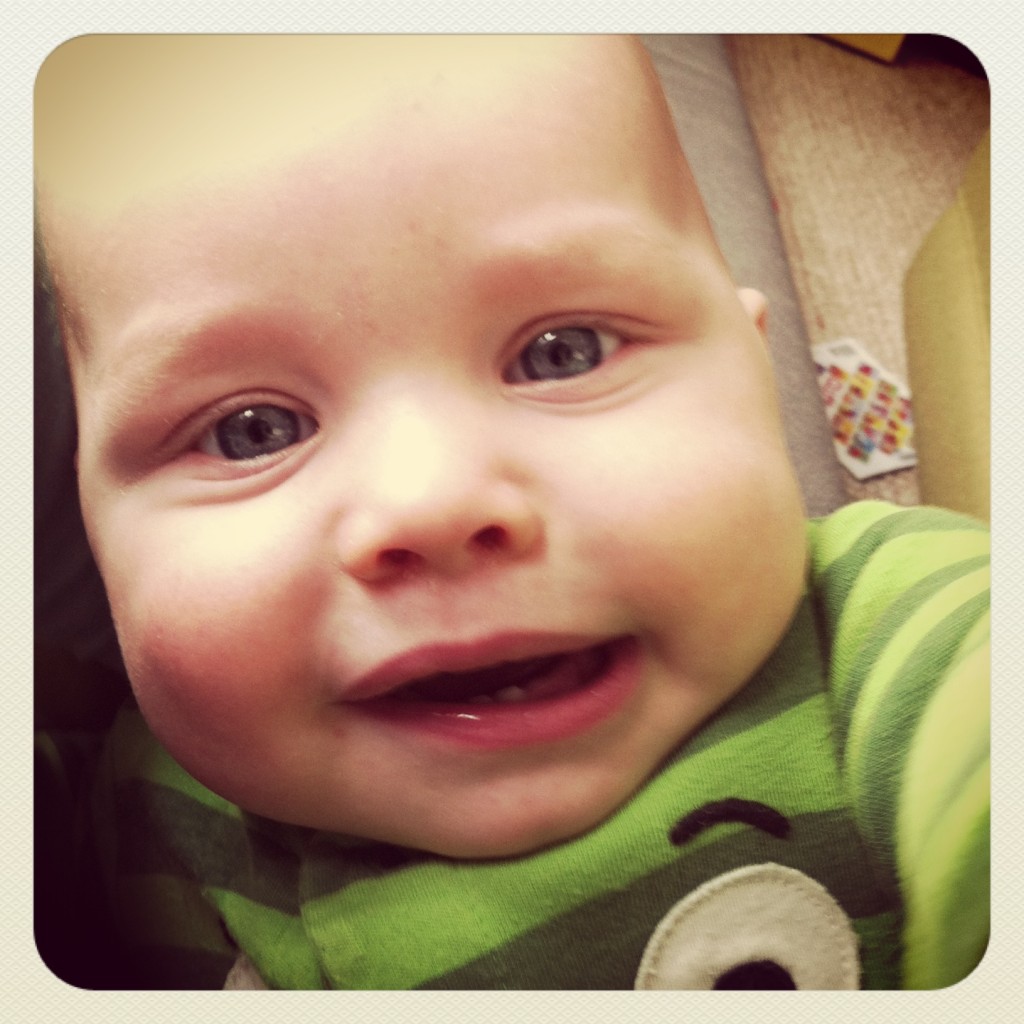 Things have turned a delightful corner. I almost didn't want to blog about life with a seventh month old and 2 (going on 3) year old because I didn't want to jinx it! However, keeping with my promise to be honest with you, my beloved friends, coupled with the fear that I may have talked several of your out of every procreating, I felt that it was necessary to write about how lovely life has been lately.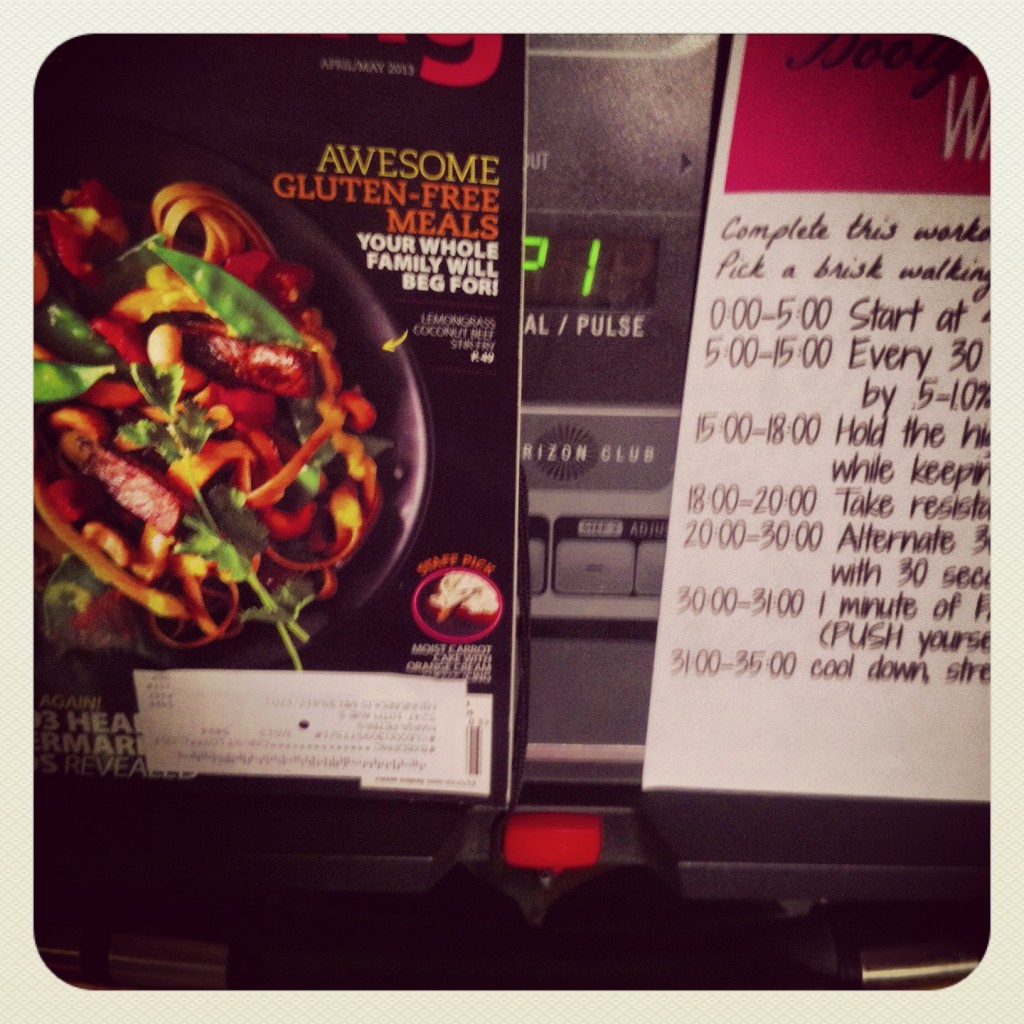 Let me just start out with a big fat sigh of relief. I am back on my mat and enjoying every single minute that I have connecting breath to movement. Luke and I even enjoyed our very first BYOB class. He adored it and flirted with anyone who would make eye contact. So cute! I also broke out my treadmill for an intense walking workout.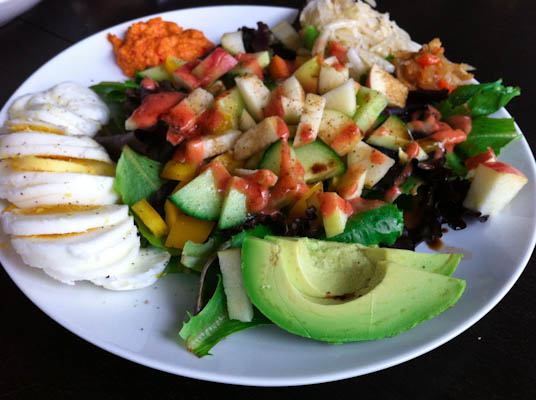 Meal sized salads featuring this wonderful dressing are a daily affair! I am ready for spring weather and am celebrating its hopeful return by pretending it's 60 degrees outside, even when it's snowing.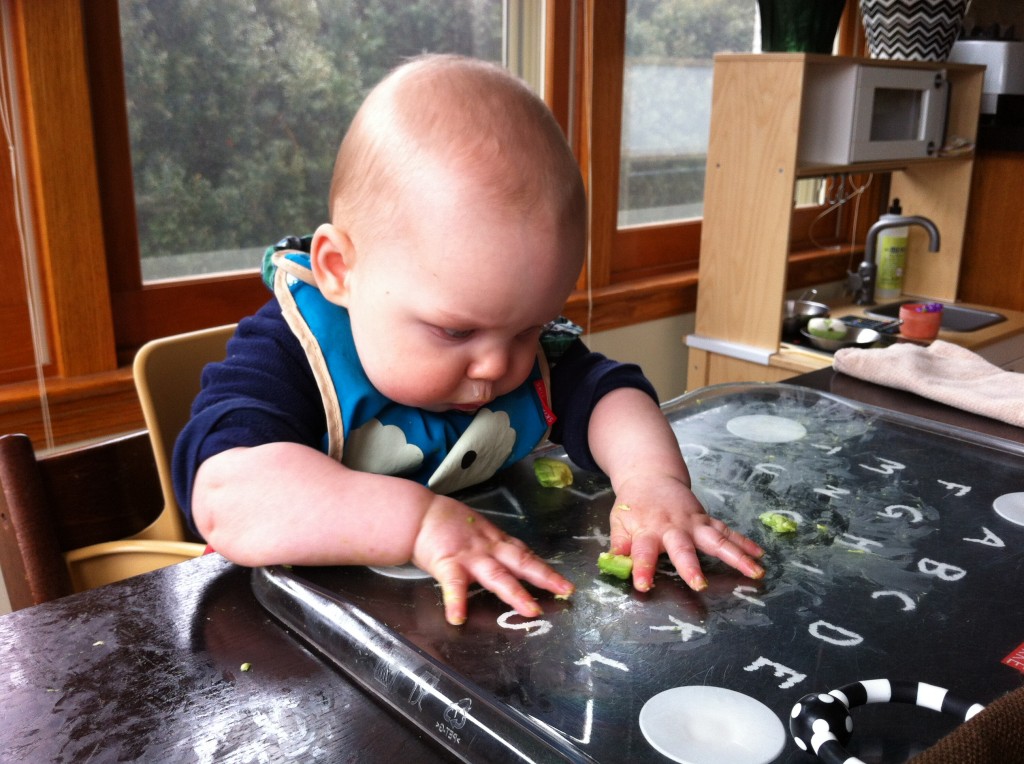 Luke loves food! We have been giving him small tastes of table food for a little over a month now and he gobbles up everything he can get his hands on. We decided to do Baby Led Weaning this time around, because Luke now has EIGHT teeth. Also the purees that I did make for Matthew were mixed into soups and baked goods rather than actually fed to the baby. He much preferred table food over purees.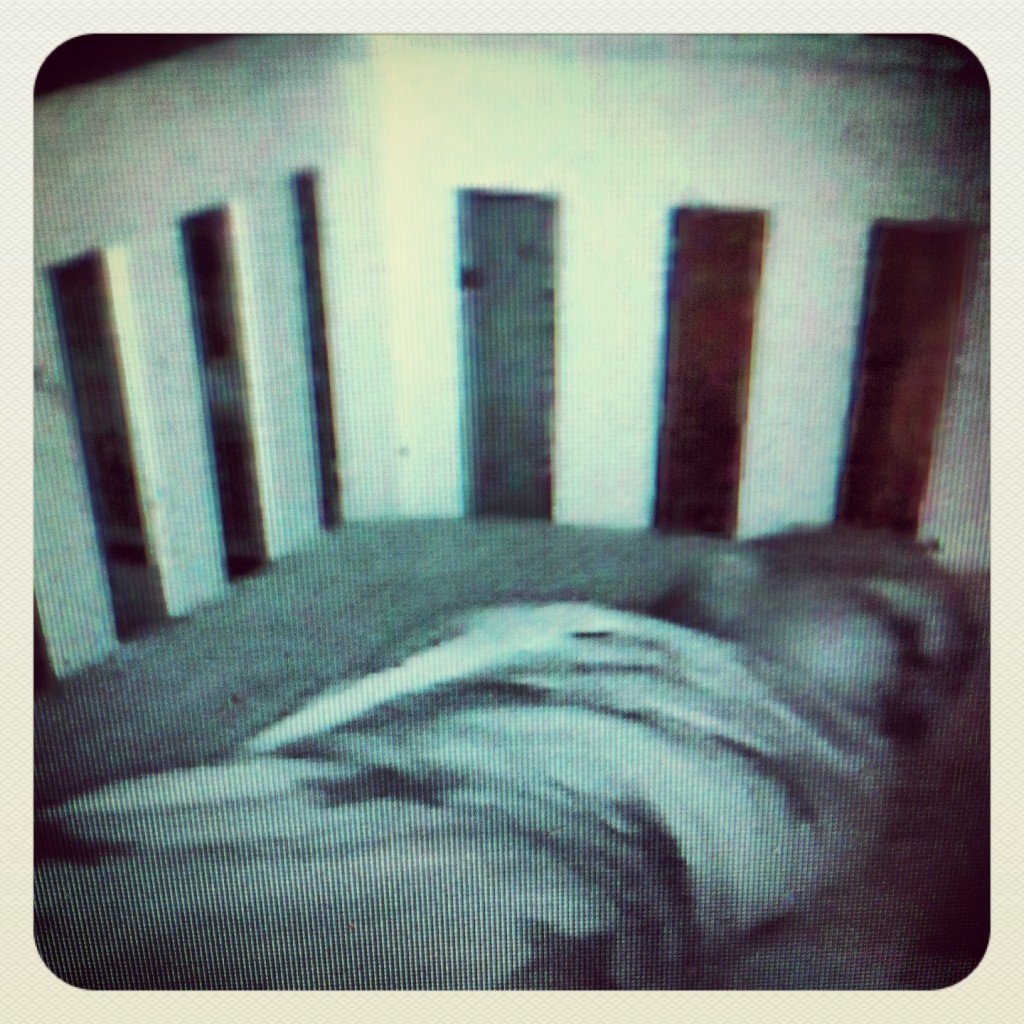 In an attempt to encourage Luke to sleep we kept swaddling him until last week. I was doing research on swaddling and read that it can potentially keep babies from learning to roll over, which Luke is not comfortable doing. He loves to sit unassisted and play with toys, jump in the jumperoo and pivot side to side while on his back, but rolling over stomach to back and back to stomach are not part of his repertoire. Also, he was a pro at breaking out of his swaddle and would wake himself up after escaping.
The swaddle weaning process was a little rocky at first, but now that Luke has adjusted to his freedom he is only waking 1-2 times per night to eat. We started by unswaddling one arm for 3 night and then unswaddled both arms from then on. The first couple nights were rough, but everything is better now and he is actually putting himself back to sleep when he wakes up and fusses in the middle of the night!

We made a rocket ship.

Also, work on the playroom in the basement is in full swing. We are so excited to put together the finishing touched this weekend!
My inalwas are back home from Alabama, which means that I have been enjoying some very necessary me time on the regular. Which is also why you have been hearing from me on a consistent basis. Hooray!
What's new with you? I would love to hear about your blessings!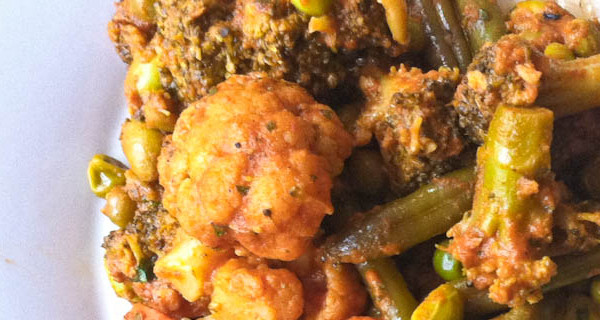 I apologize for the blurry, unflattering photos below. Our new camera should arrive next week, so I will be using my iPhone less for food pics. Even if I did have the DSLR at my disposal, it's difficult to take an appetizing photo of curry – the reddish pink sauce makes most veggies look brown, which is simply unappetizing!
—
I very recently became acquainted with the amazingness that is Indian food. It all started last summer when Allan and I decided to take the plunge and try Namaste Cafe in Uptown. It was the heat of the summer Spring and I was pretty far along into my pregnancy with Luke. We had recently found out that he was a boy and we were still contemplating names. Allan and I spent a romantic evening on the front porch of the cafe's renovated house sipping chai lattes pouring over baby names, our future and the sweet little bundle of joy we would be welcoming in a few months. That night I decided to join Blooma and our road to homebirth began. I will always remember that night.
After this culinary awakening I finally decided to try my hand at cooking Indian food at home. With the help of a very special premixed Vindaloo Curry Powder
, the following dish is one that is super easy to throw together. If you've ever made homemade curry you know that simple and quick are abnormal adjectives to use in reference to curry-making, which usually involves mixing several spices to achieve the perfect blend. But trust me, you can throw all of the ingredients into the slow cooker in a matter of minutes, set it to low and be about your business the rest of the afternoon!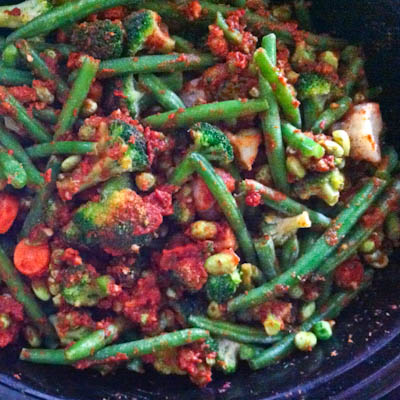 We served our curry on a bed of sweet brown rice, which I soaked in water and a tablespoon of apple cider vinegar for several hours prior to dinner. We love sweet brown rice because the texture is closer to that of sticky, sushi rice making it easier for Matthew to scoop.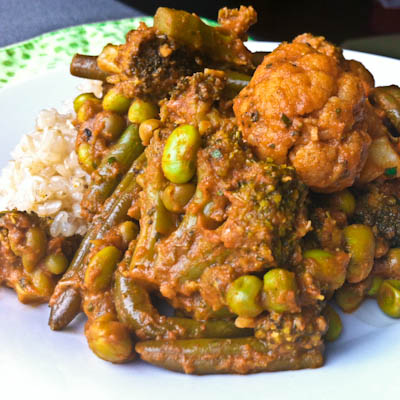 In addition, I strive to always soak the grains that we consume (all oats, rice, quinoa, millet, etc.). The following are a few of the benefits of soaking your grains:
First, you will significantly reduce the cook time of the rice from 45 minutes (unsoaked) to 20-30 minutes for well soaked rice.
Second, soaking rice reduces the phytic acid and enzyme inhibitors in rice, in essence pre-digeting it, so that our bodies can actually benefit from the nutrition they contain. For more information on soaking grains and the reason that you should soak all grains, check out this article.
Third, your rice will be softer and fluffier – closer resembling white rice in texture.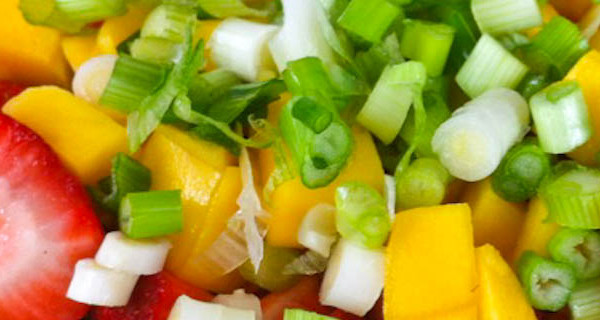 This is what it looks like outside right now.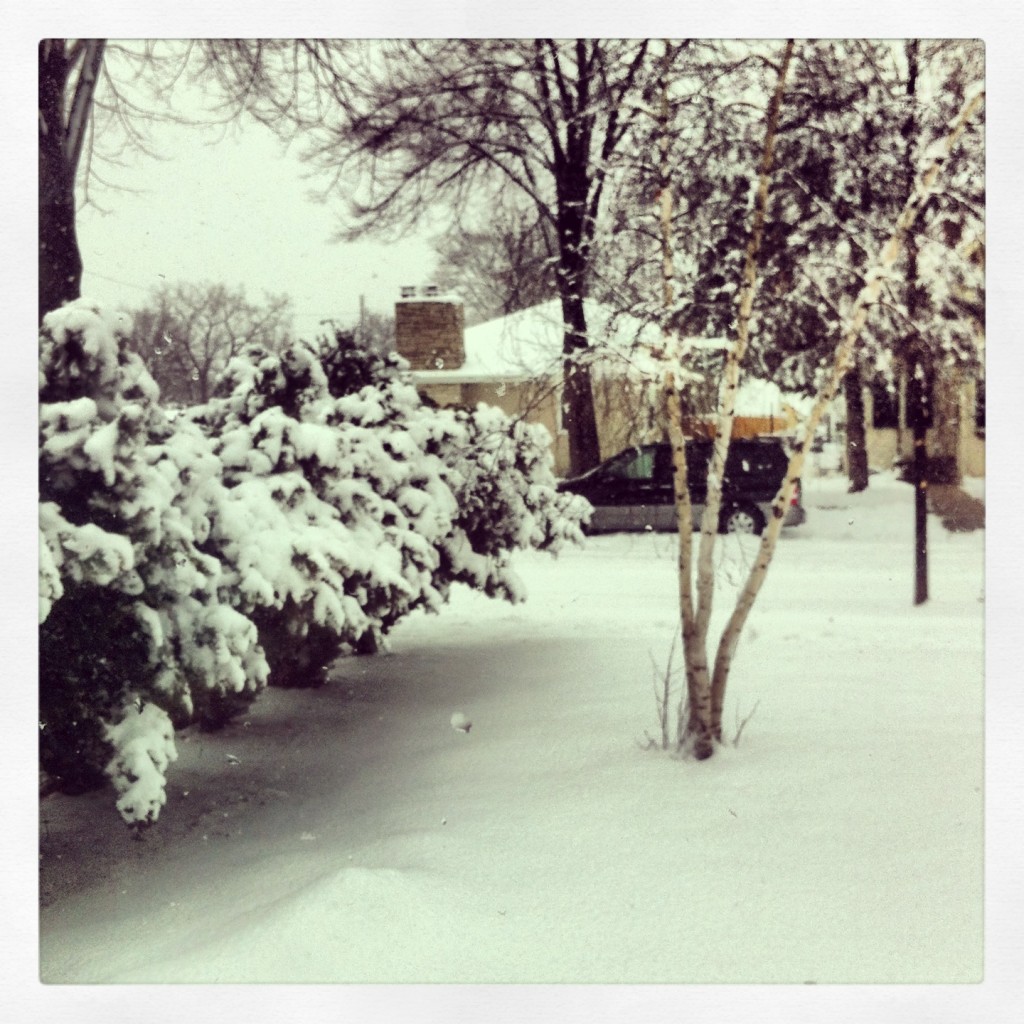 Yep. That's a bunch of snow. God has quite a sense of humor, doesn't he? The last time MN had snow in April was 2002, the year I graduated from high school. Prior to that, you have to go back to the 1980′s.  Hmmm… something just isn't right.
This is what it looks like inside.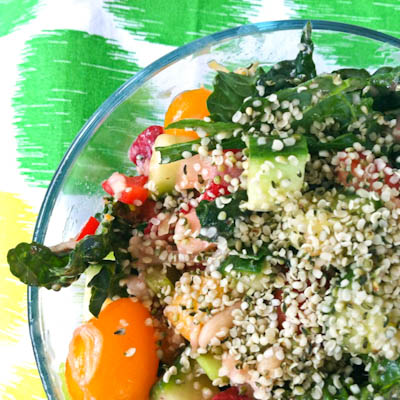 Much better!
Since we returned from vacation I have felt off in my eating. I am eager for Spring to arrive and feel like my eating habits are in limbo. The MN weather is schizophrenic this time of year. It's cold one day and warm the next; raining today, snowing tomorrow. Couple that with the fact that organic berries are beginning to show their pretty little faces next to the winter squash at the market and I don't know if how to eat. It makes me want to buy a can of pumpkin and bake something delicious one moment and consider going high raw the next.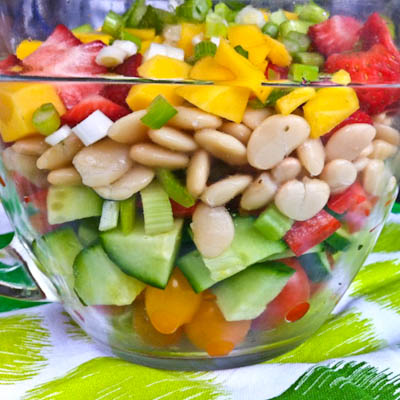 Yesterday I made up my mind that even though it is snowing outside, the calendar says that it's Spring! So I grabbed every fresh veggie we had in the fridge and threw together this beautiful salad featuring one of my favorite seasonal dressings. It's been almost a year since I've whipped up this dressing that is inspired by the oh so talented Ashley.
On a side note, have you preordered Ashley's gluten free cookbook, Baked Doughnuts For Everyone
? If not, rush over to Amazon right now. Better yet, open the link in a new tab, finish reading this post and then buy her book. I'm impatient and don't feel like waiting while you check out. But, trust me, her book is not going to disappoint!
So, back to the salad.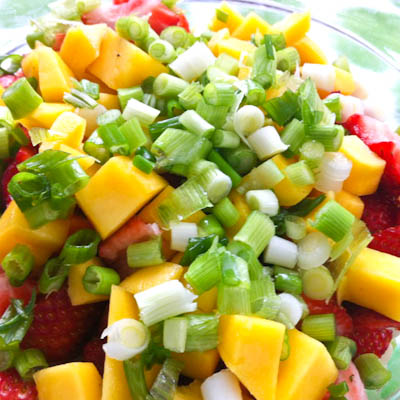 Honestly, this recipe can easily be adapted to the ingredients that you like and/or have on hand. Don't have green onions? That's ok, sub in red onion or a sweet onion. No mango? No problem! Unsweetened dried cranberries or cherries are amazing in this recipe.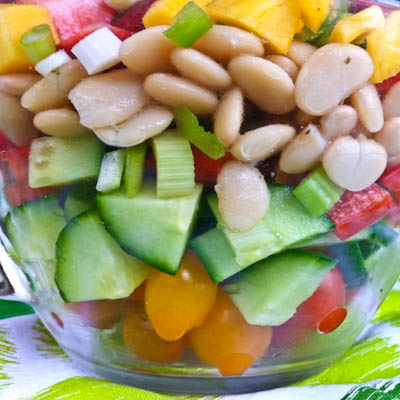 Strawberries too spendy in your neck of the woods? No worries – add an apple, pear or orange. Have a can of garbanzo beans laying around? Throw them in instead of butter beans! See what I mean? Completely adaptable!
Prefer baby lettuce, spring mix or spinach over kale? Perfect! Just wait to dress the salad until you are ready to eat. Or better yet make cute salads in a jar and vacuum seal them to keep them fresh for your lunch pail all week long.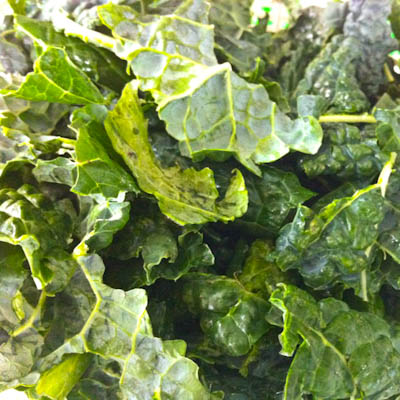 This really is a very simple recipe the hardest and most time consuming part of chopping all of the veggies. Aside from that the dressing and salad come together in 10 minutes flat.
For the base of this salad I used lacinato (aka dino) kale, which is a softer variety of kale that lends itself to raw applications. Like I said earlier, you can easily substitute any other green in this salad. To prep the kale i simply torn the leaves off of the thick stem into bite sized pieces and washed/dried it in my salad spinner.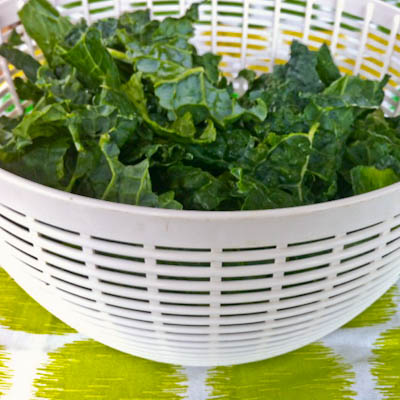 To amp up the nutritional value of this salad I added a secret ingredient: raw, lactofermented sauerkraut. Now, I know what you're thinking… Sauerkraut is stinky, sour and funky tasting. But honestly, raw sauerkraut is none of those things. It's lightly salty, kind of sweet and completely addicting. It also amps up the nutritional profile of the salad because it is literally swimming with probiotics and beautiful microorganisms that help to build your gut flora and keep you healthy.
I cannot wait to make my own raw sauerkraut this summer, but this winter I have been purchasing the Bubbies brand from Whole Foods. I also like to add a little local, raw Kimchi to my salad, but because Matthew is not a fan of spicy foods I left it out of this one.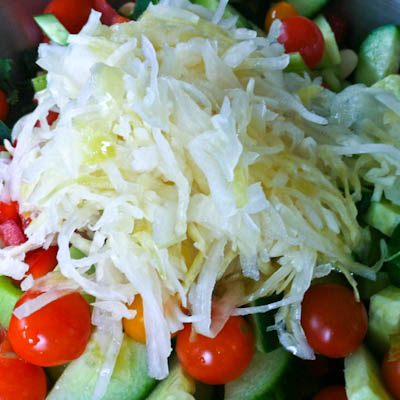 Next up is the Strawberry Mango Basil dressing. This stuff is serious business. Even Matthew scarfes down salad coated in this super low fat, ultimately healthy, outrageously delicious dressing. Even if you don't make the salad, you MUST make this dressing!
I like to keep my salad dressings low in fat so that I can opt to pile on avocado, hemp seeds or other delicious fats. However, I did add a bit of cold-pressed walnut oil to aid in emulsification and add a few extra Omega 3 healthy fats to the mix. Feel free to omit the oil completely, as it wont influence the flavor or sub any organic, cold pressed healthy oil of your choice (EVOO, pumpkinseed oil and hemp oil would work beautifully).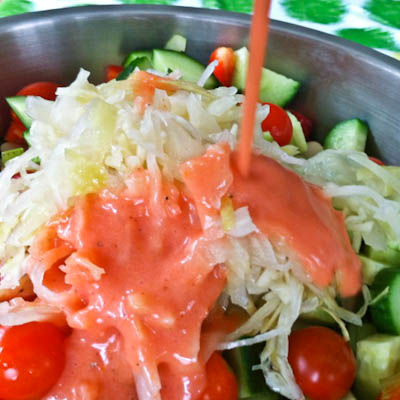 You will notice that I did not add a grain/starch to my salad, like I usually suggest that you should. As you know, due to Luke's food allergies I am limiting my starches and grains, so instead I opt to top my salads with an additional protein source (chicken, hard boiled eggs, tempeh, marinated tofu, etc.) along with an additional fat source (1/3 of an avocado, additional hemp seeds, sunflower seeds, etc.) – you just have to do what works best for you. This salad would pair perfectly with 1 cup of cooked quinoa, millet or wheat berries.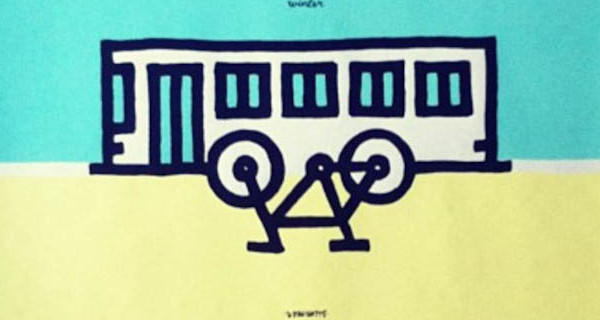 How was your weekend, friends?
We've been a little under the weather over here. Luke has been teething up a storm with SIX new teeth coming in. Two of them finally popped through last week, giving him some relief. But seriously, that boy wants to ensure that he has at least one tooth for every month he's been alive. He has two more days until he is 7 months old and one of his bottom incisors is just about to make it's appearance. It it does he will have seven teeth. Let's see if he can keep up the pace! Also, he learned to clap yesterday. Here's a short video of him randomly practicing this morning.

The highlight of our weekend was the Artcrank show opening party. Allan's poster looked rad! It is always so much fun to catch up with friends and beam ear to ear with pride of my husband's amazingness. We wont know how well his poster sold for a couple months, as the show is moving to One on One Bike Studios and Handsome Bicycle shop until early May. However, the early feedback seemed really positive. Missed the show? Want to check it out? Click here for the details.
Before the show, Matthew got a haircut! I am still shocked every time that I look at him and wonder if I made a mistake cutting off his beautiful curly hair. Although, now I need to decide if we should go shorter or let it grow out again. Opinions?
Before
After
I finally made it back on my mat! It has been 7 months since I have been to the studio for a class. On Friday I took my very first Blooma Barre class. I had a lot of fun, but didn't necessarily click with the class at first. It's a lot of low weight/high rep moves mixed with some yoga and wasn't initially convinced. I do love my heavy weights! I noticed that (one of) my favorite prenatal yoga teachers, Corrine, was offering Barre class at 6 AM on Monday mornings and vowed to myself that I would check it out.
photo courtesy of Blooma
So, I crawled into bed by 10:00 PM last night and set my alarm for 5:30 AM. After a bit of a rocky night with Luke (2 wake-ups totaling 1.5 hours awake) my alarm went off and Luke started crying. Allan changed his diaper, I brushed my teeth and hair, fed him for 10 minutes and rushed out the door while Allan rocked him back to sleep.
So, was it worth all of the trouble? YES! Corrine rocked Barre and it was just what I needed. I was sweating and shaking and completely engaged. I loved the yoga warm up and the cardio intervals combined with holds and pulses and squats and lifts. I plan to make her class part of my regular workout rotation!
I would also love to check out Jesse's class, but that would mean packing up the kids in the middle of Luke's morning nap to make a 9:30 AM class… which seems like such a headache.
Luke is asleep and Matthew just conked out. So, I better hit the shower before it's time to prep dinner!
Have an amazing afternoon!
I have been hard at work updating some of the MMM Pages that were VERY outdated.
The following pages are brand-spanking new and improved!
About Maria. My story, 'nough said.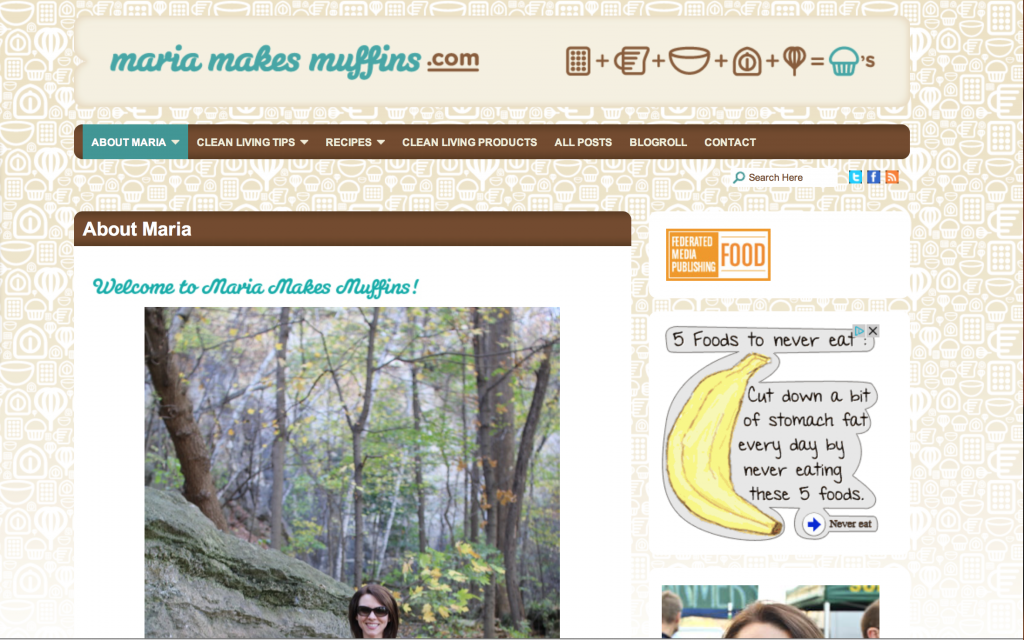 What is Clean Eating? Clean eating as defined by the Peters family.
How to Start Eating Clean Three steps to cleaning up your diet.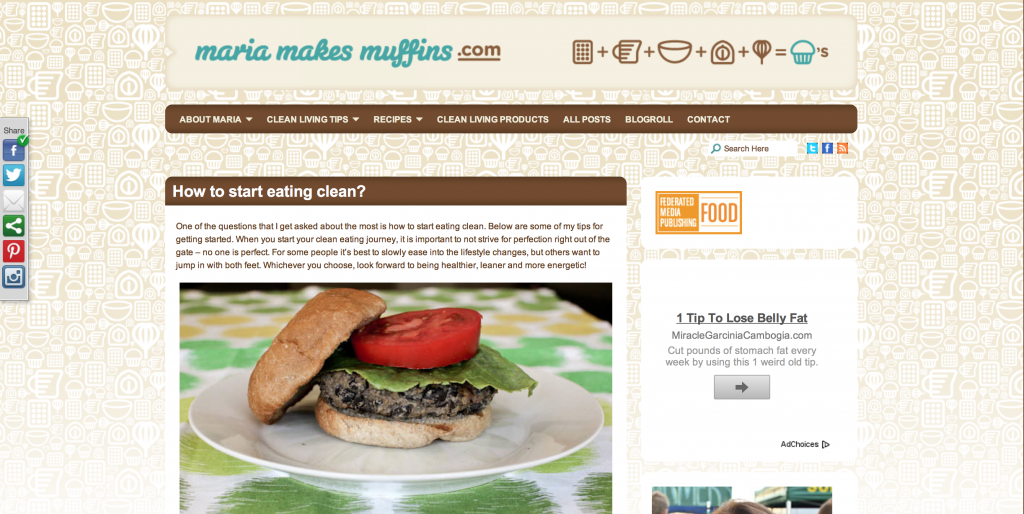 Clean Eating Grocery List The food that we enjoy every day.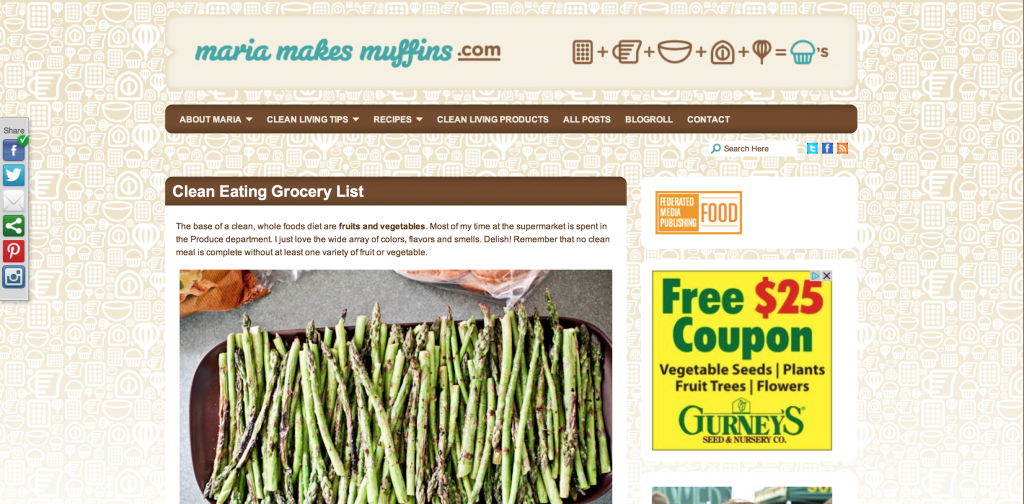 Decoding Nutrition Labels A guide to navigating the grocery store and deciphering ingredients lists.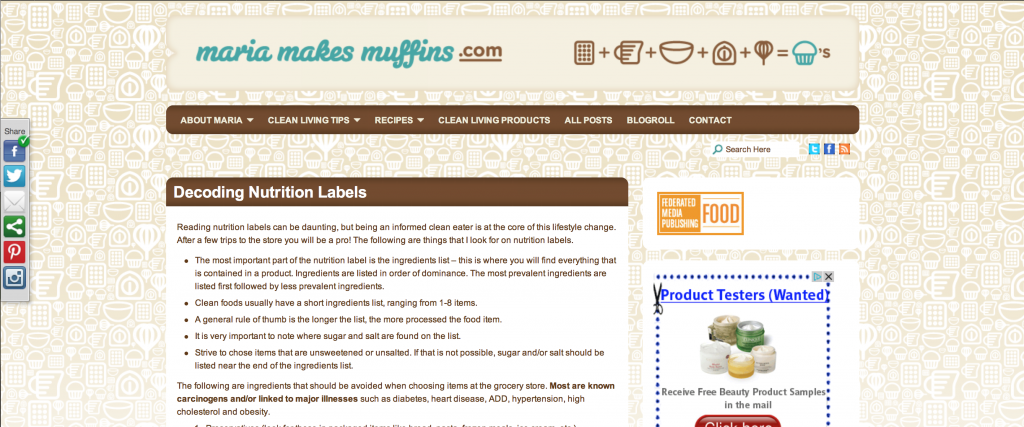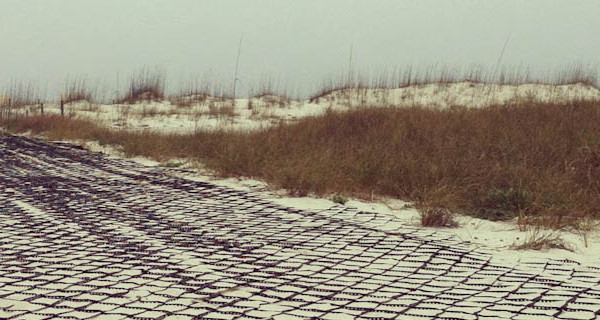 We spent last week on vacation in Orange Beach, Alabama with my mother and father-in-law, who are snowbirds and spend the three coldest, most wintery months on the much warmer beaches of Alabama.
The week started out a little rough. Traveling with two small children is kind of crazy. Although, we refuse to let having small kids deter us from traveling. We have flown several times since Matthew was born and consider ourselves seasoned veterans when it comes to traveling with kids. Would you be interested in a post with our tips/tricks for keeping our sanity while flying with littles?
Although, after you read about our few hiccups, you may reconsider your answer… On our way to Pensacola the airline lost Luke's carseat, which we gate checked. Apparently, instead of transferring the seat to our destination it got hung up in Atlanta. So, they gave us this loaner carseat to use for the day until they delivered Luke's seat to our condo at midnight! I think this carseat was better suited for a doll, not a baby. I held my breath the entire hour-long drive from Pensacola to Orange Beach.
Upon arriving at the condo and unpacking our luggage our camera was nowhere to be found! The only pics we have of our vacation were taken via iPhone/Instagram. We are still hopeful the airline will find our camera
, but if not the Canon T5i
comes out in two weeks.

For Allan's birthday, Mark and Lois treated us to a cruise on this lovely catamaran, Wild Hearts.
Upon returning to Minnesota we were welcomed home to an empty fridge. On Saturday, Luke and I braved the day before Easter crowds to stock up on necessities at Trader Joe's.
While in Orange Beach we enjoyed several amazing gluten-free and dairy-free meals. I was pleasantly surprised at how accommodating and knowledgeable many of the restaurants were about food allergies. Unfortunately I didn't capture any of our meals because most of the restaurants were too dark to use my iPhone to snap pictures. However, there were our favorites:
We can't wait to go back next year!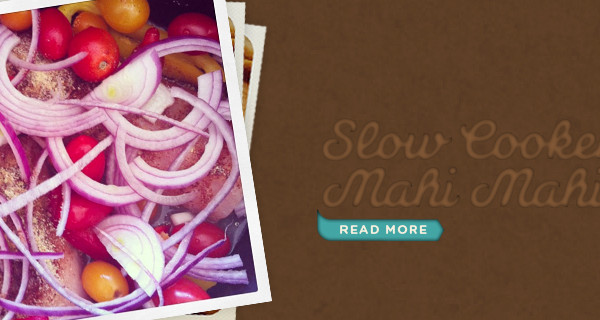 Two weeks ago when I posted a photo on Instagram of my Mahi Mahi taco crockpot experiment I had several requests for the recipe. I hesitate to share new recipes with you guys until I have actually tried the dish myself. I would hate to post a recipe and have it turn out to be flop!
I am here today to tell you that this recipe is most definitely NOT a flop. I have found that the secret to cooking lean meats and fish in the crockpot is to start with frozen chicken breasts or fish fillets. This ensures that your final product is tender and juicy vs. dry and tasteless. Also, the crockpot tends to dull flavorful spices and create thin sauces, so before serving any crockpot recipe I recommend checking the spices and sauce thickness 15-30 minutes prior to serving. That way you can adjust the seasonings as necessary or add 2 tbsp of arrowroot mixed with 2 tbsp of water to thicken the sauce. I also find that removing the top of the crockpot and, if necessary, turning the heat to high during this final 15-30 minute window can help to intensify the flavor of the dish.
But enough with the crockpot do's and don'ts chit chat. You really should try this recipe and here are a few reasons why…
1. It's lent and many Catholics need good fish recipes to enjoy on Fridays. I imagine that with only two more weeks of lent remaining you are running out of good fish recipes. Now you have a new and vibrant recipe to share with your family. You're welcome.
2. Your kids will actually eat this. Matthew loves to pick and choose what goes onto his plate. So, set up a build-your-own burrito bowl station with spanish quinoa, black beans, avocado, organic salsa, baked organic chips, lime wedges, romaine, tomatoes, etc.Then let your family have at it!
3. We all know that fish is good for us and many of us try to fit it into our weekly or biweekly meal rotation. However, I know far too well, that it's easy to get in a recipe rut. Trust me, we eat the same (delicious) balsamic marinated salmon recipe quite frequently around here!
Convinced?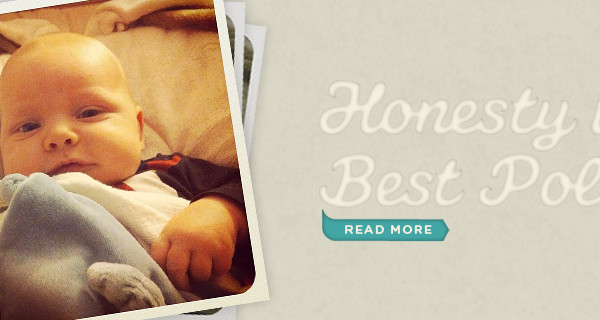 Thank you for your words of support and encouragement yesterday. It's nice to hear that I am not alone. However, yesterday's post was not intended to be a woe, is me plea. Honestly, it was a raw look into my day with two young children. I strive to keep from writing with rose colored glasses. I feel that there are many blogs out there that only show the beautiful, sweet things that happen. But life is messy – we screw up, we have bad days, we miss workouts, we overindulge, etc. We are sinners. To edit my life as if I am without fault would be a disservice to you. On the other hand, to show you how I lean on God through the tough times and rise to the challenge, that, my friends, is what this life is truly about.
Please note, several parts of the day were embellished for comical effect. I did not mean to scare people away from having a second child or not having children at all!
I love my boys with all of my heart and would not trade them for the world. I thank God for them each and every day. They are a blessing to my life and one of the reasons I am alive is to be their mama. They are each so very special in their own ways and some of the adversity that we experience on a daily basis is by no fault of my own… Trying to fit in one more thing before putting Luke down for nap, spending too much time on my iPad, resulting in a jealous Matthew. You know the drill…
And, yes, I am still considering having a third child. Just not until Luke is sleeping through the night and out of diapers! 

BTW, I have several delicious crockpot meals to share with you if I ever find the time to edit the pics and write up the recipes! Are you enjoying the multitude of crockpot recipes swirling around the blogosphere?
Goodnight, my friends!
—
Need a crockpot recipe for tomorrow morning or this weekend? Check out these lovelies!
Pork Tenderloin with Cranberry Sauce
Shredded Chicken (for noodles, tacos, salads, etc.)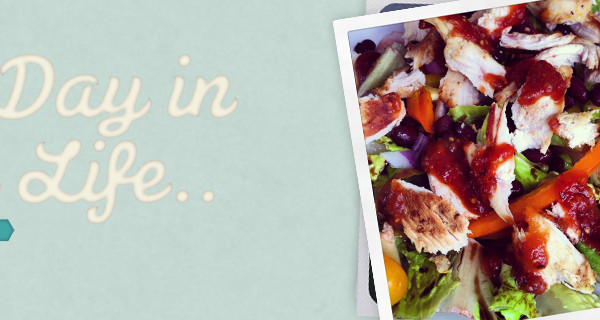 I love when fellow mommy bloggers share Day In the Life posts, so I thought that I would do a quick run down of a day in the life of the Peters family! I am following the The Eat-Clean Diet Stripped
plan as our beach vacation approaches, so all of the eats that you see are my interpretation of the meal plans from the book. Please keep in mind that I exclusively breastfeed a ravenous 20+ lb 6 month old, add to that 4-5 fast and furious workouts per week and I have a pretty high daily caloric expenditure.
The following is how our day went down last Wednesday.
1:00 AM - Luke is awake. Allan gets up to change his diaper. He finds that Luke's diaper has leaked, resulting in the wake up. This seems to be a common problem around here. For some reason Luke can wet through even the most expertly stuffed and applied diaper. Thank God for cloth pocket diapers because he can wet though a disposable in no time flat! I run downstairs to collect a new onesie, pajamas and two swaddling blankets. Allan changes Luke into his new garb, I nurse him to sleep and am back in bed around 2:15 AM.
4:45 AM - The butter bean is awake again. Allan changes his diaper while I toss and turn hoping that Luke will randomly fall asleep. That never actually happens, it is simply wishful thinking. I join the boys in Luke's bedroom and nurse him to sleep again. Back in bed at 5:25 AM. Allan is thinking about waking up to go running. I grunt and roll over.
6:15 AM - My iPhone alarm goes off. I quickly search for it on my bedside table trying not to wake Matthew. I press snooze and close my eyes.
6:29 AM – My iPhone alarm goes off again. Dang this thing is persistent. I pick it up, turn off the alarm and stumble out of bed. In the dark I gather up the baby monitor, my workout clothes and my clothes for the day. I quietly sneak downstairs, brush my teeth, put my contacts in, change clothes and talk to Allan for a couple minutes.
6:45 AM – I venture from our bathroom to the family room and put my ZCUT
into the Playstation 3 for the first time. I get everything all set up and realize I left my water upstairs in the kitchen. I quietly run upstairs, fill up my water and like a ninja I am back downstairs ready to workout.
7:10 AM – I'm done with my workout and completely drenched in sweat. I am pretty impressed with Zuzka's workout and it makes me fondly reminisce back to my pre-pregnant BodyRockTV days; although, I don't miss Zuzka's BodyRock bedroom-like panting. I plan to write more about my current workout routine in a future post.
7:15 AM – I run upstairs to check on Allan, who is preparing breakfast. Matthew has just woken up and Luke is still asleep. I beg him for 20 more minutes so that I can take my shower. He obliges me and I am back downstairs before he can change his mind.
7:45 AM – Showered, blow-dried and macara-ed I return upstairs a much happier mama. Allan has finished breakfast and he and Matthew are at the table devouring their food. I turn on the tea pot to heat some water for my lemon water. I pour a bit of almond milk into a mug and add coffee. I sit down and enjoy my breakfast, praying Luke doesn't wake up just yet.
Omelet: 1/2 cup egg whites, 1 egg, spinach, leftover potatoes, organic peppers
8:00 AM – Allan jets out the door to catch a bus to work, Matthew heads into the living room to play with his legos and I finish eating breakfast.
8:05 AM – Luke is awake. I go upstairs, unswaddle him, change his diaper and clothes, he nurses. I struggle with Matthew to change his diaper and offer him a pair of underwear. He lets me know that underwear are not on today's agenda and I unwillingly put another diaper on him.
8:30 AM – I empty the dishwasher, dish drainer and fill up the dishwasher with dirty dishes while drinking my second cup of coffee. Luke jumps in the jumperoo while Matthew plays with puzzles and legos.
9:00 AM – Luke is fussy and ready for his morning nap. I turn on Super Why for Matthew and head upstairs with Luke. He nurses and falls asleep. I set him in his crib, walk away and he wakes up. We do this same dance for 30 minutes until he finally gives in and sleeps.
9:45-10:30 AM – I check on Matthew, who is now watching Dinosaur Train. I switch the clean diapers from the washing machine to the dryer, hang up the outer PUL "pockets" of the diapers on our indoor clothesline, pay a few bills online, check Facebook, Twitter and my email, and fold a load of laundry.
Leftover roast broccoli, strawberries, hardboiled eggs
10:30 AM – Luke wakes up. The TV is turned off and we eat a snack. We then play with toys, read books, work on puzzles and have tummy time while I change diapers, nurse Luke and finish up any extraneous to-do's (make a 6 month doctor appointment for Luke, call around to preschools, look into selling our house/building a new one, freeze bananas for smoothies, weigh/package up chicken for the rest of the week).
11:45 AM – I start getting lunch together. Matthew has a piece of toast with almond butter, red pepper slices and hummus and raw cashews.
Salad: citrus chicken, romaine, black beans, tomatoes, peppers
1:00 PM – We begin winding down for nap. Matthew gets to play one more time with Legos while I change diapers and put a new load of diapers into the washing machine. I cannot wait for Matthew to be out of diapers so we don't have to wash and fold diapers every day!
1:15 PM – We read books, I tuck in Matthew and give him lots of kisses and lots of hugs. He refuses to stay in bed and instead wants to jump around his room. I tell him goodnight. Luke and I go upstairs to begin our song and dance routine.
2:30 PM – Luke is finally down for his nap. Matthew is not. He starts kicking his door. I bring him a snack cup filled with puffs and coconut milk creamies along with his water. He sits up in bed to enjoy his snack. Soon thereafter he stops making noise. I pray that he fell asleep and did not choke to death!
2:45 PM – Time to prep dinner and make a shopping list for next week's groceries. I have been using my slow cooker A LOT for dinners because I can do most of the prep during lunchtime or naptime. I decide to see if placing frozen mahi mahi with veggies and spices into the slow cooker will result in a delicious fish taco filling or not. I turn the crockpot on High for 2 hours and say a little prayer.
2:53 PM – I contemplate feeding this red cabbage to my family. It has been in my crisper drawer since November. I remove a few leaves and find black fuzzy stuff. It goes into the compost bin.
3:30 PM – I get hungry and have chicken wrapped in romaine leaves and topped with almond butter while I scurry around the house getting our stuff together. I am singing a solo at church on Sunday and have to be at church at 4:45 PM to practice.
3:45 PM – Luke wakes up from nap, I nurse him, change his diaper and put him on his play mat. I run into Matthew's room, wake him up, change his diaper and carry him half asleep into the living room to put on his shoes.
4:25 PM – We are in the car and driving. Matthew has a snack (a version of these banana muffins, I plan to share the recipe sometime soon!) on our way there.
6:15 PM – Back home and Allan is following the directions I left for him to finish supper.
6:15-8:30 PM – We eat dinner as a family, I wash dishes, Allan puts on Luke's pajamas, I put Luke to bed and Allan puts Matthew to bed.
8:30-10:00 PM – Allan packs his lunch for tomorrow, I prep breakfast by soaking steel cut oats, cinnamon, vanilla extract and apple cider vinegar in the rice cooker overnight. We each grab a snack and head downstairs to the family room to watch Biggest Looser. I surf the internet and Allan makes a blog post while we each keep one eye on the TV.
Banana Strawberry Protein Ice Cream
10:30 PM – We are in bed. Luke makes a couple whimpering noises. We pray that he stays asleep. Today he does.
Phew! Life with two little kids is definitely full, crazy and beautiful!
—
If you liked this post, check out more Day In the Life Posts:
I realize it has been months since I first posted about Luke's health and I have not updated you on how things are going. I am so sorry. To say that life is a hectic, crazy mess with two kids under 3 would be an understatement! Somedays I honestly have no idea what I've done all day long. However, as long as I get in my workout and we are all fed, attempt to nap and the dishes are cleaned up, I know that we've had a good day.
When Luke was 4 weeks old, I eliminated dairy (cow, goat and sheep), gluten, chocolate and most grains (I eat pseudo-grains millet, quinoa, teff and certified gluten-free oats) from my diet in an attempt to find the root cause of his severe eczema, colic and extreme vomiting. I also ensured that I was consuming (mostly) organic produce and meat. Since eliminating these triggers from my diet Luke's symptoms have (almost) completely disappeared.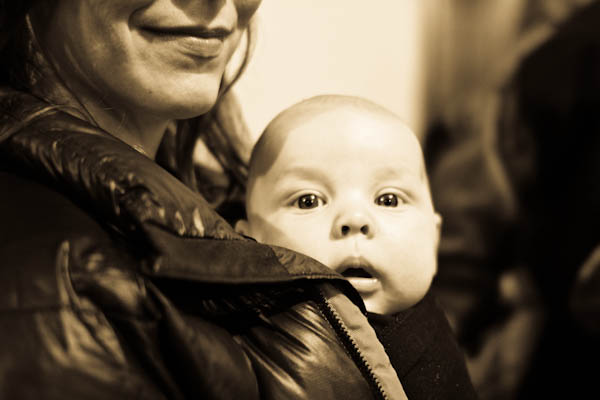 He no longer vomits the entire content of his stomach. He is less fussy and the honey-colored rash that used to cover his entire face, head, shoulders and chest has all but disappeared. Luke sleeps better (we've even had a few 6-9 hour stretches in the last few months along with a handful or 1-2 hours naps). He is beginning to take longer, more regular naps. Life is getting easier and more predictable – hence my ability to start blogging again.
I can't tell you if the elimination of these foods from my diet is the cause of his recovery because I have not attempted to add any of the trigger foods back into my diet. Honestly, there are days that I dream of eating a bowl of greek yogurt, enjoying a slice of Ezekiel bread with coconut oil or savoring a square (or two) of dark chocolate. However, I know that the short-term satisfaction I will experience is nothing compared to the guilt I would feel by causing pain to my little one.
I originally had plans of adding a few of the trigger foods back into my diet after Luke was 6 months old. However, now that the date has passed, I am torn. I think back to the early weeks with a truly unhappy, pain-torn baby and can't imagine having him go through that again – his poor little face itchy beyond belief, his tummy reeling in pain as he breastfed and the eventual vomiting that would follow.
Today Luke is a happy, well rested, playful baby who is driven and determined. We enjoy an amazing, loving breastfeeding relationship. His face is soft, supple and clear.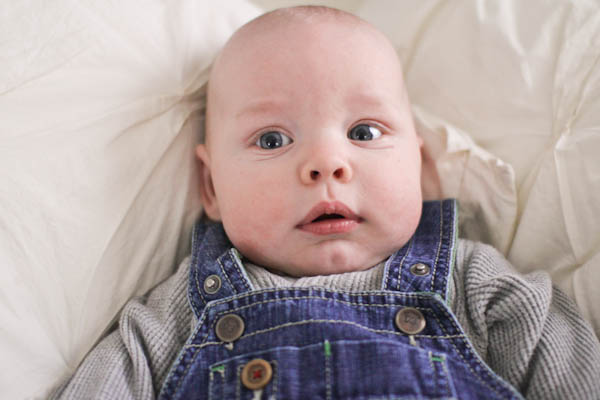 Of course, I don't want to paint a perfect picture of our life – that would be unfair to you, my beloved friends. Life is still challenging, but it could be so much worse. Yes, there are still nights that I barely get 5 hours of sleep, even though I go to bed around 10 PM. Several days per week I spend countless hours trying to get Luke to sleep or stay asleep.
There are days that Matthew watches 2 hours of PBS (Super Why, Dinosaur Train, Sesame Street and Daniel Tiger are his faves) while I put Luke down and fit in a quick 30 minute workout. I run around exhausted and drained. But we are happy and, honestly, that's all that really matters.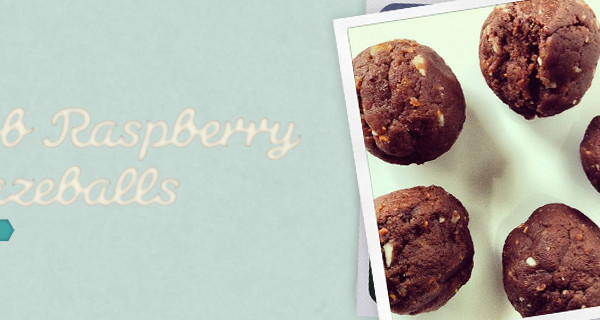 I was first introduced to amazeballs when I participated in the Fitnessista's Winter Shape Up. I immediately fell in love with the ease of preparation, portability and fun flavor combinations. We are hooked!
Every other week I make a batch (or two) as snacks for the whole family – with protein powder for Allan and I and without protein powder for Matthew. So far, Carob Raspberry is hands down our favorite flavor combo. This recipe is based on the Fitnessista's recipe for Cashew Butter and Jelly Amazeballs, I simply increased and subbed a few ingredients so that I could make a huge batch.
This recipe makes 18-20 balls, dependent upon how large you roll them. Feel free to use a melon baller, tablespoon or serving spoon to roll balls – I use a large cookie scoop.
For a post-workout snack I enjoy two balls and a piece of fruit. In our experience the balls last about a week in the fridge. They freeze beautifully if you don't plan on enjoying them all within a weeks' time. But trust me, they are so good that they will not last that long. You'll probably have to hide them from your family!
Don't have some of the ingredients on hand or want to make a protein powder-free version for your kids? It's simple. Feel free to substitute any combination of protein powder, dried coconut, rolled oats or almond flour for the 2 cups of total dry ingredients called for in the recipe. For example, you could use 3/4 cup oat flour, 1/2 cup dried coconut and 3/4 cup almond flour in place of the 1 cup protein powder, 1/2 cup coconut flour and 1/2  cup almond flour called for in the recipe. Make sense?
I have also used strawberry jelly in place of raspberry and peanut butter instead of almond butter. Both were wonderful!
What is your go-to post-workout meal?
I usually love making Banana Spinach Berry smoothies after my workouts, however Luke is usually napping while I workout, so unless I want to wake him I can't use my Vitamix.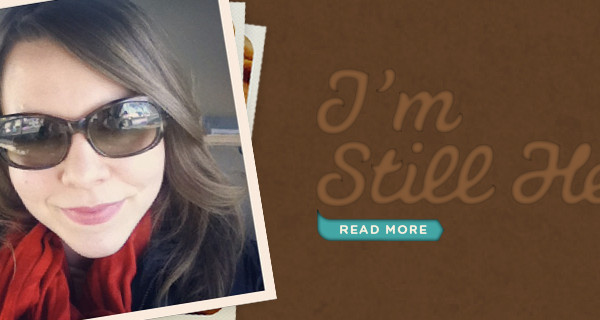 Thank you so much for your kind words on Facebook, Twitter and in the comments of my Birth Story posts. Your continued love and support means the world to me! i hope that by telling my story I can inspire someone else to let go and trust her intuition and her body's ability to birth her baby on her own terms.
—
I know that I always say this, but… things have been crazy around here! So crazy that I have been meaning to post an update for months. It seems that every time I sit down to write Luke wakes up from his nap.
Matthew needs a snack and a drink of water before he'll lay down.
A giant ice damn threatens to destroy our home.
The bathrooms need to be cleaned because Matthew has smeared a ketchup/hummus/peanut butter/almond butter mixture across the entire sink.
The kitchen floor should be swept, unless we want Luke's first solids to be unidentified pieces of food covered in cat hair.
I get a craving for dark chocolate (Green & Black's 85% cacao), greek yogurt, Ezekiel bread and a Willamette Valley Pinot Noir, but instead grab a bottle of lemon water, half a chicken breast smeared with a teaspoon of peanut butter and a pear.
PBS repeatedly asks for money between kids shows making Matthew frustrated that "those ladies are on TV" and he wakes Luke from his nap.
Luke breaks out of his swaddle for the fifth time this nap and for split second I consider letting him cry it out, but restrain myself and go up and re-swaddle, nurse and rock him back to sleep.
All of that has already happened today and it's not even 3:30 PM.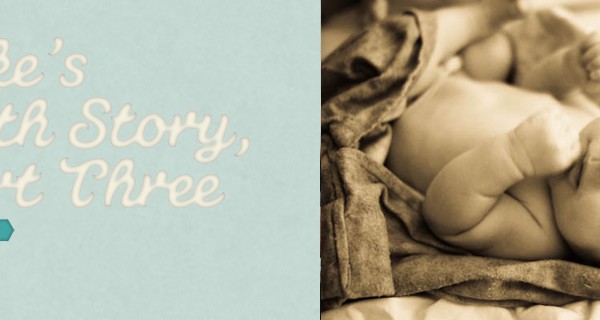 This post is the final installation of a three part series of Luke's Birth Story that ran this week.
Click here to read Luke's Birth Story: Part 1, The Road to Homebirth
Click here to read Luke's Birth Story: Part 2, In Denial
—
At 1:00 AM sharp I awoke from a deep sleep. I immediately felt three quick pops, a pause and a pool of water. At that moment I was ever thankful that my mom had brought me a waterproof pad for our mattress! I excitedly woke Allan with a shriek, "My water just broke!". I called Kim and Karen to let them know it was time to come over.
It was a very odd feeling to walk around after my water broke. Each contraction released a gush of water. I would look down at the water wondering if I had just peed myself or if it was amniotic fluid. I kept apologizing to Allan for creating little puddles around the house. He didn't seem to mind, but I felt embarrassed. Finally he talked me into hanging out on the landing area he had created next to the birthing tub. That way I didn't have to worry about pools of water on the hardwood floor. I was so thankful for this little area and spent quite a bit of time laboring there waiting for the tub to be ready.
Jane was the first to arrive, it was 1:15 AM. She joked with Allan that she was still wearing her nightclothes. Her warm smile softened my heart and mind. Next to arrive was Jamie, a midwifery student. I didn't anticipate Jamie being able to attend my birth and was overjoyed when I learned she would be joining us. Soon thereafter Karen arrived. As each of my support women walked through the door, I could feel the crisp fall air enter the house. At this point I felt comfortable chatting and joking between contractions.
Right after Kim arrived my labor intensified. Everyone was present and I felt comfortable going deep within myself. The duration and intensity of my contractions increased and they were much closer together. I was no longer comfortable speaking between contractions. I needed to save my energy to prepare for the next wave.Throughout my pregnancy the birthing ball was my best friend. Labor was no exception. I spent time sitting on the ball and draped over it. As my labor intensified I settled on to my hands and knees. As in my labor with Matthew, I felt the majority of the pressure in my lower back, requiring firm counter pressure from Allan – he was my rock. Karen made sure that I was comfortable, hydrated and applied light touch massage to my upper back.
At 2:13 PM, after bailing ¼ of the water from the too hot tub and filling it back up with cold water, the water was a perfect 98˚. Following a very strong contraction we quickly mobilized, knowing that I didn't have much time until my next contraction.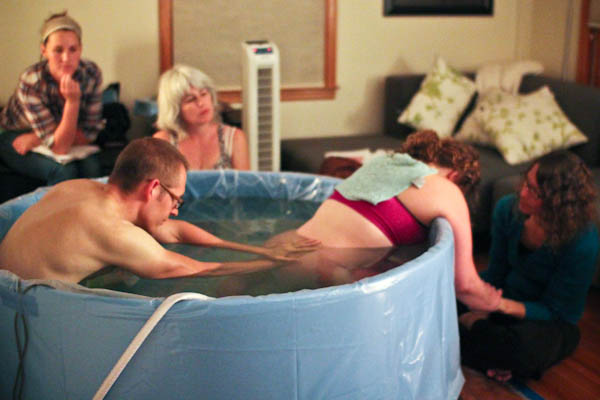 I draped my body over the side of the tub and Allan climbed in with me. He knelt behind me, keeping pressure on my lower back. Karen sat outside of the tub holding my hands, getting me water and applying cold washcloths to my neck and face. My eyes were closed and I was deeply focused. Between contractions I only had energy to whisper one or two words, which Karen had to quickly interpret. With each wave I moaned low, my voice vibrated in my chest and soothed my mind.
Contrary to what you might think, contractions are not a steady pressure that comes and goes, they are very much like waves of energy – you can feel them coming on as they rush over your body, peaking and then slowly dissipating. Oftentimes not knowing where one ends and the next begins. The key is to stay on top of them with focus, relaxation and self-restraint.
Kim asked Allan for our camera so that she could take photos. We had completely forgotten about photography – which was something that I really wanted this time around. I mourned not having photos of Matthew's birth and wanted it captured this time around.
At what I believe was transition, I almost let the waves take charge of me. I came out of myself for a moment just as a contraction peaked and I bit the side of the tub. I instantly caught myself and relaxed. I could not control what was happening to my body. I needed to let go and allow myself to birth my baby. In between contractions I gave myself a little pep talk, "Hmmm… With Matthew's labor, I don't remember experiencing a fight or flight moment, where I simply wanted to run away from labor and thought that I couldn't do it anymore. I guess if I had to pinpoint a moment that might feel like that, it would probably be right now. Huh… that must mean I am in transition – that's pretty cool. My baby is really close to being born!" And with that I asked Karen to turn the fan on because I was hot. It was 2:35 AM.
I could feel a palpable change in the way baby was positioned. It was as if he was twisting and moving down. I could then feel his head begin to move past my cervix. I told the ladies, "baby is coming". I felt the urge to be more upright and to spread my legs further from one another. My knee rubbed against the side of the tub where the heaters were and I tried moving over to avoid the heat. It seemed that no matter how far I moved I couldn't get away from the burning. Allan and Karen asked someone to unplug the heaters.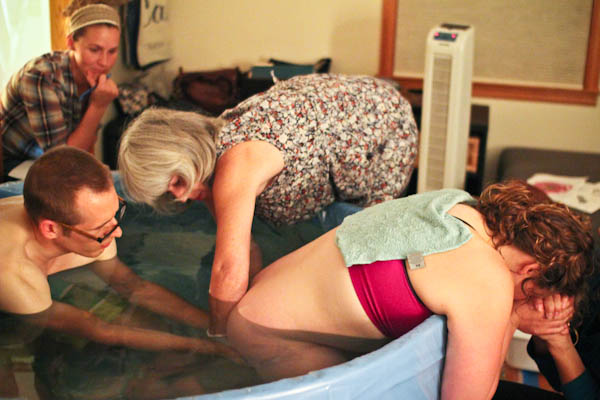 Soon I felt an uncontrollable urge to push. I breathed into the feeling, letting my body go limp. I took deep breaths and moaned loudly. Karen reminded me to moan deeply, which felt amazing. Beside breathing and moaning, pushing required no conscious effort on my part. I simply allowed my body's expulsion reflex to do the work. Prior to each contraction, I could feel my baby's feet push on the top of my uterus, then my muscles would tense up and he would move further down the birth canal.
At 2:57 AM, the baby's head began to crown. I slowly let him emerge on his own. The ring of fire was intense. I could feel my skin stretching to its limit around baby's head. I kept repeating the mantra "easy, easy, easy" during each contraction. Crowning took a full 4 minutes.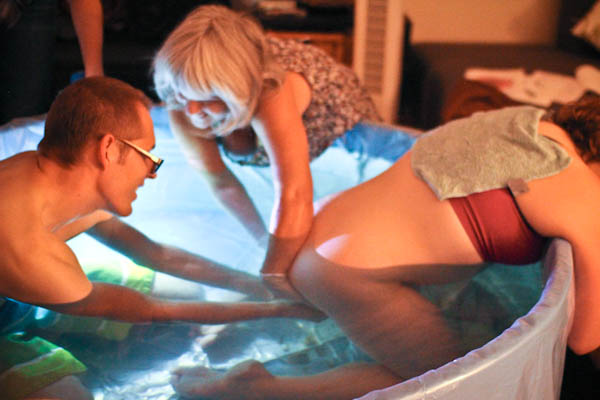 At this point Jane analyzed the situation and told me that with my next push I would have to more than ease him out, it would require some additional effort on my part. Two minutes later, which was the longest wait of my life, I experienced my next contraction. It was long and strong. I called out to my baby in a deep voice, "C'mon, Luke. Oh Luke. It's time to be born."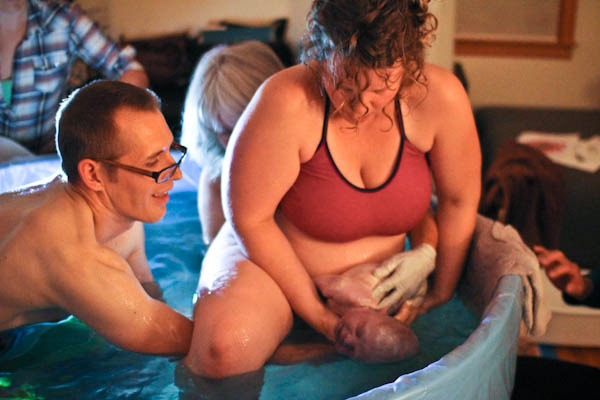 At 3:03 AM, Allan caught our baby and passed him under my legs into my waiting arms. I quickly picked him up and placed him on my chest and relaxed into the side of the tub. Allan sat in front of me supporting my legs. At 3:04 AM Luke let out a few strong cries, but overall he was very peaceful and alert. His eyes were wide as we soaked each other in.
Jane later told me that Luke's presentation was anterior, but very straight with both hands high on his chest.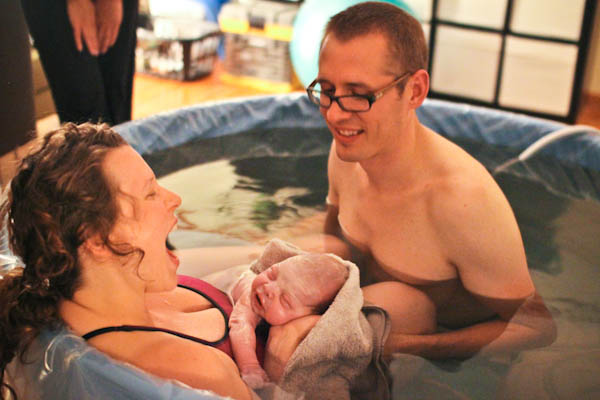 Once out of the tub, we were moved to the couch. Luke immediately began rooting and latched on a few times. At 3:50 AM, I still hadn't experienced after pains. Jane asked my permission to encourage my placenta to expel. She figured it was already loose and simply needed a little help. She was right and with some gentle enticing it was birthed. At 3:53 AM Allan cut Luke's umbilical cord. At 4:00 AM we moved to our bed.
At birth Luke weighed 9lbs, 8 ounces and was 22 ½ inches long. His head diameter was 14 inches and his chest was 14 ½ inches around. He was covered with a lot of vernix and had lanugo on his shoulders. His head had cone shaped molding, possibly due to spending quite a bit of time posterior in utero.
I had a labial laceration near the same location that I tore with Matthew along with a small perennial laceration.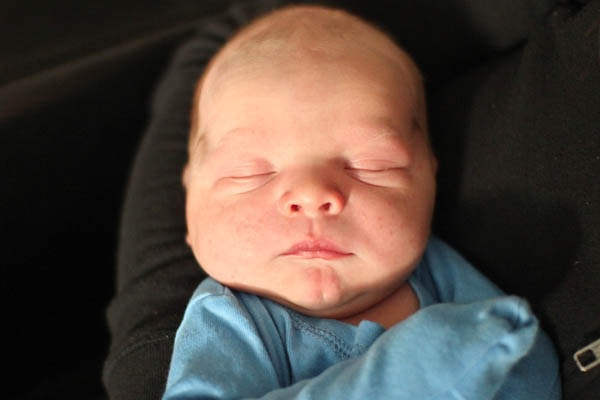 Bringing forth life is an amazing, powerful experience that has altered my perception of the world. Being a mother is the most rewarding and challenging thing I have ever done. The love that I have for my children is unlike any other. Honestly, being able to feel this overpowering love has helped me to feel closer to God – better understanding the joy and pain that we bring him.
Having a homebirth was an unencumbered experience where I was able to allow my body to simply follow through with God's perfect design without distraction or pressure. I am so thankful that I made the decision to allow myself this experience. I felt completely connected to Luke at every moment of labor and more vividly remember the experience than any other in my life.
If you are pregnant or trying to conceive and considering a homebirth I would definitely recommend you investigate your options. The prenatal and postnatal care that you receive from a traditional homebirth midwife is more personal than any clinic setting. I loved that I was encouraged to call one of my midwives at any time, day or night, if I had a concern, question or just needed to talk. We truly built a relationship of trust that enhanced my birthing experience along with my preparation for being a mother to my two boys.
Please let me know if you have any questions about my homebirth or hospital birth experiences. I am more than happy to discuss any of it with you!
This post is the second installation of a three part series of Luke's Birth Story that ran this week.
Click here to read Luke's Birth Story: Part 1, The Road to Homebirth
Click here to read Luke's Birth Story: Part 3, The Birth
—
Fast-forward several weeks to Friday, September 7th, the night before Luke's guess date. I began feeling intense pressure in my lower back, which I assumed was gas related to baby's position. The pressure waxed and waned all evening, accompanied by strong contractions. One in particular had me doubled over the hood of our SUV in the parking lot of Chipotle.
The next morning, on Luke's guess date, we arose early to go to our neighborhood's annual garage sales. We walked alleys for three hours straight. At no point did I feel uncomfortable, the gas from the night before had faded.
That evening I experienced the same gas and bloating, but this time the pressure was accompanied by a strong urge to squat. So, there I was in my mother-in-law's home-based beauty shop doing deep squats while Matthew got his first real haircut. He looked so grown up and mature.
Once again, by morning the pressure and bloat dissipated. I hoped and prayed that the night's events and urges were bringing me closer to meeting my baby boy.
On Sunday afternoon I vividly remember telling Allan that we were to begin Operation Eject Baby. I was ready to meet our baby. Earlier that week I had purchased Pulsatilla, a homeopathic remedy that I had intended to take to ease some round ligament/hip discomfort I was feeling. However, I read that the remedy could trigger labor and wanted to wait until after my guess date to use it. During Matthew's afternoon nap I took the Pulsatilla and Allan worked the acupressure points I had learned at my massage earlier that week. I did not notice a significant change in the intensity or frequency of my contractions.
After an early dinner we set off on a walk along the parkway. Matthew loves our evening walks. He happily leads Allan and I along the creek picking up sticks, admiring tree bark and stomping piles of leaves.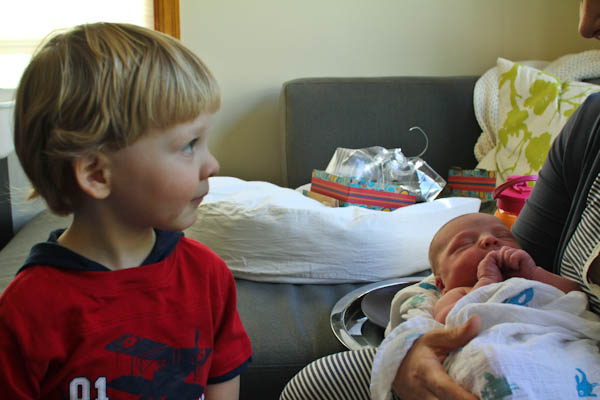 As we mosied along I noticed a change in my body. I could feel the baby descending into my pelvis. His descent was accompanied by pressure in my pelvic bones, cervix and lower back. I felt the urge to squat. I felt silly popping a squat in the middle of the park, but instinctively knew that it would relieve the pressure and aid him in his descent. Several times during our walk I took breaks to do deep squats and hip circles. I wanted so badly to have my baby and wanted to give him every opportunity to move into position. The contractions, which I thought were still simply gas pain, were starting to intensify and I decided that it was time to head home. Allan was positive that I was in labor. I was not convinced.
I assume that the pelvic pressure I felt during our walk was the baby descending into my pelvis with his hands next to his face. The week leading up to his birth he and I had several long conversations about moving his hands down to his chest versus keeping them by his face, as he had done for the majority of my pregnancy. Also, I knew that the baby was most likely still posterior at this point and desperately wanted to encourage him to turn anterior to aid in delivery.
We arrived at home at 7:30 PM and assumed our usual evening routine. Allan bathed Matthew and put him to bed. I tidied up the house and washed the dishes while on the phone with my mom. My mom later said that she could tell something was different about me and she assumed I was in labor.
Matthew was having a difficult time falling asleep and kept asking for me. He joined me on the kitchen floor watching me sway back and forth on hands and knees. Without saying a word he began to stroke my face and give me kisses.
At this point I was feeling very regular contractions, some strong enough to take my breath away. However, I was not convinced that I was in labor. Throughout the evening I remember asking Allan if he thought I was in labor and he kept suggesting that I call Kim. I would simply shrug it off, not wanting to be the girl who cried wolf. Besides, this was my second baby. I could recognize the difference between Braxton Hicks, gas pain and labor contractions, right? Apparently not.
At 10:00 PM I went to the bathroom and found blood on my underwear. I was excited, but still not convinced that I was in labor. I called Kim and told her about the day's events. I remember her telling me "Congratulations, you're dilating", which made me laugh. She asked if I wanted her to come over to check on me. I told her that I was fine for now and simply wanted to lie down and try to get some rest. I had a few contractions during our conversation and was easily able to talk through them. I felt that I had some time before baby was earthside. Kim suggested that Allan set up and fill the water birth tub. I called Karen to let her know what was going on, but had her hold off on coming over as well.
We contemplated what to do with Matthew, who had just finally fallen asleep. Our plan was to have Matthew go to Allan's parent's house during the birth; but now I was conflicted. There was part of me that thought he may simply sleep through the birth, but I was concerned that the commotion might wake him. Allan recommended that we follow through with our plan. My in-laws came to pick up Matthew. I sobbed as I watched my father-in-law carry my baby out of the house, but knew that it was what was best for him and me.
Allan frantically ran around the house making preparations. He constructed a lovely birthing set up in the living room including a large plastic covered "landing area" to the side of the birthing tub. Around midnight he finally joined me in bed.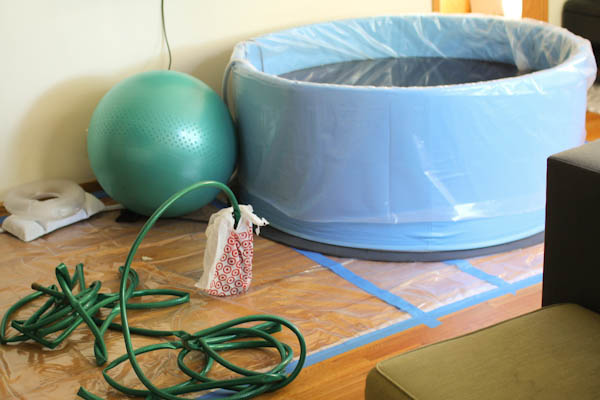 While Allan scurried around just outside our bedroom door I tried to relax. The contractions seemed to be coming in regular intervals. I knew that it was a bad idea to time my contractions, but I was curious. Around 11:00 PM the contractions were coming every 7-10 minutes and lasting 1 minute. With that knowledge I was able to let go and sleep.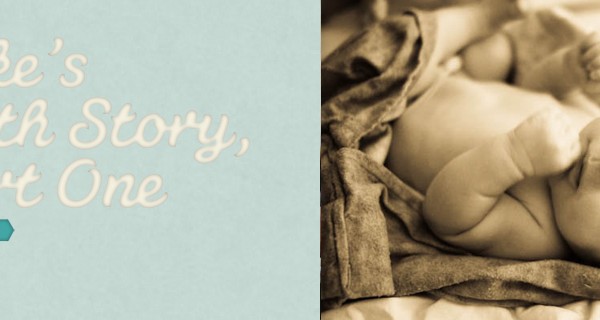 This post is the first installation of a three part series of Luke's Birth Story that ran this week.
Click here to read Luke's Birth Story: Part 2, In Denial
Click here to read Luke's Birth Story: Part 3, The Birth
Luke's birth story begins when I was seven months pregnant with Matthew. At that time we were taking Hypnobirthing classes from Channing McKinley at Blooma. Before studying Hypnobirthing I knew that I wanted a natural birth. I knew that birthing naturally was the appropriate choice for us, we viewed it as an extension of our clean lifestyle. However, I was naïve to the complex issues surrounding hospital births, inductions, c-sections, etc. After becoming enlightened I instantly felt convicted to support a pregnant woman's right to birth.
During our Hypnobirthing classes we often watched videos of natural births – most of which were homebirths. Oftentimes, Channing spoke of the beautiful homebirth she had with her second baby. I was intrigued, but fearful of birthing at home. Little did I know that two and a half years later I would be birthing in my living room with the same midwife who attended Channing's home birth.
Out of curiosity, I began researching birth centers, but ultimately decided that I was too far along to change providers. Besides, I was already planning to deliver at one of the least hospital-like hospitals in the Twin Cities with a natural birth friendly group of midwives. I knew that I could easily achieve the Hypnobirth that I wanted with my current plan.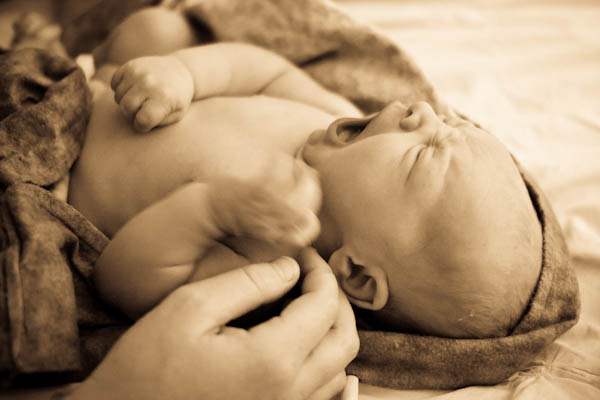 Two years later I was with child again. Being that Matthew's birth went (almost) flawlessly, I started seeing the same midwife that oversaw my pregnancy with Matthew. All along my interest in birthing at a birth center or at home glimmered in the back of my mind. As my pregnancy progressed my concern for women's birth empowerment intensified. I found myself researching pregnancy and birth in my free time.
Around the same time, I began my prenatal yoga practice at Blooma. I loved hearing other woman's birth experiences– their fears, hopes and dreams. I was inspired by the women that were birthing for the first time along with those who were pregnant with their fifth child. I wanted all of these wonderful women to have the opportunity to experience their best birth. I celebrated each time I read a birth story on Blooma's blog. I was becoming a birth junkie.
Although we were very happy with Matthew's birth, we decided to hire a doula to attend our, at that time, midwife-attended hospital birth. We felt that having a doula would allow Allan to devote his attention to my labor and our Hypnobirthing practice, versus having to manage both the birth and hospital staff. With Matthew's birth we were lucky enough to have an amazing nurse who was ever present and supportive. We knew that this time around we might not be so lucky. We attended a Childbirth Collective Meet the Doula night at Blooma and met Karen Bruce. We instantly knew that she was a perfect fit.
In preparation for the birth, I read Ina May's Guide to Childbirth
and watched Ricki Lake's documentary, The Business of Being Born
. I was inspired. I knew that I wanted the amazing, orgasmic experience of these unencumbered women. I was no longer afraid to have my baby at home. I wanted to snuggle in my bed with my newly born baby. I wanted a homebirth.
However, I was 30 weeks pregnant and unsure if it was too late to change providers along with logistically prepare our home for the birth of our son. I spoke with Karen about our decision and she referred me to several potential homebirth midwives. After a five minute phone conversation with Kim Garrett to set up an interview, I knew that she and Jane Kirby would deliver our baby.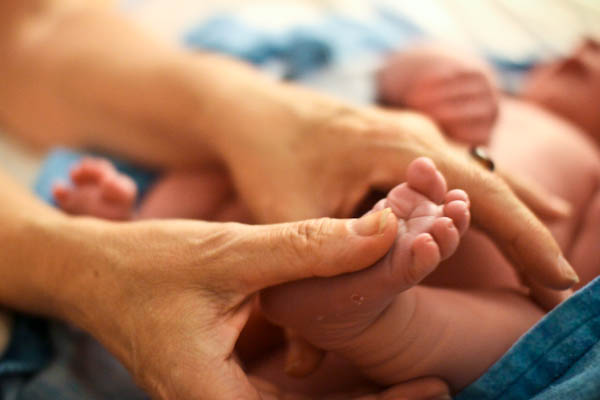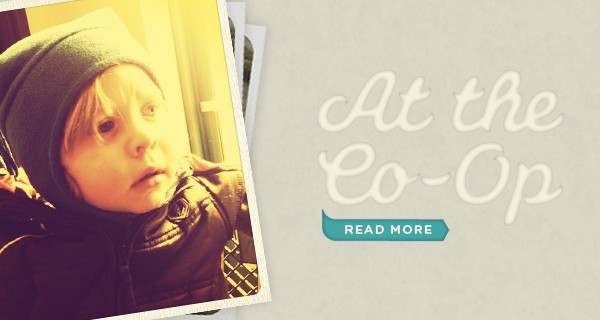 This morning Matthew, Luke and I ventured to our Co-Op, Valley Natural Foods, for the first time since Luke was born. In the last few months I've shopped at Valley a couple times either with Allan or solo, but this was our first time there just the three of us. I was prepared for an uneventful outing, as we have been to Target and Trader Joe's several times without incident. But there is something about driving all the way down to the Co-Op that brings out the crazies in my babies. Maybe it's a sign that we should find a different co-op… Local readers, do you love your co-op? Are your kids well-behaved when you visit or does every co-op make kids act silly?
In typical fashion, Luke was securely strapped to me in the Ergo
while Matthew narrated our journey from the cockpit of the shopping cart. While scoping out the parsnip selection Luke began making grunting noises. I then felt a concerning rumble deep within the Ergo. I looked at Luke and knew exactly what was going down. I continued my shopping so as to let Luke finish his business, all the while praying the Bum Genius was doing its job. Matthew insisted that we did not need parsnips. I insisted that parsnips were delightful – like white carrots. He looked at me in disbelief and continued arguing that parsnips were indeed a bad choice.
After finishing in the produce department we headed to the loo. Upon removing Luke from the Ergo I found that unfortunately the Bum Genius needed to be fired. Luke had brazened the Ergo, my shirt and his entire outfit. As I removed layer upon layer of clothing I finally reached the leaky culprit. All the while Matthew was causing a ruckus in the single stall bathroom – putting toilet paper in the toilet, opening the garbage can with his hands to examine the inordinate number of wipes I was discarding, flushing aforementioned toilet, insisting that I use toilet paper to dry my hands instead of the wicked, terrible, two-faced Dyson Airblade. I turned to remind Matthew not to touch anything and at that moment Luke decided that he wasn't quite finished with his business, we were simply experiencing an intermission. And then everything was covered – all of his clothes, the changing table, his jacket – everything!
Oh yes, the joys of parenting two little children!
To those of you that do not have kids or have selective amnesia from the days your children were little, please do not give a mom toting two small children the stink eye for occupying the only women's restroom for 25 minutes while you wait to pee. Trust me, it may have seemed like an eternity while you were holding it, but in reality there was a world war fought in that bathroom while you were checking your iPhone.
Valley has a wonderful organic juice bar and whenever we shop for groceries, we stop for a juice or smoothie. Today Matthew and I split a green lemonade. It was delicious!!!
For my Stripped meal plan, I planned to buy 4 lbs of chicken breast. After reading this article about chickens being fed GE feed and the spread of botulism I decided to only purchase meat that is either organic or uses sustainable practices in addition to non-GMO feed. Since then I have been buying the organic chicken a Trader Joe's. When I approached the meat counter at the Co-op to ask a few questions about the chicken and turkey options I was faced with some hard truths. Out of the several brands of poultry available for purchase, only one brand was organic and non-GMO. And it cost double the price of the organic chicken at Trader Joe's!
After this conversation I was left feeling very frustrated. I'm sure that many people blindly purchase the poultry at the Co-Op thinking that it is non-GMO without knowing the products they are purchasing indeed contain GMOs. For some reason, I was under the (incorrect) assumption that shopping at the Co-Op helped me to avoid GMOs and I was mistaken. I guess I'll be sticking to the organic chicken at Trader Joe's.
One of the other items I planned to purchase today was chili powder. I usually purchase the bulk Frontier Organics chili powder without thinking about it. Today I noticed the ingredients label:

Yep, you read that right – silicon dioxide aka silica aka the little packets that come in shoe boxes and vitamins that read: "Do not Ingest". How on earth are they able to add that to organic food? On a side note, for more info on another common organic/natural food additive that is carcinogenic, carrageenan, read this.
So, instead I bought chipotle pepper powder and figured I could mix my own chili seasoning.
And that was my day.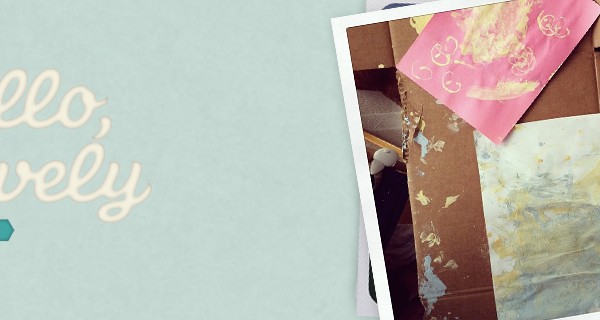 Hello, lovely! Words cannot express how much I have missed you.
The following are ten things that I am loving right now that I couldn't help but share with you!
1. Making art. Matt and I have been embracing our inner artists. This was our first time using our gluten-free organic/edible finger paint
. Matthew thoroughly enjoyed himself; although, I felt the paint was too watery and easily chipped off the page when dry.
2. Day dreaming of an eco-friendly home amidst nature. Allan and I would love to someday own an ultra-modern, eco-friendly home surrounded by trees, animals and water.
3. Baby-Led Weaning
. For several weeks L has insisted that he is ready to eat solids. First he started batting at my food, oftentimes stealing pieces and quickly shoving them into his mouth, then he began making (almost constant) chewing faces during meals and now he has FOUR teeth! He has had very small tastes of avocado, sweet potato and banana. I plan to roast a few carrots for him with dinner tonight.
4. New art. We received this amazing wood type from one of Allan's blog readers. I cannot wait to hang them above our bed!
5.Carob Raspberry Amazeballs. The best snack ever! I used the Fitnessita's recipe as a base and make a huge batch every other week. They freeze well and are perfect pre/post workout or as a snack while running errands. Recipe coming soon.

6. Hardcore workouts. I just finished the Fitnessista's 4 week Winter Shape Up. I feel refreshed and ready to take on more hardocre exercise. We are quickly approaching our beach vacation and am trying to decide which workout program to get my body in (hopefully) post-baby bikini shape. I am considering the The Female Body Breakthrough
, ZCUT
or Supreme 90
.
7. Afternoon Chai Protein Lattes. I have been making a large batch of double strength chai tea "concentrate" to keep in the fridge for when I am in need of an afternoon "pick me up". It's super simple: combine a cup of the warmed chai tea concentrate, a half scoop of vanilla protein powder
and 1/4-1/2 cup frothed nondairy milk in a mug, sprinkle with cinnamon and enjoy. Ah-mazing!
8. Warm winter walks. We are starting to get a little stir crazy over here. So, when the weather has been above freezing and sunny, we bundle up and go for a half an hour walk before lunch. It helps to clear my mind and lift my spirits. L usually takes a cat-nap in the Ergo and M is able to burn off some energy.
9. Vine. I am having so much fun taking short, stop motion videos of the boys to share with friends and family on Facebook. It's a nice departure from my standard Instagram photos.
10. The Eat-Clean Diet Stripped
. I am re-reading Tosca Reno's Eat-Clean Diet Stripped book and this week I am easing into the eating plan, trying to use up items we already have on hand. Next week I plan to hit it hard and loose these last few stubborn baby pounds! Although, I already know that I will have to modify my food intake a bit so as not to impact L's milk supply.
—
What have you been loving lately? Are you getting in shape for a big winter vacation? If so, where are you headed?
Wishing you a very Merry Christmas from our family to yours.

Once again, Allan did an fabulous job scouring through hundreds of family videos to put together our 2012 family video. It's amazing how quickly life changes and our children grow. We hope that their joy warms your hearts this holiday season!

Peters Christmas 2012 from Allan Peters on Vimeo.
Click here to watch our 2010 and 2011 videos.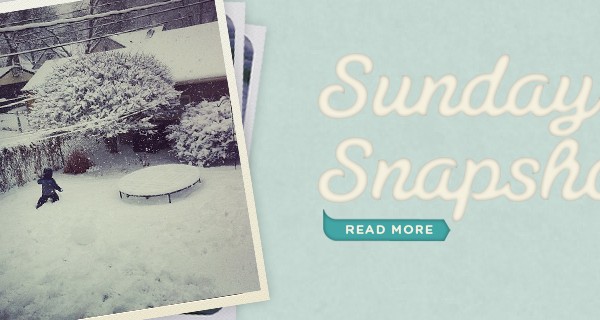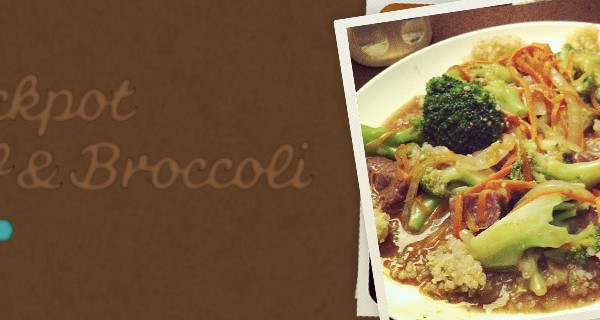 With the holidays quickly approaching and a new baby in the house, I am finding it more and more difficult to get dinner on the table every night. Some evenings are so rough that it seems to take me over an hour (or two!) to get a simple meal on the table for everyone. Then the minute we sit down to eat, Luke gets hungry, tired or bored. Have you ever tried to eat one handed while holding a baby? Allan and I tend to eat a cold meal every single night. Sound familiar?
For some reason I don't quite remember things being this complicated with Matthew. But I'm sure that they were… I've just conveniently forgotten the chaos.

I strive to fit in my workout during Luke's morning nap and while Matthew either workout with me or watched Sesame Street. That way I have the afternoon nap open to prep and/or make dinner.
So, I am defaulting to meals that require long cook times, hours of simmering or slowly braised meats. I have been scouring Pinterest boards and some of my favorite blogs for these kinds of recipes and then saving them in categorized boards on Pinterest. When I do my weekly or biweekly meal planning I sit down with my iPad and pin the meals I plan to make to my Meal Plan board. That way I don't have to spend time searching for a recipe again or remembering which board it is saved to.
The following recipe for Beef and Broccoli is an example of a recipe I spotted on Pinterest. I simply cleaned up the original recipe and added a few extra veggies to amp up the nutrition. What I was left with was an amazing, gourmet meal that was very easy to prep, had little clean up (I stick my crockpot in the dishwasher!) and was plated by 6:15 PM.
We served our meal over perfectly cooked quinoa (done in 12 minutes!), but it would be delightful on top of brown rice.
Crockpot Beef and Broccoli adapted from Table for Two, gluten-free, grain-free, dairy-free
1 lb grass-fed stew meat
1 cup organic vegetable stock
1/3 cup liquid aminos or tamari
2 tbsp maple syrup
1 tbsp sesame oil
1/8-1/2 tsp red pepper flakes or natural sriracha sauce, optional
3 cloves garlic, minced
2 tbsp arrowroot starch
1 onion, cut in half and then into thin half moons
1 carrot, shredded using a julienne peeler
or box grater
16 ounces frozen broccoli florets
Lightly mist the insert of a 6 quart slow cooker with olive oil. Whisk the veggie stock, aminos or tamari, maple syrup, sesame oil, garlic cloves and red pepper flakes, if using, in the slow cooker insert. Add the stew meat and stir to coat the meat. Layer the onion and carrot on top of the stew meat.
Set the crockpot to cook on low for 5 hours or high for 3 hours.
After cooking time is up, dissolve the arrowroot into 4 tsbp of water and add to slow cooker. Stir to distribute the arrowroot into the cooking liquid. It's ok if the onions and carrots are also mixed into the sauce.
Place the frozen broccoli on top of the sauce and meat. Replace the lid of the slow cooker and set to high for 30 minutes to steam the broccoli.
The sauce should be thickened, the broccoli warmed and the meat cooked.
Serve over brown rice, quinoa or millet. Taste test the sauce and add additional sriracha, if desired.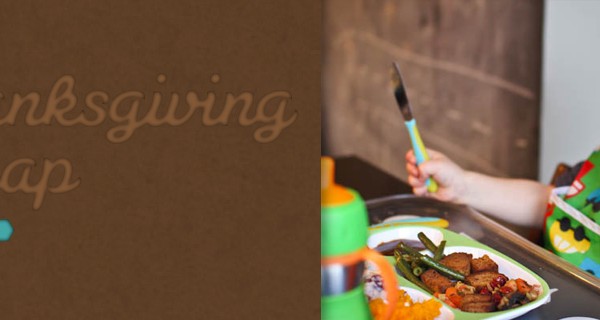 Yep. I'm a week late and a dollar short; but if you'll excuse me, I'd still like to share a little Thanksgiving Recap.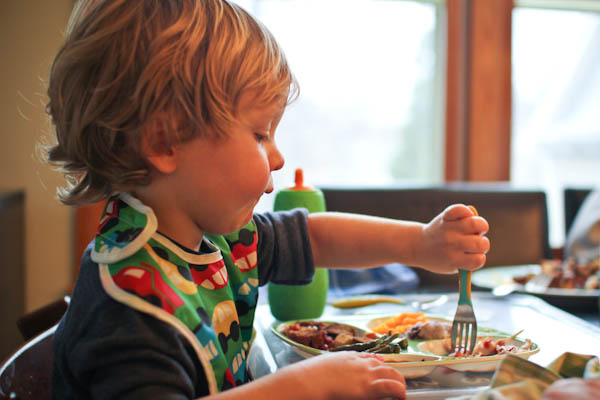 We had the most delightful time with our family enjoying good food, adult beverages and, of course, each other's company. We certainly do have a lot to be thankful for.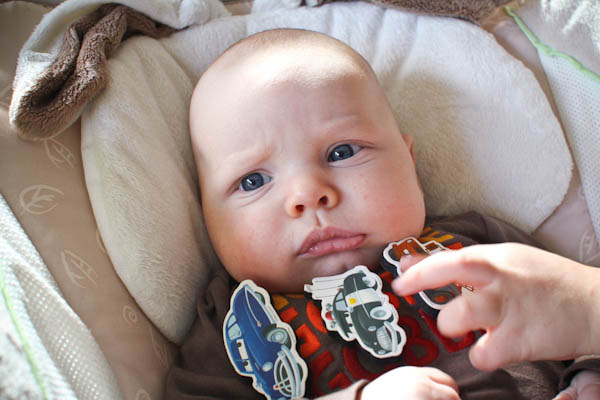 Our beautiful local, free-range bird turned out perfectly juicy and tender. Not to toot my own horn, but over the years I certainly have mastered the roast turkey. We enjoyed leftovers of this 16-lb bad boy all week long. Our favorite recipe, though, was Tortilla Soup. I know the pics are unappetizing in the linked post, but oh my goodness this soup is amazing!
The kitchen got a little crazy in the last few minutes before dinner was served. Everyone had a job to do and we were all diligently working to pull all of the dishes together at the same time. LOVE my new stove!
Lukers had a difficult time staying asleep, because he didn't want to miss a moment of his first Thanksgiving.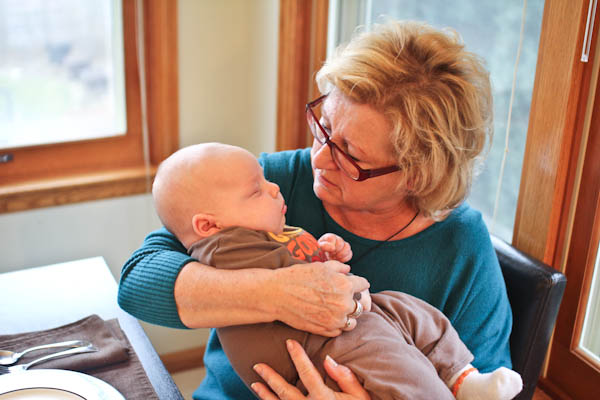 Dinner is served! Stuffing, brussels sprouts, purple (!!!) mashed potatoes, green beans, turkey, gravy and butternut squash.
Time to dig in!
Fake smiles for the camera.
And lots of diaper changes.
I know that it's easy to get caught up the in the hustle and bustle of the Holiday season, but try to take time to sit down, relax and enjoy the small moments – a cup of hot chocolate, Christmas movies with the family, watching the twinkly lights on the tree after the kids have gone to sleep, etc. We are awaiting the birth of our Saviour – don't miss the wonder and delight!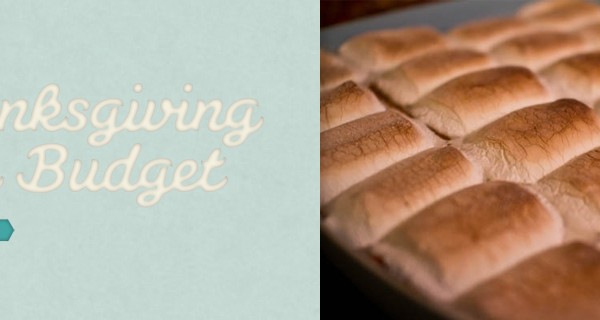 As promised yesterday, I am going to give you a peak at our Thanksgiving meal budget. This year, I decided to dial back our Thanksgiving budget, as I tend to go a little overboard during the Holidays. Trust me, it is not necessary to serve a plethora of side dishes along with your Thanksgiving meal. It's actually kind of fun to rotate sides every year to keep things interesting. Plus, no one actually needs squash AND sweet potatoes AND mashed potatoes AND stuffing – that's a heck of a lot of starchy carbs in one meal!
This year's meal is going to be a bit more balanced than year's past. Thank goodness!
That being said, I set our meal budget at $150, which based on 12 servings is $12.50 per person. Not bad for an all you can eat organic feast!
After finishing up my shopping trips at Super Target, Whole Foods and Valley Natural Foods I compiled our purchases into a spreadsheet to see how I did.
Updated to add: I picked up the turkey today and it was significantly cheaper than I remembered, so I actually ended up being under budget by a lot! I inserted a new budget image below:
Please note that I did not have to purchase all of the ingredients for the recipes that I am making on Thanksgiving, as some items, like Organic Extra Virgin Coconut Oil
and Organic Dried Cranberries
 are pantry staples that I always have on hand. In addition, the Super Target prices listed are the regular store prices, prior to using our employee discount and our Target Red Card (5%) discount. Also, these are the prices per unit at the store, I will definitely have leftovers of several of the bagged ingredients (i.e. carrots, onion, apples, herbs, spices, etc.) to use in Crock Pot Turkey Stock and other meals/snacks next week.
As you can see, I came in significantly under budget, including an unplanned splurge purchase of two organic pomegranates!
And now it's time for me to hit the hay! Luke was up from 3 AM to 5:15 AM last night with an upset tummy that resulted in him vomiting all over me and our bed, so I am exhausted!
Good night!
What is your favorite Thanksgiving side dish? I LOVE sweet potatoes topped with marshmallows. Funny enough, that is one of the side dishes that I am not serving on Thursday. However, I did roast up a few sweet potatoes to go along with dinner tonight. Tomorrow for lunch I should throw a couple stale marshmallows on top of the leftovers…
If you have been following my blog for some time, you've heard me talk about hosting Thanksgiving for both of our immediate families every year. This year, I am aiming to do Thanksgiving on a Budget, as we definitely splurged last year. Even though, I am trying to keep our spending to a minimum, it doesn't mean that we are compromising our food ethics or the robust flavor of a traditional meal. It simply means that the dishes that I plan to prepare are made up of hard working, organic ingredients that happen to cost less and go further.
If you are still stumped on what to prepare for the big meal, check out the posts that I made last year leading up to our big Thanksgiving feast. I made a special post highlighting each recipe, a printable PDF with all of the recipes, a shopping list and a complete Thanksgiving game plan (that breaks up all of the recipes into simple steps that can be completed starting today to minimize your Thanksgiving day prep).
The following are the recipes that I will be serving on Thanksgiving this year. Stop back later this week and I will give you a peek into our Thanksgiving shopping budget along with a revamped list of Thanksgiving leftover ideas.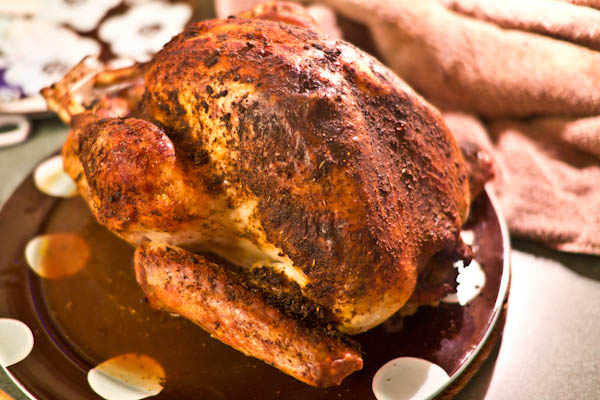 Spicy and Smoky Turkey Rub
Roast Turkey with Herby Gravy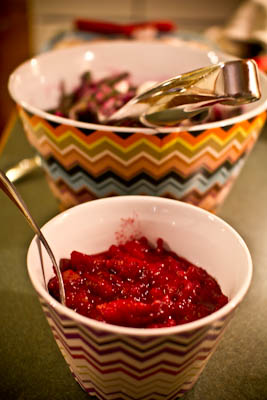 Spiced Cranberry and Apple Sauce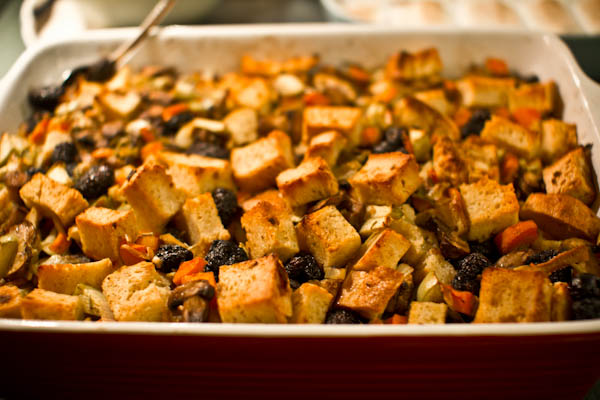 Cherry, Apple and Mushroom Stuffing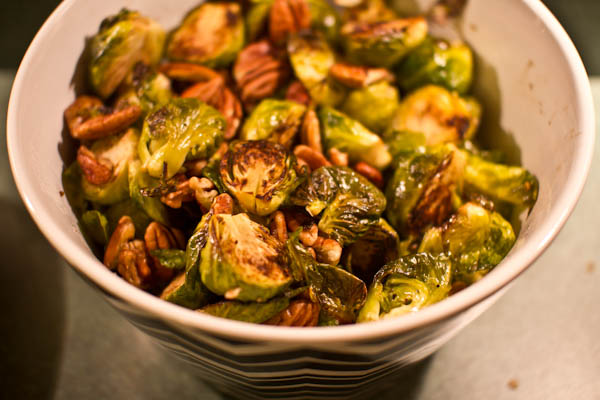 Roasted Brussels Sprouts and Pecans
Vanilla Bean Pumpkin Spiced Pie with Coconut Whipped Cream
In addition to these items, my mom is bringing roasted butternut squash and my mother-in-law is bringing an apple pie and steamed asparagus.