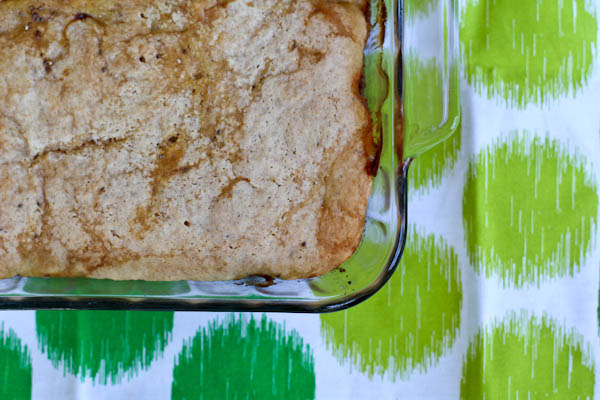 As the temperature and humidity rise, rhubarb is taking its final bow. However, if you're like me, your plants are still hanging on. Go out and pick your last harvest and enjoy this amazing semi-homemade Ginger Rhubarb Peach Cake.
Can't get your hands on rhubarb anymore? No worries! This cake would be amazing using blueberries, raspberries, strawberries, peaches, plums or any fruit that is in season. Can't decided which fruit to use? Mix and match a few to make an amazing flavor combo. Go out on a limb and try something new and different like peach raspberry or blueberry peach.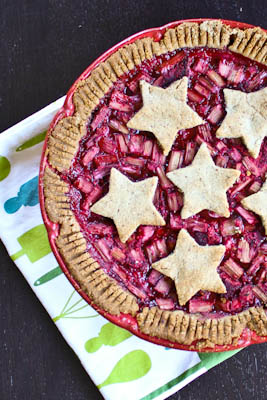 Speaking of fun combos, I still can't find that Rhubarb Raspberry Pie recipe. *doggonit* Seriously, I just had the recipe a couple weeks ago when I made three of them for a few family events and one for my freezer. The pies were a hit at both events and they miraculously freeze and travel well. Although, this year I did use store bought raspberries, because local berries were not in season yet. The flavor was a little flat in comparison to last year's trial where I used my mother-in-law's berries. Seriously, that pie was out of this world! I would highly suggest using freshly picked berries if you can get your hands on them.
Yes, this recipe uses a packaged cake mix. Don't hate. I know it might seem counterintuitive to receive a recipe that isn't homemade from a girl who LOVES to bake and create clean eats from scratch. But trust me, even I don't always feel like spending hours in the kitchen. Take last Mother's Day, for example. Yes, this recipe HAS been sitting gathering dust for months! I wanted to bless my mother and mother-in-law with dessert at our house after burnch at French Meadow; however, I also wanted to enjoy my day of rest. That's exactly the time and place that semi-homemade can be to your advantage. Seewhaddimean?
Feel free to get all Suzy Homemaker and whip up your own gluten-free vanilla cake. However, when I'm in a hurry or want simplicity, the BRM gluten free vanilla cake mix
has a pretty stellar ingredients list (in comparison to most ulta-processed cake mixes) and tastes amazing. Honestly, it might be the best cake mix I have ever tasted – gluten-free or not.
This cake is so good, in fact, that my little helper could not wait to eat his piece. Here he is pointing out the spot where his piece of cake should be.
This is why most of the pics in this post are of only part of the cake. It just wouldn't be right to photograph a partially eaten cake, would it?
Semi-Homemade Rhubarb Peach Cake
Prep Time: 10 minutes
Cook Time: 30-35 min
Ingredients (serves 12)
For the Cake
1 Bob's Red Mill Gluten-Free Vanilla Cake Mix
1/2 cup extra virgin coconut oil, melted
3 eggs, room temperature
1/4 cup water
1 tsp cinnamon
1/2 tsp cardamom
1/4-1/2 tsp freshly grated ginger
For the Filling
3 cup rhubarb, 1/2 inch dice
2 cups peaches, sliced (fresh or frozen)
1/4 cup coconut sugar
1 tsp cinnamon
1 tbsp arrowroot starch
2 tbsp chia seeds
Instructions
Preheat oven to 350*.
Prepare a 13×9 pan by greasing it with coconut oil. Set aside.
In the bottom of the pan combine the filing ingredients and stir well.
In a large bowl beat the eggs on medium speed for 30 seconds, until frothy. Add the remaining cake ingredients and beat for 60 seconds, until fully combined. Stopping to scrape down the sides of the pan as necessary.
Gently "plop" the cake on top of the filing, trying to distribute it around the pan as evenly as possible. Using a rubber spatula gently spread the piles of cake batter into another until all of the filling is covered in one even layer.
Bake in a preheated oven for 30-35 minutes until the filling is bubbly and the cake is baked through. Test cake's doneness using a toothpick. You do not want the cake overcooked, so a little bit of softness/crumb is ok. If the cake is gummy/wet it probably needs a couple more minutes in the oven.
Enjoy!