I posted this picture last week and got lots of requests for the recipe, so I thought I would pop in while the kids finish up their naps to share this very simple recipe that has become one of my go-to snacks.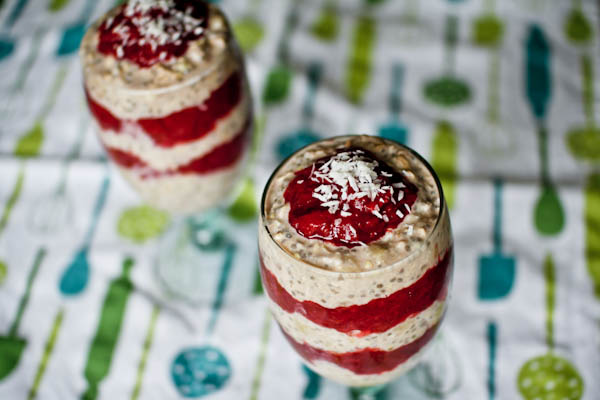 I love to top my Quinoa Protein Cereal with either fresh berries, banana or Rhubarb Strawberry Sauce. Also, be on the lookout for a new twist on Rhubarb Sauce this spring.
This recipe is inspired by Gina's Cookie Dough Cereal, which is another wonderful breakfast and/or snack option.
Quinoa Protein Cereal
Prep Time: 2 minutes
Keywords: no bake breakfast easy quick snack dairy-free gluten-free high protein kosher low-sodium low-sugar soy-free unsweetened vegan vegetarian
Ingredients (serves 1)
1 cup cooked quinoa
1/2-1 scoop protein powder (vanilla or chocolate are ideal)
1/2 tsp cinnamon
pinch of sea salt
1-2 tbsp almond butter, peanut butter or sunflower seed butter
1 cup almond milk
Topping Ideas
Rhubarb Strawberry Sauce
Fresh berries
Sliced banana
Dried fruit (raisins, banana chips, cherries)
Chocolate chips
Instructions
In a medium sized cereal bowl stir together cooked quinoa, protein powder, cinnamon, sea salt and almond butter. Stir together using the back of your spoon to break up the almond butter and protein powder clumps, fully distributing both throughout the the mixture. It's ok to have clumps of quinoa cereal, you just don't want all of the almond butter in one big clump.
Top with almond milk and toppings of choice. Enjoy!
The cereal, minus the almond milk and toppings, can be prepared in advance and stored in the fridge for a couple days.