I apologize for the blurry, unflattering photos below. Our new camera should arrive next week, so I will be using my iPhone less for food pics. Even if I did have the DSLR at my disposal, it's difficult to take an appetizing photo of curry – the reddish pink sauce makes most veggies look brown, which is simply unappetizing!
—
I very recently became acquainted with the amazingness that is Indian food. It all started last summer when Allan and I decided to take the plunge and try Namaste Cafe in Uptown. It was the heat of the summer Spring and I was pretty far along into my pregnancy with Luke. We had recently found out that he was a boy and we were still contemplating names. Allan and I spent a romantic evening on the front porch of the cafe's renovated house sipping chai lattes pouring over baby names, our future and the sweet little bundle of joy we would be welcoming in a few months. That night I decided to join Blooma and our road to homebirth began. I will always remember that night.
After this culinary awakening I finally decided to try my hand at cooking Indian food at home. With the help of a very special premixed Vindaloo Curry Powder
, the following dish is one that is super easy to throw together. If you've ever made homemade curry you know that simple and quick are abnormal adjectives to use in reference to curry-making, which usually involves mixing several spices to achieve the perfect blend. But trust me, you can throw all of the ingredients into the slow cooker in a matter of minutes, set it to low and be about your business the rest of the afternoon!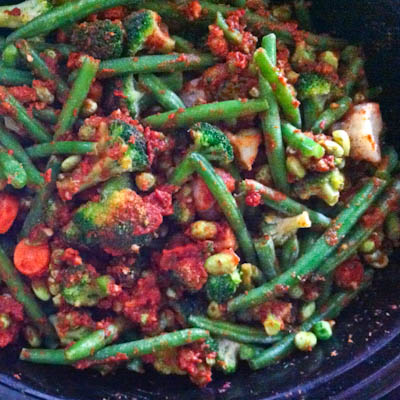 We served our curry on a bed of sweet brown rice, which I soaked in water and a tablespoon of apple cider vinegar for several hours prior to dinner. We love sweet brown rice because the texture is closer to that of sticky, sushi rice making it easier for Matthew to scoop.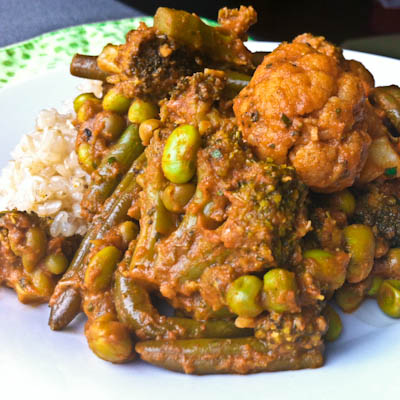 In addition, I strive to always soak the grains that we consume (all oats, rice, quinoa, millet, etc.). The following are a few of the benefits of soaking your grains:
First, you will significantly reduce the cook time of the rice from 45 minutes (unsoaked) to 20-30 minutes for well soaked rice.
Second, soaking rice reduces the phytic acid and enzyme inhibitors in rice, in essence pre-digeting it, so that our bodies can actually benefit from the nutrition they contain. For more information on soaking grains and the reason that you should soak all grains, check out this article.
Third, your rice will be softer and fluffier – closer resembling white rice in texture.
Crockpot Coconut Vegetable Curry
Prep Time: 10 minutes
Cook Time: 4-6 hours
Keywords: slow-cooker entree easy vegetable toddler approved gluten-free dairy-free high protein low-sodium low-sugar nut-free vegetarian vegan
Ingredients (serves 6-8)
Coconut Curry Sauce
1/2 can tomato paste
2-4 tbsp red curry paste
1 inch piece ginger, grated fine
4-6 garlic cloves, minced
1/4 cup veggie stock or water
2-4 tbsp vindaloo curry powder
4 tbsp ACV
1 tbsp EVOO
1 tsp coconut sugar
Sea salt and pepper
Veggies and Protein
1 bag frozen broccoli florets, 10-16 ounces
1 bag frozen green beans, 10-16 ounces
1 bag frozen peas and carrots mix, 10-16 ounces
1 bag frozen peppers and onions, 16 ounces
1 lb tofu, pressed and cubed, optional or 1 bag frozen edamame
Finishing touch
1/2 – 1 cup full fat coconut milk
Instructions
Place Coconut Curry Sauce ingredients in slow cooker and stir to combine. Sauce wil be thick. Begin with the minimum curry powder and curry paste amounts.
Add frozen veggies to crockpot along with frozen edamame, if using. Stir to distribute sauce ingredients.
Set slow cooker to low for 5-6 hours. During last 45 minutes of the cooking time, place tofu on top of veggies, to warm.
Pour in 1/2 cup coconut milk and stir to combine. If needed, add additional coconut milk to thin sauce. Taste and decided if you would like to add additional curry powder and/or curry paste.