I realize it has been months since I first posted about Luke's health and I have not updated you on how things are going. I am so sorry. To say that life is a hectic, crazy mess with two kids under 3 would be an understatement! Somedays I honestly have no idea what I've done all day long. However, as long as I get in my workout and we are all fed, attempt to nap and the dishes are cleaned up, I know that we've had a good day.
When Luke was 4 weeks old, I eliminated dairy (cow, goat and sheep), gluten, chocolate and most grains (I eat pseudo-grains millet, quinoa, teff and certified gluten-free oats) from my diet in an attempt to find the root cause of his severe eczema, colic and extreme vomiting. I also ensured that I was consuming (mostly) organic produce and meat. Since eliminating these triggers from my diet Luke's symptoms have (almost) completely disappeared.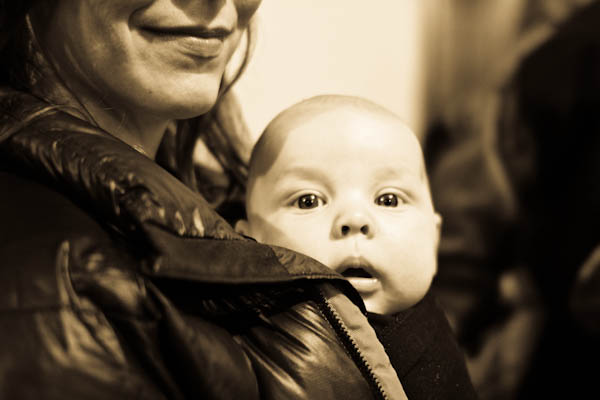 He no longer vomits the entire content of his stomach. He is less fussy and the honey-colored rash that used to cover his entire face, head, shoulders and chest has all but disappeared. Luke sleeps better (we've even had a few 6-9 hour stretches in the last few months along with a handful or 1-2 hours naps). He is beginning to take longer, more regular naps. Life is getting easier and more predictable – hence my ability to start blogging again.
I can't tell you if the elimination of these foods from my diet is the cause of his recovery because I have not attempted to add any of the trigger foods back into my diet. Honestly, there are days that I dream of eating a bowl of greek yogurt, enjoying a slice of Ezekiel bread with coconut oil or savoring a square (or two) of dark chocolate. However, I know that the short-term satisfaction I will experience is nothing compared to the guilt I would feel by causing pain to my little one.
I originally had plans of adding a few of the trigger foods back into my diet after Luke was 6 months old. However, now that the date has passed, I am torn. I think back to the early weeks with a truly unhappy, pain-torn baby and can't imagine having him go through that again – his poor little face itchy beyond belief, his tummy reeling in pain as he breastfed and the eventual vomiting that would follow.
Today Luke is a happy, well rested, playful baby who is driven and determined. We enjoy an amazing, loving breastfeeding relationship. His face is soft, supple and clear.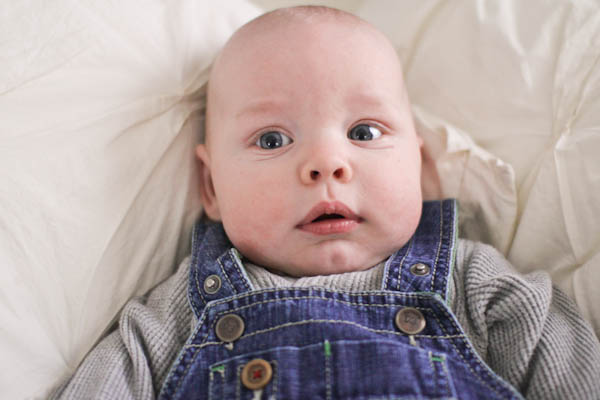 Of course, I don't want to paint a perfect picture of our life – that would be unfair to you, my beloved friends. Life is still challenging, but it could be so much worse. Yes, there are still nights that I barely get 5 hours of sleep, even though I go to bed around 10 PM. Several days per week I spend countless hours trying to get Luke to sleep or stay asleep.
There are days that Matthew watches 2 hours of PBS (Super Why, Dinosaur Train, Sesame Street and Daniel Tiger are his faves) while I put Luke down and fit in a quick 30 minute workout. I run around exhausted and drained. But we are happy and, honestly, that's all that really matters.