This post is the first installation of a three part series of Luke's Birth Story that ran this week.
Click here to read Luke's Birth Story: Part 2, In Denial
Click here to read Luke's Birth Story: Part 3, The Birth
Luke's birth story begins when I was seven months pregnant with Matthew. At that time we were taking Hypnobirthing classes from Channing McKinley at Blooma. Before studying Hypnobirthing I knew that I wanted a natural birth. I knew that birthing naturally was the appropriate choice for us, we viewed it as an extension of our clean lifestyle. However, I was naïve to the complex issues surrounding hospital births, inductions, c-sections, etc. After becoming enlightened I instantly felt convicted to support a pregnant woman's right to birth.
During our Hypnobirthing classes we often watched videos of natural births – most of which were homebirths. Oftentimes, Channing spoke of the beautiful homebirth she had with her second baby. I was intrigued, but fearful of birthing at home. Little did I know that two and a half years later I would be birthing in my living room with the same midwife who attended Channing's home birth.
Out of curiosity, I began researching birth centers, but ultimately decided that I was too far along to change providers. Besides, I was already planning to deliver at one of the least hospital-like hospitals in the Twin Cities with a natural birth friendly group of midwives. I knew that I could easily achieve the Hypnobirth that I wanted with my current plan.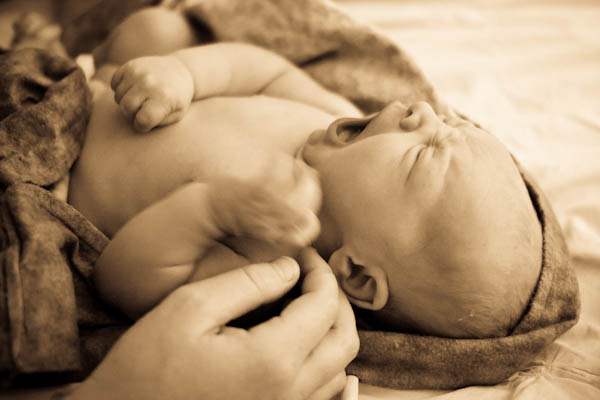 Two years later I was with child again. Being that Matthew's birth went (almost) flawlessly, I started seeing the same midwife that oversaw my pregnancy with Matthew. All along my interest in birthing at a birth center or at home glimmered in the back of my mind. As my pregnancy progressed my concern for women's birth empowerment intensified. I found myself researching pregnancy and birth in my free time.
Around the same time, I began my prenatal yoga practice at Blooma. I loved hearing other woman's birth experiences– their fears, hopes and dreams. I was inspired by the women that were birthing for the first time along with those who were pregnant with their fifth child. I wanted all of these wonderful women to have the opportunity to experience their best birth. I celebrated each time I read a birth story on Blooma's blog. I was becoming a birth junkie.
Although we were very happy with Matthew's birth, we decided to hire a doula to attend our, at that time, midwife-attended hospital birth. We felt that having a doula would allow Allan to devote his attention to my labor and our Hypnobirthing practice, versus having to manage both the birth and hospital staff. With Matthew's birth we were lucky enough to have an amazing nurse who was ever present and supportive. We knew that this time around we might not be so lucky. We attended a Childbirth Collective Meet the Doula night at Blooma and met Karen Bruce. We instantly knew that she was a perfect fit.
In preparation for the birth, I read Ina May's Guide to Childbirth
and watched Ricki Lake's documentary, The Business of Being Born
. I was inspired. I knew that I wanted the amazing, orgasmic experience of these unencumbered women. I was no longer afraid to have my baby at home. I wanted to snuggle in my bed with my newly born baby. I wanted a homebirth.
However, I was 30 weeks pregnant and unsure if it was too late to change providers along with logistically prepare our home for the birth of our son. I spoke with Karen about our decision and she referred me to several potential homebirth midwives. After a five minute phone conversation with Kim Garrett to set up an interview, I knew that she and Jane Kirby would deliver our baby.