If you have been reading my blog for some time, you have heard me talk about my struggle to lose weight and keep it off pre-baby. Just as I reached my goal weight, I got pregnant with Matthew. I gained 40 lbs during my pregnancy with Matthew and it took me about a year to shed the access weight.
When I got pregnant with Luke, I vowed to keep my weight gain closer to 30-35 lbs, so that I wouldn't struggle with weight loss postpartum. Apparently, my body feels most comfortable gaining about 40 lbs when pregnant, and I again gained 40+ lbs with Luke. Today, 8 weeks postpartum, I am carrying an access of 25 lbs.
In my 3rd trimester I could not wait to lift heavy weights and interval train again. Instead of throwing my sleep deprived, out of shape self right into The New Rules of Lifting for Women
, The Female Body Breakthrough
or Supreme 90
 – all programs that helped me get an amazing body postpartum with Matthew, I decided to ease into working out using the Lindsay Brin's Postnatal Boot Camp
, which was included with her prenatal workout DVD set
 that I already owned. Click here to read about the Prenatal Fitness DVDs I loved during pregnancy.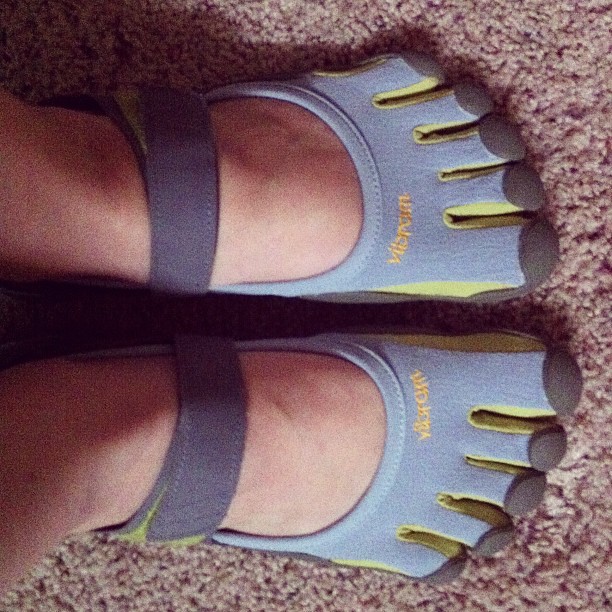 Two weeks ago I strapped on my Vibrams
for the first time postpartum. I have been really enjoying Postnatal Boot Camp
 and am following the 12 week plan as outlined in the DVD. I especially LOVE the kickboxing interval. The best part is that the workouts are super customizable to the amount of time you have to dedicate to working out.
So far, the week 1 and 2 workouts have clocked in at about 25 minutes a piece, which means that I can pop in a DVD when I put Matthew down for his nap and be done with my workout in time for Luke's next feeding. Then I have the rest of naptime to cuddle with Luke, get things done around the house and make dinner while Luke and Matthew finish their naps.
My goal is to do the bootcamp DVD three times per week (Monday, Wednesday, Friday)  and then fit in a quick postnatal yoga practice on either Tuesday or Thursday. As I feel my fitness level increase, sleep deprivation wane and have more consistent nap/eating schedules in place I will probably follow a more rigorous training schedule, like Supreme 90
. There is something very appealing about simply popping in a DVD and lifting weights.
Did you see that there are several new fitness books that were either just released or coming out in the next year? I sure hope my local library carries these titles so I can preview them!
What is your favorite workout DVD series? How long did it take you to get your body back postpartum?
I would really love to try one of the BeachBody DVDs, like P90X
, ChaLEAN Extreme
and Insanity
.