Can you believe that we are in the midst of strawberry season already?!?
I adore sweet, local berries and am so excited that the season is arriving early and with a vengeance this year. Usually the local MN strawberries are bright red, extremely sweet and very fragile. They can be difficult to handle and bake with because they easily fall apart in your hands and have a high water content. However, this year I had the pleasure of buying a case of large, sturdy berries from a local grower at the farmer's market.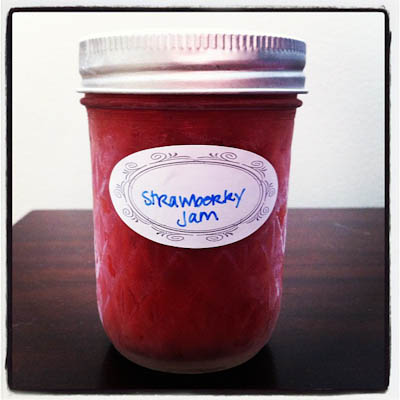 Last week we ate strawberries like they were going out of style! Bowls of oatmeal were lavished with fresh berries and toast was spread with strawberry freezer jam. Fresh dinner salads and mid-morning snacks were all filled to the brim with berries. I even went out on a limb and made a strawberry rhubarb galette, inspired by this recipe. Unfortunately, I didn't catch a pic of the galette, as it was far too dark in our house and we were way too hungry for photos to be captured. I suppose that I will just have to round up a another harvest of rhubarb and local strawberries so that I can make the recipe again and capture a few photos for you. 🙂
One of my favorite creations of the week was Strawberry Cornbread. This recipe is out of control delicious! Honestly, the cornbread was snatched up so quickly that I was lucky to snag this photo of it before it was inhaled by my boys.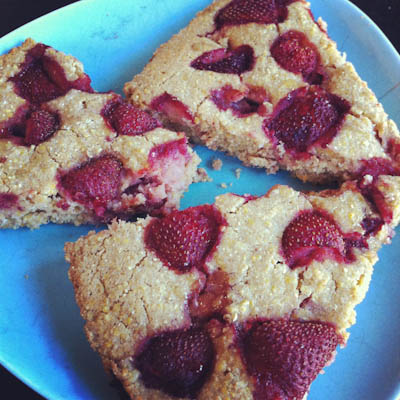 Gluten-Free Summer Strawberry Cornbread inspired by Blueberry Pecan Cornbread
This lightly sweetened and gluten-free cornbread is the perfect pairing to a simple summer salad. Best when strawberries are at their peak. Hands down this is the BEST cornbread I have ever tasted!
Serves 6-8
1/2 cup medium grind cornmeal (gluten-free, if necessary)
1 cup corn flour/fine ground cornmeal (gluten-free, if necessary)
1/2 cup raw buckwheat flour (ground from raw buckwheat groats) or gluten-free oat flour
3 tsp baking powder
1 tsp cinnamon
pinch sea salt
1 cup organic milk or nondairy milk
1 tbsp local, raw honey
1 large organic egg or 1 flax egg (1 tbsp ground flaxseed + 3 tbsp water combined and allowed to gel)
1 tbsp vanilla extract
2 tbsp coconut oil or grass-fed butter, divided
2 cups fresh strawberries, quartered and divided
Preheat oven to 400˚. Place 1 tbsp of coconut oil or butter into a cast iron pan or 9″ (or larger) cake pan and move to preheating oven for 5 minutes to melt. Place remaining 1 tbsp oil or grass-fed butter in a small oven-safe ramekin and melt in oven. Remove both the ramekin and pan from oven and set aside.
Meanwhile, in a large bowl combine dry ingredients (cornmeal, corn flour, baking powder, cinnamon and sea salt).
In a small bowl or glass measuring cup, whisk together the wet ingredients (milk, honey, egg, vanilla extract and 1 tbsp melted coconut oil or butter).
Whisk the wet ingredients into the dry ingredients. Do not over stir.
Gently fold in 1 1/2 cups of quartered strawberries into batter.
Allow batter to rest for 5 minutes to thicken.
Meanwhile, swirl the preheated pan to coat the bottom and sides with the melted coconut oil or butter.
Using a spatula, spread batter into prepared pan, smoothing the top.
Place remaining 1/2 cup strawberries on top of the cornbread, gently pressing them into the batter.
Bake in the preheated oven for 20-30 minutes, depending on the size of your pan. Use a toothpick to test for doneness. The cornbread should be cooked through yet still moist, but not gooey in the center. The edges will pull away from the sides of the pan and be deeply browned, while the center should be lightly golden and cracked.
Allow to cool in the pan for 5 minutes. Slice into 8 wedges and serve with raw honey and additional coconut oil or grass-fed butter, if desired.
—
We are now out of sweet berries, but I look forward to purchasing another case or two from our local CSA in the coming weeks.