It's starting to feel like summer in MN. I am excited for the fun family events we have penciled in this summer, including a few trips to the cabin and a couple camping adventures.
One way that we like to beat the heat is to share a cold, refreshing smoothie. Some days I serve Matthew's smoothie in his very own cup outfitted with a straw. However, lately he has been much more excited about drinking a mooo-thie out of mama's glass with mama's straw.
Last week on Matthew's birthday, I whipped up this smoothie for us to share. It was so delicious! Please ignore the funky, swirly color, this is simply a symptom of adding spinach and protein powder to the frozen watermelon.
I wanted the consistency to be closer to that of a slushie, so I froze the watermelon overnight in preparation for making the smoothie. This is entirely not necessary, you can simply use fresh watermelon and add a handful of ice to the smoothie. However, the texture will be less slushie and smoothie.
I used my Vita Mix to make this smoothie and am not sure if a regular blender is powerful enough to pulverize the frozen watermelon and whole spinach leaves into a smooth slushie. Please let me know if you have success with a regular blender!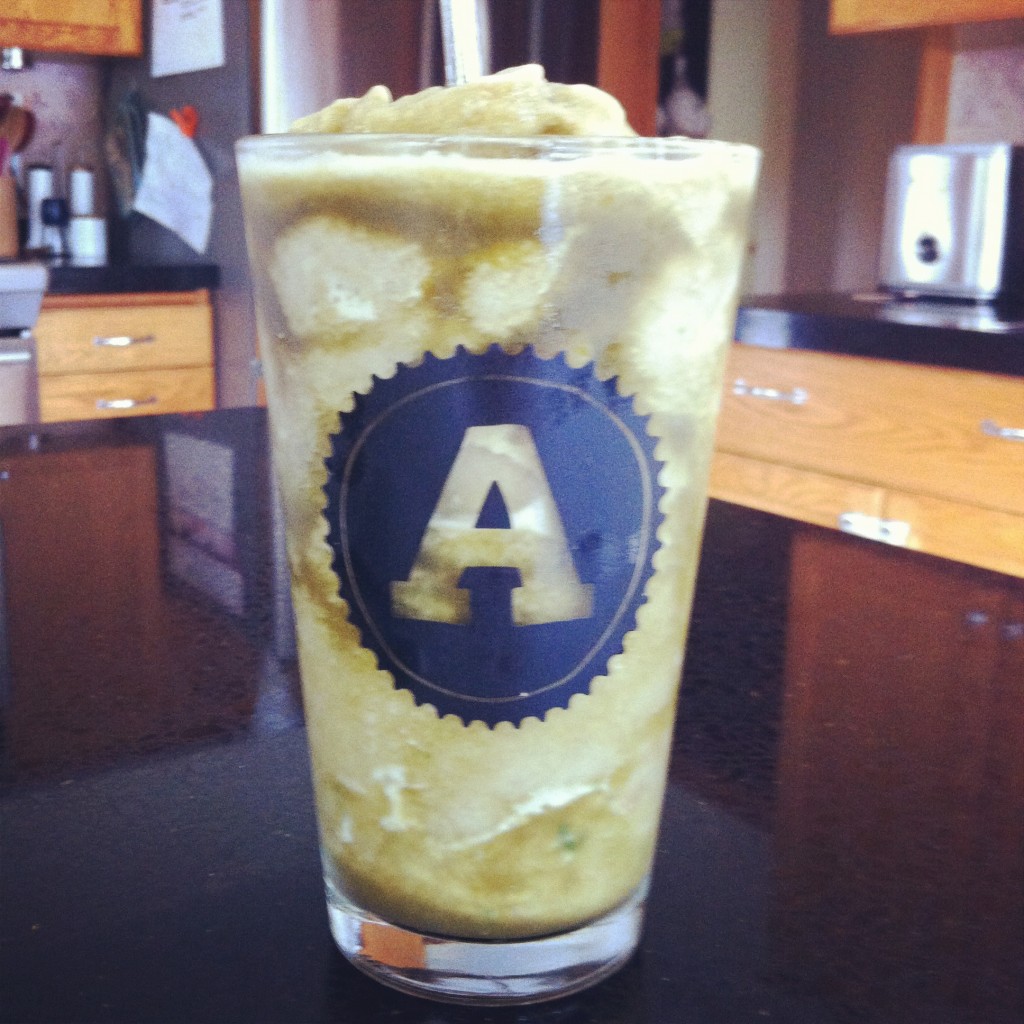 Watermelon Protein Slushie
The perfect summertime treat to beat the heat and nourish you from the inside out!
Makes 1 large smoothie
1 cup watermelon, frozen in ice cube trays
1/2 cup orange juice
1/2 cup water or milk (or the watermelon juice that collects from cut watermelon)
1 scoop vanilla protein powder
1 large handful spinach (3/4 cup)
Freeze watermelon in ice cube trays for a few hours or overnight.
Once watermelon is frozen, remove from freezer and allow to sit out on countertop while you prepare the rest of the ingredients, about 3-4 minutes. This will thaw it slightly, allowing for easier blending.
Place remaining ingredients (everything but the watermelon) into your Vita Mix or other high speed blender and briefly pulse to combine and break down spinach. Add watermelon ice cubes and process until combined, 1-2 minutes, using tamper as necessary. Depending on your blender, you may need to add additional liquid.