As I mentioned earlier this afternoon, we enjoyed an amazing stack of blueberry pancakes this morning to celebrate this little guy's birthday.
Matthew, like his mama, loves breakfast! I knew that I wanted to make something special for him this morning to celebrate the big T-W-O and instantly thought of pancakes. A couple months ago, I whipped up Ashely's Cherry Almond Pancakes and knew that her recipe would make the perfect base for the hearty breakfast that my boys crave to start their day.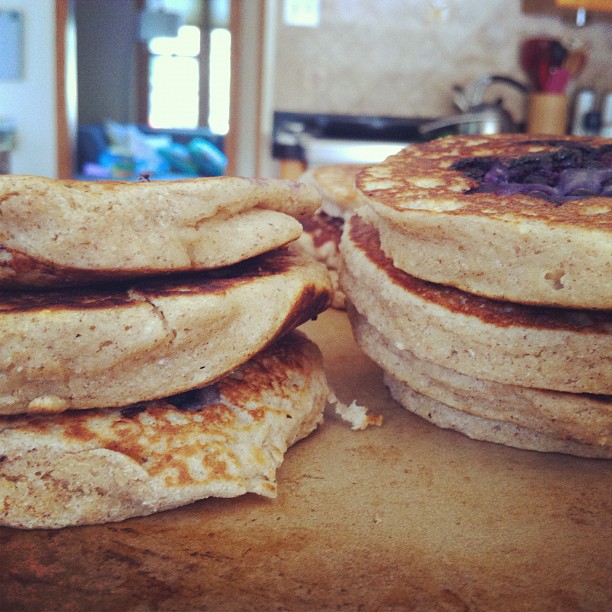 Please note that these pancakes do not taste like the standard, white flour, overly sugared pancakes served at your local greasy spoon. No, these puppies pack a protein punch and will keep you satisfied until lunch. No sugar crashes here. They are actually so filling that Allan, who can usual down six pancakes in one sitting, was stuffed after enjoying three pancakes with a side of whole milk yogurt.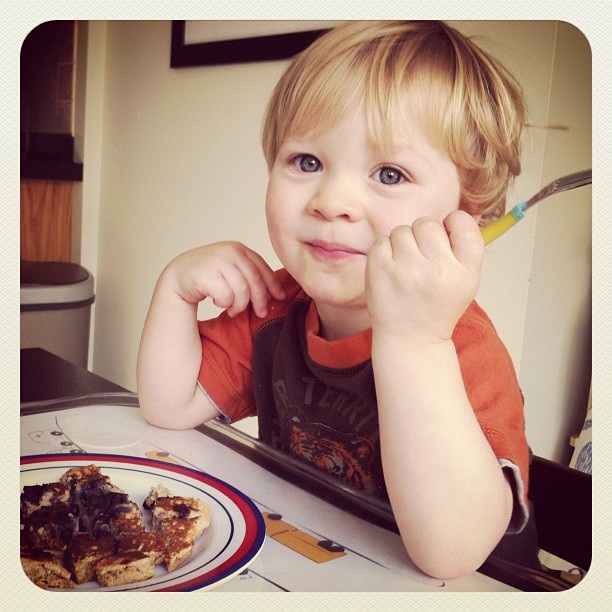 To make things even better, if you mix up the dry ingredients in the evening these pancakes are a synch to whip up on a weekday morning prior to work and school.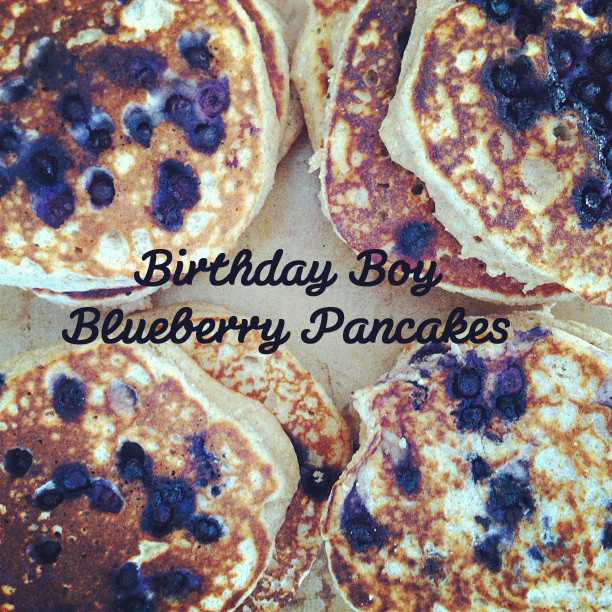 Birthday Boy Blueberry Pancakes adapted from Ashley's Cherry Almond Pancakes
Gluten-free, whole grain, protein packed, easily made dairy-free
Serves 4 (Yield 12 pancakes)
1 1/2 cups freshly ground raw buckwheat flour or gluten-free oat flour (ground from raw buckwheat groats or steel cut oats, gluten-free, if necessary)
1/3 cup + 1 tbsp almond flour
1/3 cup + 1 tbsp coconut flour
2 tsp sucanat, optional
1 1/2 tsp baking powder
2 tsp cinnamon
1/2 tsp sea salt
3 large farm fresh eggs, lightly beaten
2 cups low fat grass fed milk or nondairy milk
3 tbsp coconut oil, melted
1 tbsp vanilla extract
1 cup frozen or fresh blueberries
In a large mixing bowl combine dry ingredients (flours, sucanat, baking powder, cinnamon and sea salt).
Add eggs and milk and stir gently until batter starts to come together. Add in melted coconut oil and stir until just combined. Batter should be thick, yet pourable. If necessary, add additional milk or buckwheat flour 1 tbsp at a time to reach desired consistency.
If using fresh blueberries, gently fold them into the batter.
Let batter sit on counter while you preheat a large skillet or cast iron pan that has been lightly misted with oil over medium low heat, at least 3 minutes. If batter thickens too much wile resting, add 1-2 tbsp additional milk.
Pour batter into preheated skillet using 1/4 cup of batter per pancake. If using frozen blueberries, sprinkle the top each pancake with 1 tbsp of berries and gently press them down into the batter to incorporate.
Cook on each side until it is lightly browned, 1 1/2 – 3 minutes per side.
Keep warm in preheated oven until ready to serve.