Have you been wondering to yourself, where in the world has that Maria Makes Muffins been?!? She hasn't posted in weeks! Today I am here to answer that question…
With the second trimester in full swing, Matthew and I have had quite a bit to catch up on. It felt like the first trimester moved in slow motion, filled with morning sickness, nausea and fatigue; however, the second trimester is FLYING by!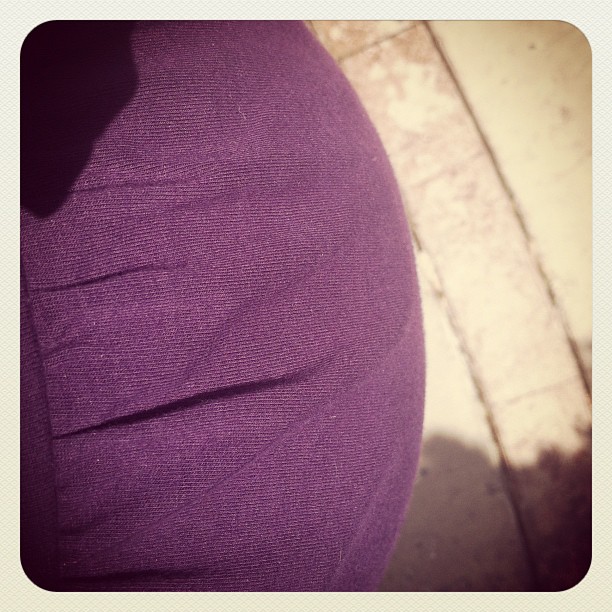 This morning Matthew and I used up a couple very brown bananas and the last of our frozen zucchini by making Mini Zucchini Muffins and Banana Cream Pie Cupcakes.
I followed Elana's recipe for Mini Zucchini Muffins pretty closely, however, I omitted the chocolate chips and subbed a very large brown banana that had been whirled in the food processor until liquified (about 1/2 cup) for the agave and grape seed oil. I really liked the texture of the coconut flour in this recipe and it made me want to test out this Chocolate Cupcake recipe as a potential dessert at Matthew's 2nd birthday party later this month.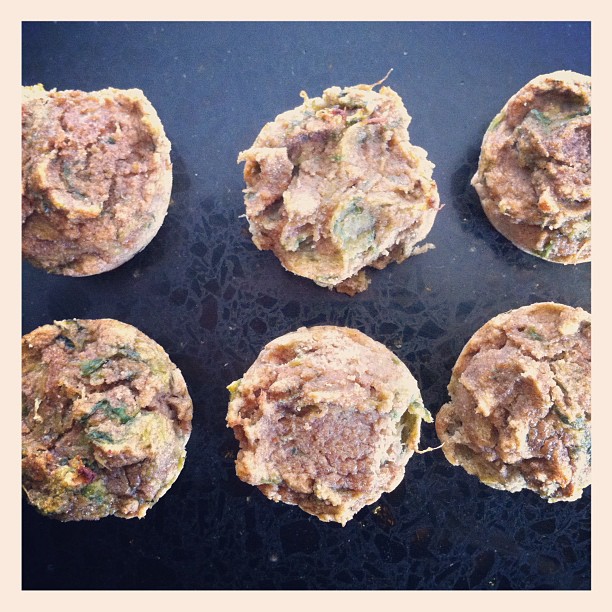 I also got to work making homemade almond flour and almond meal in my food processor. I first got the idea to do this from Ashley and have been making my own ever since. To make almond flour simply pulse blanched almonds in your food processor until fine and sandy. I find that it works best to do this in batches, 1 1/2 cups of almond flour per batch. After processing the almonds, sift the flour using a fine mesh strainer and pour the larger pieces that are left in the strainer back into the food processor. Keep pulsing-sifting until you have processed all of your almonds into flour. Store in the fridge. You will have a few larger pieces of almonds that do not get small enough to pass through the sieve, I store these in a separate container in the fridge and use them to make dough balls.
To make almond meal, the process is the same, you simply start with whole (skin-on) almonds instead of blanched (skins-removed) almonds.
Using almond flour results in a lighter, softer texture while almond meal creates a grainier, more dense baked good.
I used half almond flour and half almond meal in the Banana Cream Pie Cupcakes because I had extra almond meal that didn't fit into my quart-sized mason jar that I didn't want to store separately. I also followed this recipe pretty closely, but again subbed an extra banana (liquified in the food processor) for the agave and grape seed oil along with adding 1/2 tsp cinnamon and 1/2 tsp vanilla to the batter.
Almond meal/flour lends a soft, sweet and dense texture to baked goods that is completely unlike any other flour I have ever used. Even though these cupcakes were sweetened only with bananas, they were more than sweet enough for Matthew and I. Although, the addition of almond meal did impact the texture, resulting in them being more muffiny than cupcakey.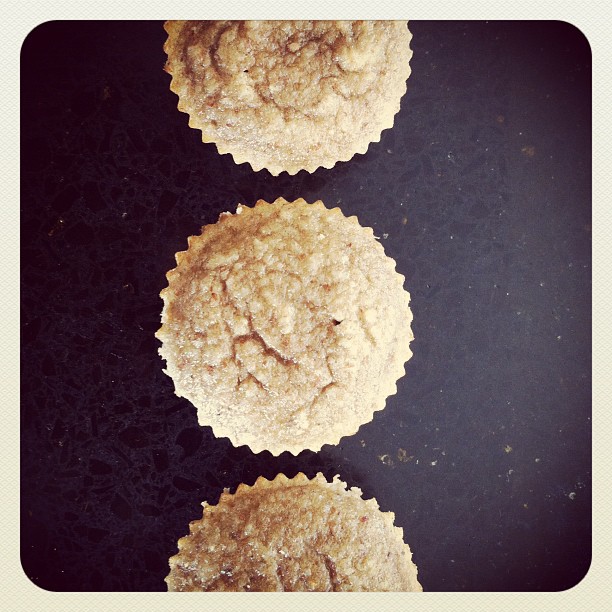 Now that the nice weather has arrived, we have been thoroughly enjoying our time outside and away from MacBooks, iPads and iPhones. I purchased several organic seeds from a local garden center and have been busy planting cool weather crops (baby lettuce, romaine, kale, spinach, cilantro and snow peas are in the ground – I hope to get the carrots and beets planted today!). I also started bush cucumbers, minnesota midget melons, basil, parsley and oregano in peat pots indoors.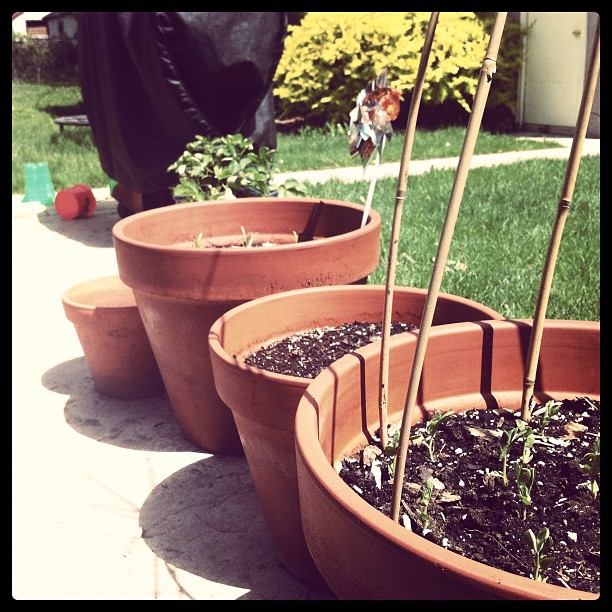 I hope to begin hardening off the indoor plants soon and transplant them to their new home in this raised bed…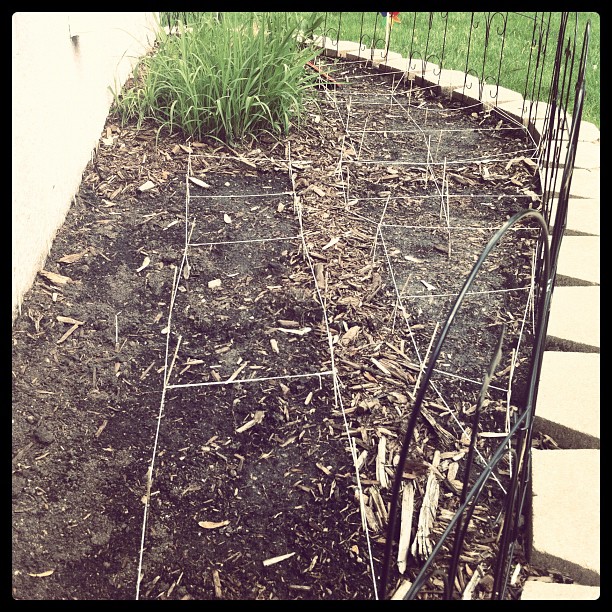 The fence around the outside of this bed is for Matthew, not bunnies. 🙂 I plan to add chicken wire to the fence to deter wildlife.
I am using the square foot gardening method and can't wait to see how everything grows!
Speaking of growing, look how big this guy is getting!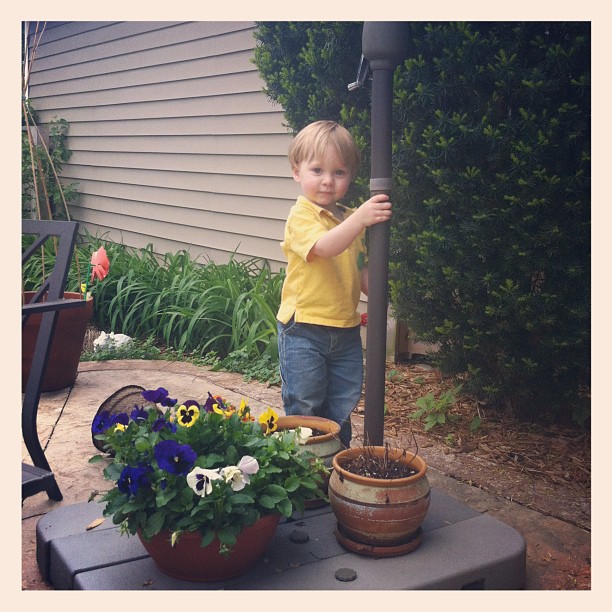 He loves playing outside and going on walks. I have a feeling we will be spending the entire summer slathered in sunscreen, wearing hats and playing outside.
As long as the tall grass doesn't get us first!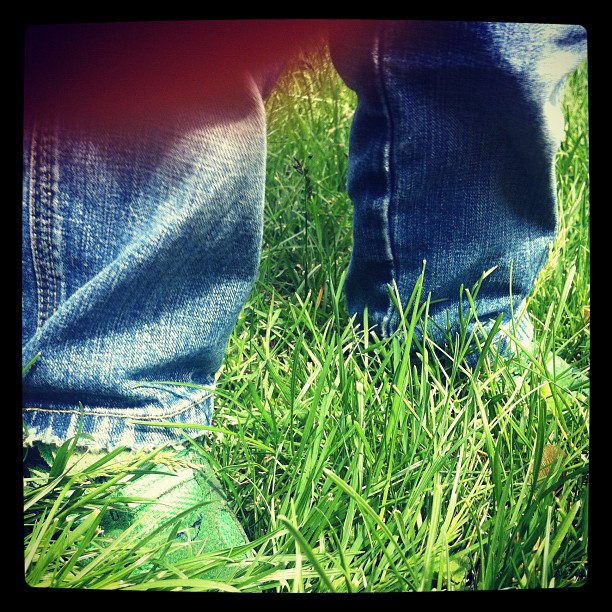 I have been keeping Allan super busy lately re-grouting the intricately tiled shower in our bathroom that the grass has gotten unruly. Allan's busyness coupled with the massive amounts of rain have caused the grass to sprout little wheat tops (that's what we call grass that has gone to seed)!
BTW – if you look closely at the photos of the muffins/cupcakes above you can catch a glimpse at the beautiful new recycled black glass countertops we had installed in our kitchen last week. I hope to have everything in the kitchen finished soon so that I can show you the before/afters!