I had to stop in briefly this afternoon to tell you about the most amazing treat that I whipped up for bible study tomorrow morning.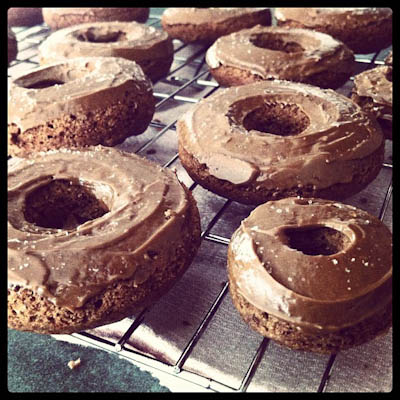 When I signed up for fellowship at bible study I immediately knew that I wanted to bring a healthy baked good. There were a few reasons for my decision:
1. All of the baked goods and sweets at bible study are loaded with white flour, sugar and (most likely) shortening or conventional butter.
2. Most people think that healthy sweets do not taste good.
3. I wanted to sneak a bite today and not have anyone be the wiser… this way I can bake up a whole batch, but don't feel compelled to eat the whole batch. 😉
I have been craving freshly baked donuts, so the type of treat was easy to determine. After some perusing, I settled on Mama Pea's Smoked Sea Salt Kissed Maple Donuts. Words cannot express how delicious these donuts are. I fed an unfrosted mini donut to Matthew after he successfully ate his entire lunch without argument and he was IN LOVE. Mmm, mmm-ing with every bite.
I followed the recipea pretty closely and only made a few substitutions based on personal preference:
Donuts:
1. I used all whole wheat pastry flour, instead of a mix of unbleached flour and whole wheat.
2. I reduced the nutmeg to 1/4 tsp and added 1/2 tsp cinnamon.
3. I added 1/2 tsp of maple extract.
4. I used organic sucanat instead of organic sugar.
Frosting:
1. I added 1/4 tsp cinnamon and 1/4 tsp vanilla extract.
2. I substituted maple sugar flakes (blended into a fine powder) for the brown sugar.
3. I used sucanat powdered sugar in place of traditional powdered sugar.
4. I didn't have smoked sea salt and simply used regular sea salt.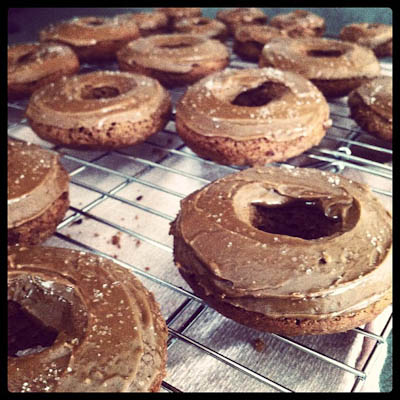 Amazing! The ladies are going to love them! That's if Matthew and I don't eat them all first.