My love for baking was rekindled during my 14th week of pregnancy . I can't believe that I went over 2 months without baking anything in our kitchen… it so isn't like me.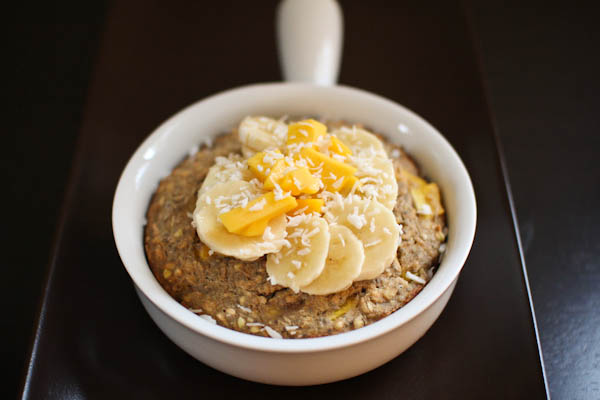 Fortunately for Allan and Matthew, I have been making up for lost time. One of the things that I whipped up was this recipe for a Mango Breakfast Bake. I missed them dearly! When I saw the large, ripe mangos on sale at the store, I knew that I wanted to not only enjoy them on top of oatmeal and yogurt… I wanted to bake with them!
The base of this breakfast bake recipe is Ashley's Ba-nilla Buckwheat Breakfast Bake. I simply thew in a couple extras to suit my nutritional needs along with complementing the mango flavor.
Mango Breakfast Bake
makes 2 breakfast bakes
1/4 cup raw buckwheat flour (ground from raw buckwheat groats)
1/4 cup oat flour (ground from steel cut oats)
2 tbsp raw buckwheat groats
2 tbsp chia seeds
2 tbsp unsweetened and unsulphured shredded coconut, optional
1 tsp cinnamon
pinch nutmeg, optional
1/2 tsp baking powder
pinch sea salt
1 banana, mashed well
2 eggs
1/4 cup organic milk, nondairy milk or kefir
1 tbsp maple syrup or honey, optional
1 tbsp vanilla extract (can use less)
1/2 cup mango, diced
Preheat oven to 350˚. Grease two large ramekins (4-6 inches wide) with coconut oil. Do not skip this step, a well greased ramekin is essential to removing the bake from the bowl. Alternatively, you can use a muffin tin, but please note the baking time will be reduced.
In a large mixing bowl combine dry ingredients (flours, groats, chia, coocnut, spices and baking powder).
In a glass measuring cup mash/whip banana with a fork until it resembles egg whites. Add remaining wet ingredients (eggs, milk, sweetener and vanilla) and whisk to combine.
Make a well in the center of the dry ingredients and add wet ingredients. Stir until just combined. Fold in diced mango.
Divide batter between ramekins. Place the ramekins on a baking sheet and pop into the oven.
Bake 350˚ for 30-40 minutes. This will vary greatly based on your oven's calibration (see this post) and the weather (humid, dry, etc.)
Allow to cool in the ramekin for 5-10 minutes. To remove bakes from ramekins, run a knife around the edge until it releases then gently pry the bake up using a fork.
Leftover breakfast bakes can be a lifesaver on hurried mornings or as a quick lunch. They are delicious enjoyed cold from the fridge or cut in half and heated in a pan greased with a bit of coconut oil. Simply allow the extra bake to cool completely and then wrap it in plastic wrap or place in a 2 cup anchor/pyrex dish and refrigerate or freeze for later use.