… may not keep the doctor away, but will definitely put a smile on your face.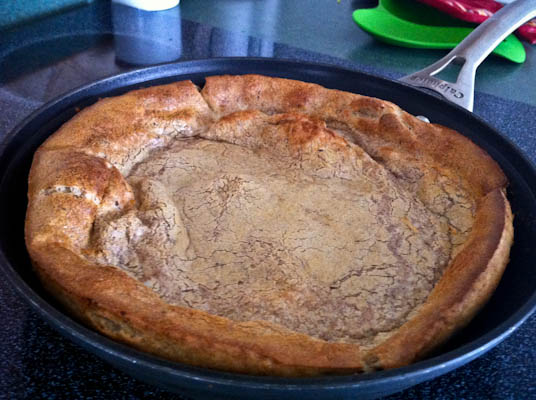 A few weeks ago while pinning, I saw a gorgeous photo of a german (aka puff) pancake. I immediately wanted one. However, I knew that if I was going to indulge in such a decadent breakfast everyone in our family better be able to eat one. I was on the hunt for a gluten-free recipe and even researched a few ideas. However, the craving quickly passed and I didn't think about it again. That was until Heather posted about making a gluten-free and dairy-free version a couple weeks ago.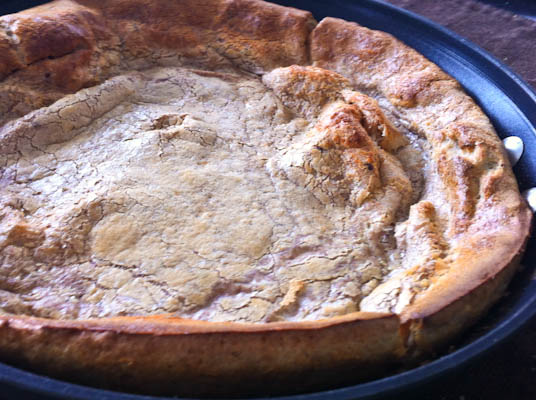 The next day Matthew and I enjoyed our first attempt at a buckwheat/oat flour pancake for lunch. We both loved the texture of the pancake, but something was a little off. The following day I tried again. Attempt #2 was much better. I decided to quickly snap a few photos with my iPhone just in case I had time to share the recipe with you.
When I saw a post on Facebook about today being National Pancake Day, I knew that it was the perfect opportunity to share this lovely recipe.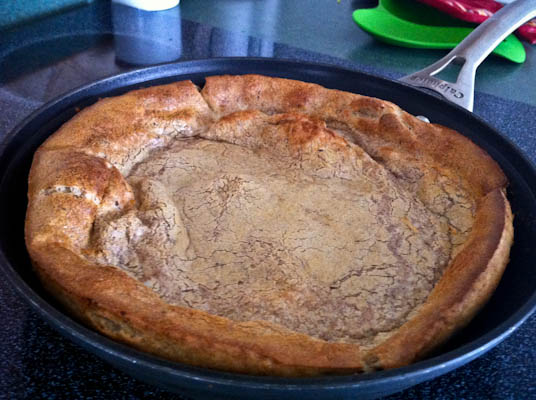 Gluten-Free German Pancake adapted from Heather and Naomi
A perfectly puffy pancake that takes just minutes to whip up. This recipe lends itself to endless variations. I would love to try it topped with homemade applesauce in the fall and fresh berries and yogurt this spring. For now we enjoy it with homemade blueberry sauce, simply frozen blueberries heated in a small saucepan over medium heat until bubbly.
Makes 1 pancake
1 tbsp organic butter
1/2 cup organic milk or nondairy milk
2 farm fresh eggs
1/2 tsp vanilla extract
1/2 cup gluten-free flour of choice*
1 tsp sucanat, optional
1 tsp cinnamon
1/8 tsp sea salt
Preheat oven to 425˚. Place butter in an 8-10 inch skillet and move to preheating oven to melt butter.
In a medium sized bowl, preferably with a spout, whisk together wet ingredients (milk, eggs and vanilla). Add dry ingredients (flour, sucanat, cinnamon and sea salt) and whisk until just combined.
Remove skillet from oven once the butter has melted and swirl to distribute the butter along the bottom and up the sides of the pan.
Pour batter into skillet and place in preheated oven. Remember that the skillet is hot, so don't forget to use a pot holder!
Bake the pancake at 425˚ for 10-15 minutes, until the pancake is puffy, browned and set all the way through. I found that my pancake took the whole 15 minutes to set completely in the middle.
Remove from pan and top with something exquisite, like homemade applesauce, fresh berries and yogurt, blueberry sauce (see recipe in description above), etc.
*I used 1/4 cup raw buckwheat flour and 1/4 cup oat flour. I grind buckwheat flour from raw buckwheat groats and oat flour from steel cut oats in my Vita Mix. You could easily use all buckwheat flour or all oat flour. I am not sure how this would work with other gluten-free flours, as I have not tried it. I also imagine that this recipe would turn out perfectly using whole wheat pastry flour or white whole wheat flour.