Things have been getting increasingly exciting around here. Every day we experience Matthew growing up and learning by leaps and bounds. He is now 21 months old and has definite opinions about everything. His confidence in his body and movement is amazing. He believes that he is invincible!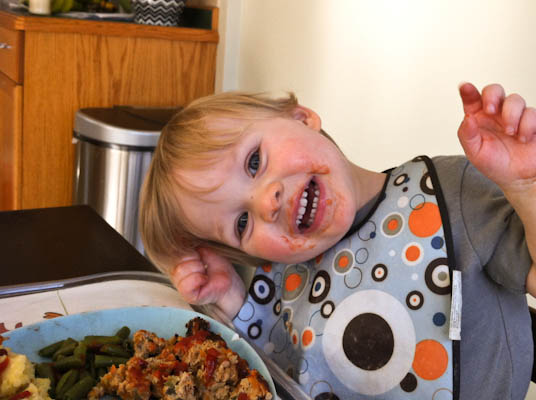 Matthew and I have been focusing on having verbal conversations and it seems to be helping him to speak more, instead of simply gesturing and whining to get his point across. In the last week I have noticed that he is more confident in saying new words and enjoys having conversations with me about his likes and dislikes.
He has started saying "No Ma", which I originally thought meant "No, Mama". However, we think that it actually means "No, Matthew" – he is mimicking me telling him not to do things when he is about to do something that I have asked him not to do. Sometimes I am in awe of his complete and utter honesty. He enjoys telling me about both the good and naughty things that he has done, oftentimes tattling on himself when he has done something that he knows that he shouldn't.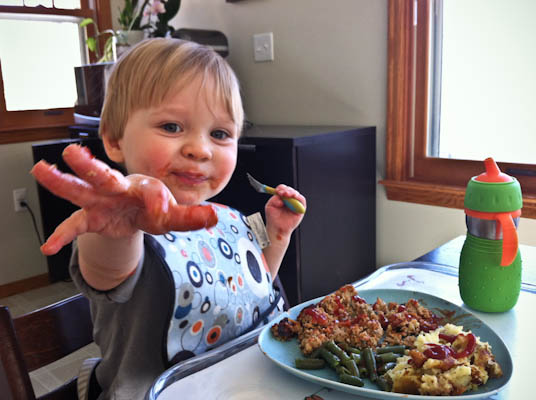 His recounting of stories (when he falls down, bumps his head or the cat does something silly, etc.) is extremely entertaining. His stories are complete with sound effects, shouts and actions of exactly what took place.
Matthew's favorite activity is going outside, which includes practicing putting on and taking off his hat, coat, gloves and shoes. He also enjoys playing with legos, reading books, playing musical instruments (guitar, piano, xylophone, jingle bells), dancing and singing. Matthew does a beautiful rendition of Ba-Ba Black Sheep, The Itsy Bitsy Spider and his A-B-C's.
He continues to be a good eater, usually trying most new and old favorite foods that I offer him. However, eating lunch and supper have become increasingly difficult, usually because I try to incorporate new vegetables or flavors into his diet. His favorite standby vegetables are still green beans and peas, but I would really like to expand his pallet. He continues to reject meat, unless it is snuck into his mouth under a veil of ketchup or BBQ sauce. Dunking his foods in applesauce, yogurt or ketchup can usually rectify most picky eating situations.
Last night I decided to make meatloaf. I figured that I could use his love of ketchup to my advantage to not only entice Matthew to eat meat, but also a few vegetables. The resulting supper was a huge hit! So much so that I got a huge thank you hug after we finished eating. We ate the meatloaf leftovers for lunch today and again the entire meal was devoured. This recipe is a sure winner with picky toddlers who refuse to eat new vegetables or do not care for the texture of meat along with adults who simply enjoy a love of ketchup and comfort foods.
Below is a video of Matthew enjoying his ketchup at lunch today. He is so darn cute!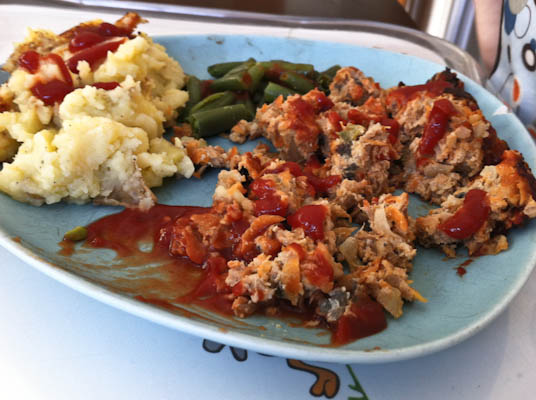 Matthew's Marvelous Meatloaf
A delicious meatloaf that is packed full of vegetables. Perfect served alongside steamed green beans and mashed yukon gold potatoes.
Serves 8
2 lbs ground turkey
1 tsp extra virgin olive oil
2 carrots, grated
1 onion, finely diced
4 ounces mushrooms, diced
¼ cup green pepper, finely diced
2 cloves garlic, minced
sea salt and pepper, to taste
¾ cup rolled oats
¼ cup ketchup, + ¼ – ½ cup for topping meatloaf
1 tsp worcestershire sauce
1 tsp liquid smoke
1 tsp tamari
2 eggs, beaten
Preheat oven to 400˚. Mist a loaf pan with cooking spray and set aside.
Heat a large frying pan over medium heat and add olive oil. Add vegetables (carrots, onion, mushrooms, green pepper) and sauté until softened, 5-7 minutes. Add garlic, sea salt and pepper, stir for 1 minute. Remove from heat and cool. To speed up this process I emptied the vegetables into a large bowl and placed it in the freezer for 5 minutes.
In a large bowl combine ground turkey, oats, ¼ cup ketchup, worcestershire, liquid smoke, tamari, eggs and cooled vegetables. Stir until just combined.
Pour into prepared loaf pan and smooth the top, ensuring an even thickness. Top with ¼ – ½ cup ketchup. I like to make a design on the top of the meatloaf for added interest.
Place the loaf pan on a baking sheet to catch spills/splatters and make it easier to remove the meatloaf from the oven.
Bake in a preheated 400˚ oven for 1 hr 15 minutes – 1 hr 30 minutes, until the center of the meatloaf reads 160˚ with a meat thermometer.
Remove from oven and cover with a thick dishtowel. Allow meatloaf to rest 15-30 minutes.
Slice into 8 pieces and enjoy!
To reheat, place in a frying pan over medium heat until heated through. Also delicious served cold on a slice of bread.