A couple months ago Kath made split pea soup in a crock pot using a ham shank. It got me thinking… I had a ham bone and leftover diced ham vacuum sealed and frozen in our deep freeze for FAR too long. I had the intention of either using it in a smoky lentil soup or split pea soup, but never really go around to adding it to our meal plan – especially over the summer when the last thing that I am thinking about is soup!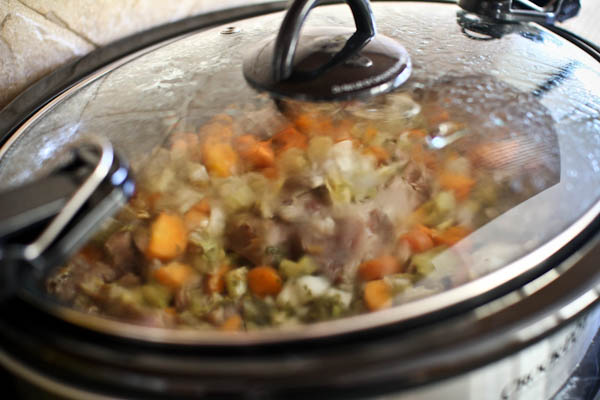 Last night I finally got around to making the recipe that Kath recommended, which is actually a recipe from Whole Foods. I followed the recipe pretty closely using a ham bone and the leftover diced ham in place of the meaty ham bone. I didn't have fresh parsley on hand, so instead I added 1 tsp dried parsley, 1 tsp Herbamare seasoning, 2 bay leaves and omitted the salt. Click here to print this recipe from my recipage.
If you are a fan of smoky split pea soup, then you definitely need to try this recipe. It was absolutely amazing! Allan, Matthew and I were raving at the supper table last night.
As you know, I am a huge fan of Ashley's breakfast bakes. Last week she posted a few new vegan breakfast bake recipes that were simplified and delicious. I immediately used her Banana Oat Bake as the base for a fantastic egg nog inspired breakfast bake using a carton of organic egg nog that I found on clearance last week. I plan to post that recipe some time in the near future. If you like egg nog, I would recommend picking up a carton of vegan egg nog on clearance this week and save it for the recipe that I will post later this week.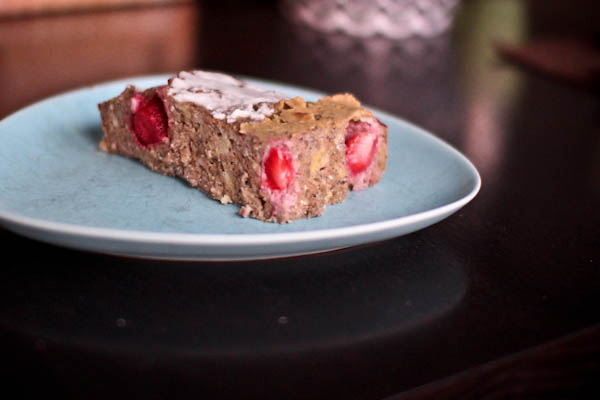 Today I am sharing a recipe for a strawberry banana breakfast bake that is also inspired by Ashley's Banana Oat Bake.
Lately when I make breakfast bakes I prepare 6 servings at a time and bake it in a 9×9 stoneware pan that has been greased with coconut oil. It really doesn't take much more time to measure the ingredients for six versus three bakes and it means that I am saving a ton of time one other morning of the week, because breakfast is ready to go.
Breakfast bakes are even better the next day cold out of the fridge slathered in a bit of nut butter or reheated in the oven or on the stovetop. I had never really thought of reheating the breakfast bakes in a pan on the stovetop, but Ashley shared that it was her go-to way to reheat. I tried it last week and it worked like a charm! I am so excited to add this quick and easy method to our morning routine.
This morning we enjoyed our fresh out the oven strawberry breakfast bakes with a clementine on the side. Oh my goodness! Clementines have been amazing lately. Last night after supper, Matthew devoured 3 of them!
You will notice in the recipe below that I prepared my breakfast bake the night before. I do this for two reasons: to save myself time in the morning and so that I could soak the grains in kefir overnight, thus increasing my body's ability to digest them. Click here for more information on soaking grains.
Strawberry Banana Breakfast Bake inspired by Ashley's Banana Oat Bake
A perfectly balanced breakfast bursting with the flavors of spring to brighten a winter morning.
Serves 6.
1 cup + 1 tbsp oat flour (ground from steel cut oats)
1 cup + 1 tbsp buckwheat flour (ground from raw buckwheat groats)
1/3 cup rolled oats
3/4 cup lowfat kefir
6 tbsp chia seeds
2 tsp cinnamon
1/4 tsp freshly grated nutmeg
pinch sea salt
1 1/2 tsp baking powder
3 large bananas, mashed
6 large eggs
2 tsp vanilla extract
2 cups frozen strawberries
In a large bowl combine oat flour, buckwheat flour, rolled oats and kefir. Mixture wil resemble coarse crumbles. Cover with plastic wrap and let sit on the counter overnight.
In a small bowl combine chia seeds, cinnamon, nutmeg, sea salt and baking powder. Cover and let sit on the counter overnight.
In a medium-sized bowl mash bananas. Whisk in eggs and vanilla. Cover and refrigerate overnight.
In the morning, preheat oven to 375˚. using coconut oil, grease a 9×9 pan.
Combine all ingredients in the large bowl, using a fork or whisk to break up large chunks of flour mixture.
Pour into prepared pan and sprinkle strawberries over the top.
Bake 30-45 minutes. Until a toothpick inserted in the middle comes out almost clean. You want the center to be set, but still a bit moist. Do not over bake.