I know that life can get crazy. But I know that you still want to eat healthy even though you may only have 15 minutes to get dinner on the table. This is an easy weeknight meal that can double as a simple weekday lunch that your whole family is sure to love.
This simple BBQ shrimp recipe packs in a serving of veggies + protein + while grains ensuring that your crew will be satisfied and well fed.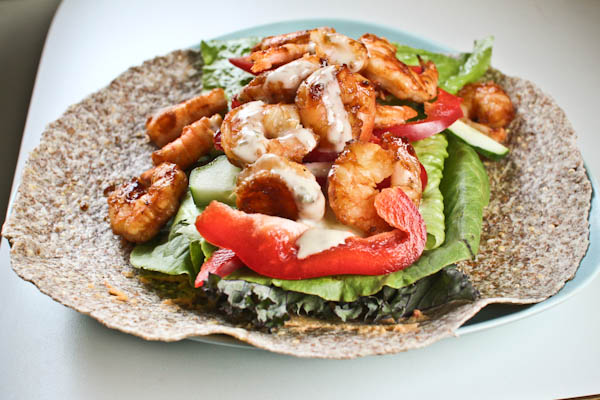 BBQ Shrimp Wraps
A super simple supper that can be taken from fridge to table in 15 minutes flat.
Serves 4-6
12-16 ounces frozen shrimp, thawed (fully cooked or raw)*
1 cup store bought or homemade BBQ sauce, divided (we like Annie's Smoky Maple)
1/2 tbsp olive oil or coconut oil
6 sprouted grain or gluten-free tortillas
6 tbsp hummus
4 cups leafy greens (baby spinach, kale or romaine)
1 red pepper, sliced
Place shrimp and 1/2 cup BBQ sauce in a medium sized bowl and allow to marinade at least 5 minutes. This can also be done in the morning and the shrimp can be allowed to marinade all day.
In the meantime, heat a large sauté pan over medium heat. If not already done, slice the red pepper.
Add oil to heating pan. Remove shrimp from marinade and add to pan. Cook until heated through (precooked) or no longer pink (raw). Add additional BBQ sauce to coat cooked shrimp and remove from heat.
Spread each tortilla with hummus and layer with leafy greens, shrimp and red pepper. Drizzle with additional BBQ sauce, (clean) ranch dressing or salsa.
*Don't worry if your shrimp is still frozen. Empty the bag into a colander and run under cold water one rate shrimp until they thaw.
—
Remember that there is still time to sign up to win a dozen Land O Lakes eggs. Registration will be open through midnight central time today.