I don't have much time before I have to leave for choir practice, so I won't be too chatty.


It's currently snowing outside. I am not sure how much snow they are forecasting, but I hope that we get a decent amount of snow so that we can have a white Christmas! It was in the 50's this weekend and all of our snow melted! What's the fun of living in Minneapolis and dealing with the cold and snow from October to April if we don't get to enjoy a white christmas?


I feel like the energized bunny! Today Matthew and I reorganized the kitchen because I bought 11 pieces of lightly used Pampered Chef stoneware. 🙂 I already put the 9×9 pan to good use. 🙂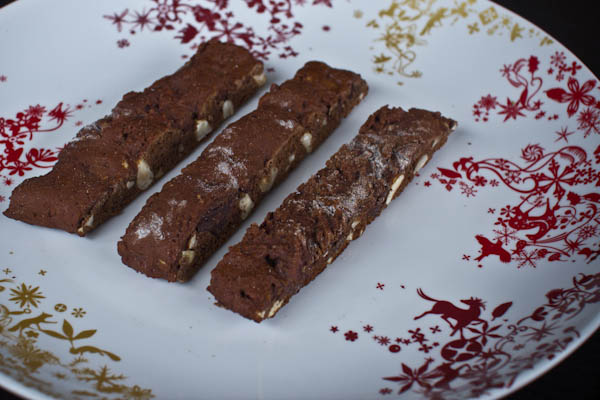 I am officially out of time. Without further ado I present you with yet another biscotti recipe. I promise tomorrow's cookie recipe will NOT be for biscotti. 🙂
Gluten-Free Winter Spiced Biscotti adapted from Clean Eating Magazine
A lightly sweet, chocolatey treat best enjoyed with a warm beverage.
Makes 32 biscotti
1 cup hazelnuts
1 1/2 cups brown rice flour
1 1/2 cups bob's red mill gluten-free all-purpose flour
1 1/3 cup unsweetened, natural cocoa powder (not dutch processed)
2 tsp cinnamon
3/4 tsp xanthan gum
3 tsp baking powder
1/2 tsp sea salt
1 cup powdered sucanat
6 tbsp sunflower oil or melted coconut oil
2 tbsp unsweetened applesauce
6 egg whites
1 tsp pure vanilla extract
1/2 cup dark chocolate chips
Preheat oven to 350˚. Line two large baking sheets with parchment paper or silpat.
Place hazelnuts on a large baking sheet and toast for 10 minutes, stirring frequently.
In a large bowl, combine the dry ingredients (flours, cocoa, cinnamon, xanthan gum, baking powder, sea salt).
In a medium bowl or liquid measuring cup, combine the wet ingredients (oil, egg whites, applesauce and vanilla).
Add the wet to dry and mix with a spoon until it starts to come together, be careful not to over mix. Gently fold in chocolate chips and hazelnuts. You may need to use your hands to get all of the dough moistened.
Divide the dough into four equal portions, shape each into a dough ball and place on the prepared baking sheet, 2 balls per sheet. With the palm of your hand, press down each dough ball to flatten. Place a piece of parchment paper over top of one ball and roll it out into a rectangle (approx 10 inches by 5 across and 1/2 inch thick), using the side of your hand to shape as necessary. Repeat with the remaining dough balls.
Score each dough rectangle with a sharp serrated bread knife into 8 pieces, only cutting half way through the dough. I find it easiest to cut the rectangle in half and then each remaining half in half again and then in half again. This will result in uniform biscotti.
Bake for 30 mins at 350˚. Remove from oven and reduce heat to 325˚. Cool for 5 minutes on the stovetop and then slice the biscotti all the way through where they were scored prior to baking.
Gently flip pieces onto one side and bake at 325˚ for 8 mins. Remove from oven, flip, and bake another 8 mins.
Cool on a wire rack. Store at room temperature in a glass container. If biscotti begins to soften, bake in 350˚ oven until crisp, 5-10 minutes, turning halfway through cooking time.