Let's talk cookies. Specifically, clean, low-sugar, low-fat, gluten-free cookies. It's the week of Christmas and I can't believe that I haven't brought up cookies yet. I love sweets… but they do not love me back. So, I choose to enjoy them in moderation and to modify recipes to reduce sugar, cut fat and increase whole grains. With the added twist of making all things gluten-free, baking has been interesting around here. However, I haven't had a complete flop yet. *knock on wood*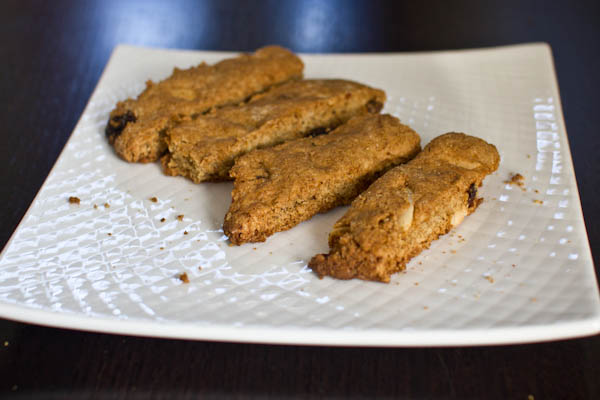 I absolutely love to bake. I can usually be found baking two to three times per week. Last week I was in the kitchen baking over four times. This included a baking session at the house of my friend, Bethany, where we made a double batch of the magical cookies that I am about to share with you.
This summer Bethany found out that she, like Allan, has a gluten sensitivity and has since been mostly gluten-free. She was looking for a cookie recipe that she could guiltlessly enjoy, but also could be brought to a cookie exchange that she was participating in. This was the perfect recipe to make!
The original recipe by Angela at Oh She Glows was made with wheat flour, was a little higher in sugar and included an egg nog glaze. I changed things up by reducing the sugar, switching out the wheat flour in favor of gluten-free flours and opting-out on the glaze. The flavor of this biscotti is similar to that of a spiced snicker doodle cookie versus egg nog, so I decided to add a few additional Christmas spices to accentuate the winter warmth.
Gluten-Free Winter Spiced Biscotti adapted from Oh She Glows
A delicious vegan and gluten-free biscotti cookie with hints of Christmas spice and egg nog. Excellent enjoyed with your morning cup of coffee or as an evening treat with cup of herbal tea – fireplace and snuggie optional.
Makes 16 biscotti
1 cup brown rice flour
1 cup bob's red mill gluten-free all-purpose flour
1/2 cup organic sucanat
1 1/2 tsp nutmeg
1 tsp cinnamon
1/2 tsp xanthan gum
1 1/2 tsp baking powder
1/4 tsp baking soda
1/4 tsp sea salt
1/2 cup dried cranberries
3/4 cup slivered blanched almonds
1/4 cup sunflower oil or melted coconut oil
1/2 cup egg nog (I used Silk Egg Nog)
1 tsp pure vanilla extract
Preheat oven to 350˚. Line a large baking sheet with parchment paper or silpat.
In a large bowl, combine the dry ingredients (flours, sucanat, nutmeg, cinnamon, xanthan gum, baking powder, baking soda, sea salt, cranberries and almonds).
In a medium bowl or liquid measuring cup, combine the wet ingredients (oil, egg nog and vanilla).
Add the wet to dry and mix with a spoon until it starts to come together, be careful not to over mix. You may need to use your hands to get all of the dough moistened.
Divide the dough in half, shape each half into a ball and place on the prepared baking sheet. With the palm of your hand, press down each half to flatten. Place a piece of parchment paper over top of one half and roll it out into a rectangle (approx 10 inches by 5 across and 1/2 inch thick), using the side of your hand to shape as necessary. Repeat with the second dough ball.
Score each dough rectangle with a sharp serrated bread knife into 8 pieces, only cutting half way through the dough. I find it easiest to cut the rectangle in half and then each remaining half in half again and then in half again. This will result in uniform biscotti.
Bake for 30 mins at 350˚. Remove from oven and reduce heat to 325˚. Cool for 5 minutes on the stovetop and then slice the biscotti all the way through where they were scored prior to baking.
Gently flip pieces onto one side and bake at 325˚ for 8 mins. Remove from oven, flip, and bake another 8 mins.
Cool on a wire rack. Store at room temperature in a glass container. If biscotti begins to soften, bake in 350˚ oven until crisp, 5-10 minutes, turning halfway through cooking time.