We have been very busy with Christmas preparations (baking, gifting and celebrating) as we await the birth of our Lord and Savior. So busy that this morning I was finally able to stop at Kowalski's to grab a few books of stamps to mail out our Christmas Card. Our family photo was taken by a very nice gentlemen at the bluff top lookout in Alma, WI. Next year I would like to purchase a tripod and remote for our camera so that we can stage a mini photo shoot.
I created our card on Shutterfly, which was not only inexpensive, but super easy to use. Once I sorted through the thousands of photos we took last year, it was a piece of cake to put together this card.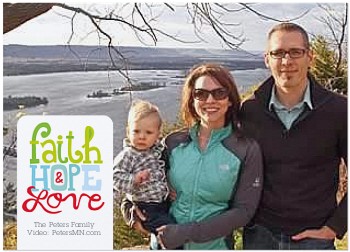 Before we had Matthew, we would create an elaborate A Very Piggie Christmas Christmas letter. It was basically the story of our year from the cat's viewpoint using one liners and photos. It was a lot of fun to put together, but was extremely time consuming.
When Matthew came along, we began shooting lots of photos and videos of him and our adventures. We knew that we wanted to capture those memories in a succinct manner to share with Matthew as he grew up. Enter the annual Christmas video.
Matthew is completely in love with last year's video. Every time that he hears How He Loves by David Crowder Band he starts searching for his video. How He Loves is a song that was very near to our hearts when I was pregnant. It especially reminds me of the week between Christmas and New Years (2009) when Allan, who had the stomach flu, and I spent several days painting over the sponge painted walls of our family room. How He Loves was a very popular song at the time and played frequently.
For this year's video we chose the song, Our God by Chris Tomlin. Our God was hands down Matthew's favorite song when he was a very young infant. No matter what was going on, when Our God played on the radio Matthew was calm and happy. I remember many late night breast feeding, diaper changing and rocking sessions that were made lighter simply by hearing this song play on the radio.
Allan did an amazing job with this year's video! I am so happy that we are able to share our lives with our family and friends in a way that is uniquely us.