Thanksgiving has come and gone. With its passing we are left with several new and wonderful memories of delicious food, amazing company and midnight Black Friday shopping.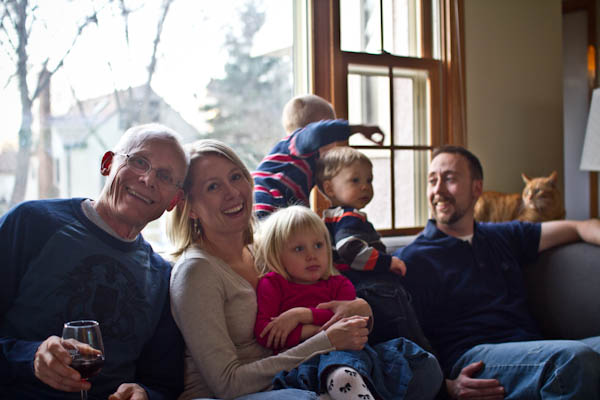 Allan's family with Matthew and Piggie: Mark (FIL), Annie (SIL), Mollie (Niece), Jakob (Nephew), Matthew, Ryan (BIL), Piggie
Rubbed and ready for the oven!
Sprouted Whole Wheat and Gluten-Free bread was baked.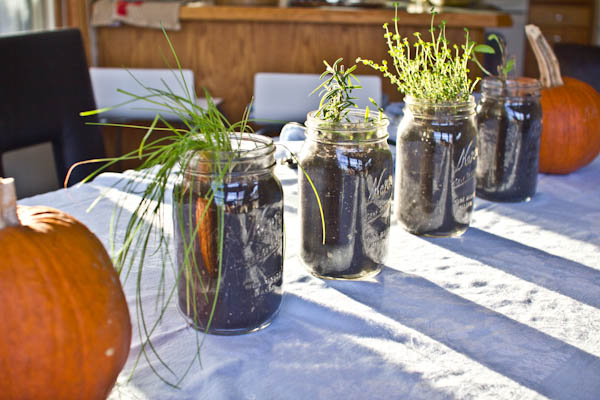 The table was set.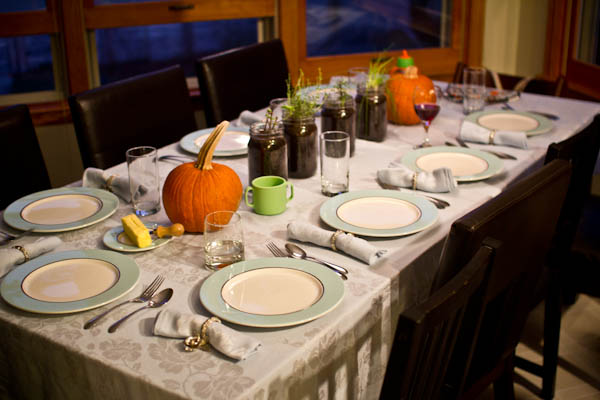 Hors d'oeuvres were enjoyed – compliments of Lois, my mother-in-law.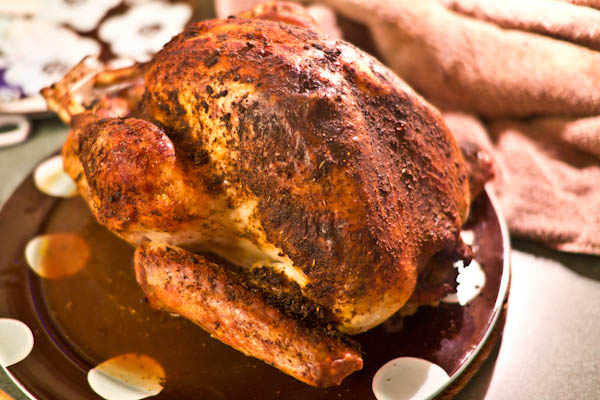 Ready to be carved. Notice the bath towel in the right corner of the picture – that's what I use to tent the bird while it rests.
How many Peters men does it take to carve a 12-lb free range turkey?
Perfectly carved and arranged.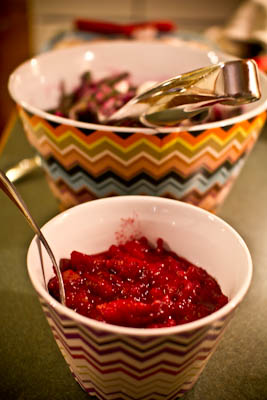 Spiced Cranberry and Apple Sauce along with Green Bean, Beet and Goat Cheese Salad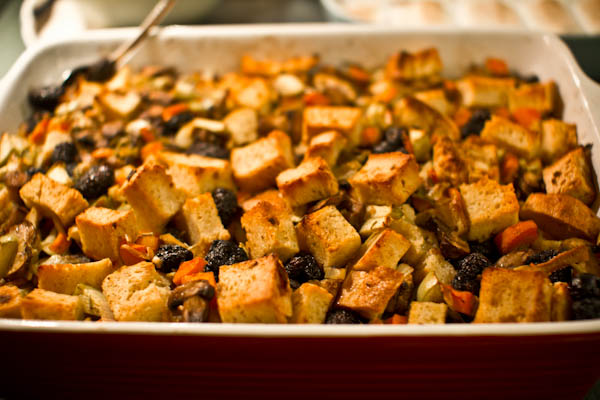 Cherry, Apple and Mushroom Stuffing
Souffléd Sweet Potato Bake topped with marshmallows – I couldn't resist!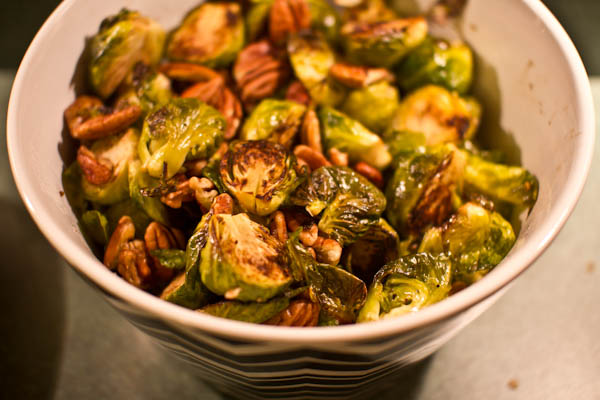 Roasted Brussels Sprouts and Pecans – this is such a wonderful recipe for any time of the year… simple and elegant.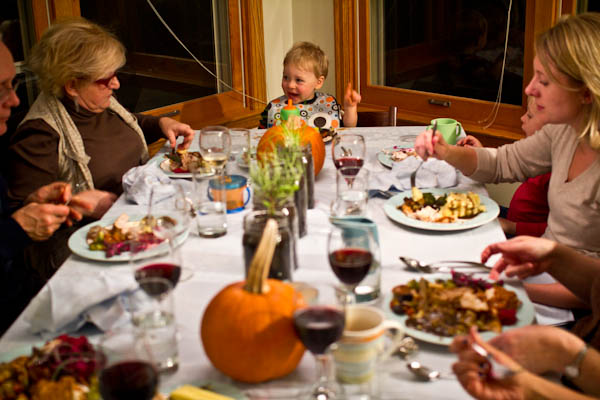 Dinner is served!
I made a Pumpkin Brownie Pie, which for some reason did not get directly photographed (it is in the red pie plate in the photos above and below). My mom made a Pear Pie based off of the recipe in the latest Clean Eating Magazine – it was a delicious departure from traditional apple pie.
Now we anxiously await the arrival of Christmas with all of its awe and splendor. I have been working on an Advent Calendar for our family and hope to finish it tonight after Matthew goes to sleep.
Nap time is over and I have to clean up the basement for a showing and get supper packed to take to my in-laws house for Matthew and Allan to enjoy while I sing my heart out at choir practice. Have an amazing evening!
What was is your favorite Thanksgiving memory? Mine was the day before I hosted my very first Thanksgiving, 4 year ago. I wanted to make pie dough from scratch using butter in place of shortening using a recipe that I found in a Real Simple magazine. I had no idea what I was doing and it was a complete disaster. I remember calling my Mom crying. I think that I ended up nixing the recipe completely and buying a frozen pie crust.
—
Other Thanksgiving-related posts:
Thanksgiving Survival Guide
Thanksgiving Leftover Ideas
Spicy and Smoky Turkey Rub
Roast Turkey with Herby Gravy
Cherry, Apple and Mushroom Stuffing
Spiced Cranberry and Apple Sauce
Roasted Brussels Sprouts and Pecans
Green Bean, Beet and Goat Cheese Salad
Souffléd Sweet Potato Bake
Homestyle Mashed Potatoes (recipe in printable PDF)
Whole Grain Gluten-Free Bread
Pumpkin Brownie Pie