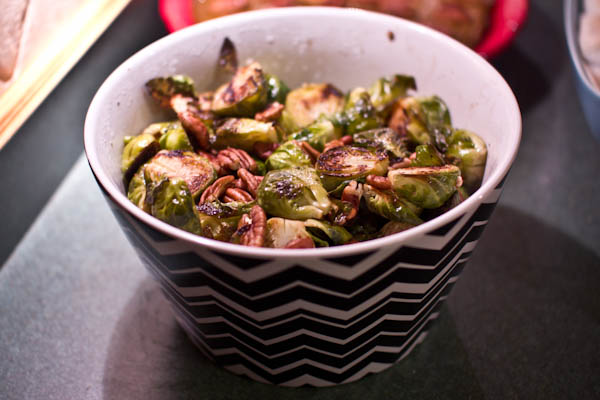 Roasted Brussels Sprouts with Pecans Inspired by Clean Eating Magazine and Ina Garten
These are to your grandmother's brussels sprouts! Even the pickiest of eaters will gobble these up. Gluten-free, dairy-free, vegan.
Serves 12
2 lbs Brussels sprouts, stems trimmed and loose leaves removed
2 tbsp coconut oil, melted
2 tbsp apple cider vinegar
½ tsp sea salt
¼ tsp pepper
½ cup pecans
2 tbsp balsamic vinegar
Preheat oven to 400˚.
Mist a baking sheet with olive oil.
Place prepared Brussels sprouts on baking sheet and drizzle with coconut oil and apple cider vinegar. Sprinkle with sea salt and pepper.
Roast for 32 minutes, shaking the pan occasionally to ensure even browning.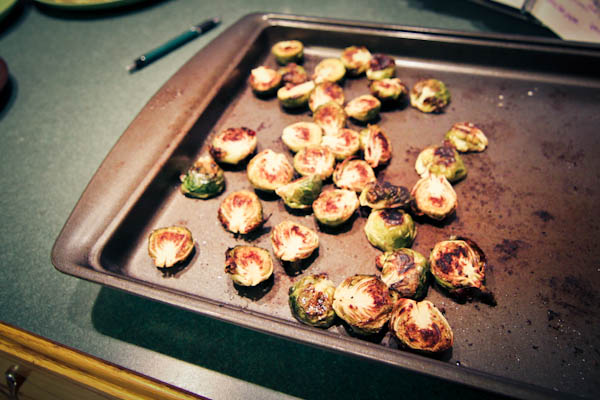 Add pecans to pan and roast an additional 8 minutes, shaking pan at least twice during cooking to prevent burning. Drizzle with balsamic vinegar and serve.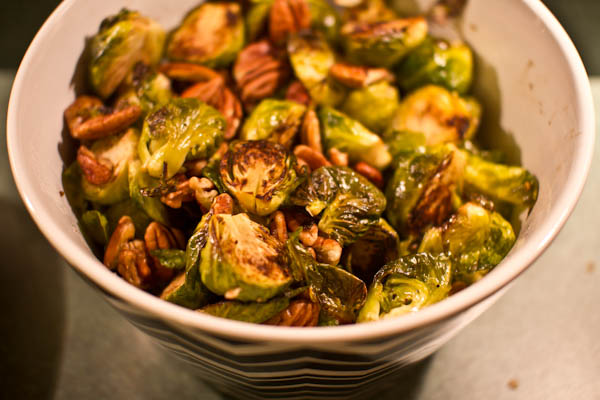 —
This recipe is part of a series featuring my Thanksgiving menu.
Other Thanksgiving posts:
Thanksgiving Menu Planning
Spicy and Smoky Turkey Rub
Roast Turkey with Herby Gravy
Cherry, Apple and Mushroom Stuffing
Spiced Cranberry and Apple Sauce