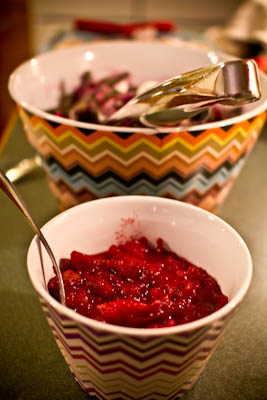 Spiced Cranberry and Apple Sauce Adapted from Clean Eating Magazine
Perfect for dipping! Matthew dipped his entire dinner into this sauce. A healthy twist on cranberry sauce featuring apples and ginger. The perfect pairing to your Holiday meal. Gluten-free, dairy-free, vegan.
Serves 12
12 oz cranberries, fresh or frozen and defrosted
1 apple (Granny Smith, Macintosh, Cortland, Gala or use a pear!), cored and diced
1/3 cup raw organic honey
½ cup water or organic apple juice
1 ½ tbsp finely minced fresh ginger (I used a microplane)
Zest and juice of ½ organic lemon
Pinch sea salt
Place all ingredients to a large saucepan and bring to a boil over medium heat. Reduce to low and simmer, stirring often, for 10-12 minutes until cranberries break down and apple softens.
Pour into serving dish or covered storage container, cover and chill at least three hours. Sauce will thicken as it cools.
Cranberry sauce can be prepared up to 5 days in advance and refrigerated in a covered container until ready to use. Serve at room temperature.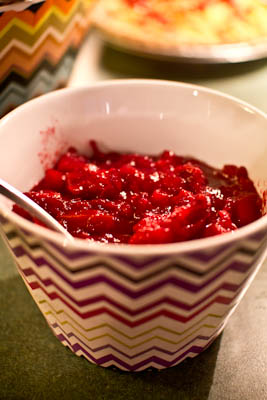 —
This recipe is part of a series featuring my Thanksgiving menu.
Other Thanksgiving posts:
Thanksgiving Menu Planning
Spicy and Smoky Turkey Rub
Roast Turkey with Herby Gravy
Cherry, Apple and Mushroom Stuffing