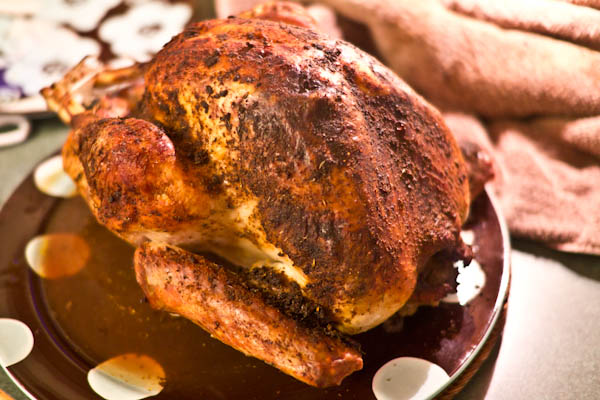 Roast Turkey with Herby Gravy Adapted from Clean Eating Magazine and Alton Brown
Over the years I have perfected the roasted turkey. Below I share with you my secrets to the timeless Thanksgiving favorite. Gluten-free and dairy-free.
Serves 12
4 organic carrots, scrubbed, cut crosswise and then into thirds
4 ribs celery with leafy tops, cut crosswise and then into thirds
2 onions, peeled and quartered
6-8 sprigs fresh thyme
4 sprigs fresh rosemary
3 sprigs fresh sage
1 apple, quartered and cored
1 cinnamon stick
2 1/2 cups chicken or vegetable stock
½ cup pomegranate juice, red wine or additional chicken stock
10-14 lb free range or organic turkey, defrosted and brought to room temperature
1 tbsp olive oil
2 tbsp arrowroot powder
4 tbsp water
spicy and smoky turkey spice rub
Preheat oven to 500˚.
Place 3 carrots, 3 ribs celery, 1 onion, 5 sprigs thyme, 2 sprigs rosemary and 2 sprigs sage in the bottom of a large roasting pan. Cover with stock. If possible, place the rack on top of the vegetables, arranging them so the rack is stable.
Remove and discard turkey beck and giblets. Rinse turkey with cold water and pat dry. Place on rack in roasting pan breast side up. See the video below on prepping your bird.
Gently lift up skin on breast and thighs, if possible. Rub meat, under skin, with half of the spicy and smoky spice rub. Pull back skin into place. Drizzle skin with olive oil and rub skin with remaining spice rub. Fill cavity with remaining vegetables and spices.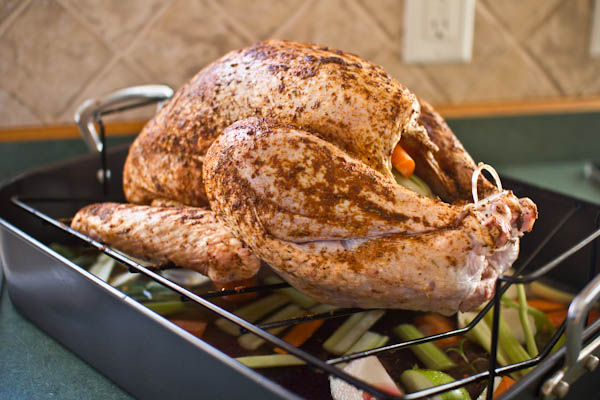 Firmly turn wings under the breast of the turkey to stabilize on rack.
Create a turkey triangle. See the video below for a tutorial. Fold a large piece of foil into a triangle the size of the breast of your turkey. Lightly mist with cooking spray. Gently mold the foil to the shape of your turkey breast. Set aside.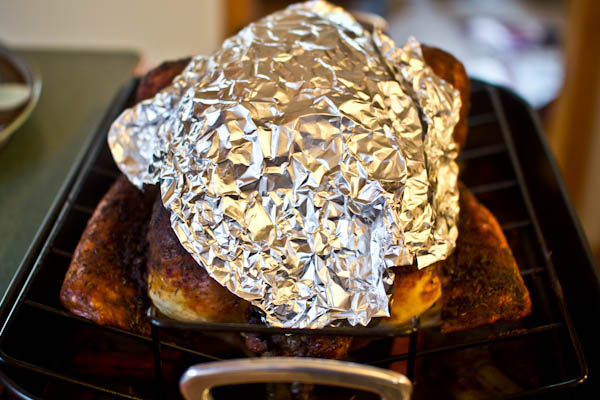 Place turkey into oven and bake at 500˚ for 30 minutes. Remove turkey from oven. Reset oven to 350˚.
Place a temperature probe into the breast and set to 161, make sure the alert is turned on. Place turkey triangle over turkey breast and return turkey to the oven until breast reaches 161, about 1-2 hours (dependent upon the size of your bird); most of my birds only take an additional 45-60 minutes of baking. For some reason, free range and organic birds take less time to cook than conventional turkeys.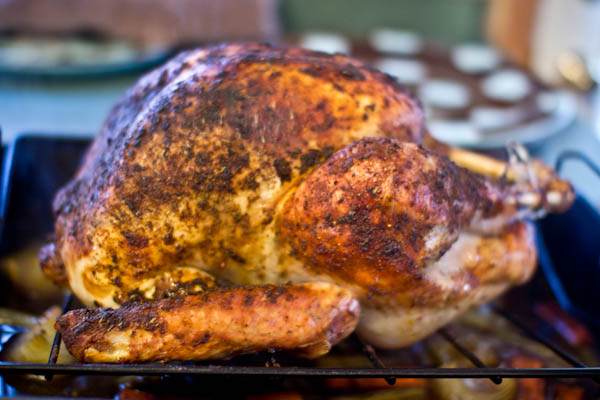 Remove turkey from oven and cover with two thick towels (I use bath towels). Allow the turkey to rest on the countertop for 30 minutes before carving.
While turkey rests, prepare herby gravy.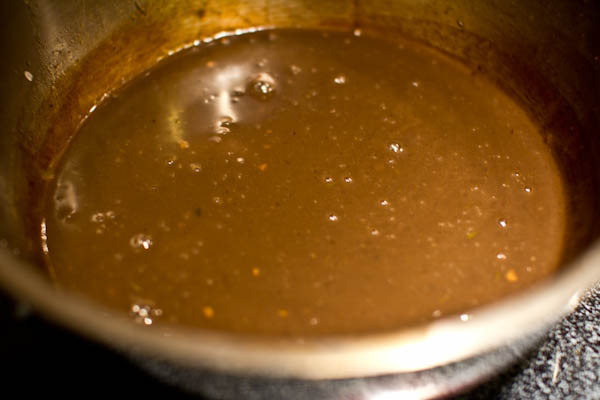 Pour pan drippings through a mesh sieve into a large saucepan. Add ½ cup pomegranate juice, wine or stock. Heat drippings over medium high heat. In a small bowl combine arrowroot and water with fork until no clumps remain. Pour into drippings. Bring to a boil, stirring frequently. Reduce heat to medium-low and summer for 2 minutes, stirring constantly, until thickened.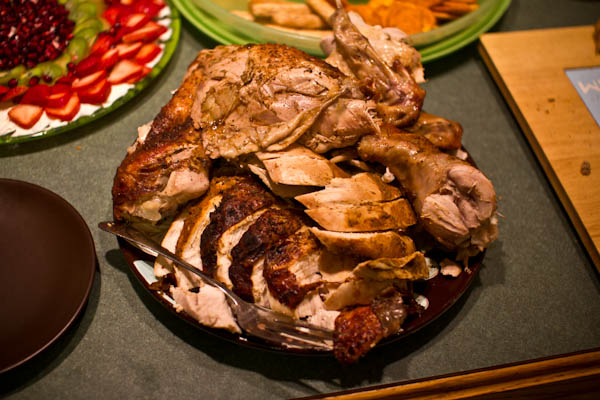 Vegetables can be cut up one day in advance and refrigerated in a sealed container.
Do not discard the turkey bones, leftover gravy/pan drippings and vegetable trimmings from your meal (celery tops, leek tops, carrot tops, etc.) they can be used to make delicious turkey stock!
A video demonstrating how to make a turkey triangle.

A video on prepping your turkey before roasting.

This recipe is part of a series featuring my Thanksgiving menu for the year.
Other Thanksgiving posts:
Thanksgiving Menu Planning
Spicy and Smoky Turkey Rub