I am feeling a bit under the weather today and decided to skip my scheduled yoga session this morning in favor of additional sleep. Depending on how long I take to get this post up, I might be able to sneak in a quick 20 minute yoga stretch session before Matthew wakes from his nap. We have exciting plans to visit the library before supper time. Can't wait!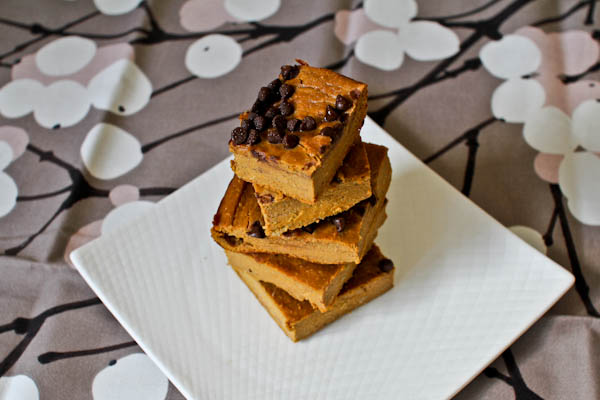 I got the inspiration for this recipe from Tosca Reno's blog. She posted a dessert recipe last week for Pumpkin Oatmeal Squares and I immediately knew that I could make a few swaps to turn this recipe into a gluten-free protein bar that could be enjoyed on a daily basis.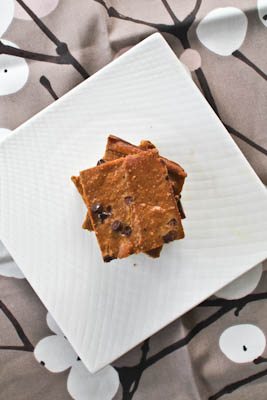 I had no idea what to expect when I put the bars in the oven.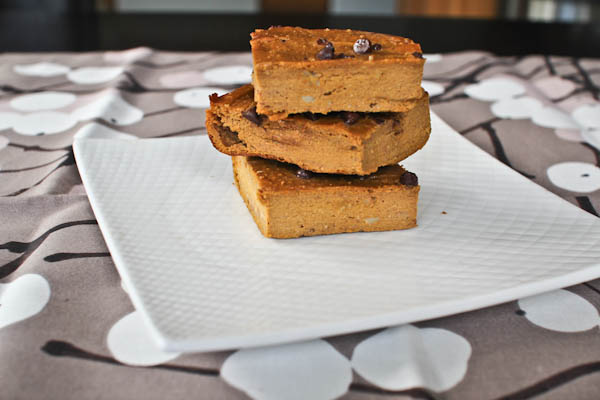 The resulting bars are incredible!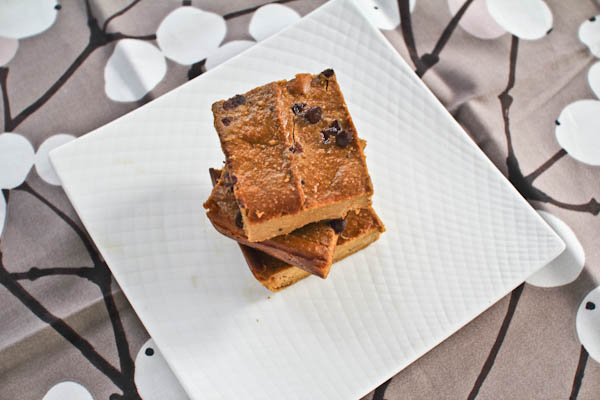 The texture and taste are just like pumpkin pie filling.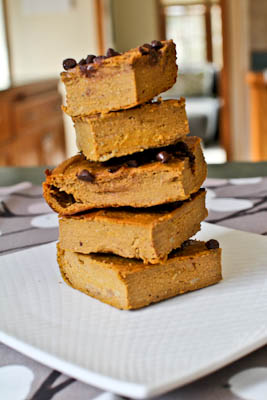 Allan and I cannot keep our hands off of these bars… Actually it's just me that can't stop eating them. There may not be any left when Allan gets home tonight. You snooze, you loose.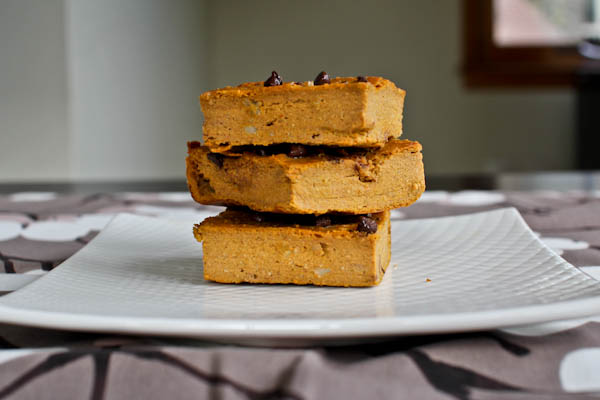 Pumpkin Pie Protein Bars inspired by Tosca Reno
A quick grab and go gluten-free bar that tastes just like pumpkin pie filling, but with a protein punch.
Makes 18 protein bars.
2 cups unsweetened pumpkin puree
1 cup rolled oats, gluten free
1/4 cup apple juice
1 cup nut or seed butter (I used sunflower seed butter)
1 cup applesauce
1/4 cup maple syrup
2 eggs and 3 egg whites
2/3 cup protein powder
2 tbsp vanilla extract
2 tsp cinnamon
1 tsp pumpkin pie spice
1 tsp sea salt
1/4 cup dark chocolate chips, optional
Preheat oven to 350º. Grease or line a 9×13 pan.
In a food processor or blender process pumpkin, apple juice, oats, and applesauce until smooth.
Add maple syrup, eggs, protein powder, vanilla, cinnamon, pumpkin pie spice and sea salt. Process until combined.
Pour batter into prepared pan. If using, sprinkle chocolate chips on top of the bars.
Bake 40-45 minutes until cooked through and set.
Store bars in the fridge.