I bet I am not the only one who has a hundred pounds of shredded zucchini in my freezer. Well, maybe I am the only one…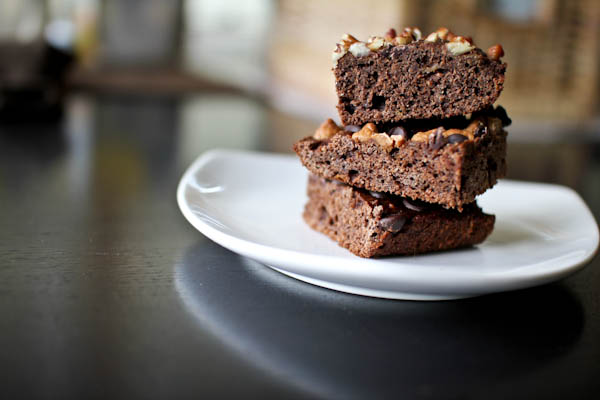 No matter how much of summer's bounty you have preserved in your freezer, I bet that you would love to enjoy a dark chocolate brownie that is delicious and packed with nutrition. Or you could at least use up one of the bags of shredded zucchini that haunt you every time you open the freezer. Either way, these are the perfect treat to serve to your little goblins this weekend.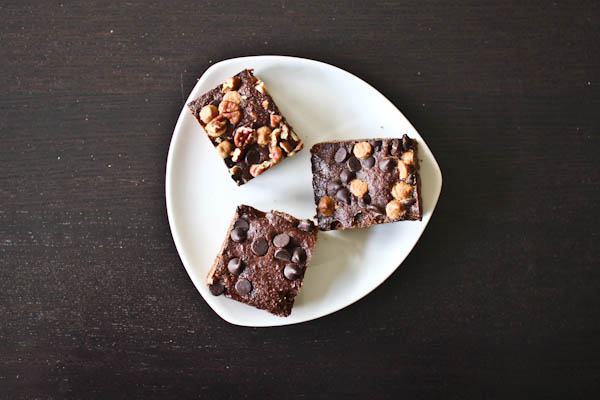 This cake brownie recipe is simple to whip up, made with whole grains, contains a helping of veggies, is low-sugar and low-fat – but that will be our little secret. Trust me, none of your trick-or-treaters will be able to tell that they are eating veggies.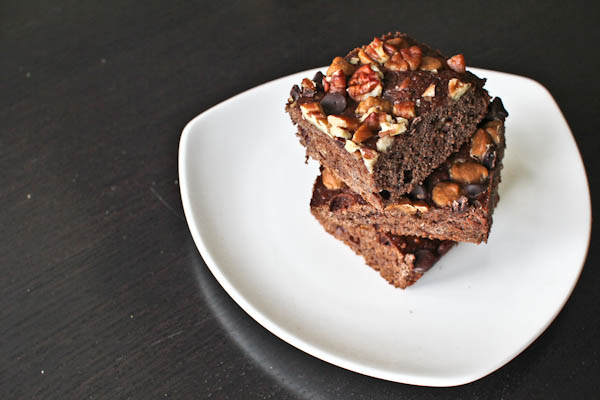 Go ahead, eat two (or three)!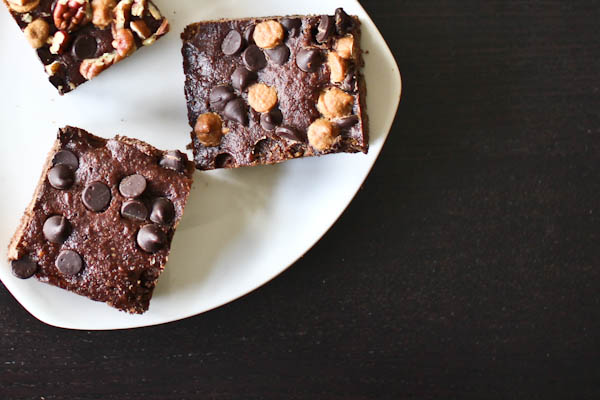 Zucchini Double Chocolate Brownies inspired by Simply in Season
A satisfying cake brownie that is packed with nutrition. Enjoy dessert without the guilt.
Make 16 brownies
1 3/4 cup whole wheat pastry flour or white whole wheat flour
1/3 cup unsweetened cocoa powder
1/2 tsp baking soda
1/2 tsp sea salt
1/2 tsp cinnamon
1 tsp instant coffee granules
1 egg
3/4 cup sucanat (can substitute turbinado or organic sugar)
1/2 cup organic low fat kefir (can substitute whey, buttermilk or milk soured with 1 tbsp lemon juice)
2 bananas, mashed
1/4 cup coconut oil, melted
1 tsp vanilla extract
2 1/2 cups zucchini, shredded
1/4 cup dark chocolate chips, optional
1/2 -3/4 cup topping(s) of choice, optional (see note below)
Preheat oven to 350°. Grease a 9×13 pan with additional coconut oil or line with parchment paper.
In a large bowl combine the flour, cocoa powder, baking soda, sea salt, cinnamon and instant coffee.
In a medium bowl combine egg, sucanant, kefir, bananas, coconut oil and vanilla.
Add wet ingredients to the dry ingredients and stir until moistened.
Fold in zucchini and chocolate chips, if using. Add desired topping(s), if using.
Pour into prepared pan and bake for 35-45 minutes.
Experiment with toppings for the brownies. In my one 9×13 pan, I used walnuts, peanut butter chips and dark chocolate chips. I simply sprinkled a combination of these toppings over different areas of the pan to create several different flavored brownies. Other topping ideas: swirl in cream cheese or nut butter for a marbled effect, dried coconut, dried cherries, dried cranberries, slivered almonds, caramel sauce, dark chocolate chunks, pieces of broken up candy bars, candy corn (for Halloween!).