Hello my friends!
Just stopping by after a hardcore circuit workout from BodyRock.tv. I am dripping with sweat and loving it!
At some point last week I got bored with my weight lifting routine. I lost motivation to do my routine. After completing The New Rules of Lifting for Women
in June and then starting The Female Body Breakthrough
in July, I have been lifting heavy for a LONG time. I am definitely seeing results from weightlifting, but I would really like to focus on fat loss so that I can see the beautiful muscles that I have been building!
Enter BodyRock.tv. The quick circuits on BodyRock.tv are perfect for early morning workouts or during Matthew's nap time. Here is a link to the workout that I did today. Need an interval timer? Here is a free one. I used my 10 lb medicine ball in place of the sandbag and the racked bar as the dip station.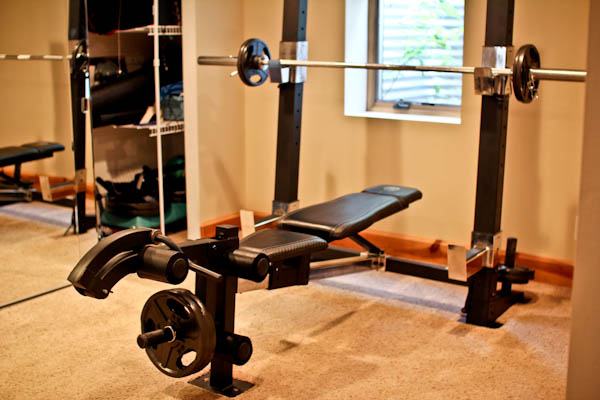 photo from this post about working out at home
I also requested several workout DVDs from the library. I can't wait until they come in! Checking out DVDs from the library is an inexpensive way to try before you buy. I have also heard great things about Supreme 90 and may run to Bed, Bath and Beyond to pick that up as well.
Have you ever done BodyRock.tv workouts? If so, what are you favorites? What are your favorite workout DVDs?