Have you ever watched the show, The Best Thing I Ever Are? When we had cable, I would tune in to Food Network when I was doing chores… folding laundry, stuffing cloth diapers, etc. Inevitably, the show, The Best Thing I Ever Ate, would be on. I much prefer cooking shows like Giada At Home and 30 Minute Meals, but was always entertained by seeing all of the odd things that people enjoy eating. I have been hitting a lot of home runs in the kitchen lately and am super excited to share all of the excitement with you…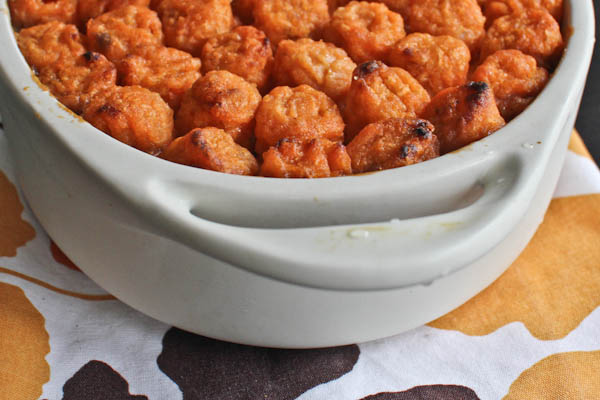 First up is this amazing casserole. This is a must-try recipe! If you make only one of the recipes that I share on MMM, this one is hands down the one to try.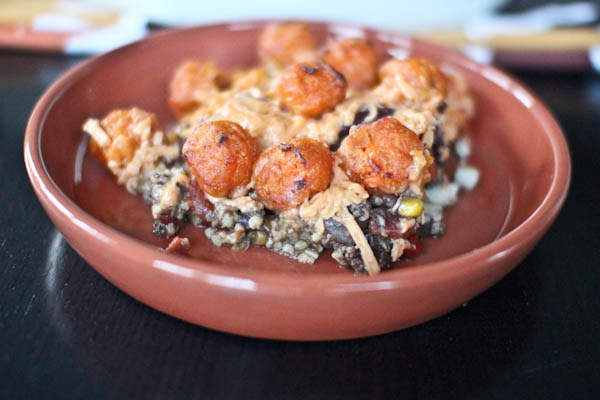 Don't be fooled this is not your traditional tater tot hot dish, nope this is not your Grandma's casserole…. On no! This is something spectacular.
I believe that there may have even been a little divine intervention happening here. 😉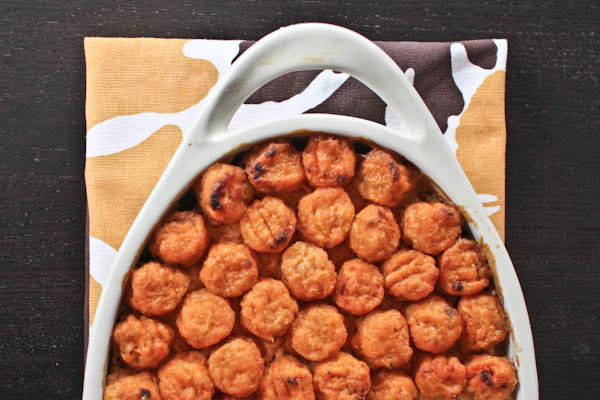 There have been many chili-cornbread recipes floating around the blogosphere as of late… all seemingly inspired by one post. I found the many variations inspiring, but I had other plans for my chili leftovers.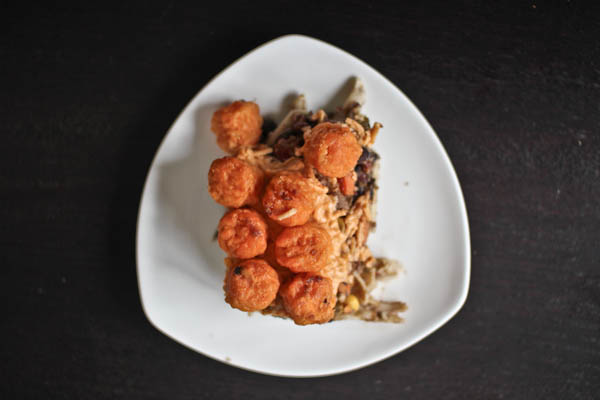 I wanted to create a meal that would be appealing to the kid in all of us and surprising enough that any fussy toddler would love to sink their teeth into supper.
The recipe had to be easy enough to whip up in the morning in anticipation of a busy weeknight or to simply throw in the oven when you get home from work; leaving you a few minutes to tackle other tasks and catch up with your muffins before dinner is served.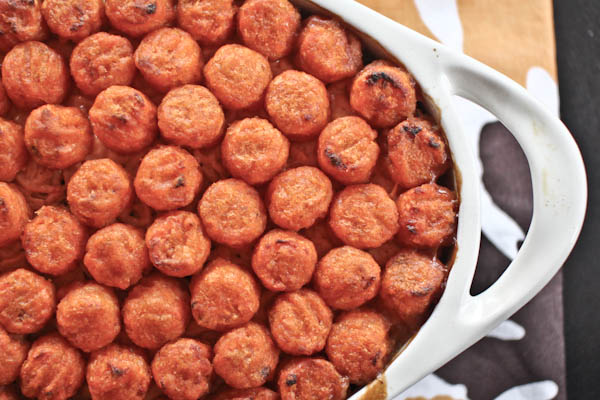 This Chili Sweet Puff Casserole does all of that.
Perfect for a weeknight meal or a game time feast. Make it a meal by topping it with guacamole and a side of  veggies (brussels sprouts, broccoli and cauliflower) roasted in coconut oil, salt and pepper.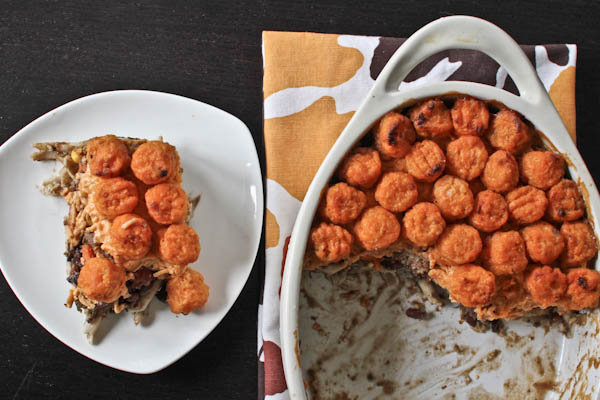 Chili Sweet Puff Casserole inspired by the edible perspective and Peas and Thank You
A must-try recipe that combines leftover chili, brown rice noodles, cheese and sweet potatoes for an unexpected, decadent healthy supper that will leave the whole family begging for seconds. Dairy-free and gluten-free.
Serves 4-6
2 cups dry brown rice noodles (or other whole grain noodle)
4 cups chili, leftover from a previous meal*
1 cup shredded cheddar dairy-free cheese, such as Daiya (or shredded organic cheddar cheese)
1 bag Alexia sweet potato puffs
Prepare noodles according to package directions, reducing cooking time by 3-4 minutes. The noodles will finish cooking in the oven. Rinse with cold water and set aside.
Meanwhile, preheat oven to 375º. Spray a 2 quart baking dish with cooking spray.
Layer the ingredients:
Line the bottom of the baking dish with the prepared noodles.
Spread the chili on top of the noodles.
Sprinkle the cheese on top of the chili.
Arrange the sweet potato puffs on top of the cheese.
Bake at 375 for 35-45 minutes until bubbly. Broil 2-3 minutes to melt cheese and crisp the puffs. Let stand 10 minutes prior to serving.
This meal can be prepped ahead of time through placing the sweet potato puffs. Simply cover and refrigerate the prepared casserole until you get home from work. When you get home from work simply uncover and place the prepared casserole in the preheating oven. It may need a few extra minutes to cook because the casserole dish will be cold.
*To make this recipe vegan or vegetarian, use meatless chili. Don't have leftover chili? Use two 15 ounce cans of organic, low-sodium chili from BPA-free cans.
—–
This post is part of  the Family Favorites series that focuses on our most adored meals that are both kid- and adult-friendly, have minimal weekday prep time and are flavorful and sustaining.
Previous Family Favorites Posts: