Hello my friends!
Things are starting to settle down around here. I am loving not having the urge to check email every five seconds to ensure that everything at work is ok. Rachel Cosgrove (via The Female Body Breakthrough
) is still kicking my butt at 5:30 AM. I added in a little Yoga is Yummy on Thursday morning, my body needs a good stretch once a week! And I am starting to get used to being a brunette. Although, Allan keeps thinking that I am a stranger creeping up on him at every turn. I swear I have scared him on several occasions, including once this morning at the farmer's market.
Our detox/elimination diet has been going very well. I am still craving sweets and coffee, but I knew that I would have a difficult time living without either of those items. It's not that I eat a lot of sweets or drink a lot of coffee, because I don't. I rarely have items that are sweetened and enjoy a single shot americano in the morning. I think it's more that I want what I can't have. 😉
Speaking of sweets, in yesterday's post I promised to share a recipe for Apple Cider Donuts. Today, I am going to do just that!
These donuts are sooooo delicious. The texture is more dense and cakey than my pumpkin donuts, making them reminiscent of their fried cousin. They are just sweet enough for our taste, but if you enjoy a sweeter treat, feel free to add more dried maple sugar. These babies are so good that the batch of twelve donuts that I made a couple weeks ago were done within two days. Just sayin'.
Just writing this post makes me want to sink my teeth into a delicious, sweet, glazed donut. I told you I was craving sweets! To calm my sweet tooth, I plan to try my hand at a gluten-free and dairy-free apple cider donut using buckwheat, oat and arrowroot. Wish me luck!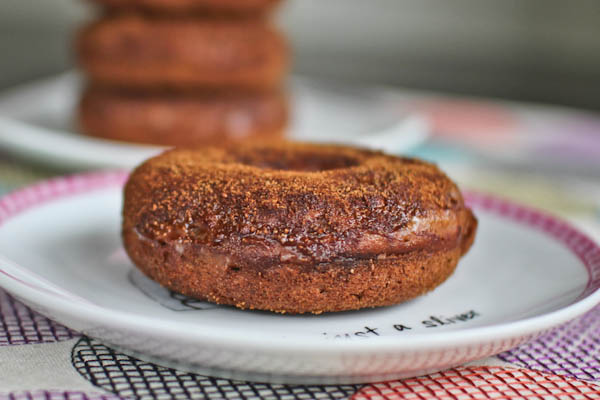 Apple Cider Donuts inspired by Mama Pea
This baked donut will please even the toughest crowd with its light maple flavor, cakey texture and apple aroma.
Makes 6-8 donuts
2 1/4 cups whole wheat pasty flour
1/2 cup rolled oats
1/4 cup dried maple sugar (or sucanat)
2 tsp baking soda
1/2 tsp baking powder
2 tsp cinnamon
pinch of each: allspice, nutmeg, cloves and sea salt
2 farm fresh eggs
1/2 cup apple, grated
1/4 cup kefir, buttermilk, whey or milk soured with 1 tsp lemon juice or apple cider vinegar
1/2 cup apple cider
2 tbsp sunflower oil
1 tsp vanilla extract
Preheat oven to 350° and grease your donut pan with coconut oil. If you do not have a donut pan, you can use a muffin tin.
In a large bowl combine dry ingredients. In a medium bowl combine wet ingredients. Add the wet ingredients to the dry ingredients and gently stir to combine. Do not over mix.
Spoon or pipe batter into prepared donut pan or muffin tin.
Bake for 20-25 minutes for donuts and 23-30 minutes for muffins, until a toothpick inserted in the center comes out clean. Let donuts cool for 5 minutes before removing from pan.
I find that the easiest way to remove the donuts from the pan is to use a knife to gently loosen the edges of each donut and then invert the pan oven a plate and gently tap on the bottom of the pan.
Top with Maple Sugar Glaze, recipe as follows.
Maple Sugar Glaze
1 tbsp earth balance, coconut oil or grass-fed butter, melted
4 tsp sucanat
2 tsp dried maple sugar or additional sucanat
2 tsp cinnamon
Whisk together sucanat, maple sugar and cinnamon. Place melted butter in a shallow bowl that is wide enough to fit a donut. Do the same with the cinnamon sugar. Dip each donut in melted butter then in cinnamon sugar. Alternatively, brush each donut with melted butter and sprinkle cinnamon sugar over each donut.
—–
This post is part of  the Family Favorites series that focuses on our most adored meals that are both kid- and adult-friendly, have minimal weekday prep time and are flavorful and sustaining.
Previous Family Favorites Posts: