Becoming a Mom has been one of the most rewarding experiences of my life. It has caused me to reevaluate my life from top to bottom. I have learned to quietly listen to God's commands, acting on them in obedience. Today was a paramount day in my life. I quit my job.
Stop questioning with your mind and start believing with your heart.
You may remember that back in May, I significantly reduced my hours at work. However, I felt torn between being a working mother and a stay at home mom. I didn't feel that I could give either my full attention. I felt God pulling at my heart strings and leading me to commit to being a stay at home mom. So, I bid adieu to my day job.
Remove everything from your life that isn't bearing good fruit. It leaves you much more room to grow.
In addition to changing my employment status, I have also been overhauling other areas of my life…
I am waking up at with Allan at 5:30 AM to fit in my workout before the sun rises. I now use the time during Matthew's afternoon nap to blog, read, study my bible, clean, pin and shop online ;-). I love having the time to myself to check stuff off my to do list, leaving lots of time for Matthew and I to play, read and learn while he is awake. I find that I have more energy, sleep better and am more relaxed.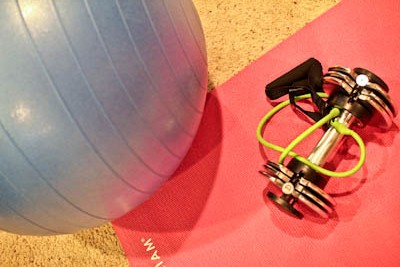 Remember that little detox that Allan and I are on? Wow has it been challenging! I am craving sweets, chocolate, caffeine and carbs like no other. Allan is craving cheese and cereal
.
I think that overhauling our food will be very rewarding for both of us. Allan is beginning to feel better and I am realizing how much I like to munch. Since being home this summer, I have lacked the discipline that I once had when I packed a cooler for work. I need to get back in the habit of eating with control.
I went from blonde to brunette. Yep. I am back to my natural hair color. I felt that it was time for a change and I am very excited to be back to my roots. I have been blonde most of my life. I was born with white blonde hair; however, in high school my hair started to get darker, so I got highlights. Blonde be gone – I love my beautiful brown hair!
What things in your life are dragging you down? Give them to God and he will assist you in changing your life.
And we know that in all things God works for the good of those who love him, who have been called according to his purpose. Romans 8:28
—
Mama Pea tweets inspirational quotes every morning and for the last week I felt that God was working through her words to lead me into action. The two quotes that I used are a couple of the ones that spoke to me this week.