We are in the middle of full fledged Indian Summer and I am loving it. To think I turned on the heat a couple weeks ago and now they are forecasting highs near 90 tomorrow. Bring on the sunshine! Maybe the dozens of tomatoes that I still have on the vine will magically ripen overnight. A girl can dream, can't she?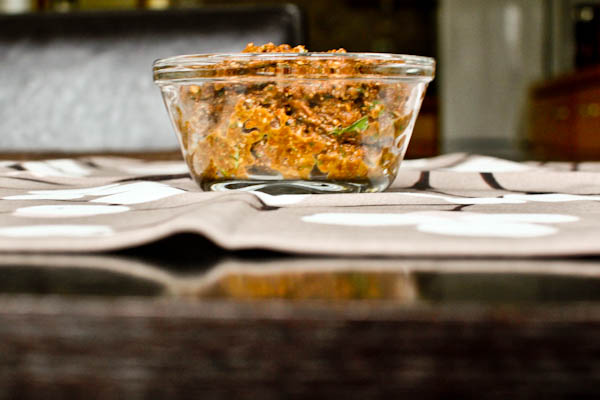 Speaking go tomatoes, on a rainy day last week I devised an incredible recipe for sun dried tomato pesto.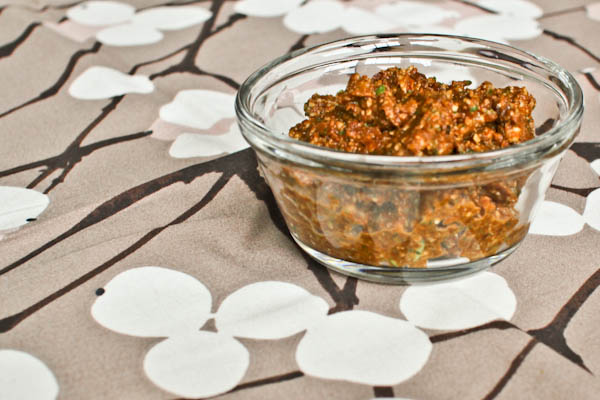 A couple years ago, while pregnant with Matthew, I made the most incredible sun dried tomato and goat cheese stuffed chicken. For some reason, I had a craving for that same combination. I had all of the ingredients in the house minus store bought sun dried tomato pesto, which also happens to be expensive and very high in fat. That afternoon I set out to create a clean, low-fat sun dried tomato pesto and boy was I successful.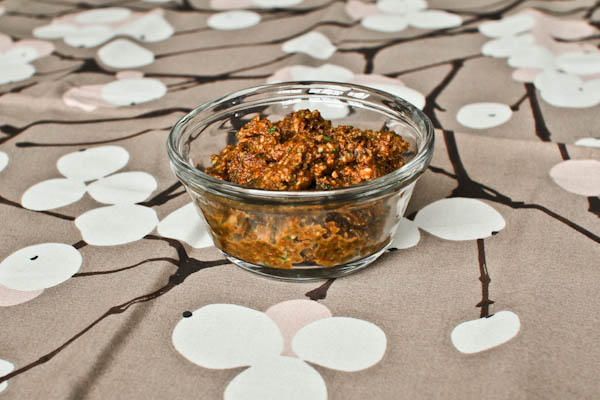 To create the sun dried tomato pesto I used my own recipe for light basil pesto and swapped in rehydrated sun dried tomatoes for some of the basil. Easy enough!

I then stuffed chicken breast tenders with goat cheese and sun dried tomato pesto and dredged each one in whole wheat flour, egg white and whole wheat panko breadcrumbs. We served the baked stuffed chicken with sautéed kale, roasted butternut squash and roasted beets. Allan and I devoured this meal. Matthew took a few bites of chicken and then filled up on squash and kale.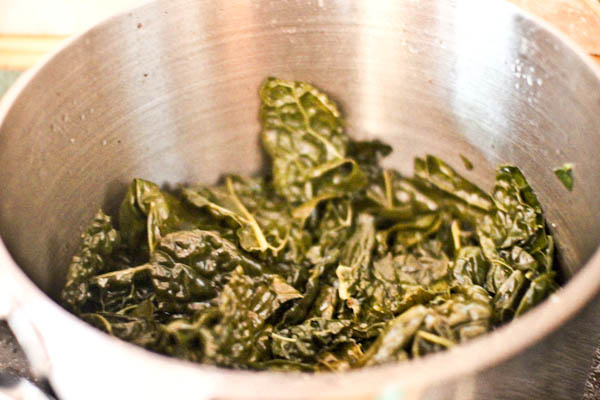 This cleaned up twist on classic basil pesto has so much flavor you would never guess it is healthy. Perfect as a topping for pasta, stuffed in chicken or thinned with stock as a salad dressing.
1 cup sun dried tomatoes (not packed in oil or water)
1 1/4 cups low sodium chicken or vegetable stock
2 cups fresh basil, packed
3 cloves garlic
3 tbsp extra virgin olive oil
1/4 cup almonds, walnuts or pine nuts
1/4 cup parmigiano reggiano, optional
Heat stock in small saucepan over medium heat until almost boiling. remove from heat. Place sundried tomatoes in stock and let sit, covered, for 30 minutes.
Pour sundried tomatoes and stock into the bowl of a food processor. Add remaining ingredients and pulse until the mixture starts to come together into a chunky paste.
This recipe makes enough pesto for 2-3 meals. Leftover pesto can be frozen for later use.
If topping pasta with sun dried tomato pesto, reserve a bit of starchy noodle cooking water to thin the pesto.