I know that it's still September, but the Holidays are fast approaching. Before we know it there will be snow on the ground, chestnuts roasting on an open fire and jingle bells playing on your iPhone. If you are like me and host your family's Holiday get-togethers there is always the age old question proceeding any celebratory gathering… What am I going to do with the leftovers?
Typically, I immediately vacuum seal and freeze half of the leftovers to be used at a later date. However, sometimes those same leftovers sit in my freezer for longer than I want to admit. This weekend I thawed some leftover mashed sweet potatoes and put them to good use!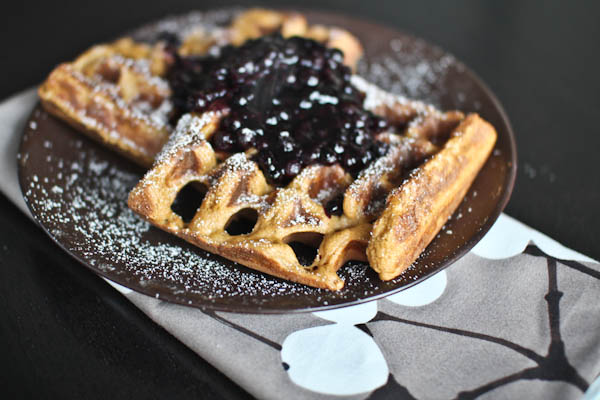 On Saturday mornings I like to make a fancy breakfast for my boys. We usually indulge in whole grain pancakes, breakfast bakes, french toast or waffles. This past Saturday was definitely a waffle kinda day.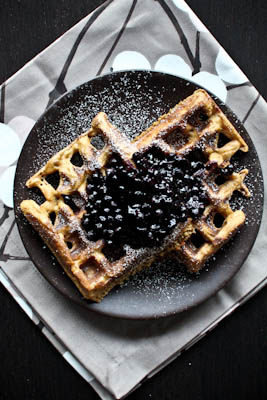 Not only are these waffles unsweetened, gluten-free and (can be made) dairy-free, they are hands down the most delicious waffles I have ever tasted. The texture is crunchy and chewy. They taste is delicately nutty without a hint of grit. And you would never guess that they are made with whole grains, making them a wonderful recipe for a weekend brunch or a lazy Saturday morning.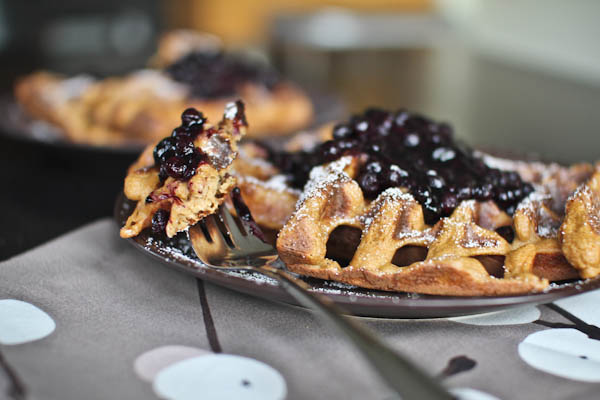 The batter is prepped the night before in your blender. Come morning there is minimal prep… Leaving lots of time to play with legos.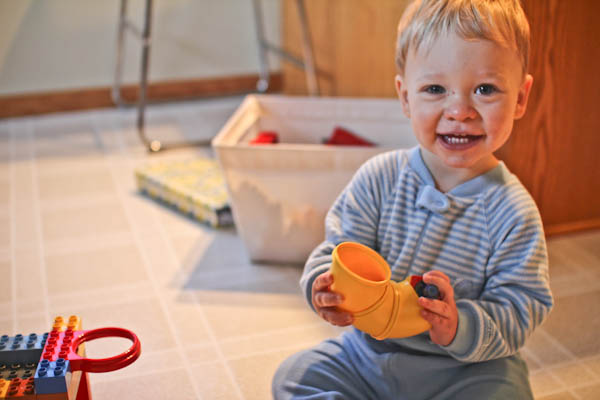 While the waffles cooked in the waffle iron, I made a quick and simple blueberry syrup for drizzling. I placed 1 cup frozen blueberries in a small saucepan with 2 tbsp water over medium heat until it came to a boil. I then let the blueberries simmer on low until the sauce thickened and became syrupy. Alternatively, you can add 1/4 tsp arrowroot powder dissolved in 1/4 tsp water to the blueberry syrup to really thicken it up.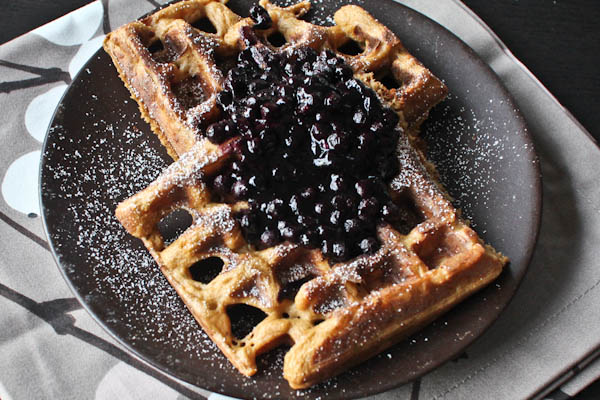 Soaked Sweet Potato Waffles Adapted from Passionate Homemaking
This waffle recipe is a breeze to whip up the night before in your blender. In the morning simply add a couple ingredients and start making waffles and/or pancakes. Feel free to omit the sweet potatoes all together or swap them out for grated apple, blueberries (stirred in at the end), pumpkin, mashed banana or puréed butternut squash.
Yield: 5-8 waffles, 20-30 pancakes
1. Place in blender; blend at highest speed for 3 minutes:
1 1/2 cups buttermilk, kefir, whey or nondairy milk soured with 1 1/2 tbsp apple cider vinegar
2 Tbls olive oil, melted coconut oil, melted earth balance, sunflower oil or grapeseed oil
1 tsp vanilla extract
1 1/2 cups whole grains, see grain variations note below
The batter should always swirl in a vortex in the blender. If it doesn't, slowly add more liquid until the hole reappears. This is the secret to light and tender waffles. Batter for pancakes may be thicker, but keep batter relatively thin to keep it churning.
2. Cover blender; let stand at room temperature overnight or 12-24 hours.
3. Preheat waffle iron to medium-high temperature, or griddle to medium.
4. Just before baking, add, cover and reblend on highest speed for 1 minute:
1 farm fresh egg
1 cup leftover sweet potatoes, pumpkin, banana, apple or squash, optional
Optional additional liquid (if batter needs thinning for vortex to appear)
5. Blend in briefly, but thoroughly:
2 tsp baking powder
1/2 tsp baking soda
1 tsp cinnamon
1/2 tsp pumpkin pie spice (or a pinch of nutmeg, cloves, allspice and ginger), optional
pinch sea salt
6. Pour batter onto hot nonstick waffle iron. If using blueberries, sprinkle them by the tbsp full over batter before cooking. Bake in waffle iron until crispy. Alternatively, for pancakes drop batter onto preheated griddle by the 1/4 cup full. Flip when batter becomes bubbly and edges begin to brown, 2-3 minutes per side.
Leftovers can be refrigerated for easy breakfasts or frozen for several months. To reheat, simply toast until warm and crispy.
Top with blueberry syrup, applesauce, real maple syrup, nut butter, coconut oil or grass-fed butter.
Grain Variations
We usually use 1/2 cup short grain brown rice, 1/2 cup oat groats and 1/3 cup buckwheat groats; however, you can use any combination of the following grains or simply use a single variety of grain.
Kamut, spelt, wheat, farro – use 1 1/2 cup groats
Gluten-free variations: Brown rice, Millet, Uncooked Rolled Oats, Oat Groats – equal parts of any of these grains to total 1 1/2 cups of groats
Buckwheat groats – reduce to 1 cup, it expands.
Barley -hulled, not pearled. Reduce to 1 cup, it expands
Quinoa – Thoroughly rinse quinoa in strainer the night before 1-2 minutes; let stand in bowl of water overnight; drain and rinse about 1 more minute. This removes bitter flavor. Batter will be very thin. Fill waffle iron almost completely to the edges.
Note: 1 1/2 cups grain =2 cups flour
—–
This post is part of  the Family Favorites series that focuses on our most adored meals that are both kid- and adult-friendly, have minimal weekday prep time and are flavorful and sustaining.
Previous Family Favorites Posts: