We had an amazing four day weekend together! I can't wait to tell you all about it. On Friday, Allan took a day of vacation and we went to the MN State Fair. Look for a recap on this escapade tomorrow. Today, I want to tell you about our One Bag Mexican Fiesta that I blogged about last week.
As a quick recap, Foodbuzz and GLAD challenged me to host an event that generated only ONE BAG of landfill-bound trash. Participants received a trash management kit, a consultation with a waste management expert and a stipend to help cover the expenses of their One Bag event. We decided to throw a fiesta to celebrate my 28th birthday.
Simply email me (maria at mariamakesmuffins dot com) if you would like the recipe for any of the items pictured below.
Beverages
Sangria made with organic spanish wine, lemonade, orange juice, citrus fruits, peaches, raspberries, blueberries and strawberries.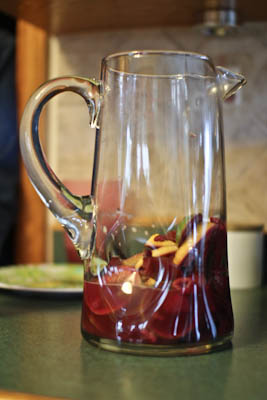 Skinny Girl Margaritas with tequila, lime juice, grand marnier and agave.
Unpictured Corona and Modelo beers were served with a twist of lime.
Food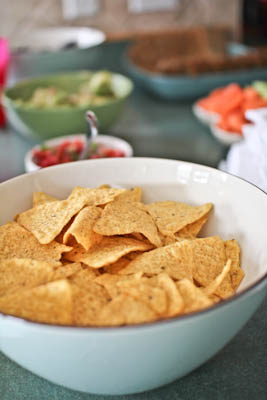 Guacamole made with avocado, pureed white beans, roma tomatoes, red onion, jalapeño and seasonings.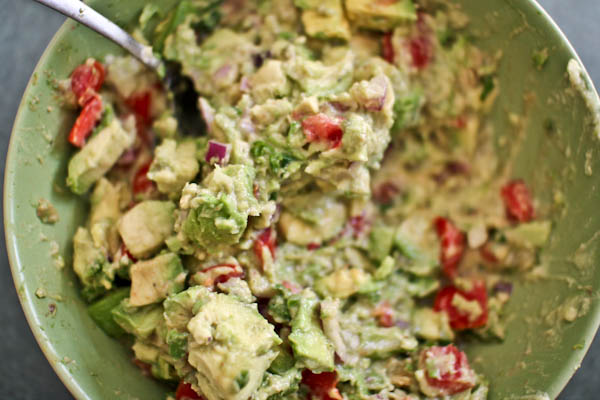 Fresh salsa with tomatoes, red onion, jalapeño and seasonings.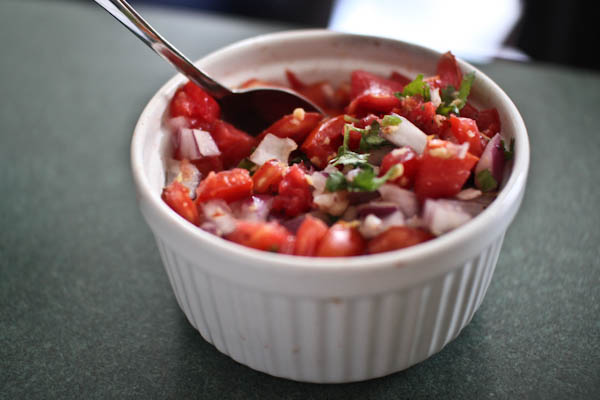 Crudités.
Fajita marinated tofu, chicken and (unpictured) veggies.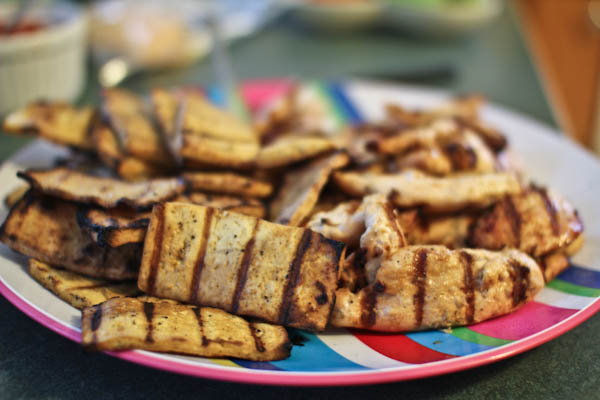 Spanish quinoa, inspired by Mama Pea, made with quinoa, fire roasted tomatoes, tomato sauce, chicken broth, onion, garlic and spices.
Fajita masterpiece.
Three different types of zucchini banana bread. I need to make this recipe again and photograph it for you. It is divine and is so healthy it could be enjoyed for breakfast every day!
The festivities
Handmade piñata.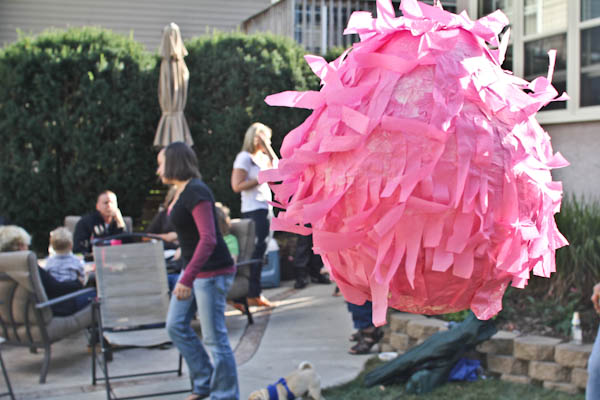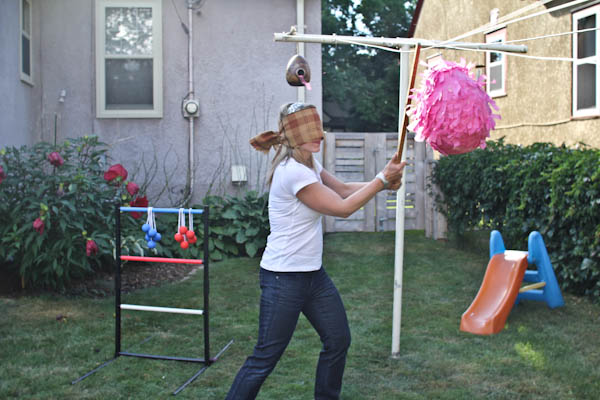 Apparently the hanger we used to support the piñata coupled with the hole we cut to stuff it did not hold up to the beatings that ensued. So, Allan improvised a new hanging system… yes, that is an electrical cord. 🙂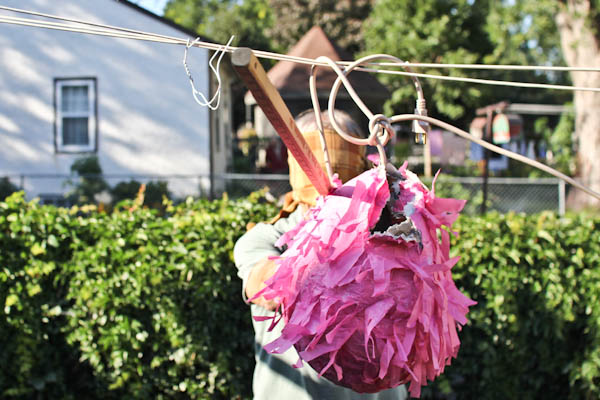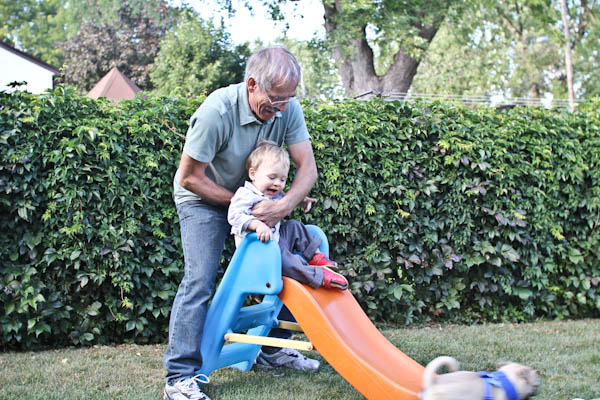 Organic lollipops
Clean your plate
I emptied the garbage and recycling on Saturday morning before doing any party prep. This is the amount of garbage and recycling that accumulated over our regular use on Saturday, party prep, regular use on Sunday and the party, including the piñata. It is now Tuesday and we still have not emptied the garbage!
The cake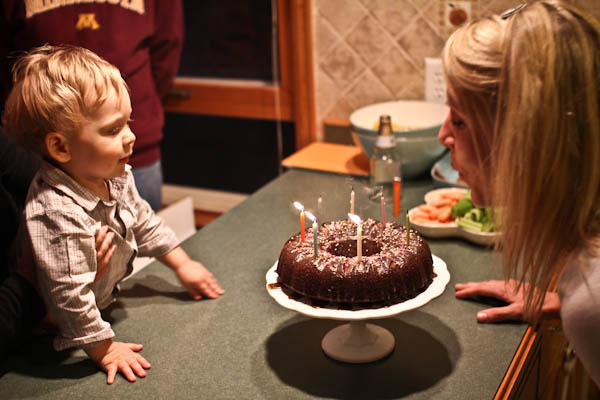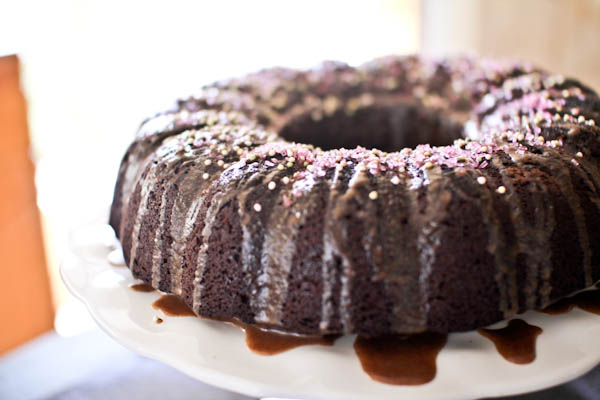 Mexican Hot Chocolate Cake adapted from The Gluten-Free Almond Flour Cookbook
This dense, grain-, dairy- and oil-free cake is naturally sweetened with agave and high in antioxidants, fiber and protein. Do not skimp on the cayenne pepper as it adds a slight bite that is both pleasant and unexpected.
4 cups blanched almond flour (do not use almond meal from Trader Joe's)
1/2 c cocoa powder
2 tsp cinnamon
1 tsp instant coffee
1/4 tsp cayenne pepper
1 tsp sea salt
1 tsp baking soda
1 1/2 cups organic raw agave nectar
4 farm fresh eggs, lightly beaten
1 tsp vanilla extract
Preheat oven to 350°. Spray bundt pan with olive oil and lightly dust with additional almond flour. Set aside.
In a large bowl combine almond flour, cocoa powder, cinnamon, instant coffee, cayenne pepper, sea salt and baking soda.
In a medium bowl whisk together agave, eggs and vanilla.
Pour wet ingredients into the dry and gently stir until just combined.
Spoon batter into prepared pan.
Bake 350° for 40-50 minutes, until a toothpick inserted in the center of the pan comes out clean. Let cool in pan for at least one hour. Invert pan onto cake stand and cake should simply fall out. If not, use a knife to gently loosen edges of cake, being careful not to cut into the cake.
Prepare Cinnamon Glaze (adapted from Ashley)
In a small bowl whisk together 2/3 c powdered sugar, 8 tsp unsweetened vanilla almond milk and 1 tsp cinnamon.
Gently drizzle over cooled cake.
Presents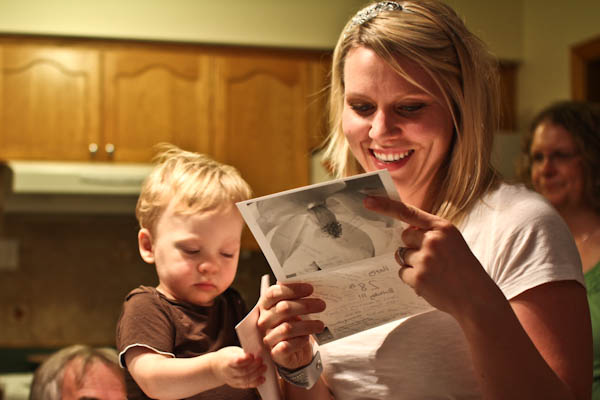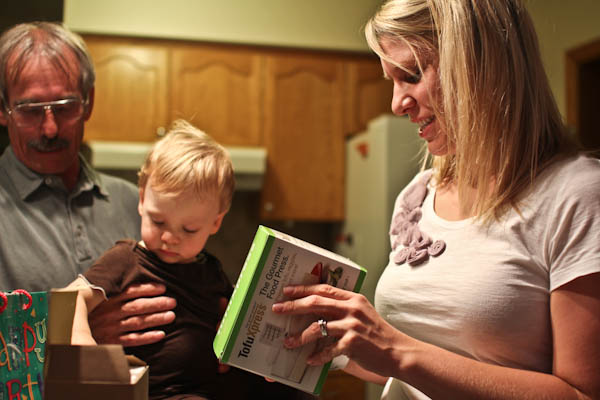 Party favors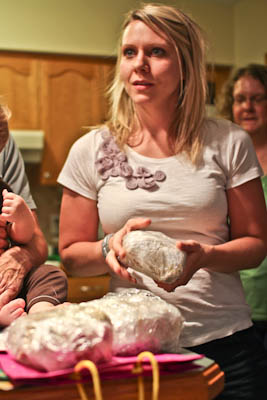 Everyone went home with a little baked goodness.