A lot of people believe the misconception that you need a gym membership to workout like an athlete. However, I am here to tell you that is not the case! With minimal equipment you can get you ripped in no time! The following is a look into our home gym that allows us the comfort of working out whenever we feel like it.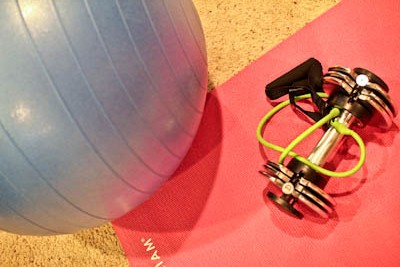 But first, here a few of the reasons that we like working out at home.
1. Motivation. Half the battle of working out and being fit is motivation. If all you have to do is walk downstairs, there is less of an excuse to skip your workout.
2. Save Time. I don't have to pack up all of my things, drive to the gym, drop Matthew off at daycare, change, workout, shower, pick up Matthew and drive back home. I estimate that by working out at home I easily save 40+ minutes.
3. More time with my son. This goes back to #2, the time that I save allows me more quality time with Matthew, because I can workout at home while he naps.
4. Self confidence. I can flex and check myself out in the mirror or fall over when doing single-leg workouts and the only one who sees it is me. 🙂
5. Ability to focus. I have always been more comfortable working independently. What can I say? I am a control freak. At home, there is no one to chat with or distract me from my workouts. I am able to get through an intense, full body workout in 60 minutes or less, including warm up and cool down.
6. Save Money. We spent under $500 on all of the workout equipment that we own, that is less than the cost of a one year gym membership for one of us. We have had most of our equipment for 4 years and it is now making us money. The biggest investments were our Olympic bench/weights along with our treadmill. For these large investments we shopped around and found fantastic deals on last year's models. Craigslist is also a great resource for gently used workout equipment.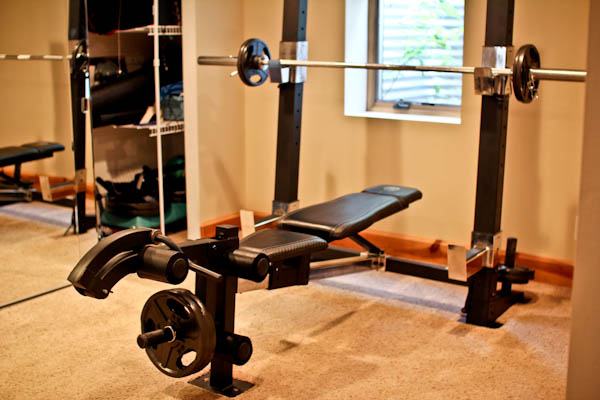 7. Control. I don't like being told what to do. So, naturally I am not a fan of exercise videos (other than yoga). Instead I rely on books like The New Rules of Lifting for Women
and The Female Body Breakthrough
along with Oxygen magazine
for my workouts. All of these resources have programs that are easily adapted to the equipment that we own.
The space that we use for working out is located in our basement family room. It is a well lit, small 9'x 9′ space that could easily have been used as a play area for Matthew or nice sized office; however, we knew right away that we wanted to use this area for gym equipment. As you know, Allan and I have both struggled with our weight and knew that working out played an important role in our journey to becoming fit and healthy. We also knew that going to the gym did not work for us, because we were paying for an unused membership. We cancelled our gym membership and never looked back.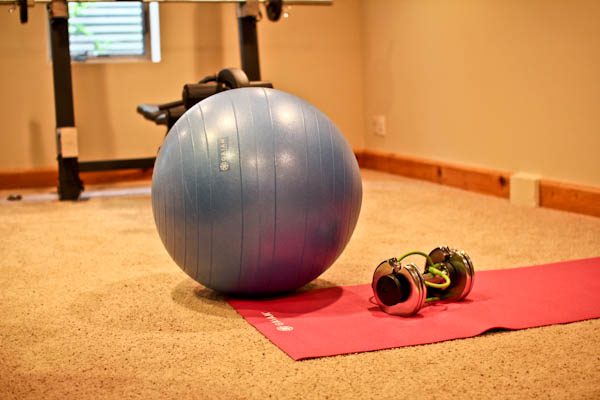 Here is the equipment that we have rockin'.
My iPhone to time the rest intervals (I use the default stopwatch) and a training log and pen to write down my workouts.
A large balance ball
, yoga mat
, set of 25-lb adjustable dumbbells
and adjustable resistance bands
. Although, we are on the lookout for heavier dumbbells, because we use plates as heavier weights.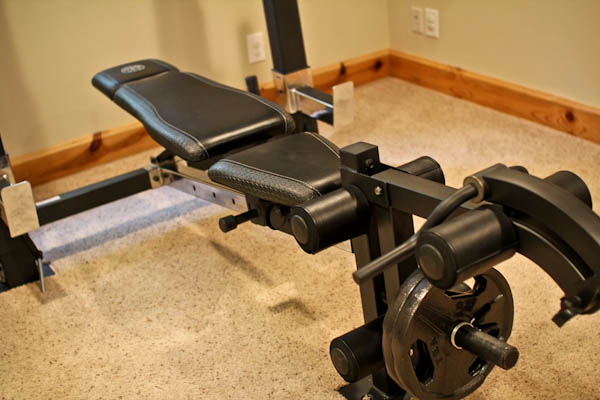 An olympic bench
and 300-lb olympic weight set
.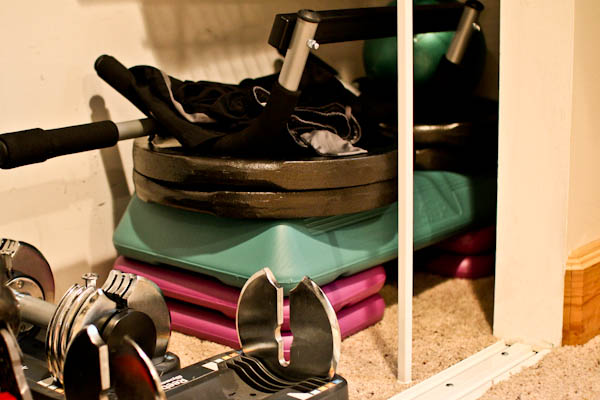 An adjustable step
, a 10-lb medicine ball
and an iron gym
.
A foam roller
, which I love, and yoga accessories (yoga mat towel
, yoga strap
, yoga block
).
Please let me know if you have any questions about my fitness routine or working out at home. I would love to help in any way that I can.
Maria
Click here for the winner of the chia seed giveaway.