Lately I have been on a preservation kick.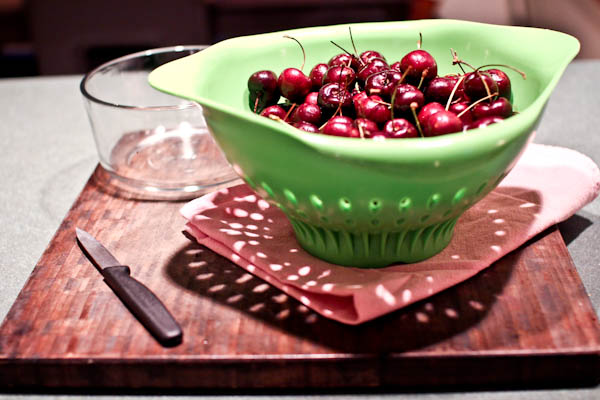 This week I picked up 3 lbs of organic cherries at Target for a little over $3 per pound! On Tuesday night, I hand pitted and froze all 7+ cups of them! I am so excited to have organic frozen cherries in the house, because I love using them in smoothies and breakfast bakes, but I can't seem to find them in stores anymore. Anyone in Minneapolis know where I can pick up organic frozen cherries?
We also had an overabundance of ripe bananas (and the resulting fruit flies), so last night I froze two trays of bananas and started soaking flour for two loaves of vegan banana bread, one large batch of banana snack muffins for Matthew along with four bran banana bakes (made with zucchini and carrot). One loaf of banana bread along with the muffins are now in the freezer beside the bananas and cherries. I just love knowing that we can stock up on fresh, in season produce now before the snow flies.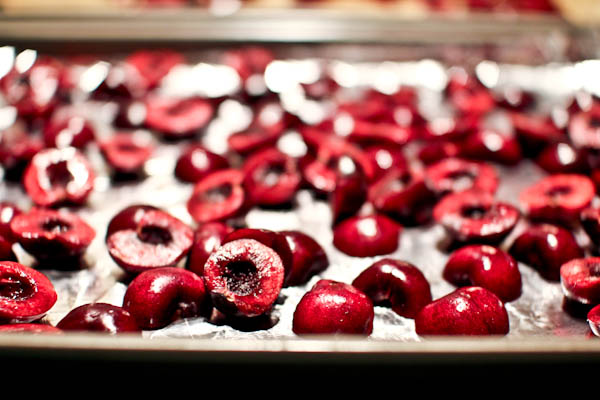 Speaking of preserving things, as part of the Foodbuzz Tastemaker Program, I received the opportunity to create a KODAK Gallery Photo Book. I knew immediately what I wanted to do with the book. My sister-in-law and brother-in-law have photo books for each year of their children's lives and on my niece and nephew's birthdays they look through the previous year's photo books together. I thought that this was such a touching moment to spend together on each child's birthday and wanted to do the same for Matthew.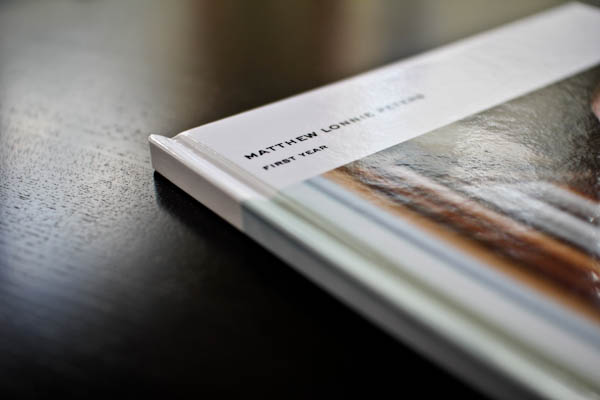 Last week Allan and I spent several hours sorting through thousands of photos. We then color corrected and placed our chosen photos into a beautiful Kodak photo book of Matthew's First Year. We finished the book last Thursday and we received it yesterday. We could not be happier with how the book turned out.
The hardest part of creating this book was selecting and color correcting the photos. Once that step was complete, using the Kodak site to place the photos into the book was very simple. Technically speaking, we felt that there was a good selection of page layouts and the interface for selecting, dragging and dropping the photos was extremely user friendly. However, we would have liked more page layouts that had photos that bled off the edge of the page. All in all, it was the best experience we have had using an online photo retailer.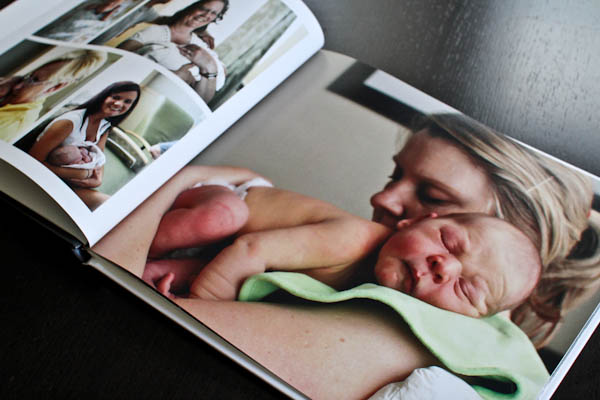 Our style is clean, crisp and modern. We were thrilled to see that Kodak offered layouts and options that fit our taste – with white backgrounds and many layouts with edge to edge to photos. In addition the printing quality is superb; the color is crisp, clear and vibrant; the paper is matte and smooth; and the binding is flawless. Thank you Kodak for helping us to preserve our memories of Matthew's first year life.
I feel bad that I have not spent as much time as I should writing in Matthew's baby book; however, I pray that having a book like this for every year of his life along with the video that Allan's produces at Christmastime will make up for my baby book neglect.
Want to know what else I am neglecting today?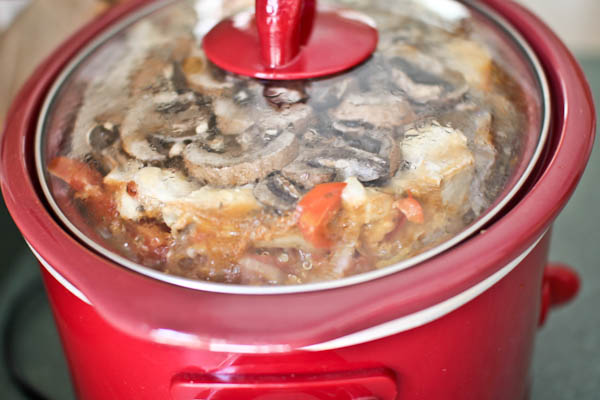 Supper 🙂
This morning I threw together a quick Chicken Cacciatore in the crock pot and I am now letting it simmer away all day. Into the pot went the following:
2 cups quinoa, rinsed well
2 bell peppers, sliced
2 onions, sliced
2 cloves garlic, minced
3 tomatoes, cored and chopped
1 can diced organic tomatoes with basil and garlic
1 tbsp fresh basil, chopped
1 tsp dried oregano
1 bay leaf
sea salt and pepper
1 lb skinless chicken breasts, butterflied and cut into chunks
3 cups + 2 tbsp veggie stock
2 tbsp organic white wine
1 cup sliced mushrooms
Place all ingredients into the crock pot in the order listed. Let simmer on low 6-8 hours. This recipe was based on the Chicken Cacciatore that I saw in my favorite cookbook, Simply in Season
.
KODAK Gallery is also providing an exclusive offer to extend to MMM readers; 40% off a medium hardcover or a large Photo Book. Simply visit www.kodakgallery.com/creativity to redeem.  The offer is only available through this URL from 8/1/11 – 8/31/11.
Tomorrow is the last day to enter my Godiva Coffee giveaway, so make sure that you go back to the giveaway post and tell me your favorite post workout treat.