Today is supposed to be the last day of the oppressive heat and humidity that we have been experiencing here in the upper midwest (and across the rest of the country!). I cannot wait for the storms to roll in and for the cooler, fall-like low-humidity seventies to arrive tomorrow. Matthew and I plan to spend the rest of the week enjoying the weather! This morning it was humid and cloudy, so we decided to do our monthly shopping trips to Valley Natural Foods and Trader Joe's.
I do like shopping at Valley because they have a huge selection, great prices (monthly member discount) and they process most of their meat on site; however, the 20 minute drive each way is starting to wear on me. So, Allan and I are considering moving our membership to the newly opened Linden Hills Co-op, which is a short 8 minute drive from our house.
Linden Hills is conveniently located a couple miles from Trader Joe's and Whole Foods, in case I am in need of something that they do not carry. Yes, Linden Hills is much smaller than Valley, but they still have a large bulk section and a nice selection of meat, dairy and specialty items, which is all that we usually purchase at the co-op. Their prices are pretty similar to Valley, although, their bulk items do cost a bit more. I think that the convenience and gas savings would be worth the switch. I am just not looking forward to letting Valley know that we are discontinuing our membership. 🙁
After our morning of errand running, Matthew ate lunch and went down for his nap. I made a delicious cherry mocha protein smoothie. I drank half of the smoothie during my workout and the second half post workout. To make this smoothie mocha flavored I used frozen cubes of Godiva Chocolate Truffle coffee.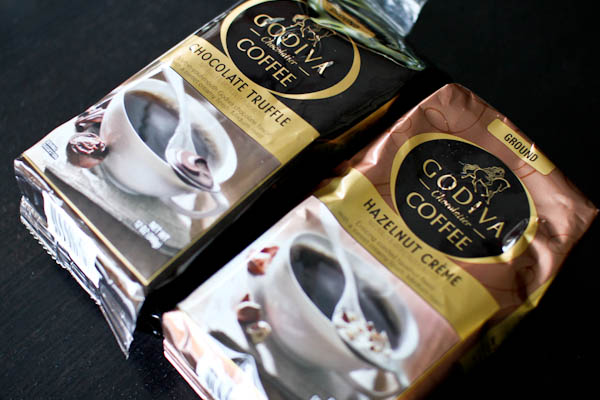 As part of the Foodbuzz Tastemaker Program, I received two bags of Godiva flavored coffee. I only opened the bag of Chocolate Truffle flavored coffee and strongly brewed one pot of coffee.I poured the cooled coffee into ice cube trays and froze them for use in smoothies and ice cream. This smoothie along with the ice cream recipe coming atacha later this week were wonderful, healthy ways to cool off from the heat of the summer, especially after a butt-kicking weightlifting session. Also, caffeine has been touted for it's influence in improving athletic performance.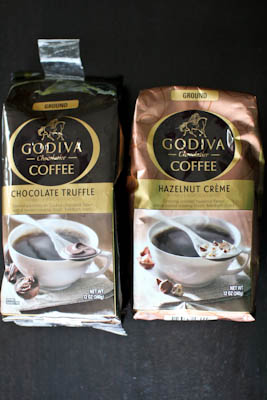 I loved the smooth and sweet, not bitter, taste that the Godiva Chocolate Truffle coffee added to a rather ordinary smoothie. The coffee aroma made me more alert while the chocolate tasted sinful – as though my smoothie were a splurge, even though it easily fits into my current eating plan.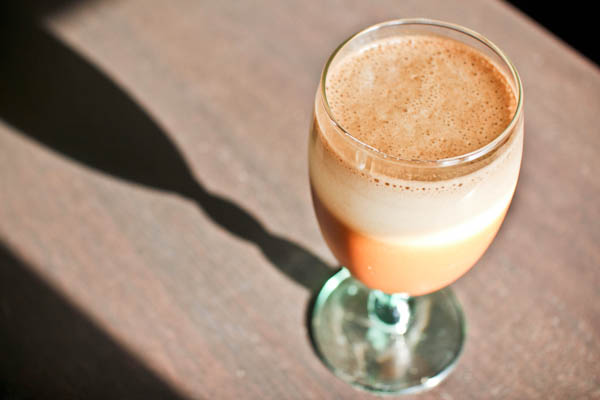 Chocolate Cherry Truffle Protein Smoothie
1/2 c unsweetened chocolate almond milk
1 scoop chocolate protein powder
1-3 tbsp cocoa powder (may need more if using unflavored coffee or vanilla almond milk)
1/2 c packed spinach
1/4 c rolled oats, optional
1 tbsp nut butter or Udi's 3-6-9 oil blend, optional
1/2 c frozen cherries
1/2 c strongly brewed coffee, frozen into ice cubes (preferably chocolate flavored)
sweetener to taste, optional (I did not use any)
Place all ingredients in a blender and process until smooth. Makes two large glasses – enjoy one while you workout and the other post workout.
Due to my addiction to a daily iced americano…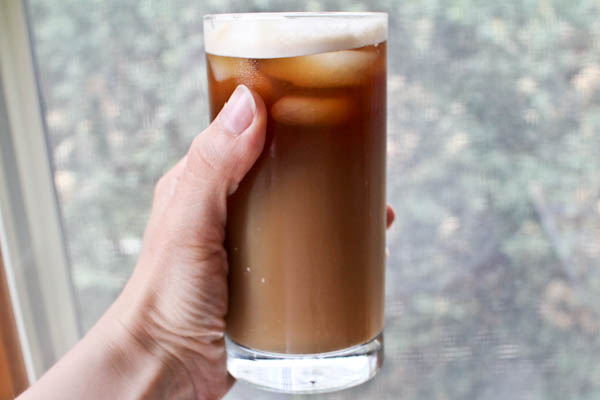 …brewed by this beauty…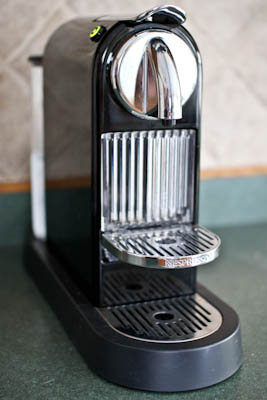 along with my lack of countertop space, I chose not to have two appliances hang out in my kitchen to brew drip coffee on a regular basis. So, instead I decided that I would let you try out the coffee that I was sent by Godiva!
To enter simply comment below telling me your favorite way to fuel your body post workout.
Want 3 additional chances to enter? Tweet, Facebook, Google+ or blog about this giveaway with a link to this post and come back and let me know that you have done so in separate comments. For a total of up to 4 additional entries.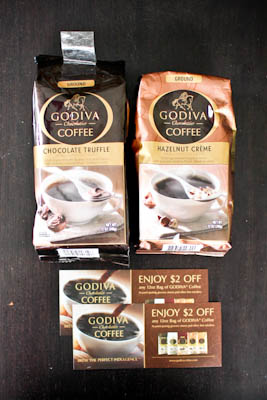 Two winners will be chosen at random and each will receive one bag of Godiva coffee along with a coupon to enjoy $2 off a purchase of Godiva coffee. The winner who receives the bag of Chocolate Truffle coffee will receive one pound of coffee minus the amount that I used to brew one pot of coffee (*sorry* but I had to try it!).
This contest starts now until midnight central time on Friday, August 12. Unfortunately, this giveaway is open to U.S. residents.
Good luck!
Maria