One of my very favorite summer recipes is this simple, yet elegant greek salad. I usually make a big batch of this salad on Monday morning and enjoy it for lunch all week long. I actually think that the salad gets better the longer it sits in the fridge – the mint flavor is more pronounced and the acidic dressing begins to break down the cucumbers + tomatoes, kind of like refrigerator cukes.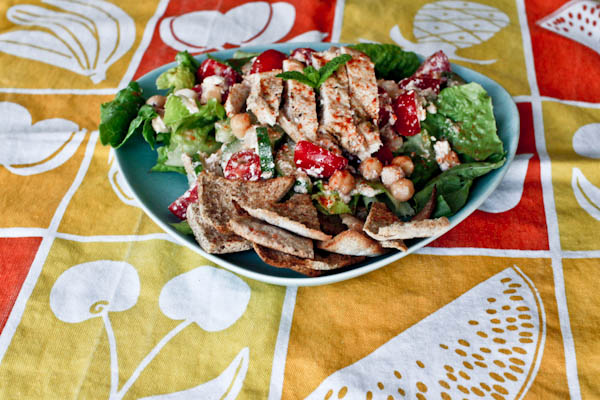 For that very reason I suggest that you allow this salad sit in the fridge at least an hour before serving. Although, it is perfectly acceptable to enjoy it immediately upon making. It is pretty irresistible.
Another reason that I love this recipe is that it lends itself to so many variations. It can be eaten on it's own, topped with a protein, served with a side of pita chips, enjoyed atop lettuce or stuffed in a pita. The options are endless!
Tonight we enjoyed our Greek Salad with grilled chicken, on a bed of romaine and a side of homemade pita chips.
These chips were super simple to make and made the meal!
Homemade Pita Chips
serves 2
2 medium whole wheat pitas (we like Trader Joe's)
spray EVOO
sea salt, to taste
With a pizza cutter, cut pitas into eight triangles and pull apart layers. Lightly mist a grill or oven safe baking pan with EVOO. Arrange pita pieces on pan in a single layer. Do not overcrowd. Lightly mist pita with EVOO and sprinkle with sea salt. Bake or grill at 350° for 7-12 minutes, until crisp and lightly browned.
This greek salad also pairs well with sardines. Now, don't be put off by the thought of sardines, as I once was. They are a powerhouse of nutrition packed into a tiny fish that is not only inexpensive, but super easy to prepare. I actually prefer sardines over canned tuna.
See they are harmless and smell better than tuna fish.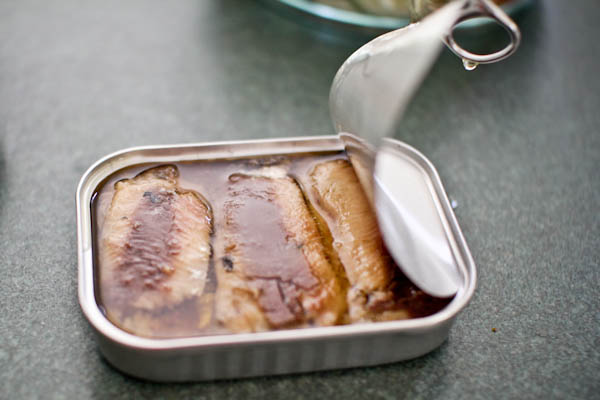 To prep sardines, simply peel open the package, remove the sardines from the oil or water and gently break it up with the back of a fork.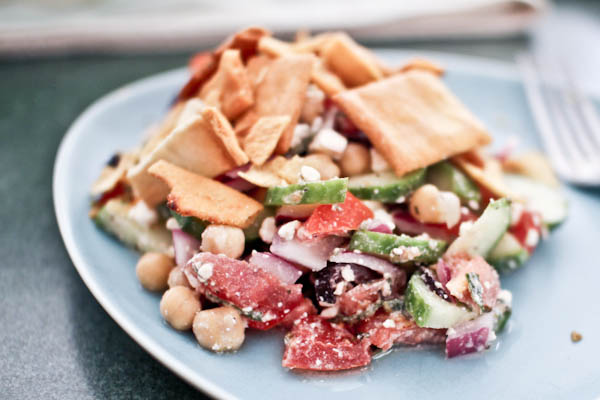 Minty Greek Salad
1/3 c mint, chiffonade*
1 tbsp almond oil, or salad oil of choice
juice of 1 lemon
juice of 1 lime
sea salt and pepper, to taste
1 english cucumber, sliced
1 large tomato, sliced or 1 pint cherry tomatoes, quartered
1/2 white or red onion, diced
15 oz can chickpeas, drained and rinsed
3 oz light feta cheese
1/4 c kalamata olives, pitted and halved, optional
In a large bowl whisk together mint, oil, lemon juice, lime juice and sea salt and pepper.
Add remaining ingredients to bowl and stir to combine. Enjoy immediately or refrigerate for one hour to allow flavors to combine. Adjust seasonings as necessary.
*If you do not care for mint, substitute parsley, basil or any other fresh herb of choice. The flavor of this recipe is dependent on the freshness of your herbs – always use fresh not dried herbs.