As you know, Friday is breakfast bake day around here. Originally I had planned to make this Blueberry Stuffed Breakfast Bake. However, after scouring the cupboards I found week and a half old strawberries that needed to be eaten, no buckwheat flour to be found and very little milk. So the following is a breakfast bake using what we had in the cupboards and let me tell you, it was absolutely delicious. But don't take my word for it… you should plan on making them tomorrow for your family.
After breakfast I cleaned the house a bit – it really needed vacuuming and I had tons of laundry to put away. Then it started to storm. So, instead of taking the bike ride that we had planned Matthew and I played and did some more cleaning until nap time.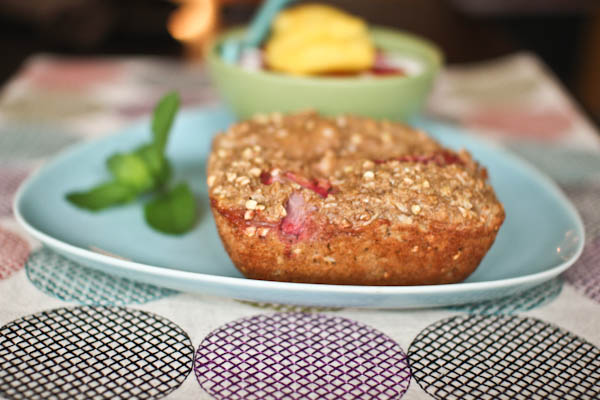 How have your workouts been going? Every day I try to set aside the hour from 1:00-2:00 PM  for my workouts. I am reading The Female Body Breakthrough
and plan to start it once I finish the book. But in the meantime Matthew and I have been going on really long walks and I have been practicing yoga. On Wednesday I did a killer 60 minute Baptiste-style class by David Farnham from yogadownload.com, which I am still aching from, and today I did my Yoga is Yummy DVD. What have you been up to lately?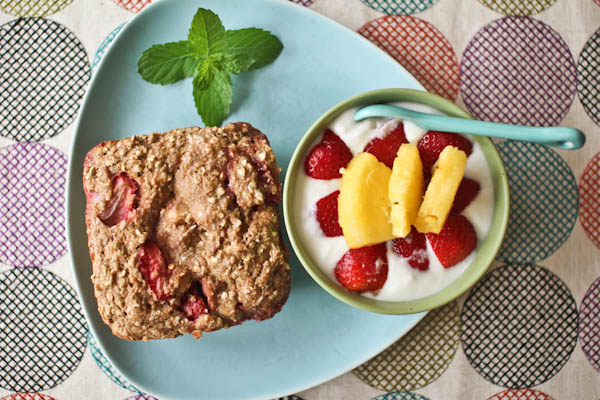 Let's get back to that recipe.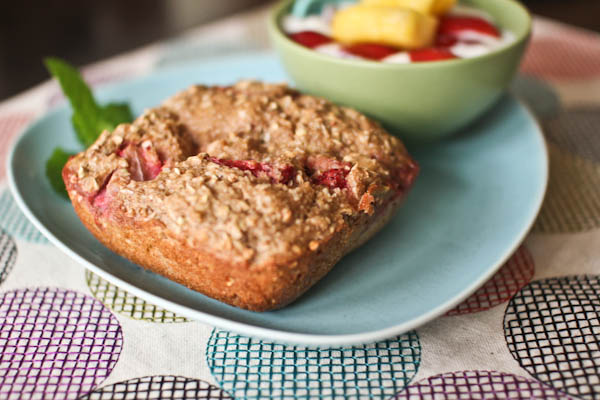 Usually I serve breakfast bakes with a protein shake; but, today I was in the mood for smooth, creamy yogurt. I love how easy and delicious it is to make homemade yogurt! I also made homemade kefir last week, which was even easier.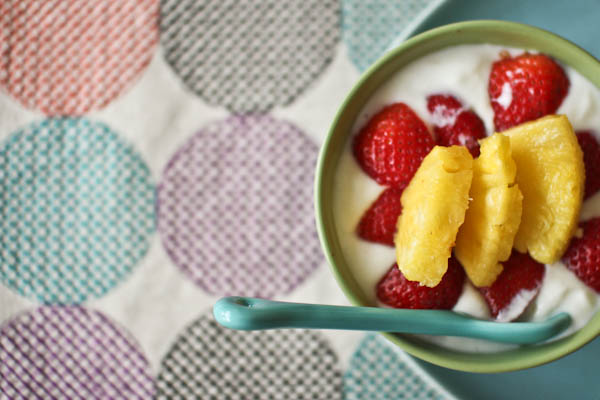 Served with leftover pineapple and the remaining strawberries.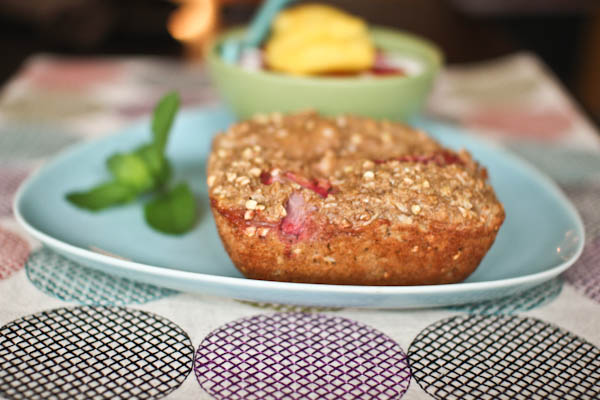 Strawberry Banana Oatty Breakfast Bake
Makes 2 breakfast bakes
1/2 c oat flour (ground from oats groats, steel cut oats or rolled oats)
4 Tb raw buckwheat groats
1/2 tsp baking powder
2 Tb ground flaxseed
2 Tb dried coconut, unsweetened and unsulphured
1 tsp cinnamon
pinch sea salt
1/4 c plain unsweetened yogurt
2 eggs
1 1/2 bananas, mashed
1 Tb vanilla extract
1 c strawberries, quartered
2 Tb coconut flour
4 Tb water
Preheat oven to 350°. Grease two 4-5″ wide baking dishes with coconut oil.
In a medium sized bowl combine the oat flour, buckwheat groats, baking powder, flax, dried coconut, cinnamon and sea salt.
Whisk in yogurt, eggs, mashed banana and vanilla extract.
Prepare the coconut cream. In a small bowl combine coconut flour and water and set aside.
Pour 1/4 of the batter into each baking dish. Place 1/2 of the coconut cream into the center of the baking dish, on top of batter. Pour remaining 1/4 batter into each baking dish.
Place baking dishes into 350° oven for 30-35 minutes.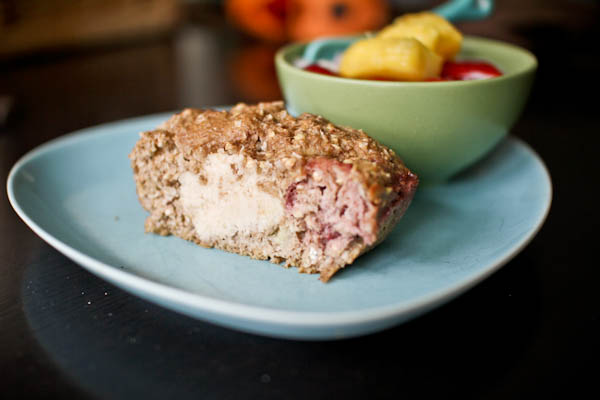 Matthew was suspect of the coconut cream filling. But Allan and I love it!
Have you read and/or tried the Female Body Breakthrough? If so, did you like it?