For those of you who follow me on Twitter or are friends with me on Facebook, you most likely saw me live tweeting Allan's 7 hour long visit to the HCMC ER last night. Allan was on his way home from work on a road that was repaved and graveled earlier that day. He took a left turn on the gravel and his bike slipped out from under him and thew him forward, landing on his hand and face. He sustained extensive road rash across the front of his body, is bruised up pretty badly and has five stitches in his chin. But he will be ok. Boys will be boys.
So, this morning for breakfast I made the following delicious baked eggs for my boys. This photo was taken prior to topping both bakes with additional breadcrumbs and chives. I wanted to show you how fluffy and delicate these were.
Looks beautiful with the finishing touches. Both boys gobbled down their eggs, toast and tomatoes.
And better yet, this was such a simple recipe to throw together. I had the egg bakes ready to go into the oven before it was preheated.
We always top our toast with coconut oil. You can see how slick Allan's slice is in this pic.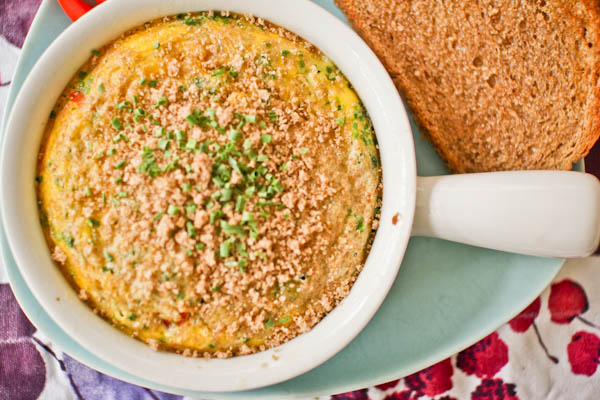 So, what's in the crock? I used a recipe from Tosca Reno's Eat-Clean Diet Cookbook 2
as my inspiration, but switched up a couple things.
Eat Clean Baked Eggs
makes 2 egg bakes
2 slices tempeh bacon, diced (you can sub in natural turkey bacon or organic bacon)
1 tomato, diced and divided
1 tsp chives, divded plus 1/2 tsp for topping after baking
1 c egg whites
2 eggs
2 tbsp whole wheat panko breadcrumbs, divided
sea salt and pepper, to taste
Preheat oven to 350°. Spray two soup crocks (4-5 in wide) with EVOO.
Divide bacon, 1/2 tomato and 1/2 tsp chives into the two crocks.
In a small bowl whisk together egg whites, eggs, sea salt and pepper. Divide between crocks.
Sprinkle tops of eggs with half of breadcrumbs.
Bake at 350° for 18-23 minutes until middle is set and eggs are fluffy.
Top with remaining 1 tbsp breadcrumbs and 1/2 tsp chives. Serve with remaining 1/2 diced tomatoes and a slice of sprouted whole grain bread or freshly cooked oatmeal.