Hello Pinners! I am so happy that you clicked through and found MMM. The following recipe for Overnight Oats is one of my favorite Spring and Summer breakfasts. Don't want to add protein powder to your overnight oats or want to make a batch for your kids? I have an updated recipe here that is still full of protein goodness, minus the protein powder.
Looking for more clean eats or want to know more about clean eating and MMM? Be sure to check out my Recipage, About Me and Clean Living pages! Thank you so much for stopping by, I can't wait to get to know you better!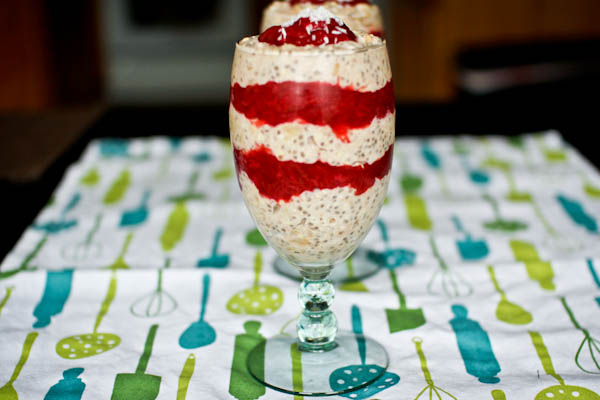 Ever since I read about overnight oats on KERF I have been meaning to try them. However, with the less than stellar weather that we have experienced this Spring and Summer the thought of a cold breakfast has not seemed appealing. Regardless, a quick, simple breakfast that "cooks" itself while I slept soundly was just what I was looking for this week.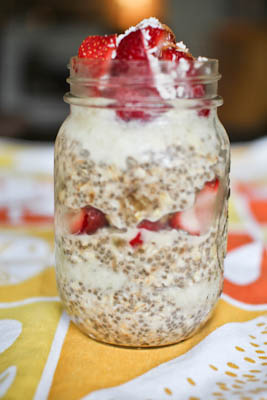 I cannot believe that I waited so long to try overnight oats. They are so simple to make and are absolutely delicious! Even better there are no pans to wash and little to no prep in the morning. Now, that's my kinda breakfast!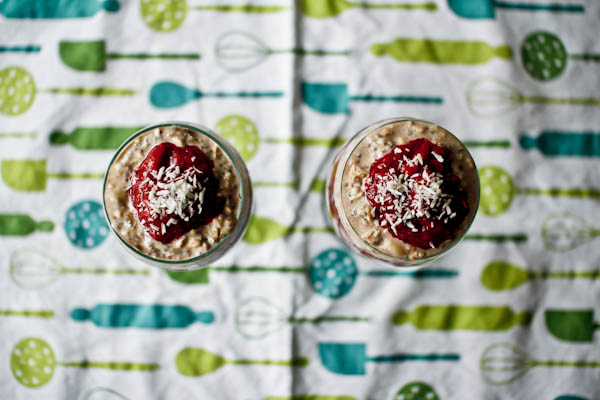 The only problem was deciding which recipe to use, as there are so many variations to choose from. Much to your surprise, I improvised and created by own concoction. It did not disappoint!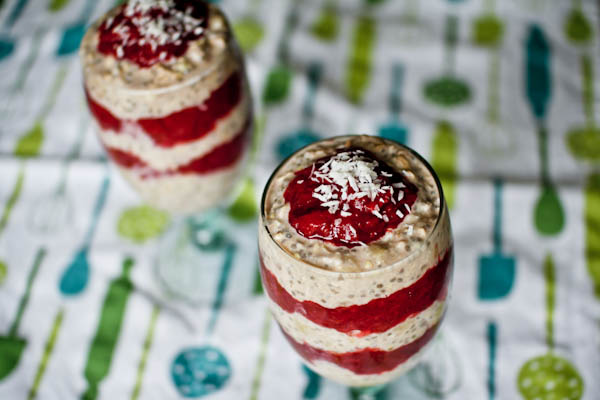 We loved these oats so much that we had them two cold, rainy days in a row!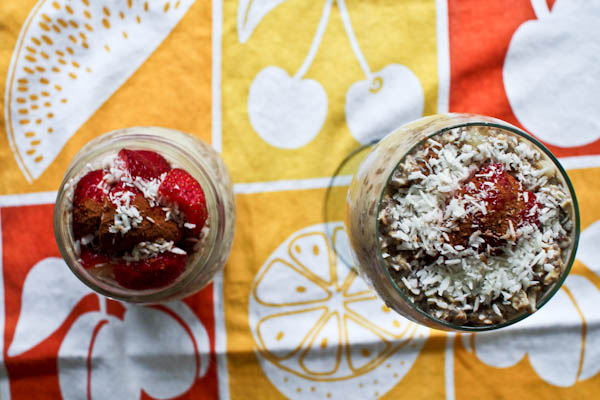 MMM-style Overnight Oats
makes 1 bowl of oats
1/2 c unsweetened plain almond milk
1/2 scoop unsweetened vanilla protein powder, optional
1/2 c rolled oats
1 tbsp buckwheat groats (for crunch)
1 tbsp chia seeds (for texture + fats)
1 tbsp unsweetened dried coconut (for fats)
1/2 tsp cinnamon
1/8 tsp almond extract
dash sea salt
1/2 c organic low-fat plain yogurt (unsweetened)
Stir together protein powder, if using, and milk.
Combine all ingredients in a bowl and place in the fridge overnight. In the morning layer into a pretty glass with desired toppings.
Topping Ideas
Rhubarb Strawberry Sauce
Yogurt
Organic fruit (berries, cherries and peaches are in season)
Granola (homemade or a clean low-sugar &  low-fat variety)
Unsweetened Dried Coconut
Raw or dry roasted nuts and seeds (peanut, almond, sunflower, pepita, tahini)
Unsweetened applesauce
Banana soft serve
What is the funniest misuse of an apothegm that you have heard?
We are looking for places to stay while on vacation this summer and I called the Hilton reservation line this morning to get quotes on room rates. When I told the booking agent, who was obviously from another country, that I would call back if we decided to stay at their hotel, she tried to convince me to reconsider booking immediately because "hotel rooms were going like pancakes". I believe that she meant hot cakes. 😉