Good evening.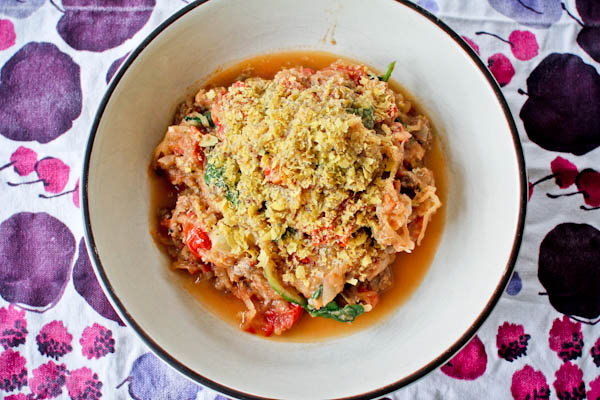 Happy Friday! I just love Fridays. All day Matthew and I look forward to Allan's arrival and (usually) pizza night follows. Tonight we did not enjoy Friday Night Pizza night; however, we did have something that was completely amazing! Remember the spaghetti that I blogged about yesterday? It was amazing!!! Both Matthew and Allan wanted seconds. 🙂 I love when a recipe hits on all cylinders. It will definitely be added to future supper rotations. I will share the recipe another day. Today I want to talk about my revised June food goals as they have been weighing on my heart the last couple of days.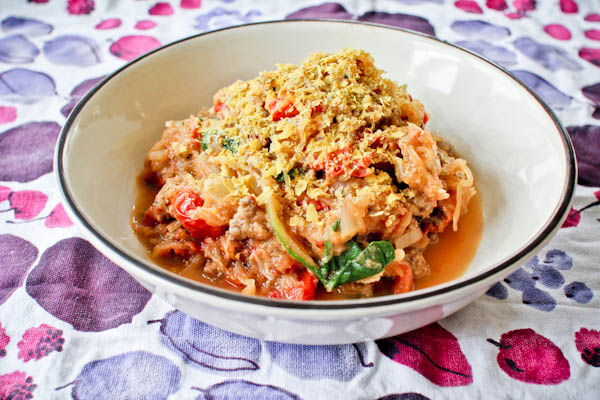 Today will be my last day of *sorta* Cooler 1. Yesterday Allan and I were talking about my mood (which has been a bit cranky) and hunger levels (as I paced the kitchen trying not to eat anything) and I realized that it's not good for me to starve my body to try to loose weight. Being that I am breastfeeding and am very active, my body obviously needs more food that I am giving it on Cooler 1. And we all know what happens when we create too much of a caloric deficit… our body goes into starvation mode and begins to store fat and burn muscle. The last thing that I want to do is to lose any of the muscle that I have worked so hard to put on and do not want to put on any additional body fat. So, today I kept it pretty close to Cooler 1, with a couple additions, as noted below, including the banana soft serve (made with unsweetened homemade almond milk) that I am eating as I write this post and the popcorn that I am going to pop for Allan and I tonight while we watch a movie. 😉
I am so happy that I did challenge myself to do Cooler 1 for a few days; although, it might have been a little overly ambitious considering where body is at in my post-pregnancy journey. I did learn a lot about myself and what my body can tolerate. I know that I need to incorporate more veggies into my diet, instead of relying on fruit for my complex carbs. I also understand that I should strive to consume whole grains in the most natural state possible by choosing sweet potatoes, oat groats, brown rice, millet and quinoa over sprouted grain bread, sprouted grain tortillas and sprouted grain buns. I realized that I like to bake a lot and I feel very sad when I am not whipping up a batch of something. In addition, I am still toying with the idea of minimizing dairy in my diet, as I suspect that it may be causing some bloating/water retention.
So, tomorrow I will be eating in my usual Eat-Clean Diet Cooler 2 fashion, but will allow myself one piece of yellow cake with chocolate frosting, that my mom and sister made for her college graduation party. I think that after my week of Cooler 1, I earned it. 😉 On Wednesday, I forgot to share that I weighed myself  and was down 3 lbs since Friday. I can't wait to weigh in again tomorrow morning.
I will be back to Cooler 2 on Sunday and then starting next week I will not be following Tosca's Eat Clean Diet Stripped plan to the "T". After this week on Cooler 1 and then looking at the Stripped plan again, I realize that it will be too stressful to eat Stripped on the weekends. In Minnesota, we get to enjoy 3 nice, warm months every year. The other 9 months are either cold, rainy or snowy. So, we pack a lot into our beautiful Minnesota summers. We are either away, at family gatherings or out and about every weekend. We eat out or at friend's houses frequently, attend picnics and potlucks and in general, really enjoy ourselves. I do not want to miss out on the clean fun that we usually have by limiting myself to the meal plans that are outlined in Tosca's Eat-Clean Diet Stripped book. I feel like eating this way would be more of a stressful chore than an enjoyment.
Don't get my wrong, I will not be eating without abandon. 🙂 I still plan to keep my food Stripped and Cooler 2 tight by upping my veggie intake, limiting sugar (allowing a little maple syrup and honey here and there in baked goods and homemade sherbets), minimizing dairy and sticking to whole grains. However, my weeks will be Stripped while the weekends will stick to Coolers 2 (and sometimes 3). I will still pack my cooler, make clean treats and eat clean. It simply means that instead of a weight loss of 2-3 pounds per week, which the Stripped plan promises, I will most likely only be loosing .5-1 lbs per week and during a handful of indulgent weeks I will simply maintain. I am perfectly fine with this. The last couple pounds can always wait until the fall.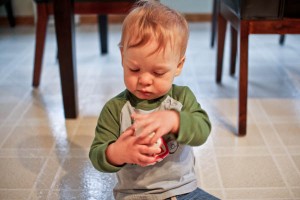 However, both Allan and I suspect that when I stop making eating into such a chore that the weight may simply come off… In addition, our high activity level (i.e. lots of walks, biking, picnic games, etc.) along with the abundance of local, fresh, organic farmer's market produce (which are mostly veggies in MN) the last couple pounds may melt off. We'll see. Whatever happens, I simply want to enjoy myself.
Being the perfectionist that I am, I tend to focus on the end goal instead of relishing in the moment. Today I look back at photos of myself pre-weight loss and, more recently, post-partum and do not recognize my body. I have made such an incredible transformation and instead of focusing on the progress that I have made, I tend to dwell on where I am going.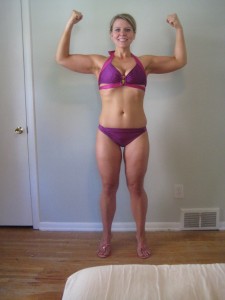 I usually look back at my post-weight loss photos and wish that I had the body that I see there. However, I now weigh 5.5 pounds less than I did then and, other than my waist, my measurements are smaller as well. It is time to be proud of the skin that I am in and stop comparing myself to a figment in my mind! I am perfect just the way that I am. 🙂
Today's food journal:
Breakfast: asparagus + spinach + 1/2 c egg whits + 1 yolk, Porridge (soaked overnight and then heated this morning, this made 4-5 servings) 1/4 c oat groats + 1/4 c farro + + 1/4 c buckwheat groats + 1/2 c oat bran + 4 tbsp chia seeds + 2 cinnamon sticks + dash vanilla extract + 4 cups water
Second breakfast: 2 Cooler 1 protein donuts (1/2 oats serving + 1 veggie serving)
Lunch: Salad – mixed greens + cucumbers + grilled chicken leftovers + sweet potato + balsamic vinegar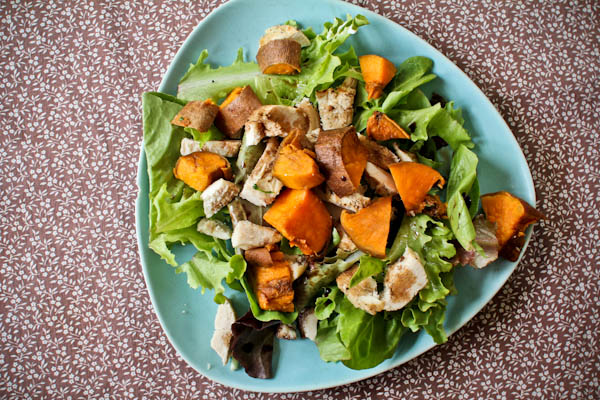 I made two new veggie dips for Melissa's graduation party and had to do some taste testing to get the mixture right.
Afternoon snack: homemade granola + almond milk + 2 Chocolate Cooler 1 muffins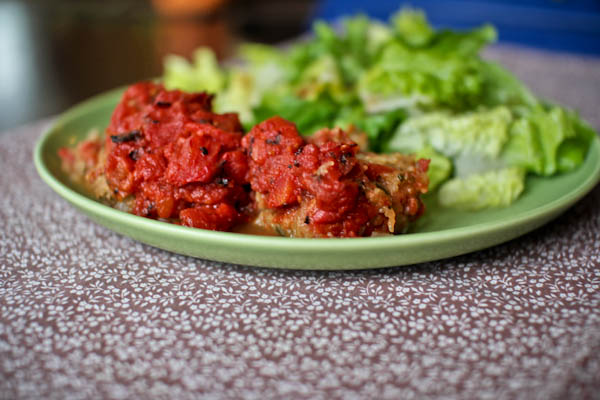 Supper: leftover Spaghetti from last night baked in the oven and topped with additional fire roasted tomatoes + large romaine salad topped with balsamic vinegar + scant handful dry roasted unsalted almonds
Evening snack: banana soft serve + homemade popcorn