I am still rockin' and rollin' on Cooler 1 today. I plan to keep strong until Friday. Then I may have a small cheat meal on Saturday afternoon, as we will be attending my sister's graduation party. My cheat meal will be clean, just not in accordance with Cooler 1 guidelines. Then I will be back to Cooler 1 on Sunday followed by the Stripped Plan on Monday, along with the start of NROL4W Stage 7. I am so excited to be switching things up and challenging myself!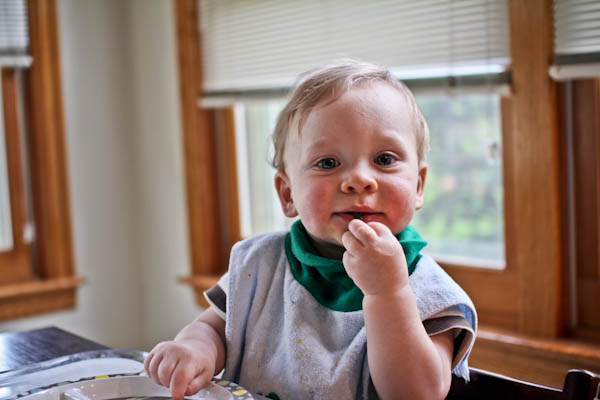 Speaking of challenging myself… Today I made a quadruple batch of dough balls: one batch for Lindsey (Congrats again! 🙂 ), another for Allan to sustain him on his bike rides home and the final two batches for my friends over at InHouse as a bribe thank you for reading MMM. 😉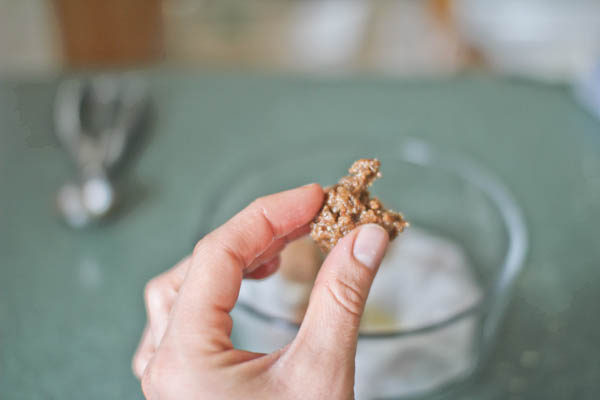 I fooled myself into thinking that I had enough self-control to not eat any of the dough balls; however, before I knew it I had an urge to taste the batter to ensure that the mix was right, my self-control faltered and I took a bite. The perfectionist in me wanted to crawl out of my skin and be overcome with guilt. However, the control-freak within me won. I took a deep breath, forgave myself and reached in the fridge for a glass of unsweetened iced chai tea that I made earlier. I added a splash of homemade unsweetened almond milk and continued to make dough balls.
In each of our weight loss journeys, we will slip up and eat something that is unplanned. At some point everyone's self control will waver. These unplanned cheats do not define us. It is how we handle the situation that will ultimately determine our success. Clean eating is a lifestyle, not a short term weigh loss diet. The main reason that most diets fail is because they are filled with depravation. However, with clean eating (Cooler 2) I never feel deprived.
After eating the dough ball batter, I could have given up on Cooler 1 completely and eaten a few dough balls proceeded by a slice of bread and then a piece of dark chocolate. Instead I reached for something that I knew was part of my plan… a glass of iced tea – and that's how I know that I will succeed (and have succeeded) at loosing weight and keeping it off. I have altered my lifestyle to positively impact my life and help me to accomplish my goals.
Is anyone wondering what I ate today?
The following is my food journal. Also, I updated yesterday's post with what I actually ate the rest of the day.
Breakfast: 1/4 c steel cut oats cooked in 1 c water + 1/2 c egg whites + 1 yolk + 2 handfuls spinach
Second Breakfast: Minty Green Tea Smoothie – 2 handfuls spinach + 1/4 c Zen
iced tea + 1/4 c water + 5-6 cubes of ice or frozen almond milk cubes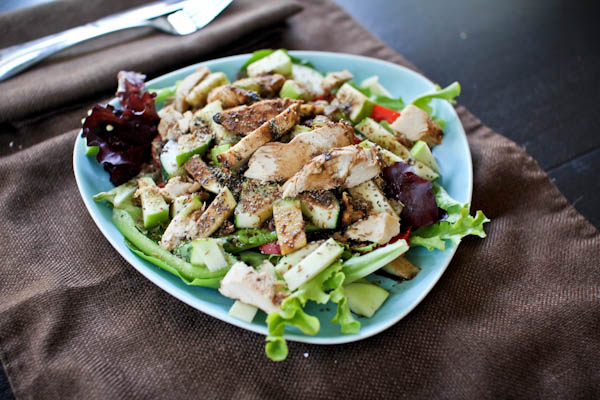 Lunch: Salad – grilled chicken + 1 handful mixed greens + 1/2 handful cucumber + 1/2 handful pepper + 1 apple + 2 tbsp flax + drizzle of balsamic vinegar
I enjoyed yesterday's salad so much that I decided to repeat it again today.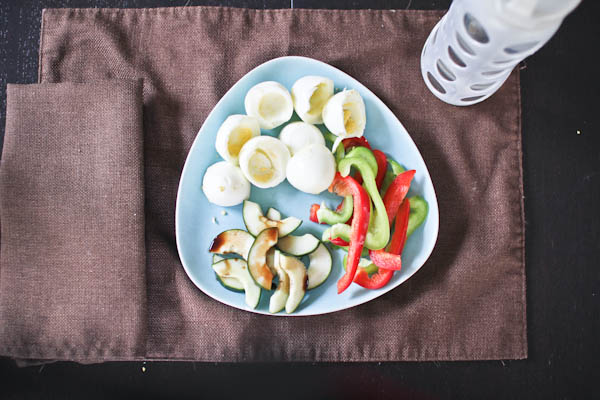 Afternoon snack: 4 hard boiled egg whites + 1 handful cucumber + 1 handful peppers + drizzle of balsamic vinegar
I never throw away my egg yolks, I either add them to Matthew's morning porridge or feed them to the cat.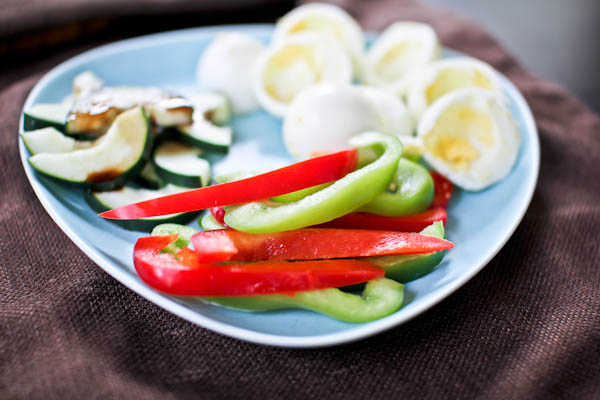 Supper: grilled chicken + sweet potatoes and butternut squash leftovers + grilled asparagus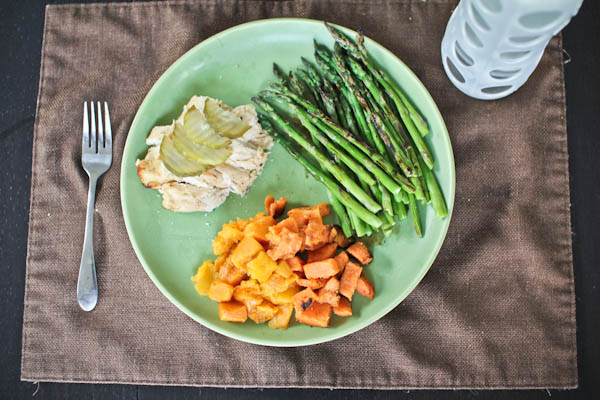 I marinated the chicken for 30 minutes in the juice of 1 lemon + juice of 1 lime + freshly ground pepper + Herbamare
+ lemon pepper seasoning + enough water to cover the chicken.
Evening snack: Chocolate Vita Mix ice cream – 1 scoop natural chocolate whey protein powder (unsweetened) + 1/4 c homemade unsweetened almond milk + 4 cubes frozen almond milk + 4 ice cubes + stevia, to taste
This was so refreshing! After a record breaking high of 102+° today, I needed something to cool off. Now, I don't want to fool anyone – this ice cream was definitely icy and not creamy. Texture aside, it was definitely a treat after all of the veggies I have been enjoying lately.
What is your favorite way to beat the heat?
I love swimming! My parents have a pool, but the water's not quite warm enough to jump in yet. I went to Target yesterday in search of a baby pool for Matthew, but they were sold out!