Thanks again for all of your feedback!
As you know, Friday night is pizza night around here and tonight was no exception.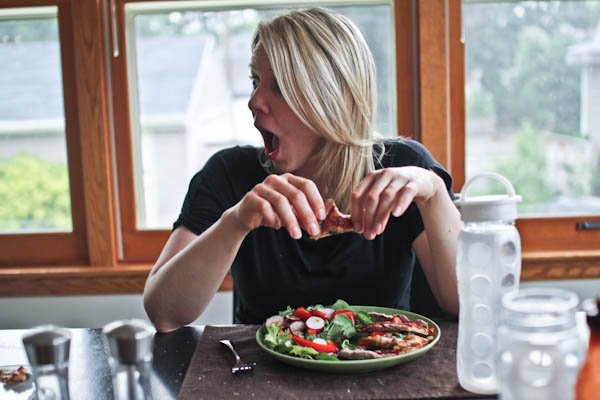 I usually use my KitchenAid Pro Mixer
to make pizza dough, but since we are selling our house, my large mixer lost its spot on the counter and now resides in a closet in the upstairs bedroom. So, instead of hauling the mixer down to the kitchen, I pulled out my beloved food processor
. I can't believe that I have used the food processor three times this week. Yikes!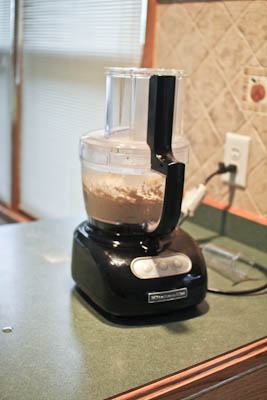 In the last month I have shared two quick and easy ways to enjoy pizza night (here and here); however, tonight I am sharing the big daddy pizza crust recipe. This recipe does takes a little bit of pre-prepping, as it does involve a one hour dough rise time; however, you can make this in a big batch (think triple or quadruple) and then freeze individual dough balls for later use. On a future Friday pizza night, simply pull a dough ball out of the freezer in the morning and by supper it will be ready to roll.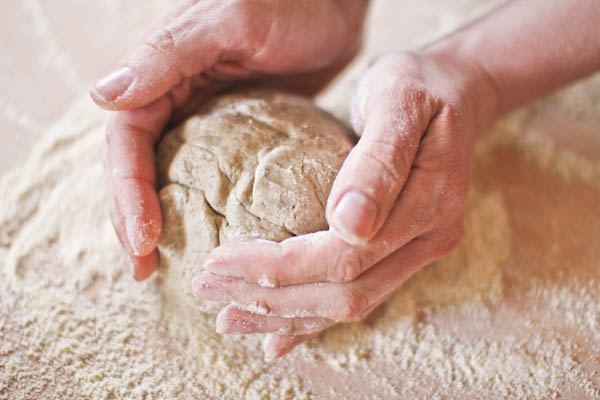 The following recipe will yield 2 large (12-14 inch) pizzas with crust of medium thickness. We usually extend it to one large pizza (for Allan) and 2 small pizzas (one to freeze and another for Matthew and I to share) with very thin crust.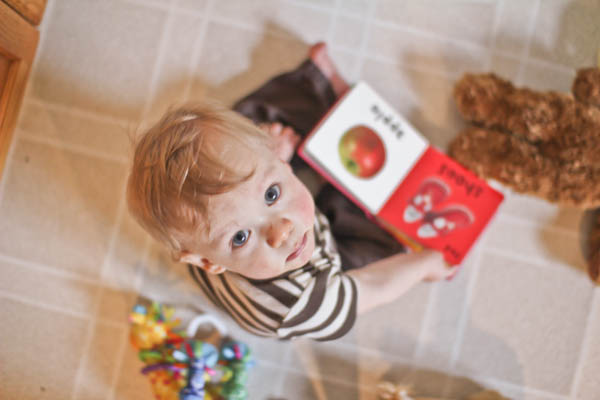 Also, you will notice that this pizza crust is 100% whole grain; however, it does not need to be 100% whole wheat. Some days I simply use 4 cups of white whole wheat flour
, but other nights, like tonight, I used a combination of flours. Today's crust was 2 cups white whole wheat flour, 1 cup freshly ground oat flour from raw oat groats and 1 cup freshly ground buckwheat flour from raw buckwheat groats – which was delicious! Feel free to switch up the flours based on what you have on hand.
Herbed Pizza Crust
2 cups white whole wheat flour
2 cups whole grain flour (white whole wheat, oat flour, buckwheat, brown rice, quinoa, power flour, etc.)
2 tbsp ground flax seed
2 tbsp italian seasoning (or any of the following: dried basil + thyme + oregano + parsley)
1 oz parmesan (buy an old variety), optional
2 tsp sucanat, divided
1 1/2 cups warm water (between 100˚ and 110˚)
2 packets yeast
1 tsp sea salt
2 tsp extra virgin olive oil, divided
Place warm water in a large glass liquid measuring cup. Add yeast, 1 tsp sucanat, yeast and 1 tsp olive oil and stir until combined. Set aside for 5-10 minutes to proof, it will become very foamy.
In the small bowl of a stand mixer with dough hooks or food processor with dough blade combine flour(s), flax, italian seasoning, parmesan, sea salt and remaining 1 tsp sucanat.
Add frothy yeast mixture to dry ingredients and combine.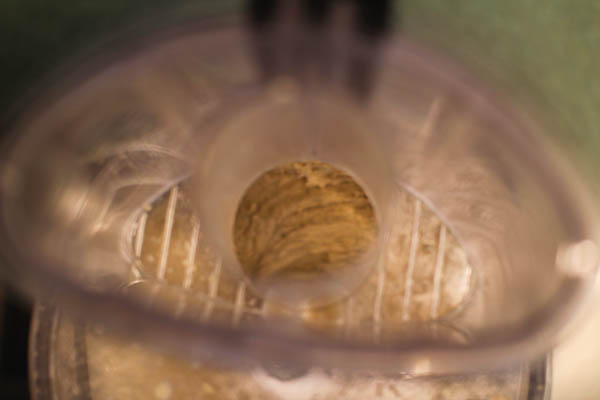 If using a food processor, simply pour yeast mixture into the food processor while it is running. A dough ball will form. Let food processor kneed the dough for 5 minutes.
If using a stand mixer, combine wet and dry ingredients using a large wooden spoon. Then, using the mixer's kneading hooks, knead the dough for 5 minutes.
Remove dough, form into a ball and rub remaining 1 tsp olive oil on the outside of the ball. Place the dough into a large bowl and cover the bowl with a warm, wet kitchen towel and set aside in a warm place to rise. Allow dough to rise until it has doubled in size, usually 1 hour.
In the meantime cut up desired toppings, shred part-skim mozzarella and mist pizza pan with olive oil.
After the dough has finished rising, preheat oven to 425˚ F.
Divide dough into 2 dough balls. Each dough ball can be used for one 12″ – 14″ thin crust pizza. Extra dough balls can be individually frozen.
To Freeze: Individually wrap each dough ball in plastic wrap and then in tin foil. Place wrapped dough balls in a labeled freezer bag and freeze. You don't want "mystery" items in your freezer! Alternatively, you can simply vacuum seal each individual dough ball.
Roll out dough to fit your pizza pan on a surface that has been lightly dusted with flour or cornmeal.
Place dough on pizza pan and pierce with fork several times to prevent air bubbles.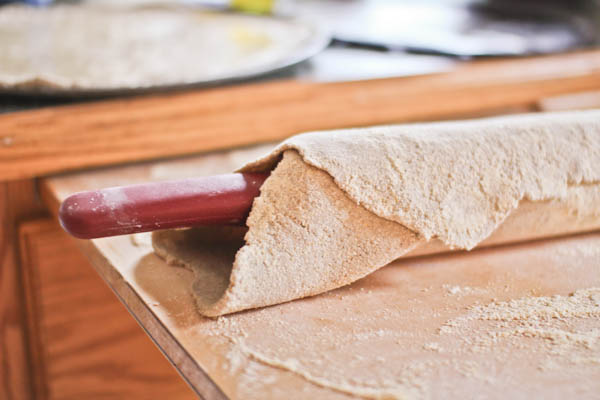 Mist pizza crust with olive oil to encourage browning.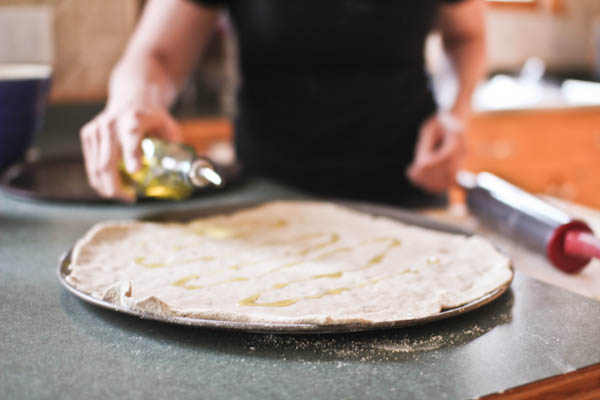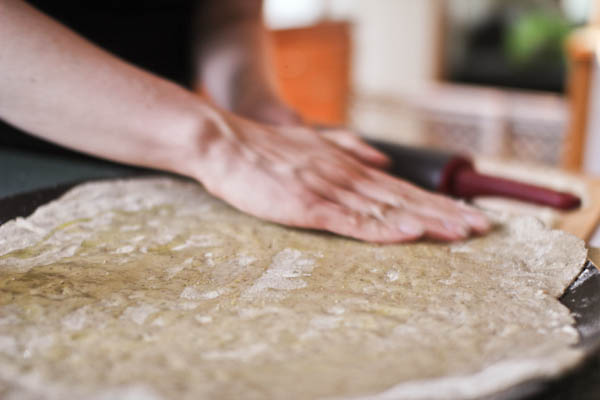 Place pizza pan into the oven and cook for 4-6 minutes.
Remove from oven and top with pizza sauce (we like Trader Joe's), local part-skim mozzarella and desired toppings (load up on veggies).
Place the pizza back into the oven and bake until the cheese is melted and starts to brown, 10-15 minutes.
Also, the dough ball winner is Lindsey. Here is what she had to say:

Lindsey, please email me your address (maria at mariamakesmuffins dot com) and I will send you dough balls!