Our garden is overflowing with sweet and sour, ripe rhubarb. And from what I hear, that is the case across the Midwest. So, what should you do with your rhubarb bounty? Why make muffins, of course!
My good friend, Laura, wrote to me asking for a rhubarb muffin recipe that was high in protein, but did not use protein powder. She wanted to be able to eat a muffin or two as a complete snack versus having to pair a high carb muffin with a protein. I told her that I actually had the perfect recipe for her and that I would post it tonight.
I know that Laura asked for a muffin recipe and what appears below is a breakfast bake recipe. However, to make muffins, simply double the recipe below and pour into 24 muffin tins and bake at 375° for 25-30 minutes.
This recipe is yet another one of my lovely breakfast bakes. These are seriously very addicting. I find myself dreaming of different combinations to try and I swear not one has turned out poorly – they are always delicious!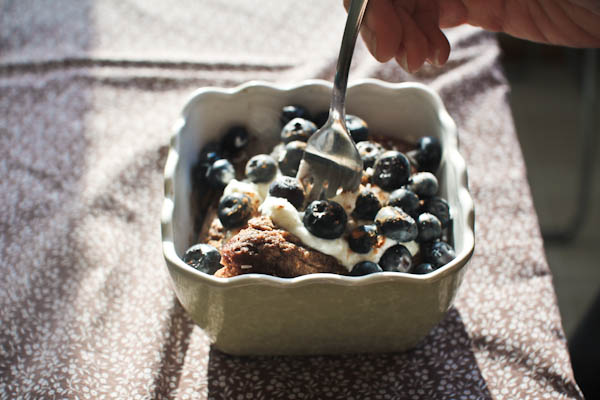 On Monday night, when I opened the cupboard to pull out my regular breakfast bake ingredients I found that we were out of pretty much everything… So if we were going to enjoy the lovely rhubarb that I had just picked, I needed to improvise.
The following was a wonderful change to the usual recipe that I throw together. The texture of this bake was springy and light. If you don't have strawberries, you can simply double the rhubarb.
Rhubarb Breakfast Bake
Makes 2 breakfast bakes or 6 muffins
1/3 c buckwheat flour (pre-packaged, not freshly ground)
2 Tbsp oat flour
3 Tbsp coconut flour
1/4 c steel cut oats
1/2 tsp baking powder
1 tsp cinnamon
pinch sea salt
1/4 c organic 2% milk
3 egg whites
2 eggs
1/2 c applesauce
2 Tbsp maple syrup
1 tsp almond extract
1/2 c rhubarb, diced
1/2 c strawberries, fresh or frozen
Preheat oven to 375°. Grease two ramekins or muffin tin (this recipe will make 6 muffins) with coconut oil, butter or EVOO.
In a medium size bowl, combine flours, oats, baking powder, cinnamon and sea salt.
In a glass measuring cup, combine milk, egg whites, eggs, applesauce, maple syrup and almond extract.
Pour wet ingredients into dry ingredients. Stir until just combined.
Gently fold in rhubarb and strawberries.
Pour into prepared ramekins or muffin cups.
If using ramekins, bake for 30-35 minutes.
If using muffin tin, bake for 25-30 minutes.
What is your favorite spring food?
After a few days of sun, my taste buds are starting to realize that it's Spring. I have been loving rhubarb, fresh organic berries, kale and spinach.