Yesterday was a crazy, hectic day! I hate running errands alone and feel like I spend so much of my time getting ready to get things done that I never get anything done! So, I am trying to pack all of my errands into one afternoon trip per week. That way I save time getting Matthew and I ready to leave and save money on gas, because I can align all of my stops so that they are near one another.
So, yesterday we went to the bank to deposit my check and pick up "fun" money, library to pick up books for Matthew and I, dry cleaners to pick up Allan's work clothes, Home Depot to buy annuals and veggie plants for the yard and Super Target for groceries. We are running super low on several bulk items, so we will have to stop at the co-op tomorrow. But overall, I really liked having one afternoon dedicated to errands.
Needless to say, when we arrived home from running errands, I did not feel like making a complicated meal. I wanted something easy and nutritious, just like the recipe that I am going to share with you today.
To continue my series on quick, clean and delicious suppers I am breaking out a good-ol' standby – the quesadilla.
Who doesn't love a quesadilla? However, traditionally they are stuffed with heavy and unclean ingredients.
Most of the time, when we think of a quesadilla we think of Mexican food: chicken or ground beef + cheese + salsa… you get the picture. However, last week we were completely out of salsa and we have been trying to consume less meat (to save money and the environment). So, I threw together the following Tex Mex inspired quesadilla from items that we had on hand and it was a hit! Allan and Matthew gobbled them up and went back for seconds.
About a month ago I saw adzuki beans on a list of superfoods, so when I noticed them in the bulk section of the co-op I picked up a couple pounds of them. I then cooked them in the slow cooker on low and when they were cooked and cooled, I froze them into 2 cup portions. Then at the beginning of the week I simply thaw one 2 cup portion and use it in recipes and salads. It is the perfect jump start ingredient!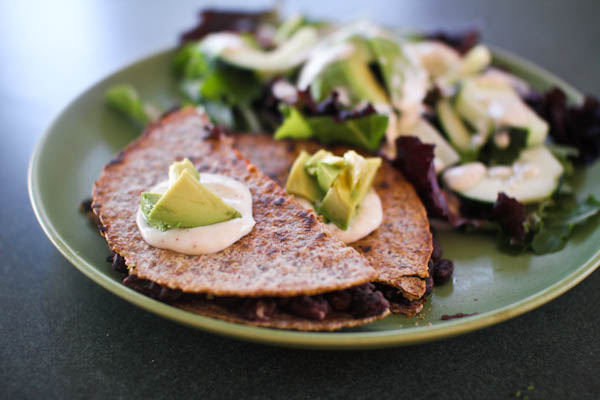 Tex Mex Quesadillas
1 1/2 cups adzuki or black beans
2 oz chevre, crumbled
2 Tbsp BBQ sauce
4 small sprouted grain tortillas, such as Ezekiel
1/4 c low fat greek or strained yogurt
1/4 tsp cumin
dash cayenne (optional)
a couple dashes green tobasco
1/2 avocado
In a small bowl combine yogurt, cumin, cayenne and green tobasco. Set aside.
Preheat a cast iron skillet to medium-high heat.
In a medium sized bowl combine beans, chevre and BBQ. Set aside.
Place one tortilla in the pan until it is warm. Remove and add another tortilla.
Scoop 1/4 of the bean mixture on the middle of the tortilla and spread into an even layer. Place warmed tortilla on top and heat through.
Remove quesadilla from pan and repeat process until you have 4 quesadillas.
Top with yogurt mixture and avocado. Service with a large southwest inspired salad. We used the leftover yogurt mixture as a dressing.
What is your go-to week night meal?
Ours favorite week night meals are frittatas of all shapes and colors. We simply love eggs!