Today was one of the first nice days that we have had yet this year. It is hot and steamy!
This week I cut back to 20 hours and will stay there until Memorial Day, when I have my final cut back to 10 hours per week. I am so excited to spend more time with the little muffin!
This morning Allan took Matthew to Grandma and Grandpa Peters' house by bike (and Burley), while I went to work.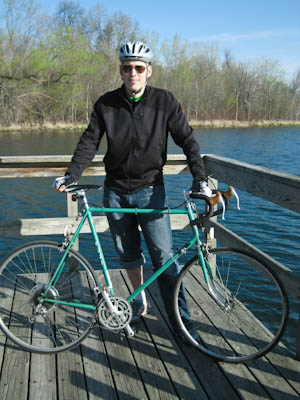 During my lunch hour I had to swing by the house to stage it for a preview. For those of you who are new to my blog, we are selling our house. In the last week showings and previews have picked up considerably. That coupled with the price reduction that will take effect this week, we are hopeful that the house will sell soon.
After work I biked to my in-laws' house to pick up Matthew. It was so hot and sticky that I was overheating by the time I arrived. On the way home, I biked into the wind, towing the Burley. Man was that difficult! I was drenched by the time we got home.
So, I grabbed out the Vita Mix and pulled together a quick smoothie.
This is my favorite smoothie – it is sweet, tangy and creamy. You will absolutely LOVE it!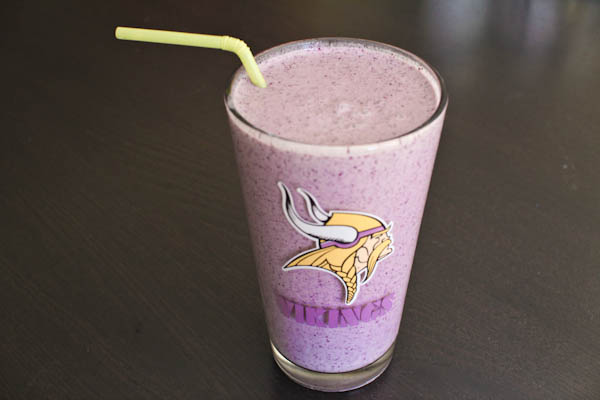 Purple Pride Smoothie
1/2 c cottage cheese (organic, 2%, no carbon dioxide added)
1/2 c milk (low fat dairy, soy, almond, diluted coconut)
1/2 banana, fresh or frozen
1/2 c blueberries, frozen
Place all ingredients in Vita Mix and blend. Pour into a large glass. ¡Salud!
What is your favorite outdoor past time?
As you know, biking is my absolute favorite thing to do outdoors! However, swimming comes in at a very close second.