This Sunday I was bitten by the baking bug.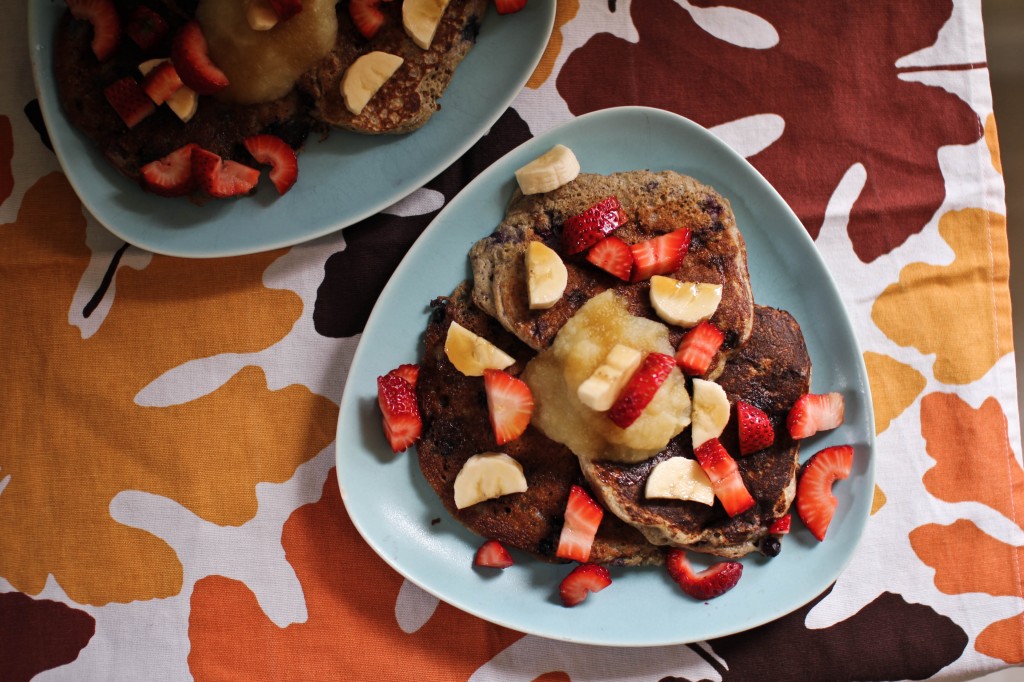 I must have dreamt about food, because I awoke with a gazzilion ideas for new recipes… blueberry zucchini tofu muffins, egg salad, chocolate strawberry breakfast bakes, blueberry buckwheat protein pancakes, the list goes on…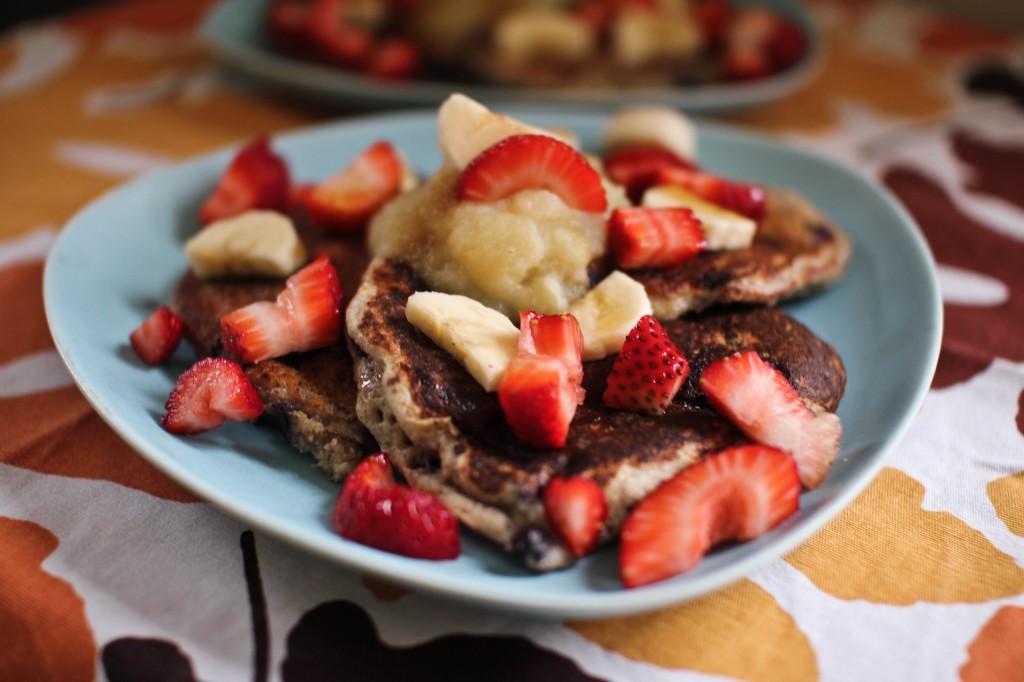 Enter new recipe #1: Blueberry Buckwheat Protein Pancakes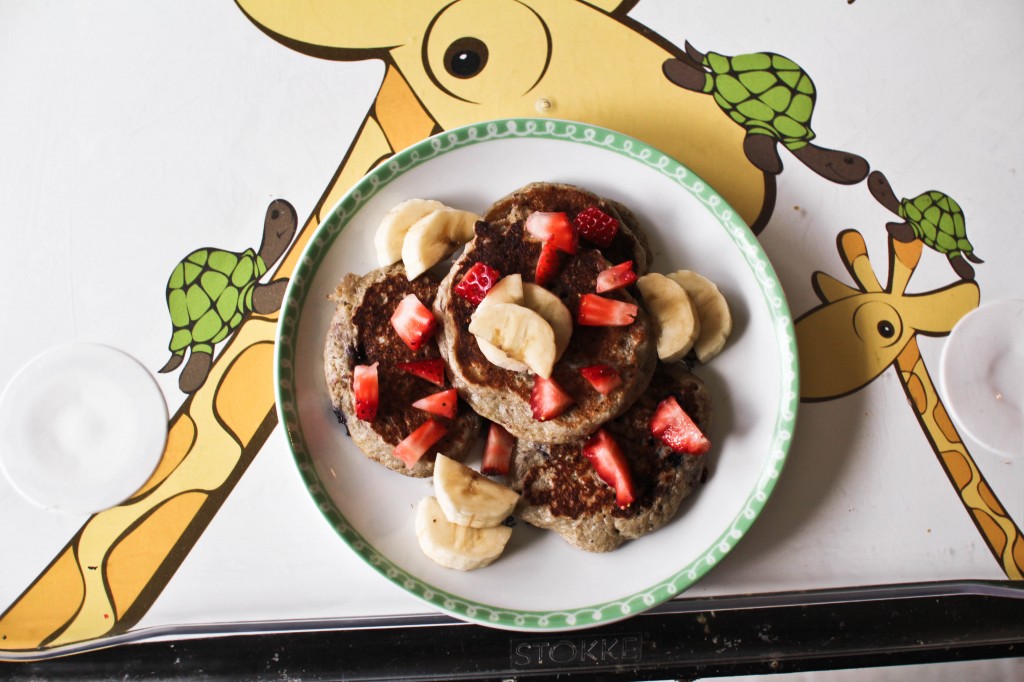 We were all pleasantly surprised that these pancakes were very light and fluffy, especially considering they are made with 100% whole grain (freshly ground in the Vita Mix), pack a protein punch and are low in fat.
Matthew adores pancakes


Almost as much as he adores bananas and strawberries.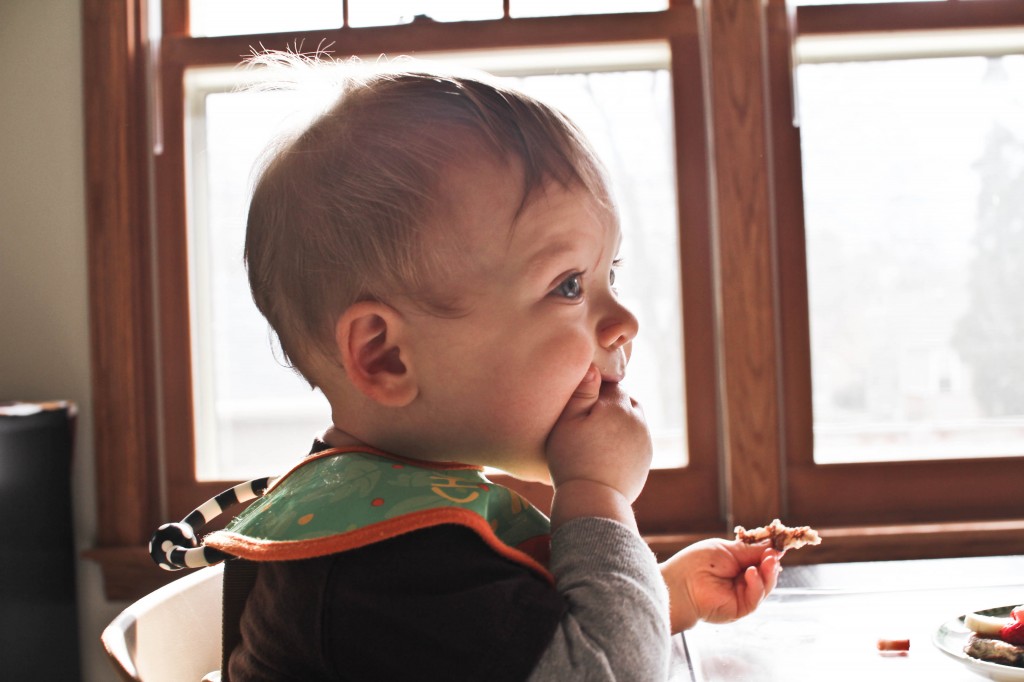 In other news, Allan and I decided that I will be staying home with Matthew full time. Over the next few weeks I will be reducing the number of hours that I work at my regular job as the Production Manager at LSP, a communications and advertising agency. By June 1st I will be working very part time (10 hours per week) from home. This Thursday will be Matthew's last day at daycare. We are so excited!
Now, back to that recipe…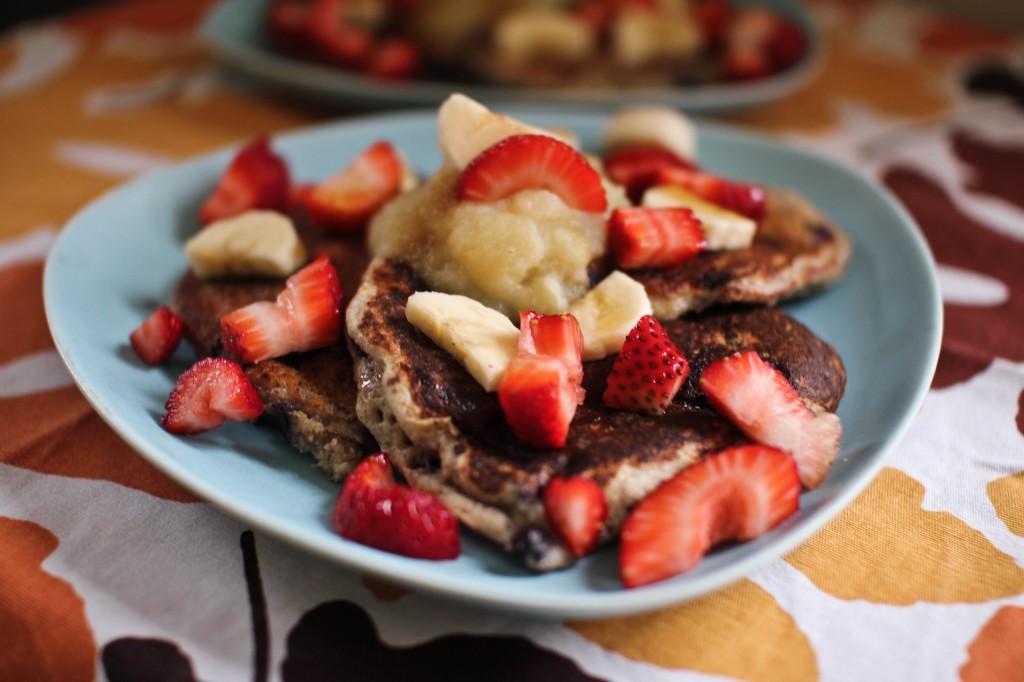 Blueberry Buckwheat Protein Pancakes
1 c buckwheat flour
1 c oat flour
2 tsp baking powder
1/2 tsp baking soda
1/2 tsp sea salt
1/2 tsp cinnamon
1 c low fat greek yogurt (or strained yogurt)
1 c milk (diluted coconut, almond, cow, soy – I used coconut milk)
4 Tb ground flax seed
1/4 tsp lemon zest
2 eggs, lightly beaten
1 tsp vanilla extract
1 1/2 c blueberries, frozen or fresh
Preheat cast iron skillet over medium heat.
In a medium sized bowl combine buckwheat flour, oat flour, baking powder, baking soda, sea salt and cinnamon. Make a well in the center of the dry ingredients and set aside.
In a separate bowl combine yogurt, milk, flax, lemon zest, eggs and vanilla.
Add wet ingredients to well in center of dry ingredients. Mix until just combined. Mixture should be lumpy. Gently fold in blueberries.
Place a little oil in your cast iron skillet. Spoon batter into skillet by 1/4 c spoonfuls. Let brown until small bubbles form on the surface of the pancake. Turn. Keep a wathcful eye, don't let the pancakes burn.
Keep cooked pancakes warm in a 200° oven on a preheated baking sheet until ready to serve.
Serve topped with applesauce, bananas, strawberries, blueberries, coconut oil, coconut butter, maple syrup, or whatever delicious ingredients you have! Enjoy!