Sunday is our family day.
We wake up early and attend church as a family. Spending the morning worshiping God with Grandma and Grandpa Malcolm is always a lot of fun.
Sunday is also the day that I make something fancy for dinner. Some weeks I make pork tenderloin with roasted veggies and apples, other weeks we enjoy grilled and glazed salmon with homemade pineapple chutney, then there are the days that I let a big ol' pot of something delicious simmer on the stovetop for several hours.
A lot of times that big ol' pot contains some form of delectable chili.
On Palm Sunday that happened to be the case. I let this pot of chili simmer on the stove for 2+ hours. By the time dinner rolled around, the chili had reduced, thickened and sweetened substantially.
Every time that I make chili the recipe changes… I simply throw whatever veggies I have in the fridge into the pot (celery, carrot, onion, anaheim pepper, green pepper, garlic, canned diced tomatoes), along with 4 cups of beans (adzuki and kidney), beef stock, 1/4 can beer to deglaze the pan, spices (chile powder, cumin, oregano, paprika, herbamare spicy, sea salt, pepper) and browned meat (grass-fed beef). I love to let it simmer for-evah! Then we add toppings (greek yogurt, avocado, grass-fed cheese, tobasco, Frank's, sriracha).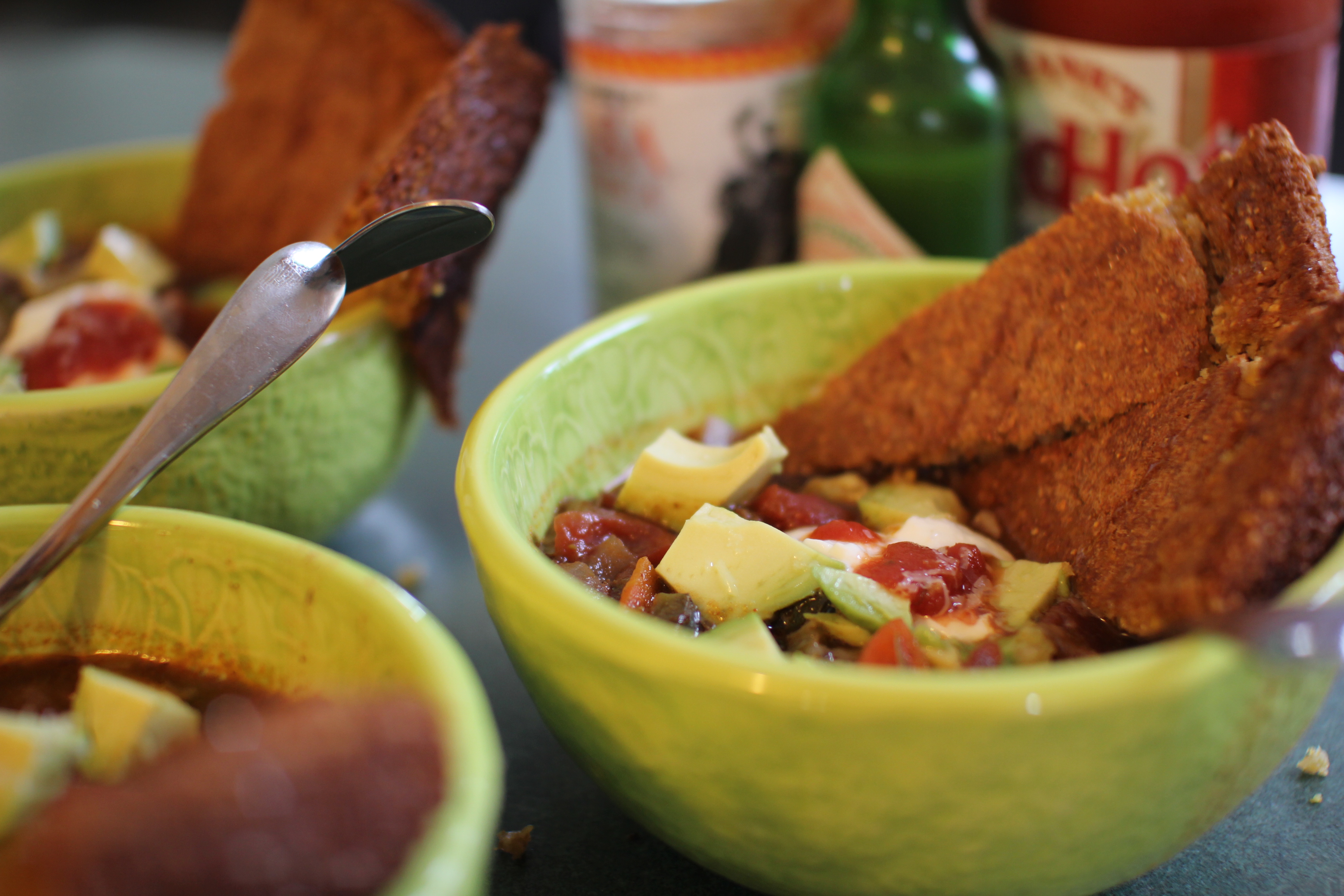 We always enjoy our chili with a big honkin' piece of cornbread. Matthew <3's cornbread. The following is an unsweetened version of this cornbread that our entire family loved.
Coconut Cornbread
1/4 cup coarsely ground cornmeal
1 1/4 cups corn flour
1/2 cup shredded dried coconut, unsweetened and unsulphured
1 tsp baking soda
2 tsp baking powder
1/2 tsp sea salt
1 3/4 cups diluted coconut milk, cow's milk or nondairy milk
1 egg
2 TBSP coconut oil
Pre-heat oven to 400℉
Add coconut oil to cast iron skillet and place in oven as it preheats.
Combine dry ingredients. Add egg and milk.
Remove skillet from oven. Swirl pan to coat bottom with coconut oil. Pour batter into skillet. Return pan to oven and bake 25-35 minutes or until brown.
Top with a drizzle of local raw honey and devour!
What are your plans for this fine Sunday?
We are hoping to take a quick spin around the neighborhood on our bikes and the Burley.