The first time that I saw Ashley's buckwheat bakes I knew that I needed to make one! Who doesn't want to eat a giant muffin for breakfast?
The next day I ground raw buckwheat groats into buckwheat flour and started contemplating which breakfast bake to make. I decided on a baked unsweetened BaNilla Bake with blueberries. This buckwheat bake was a little bland, but I was very impressed by the texture and ease of preparation. I knew that more experimenting was necessary. For my new readers, I gave up sugar and refined flour for Lent, so that is why the breakfast bakes that I created prior to Easter are unsweetened.
When planning the menu for Easter Brunch, I decided that I wanted to share my newfound love of breakfast bakes with my family. The week prior to Easter, I perfected three flavors to serve. The following are the varieties that I tried when perfecting my take on the breakfast bake. At the end you will find the base recipe that I used for my Easter Brunch breakfast bakes.
Contender #1: Unsweetened Chocolate Banana stuffed with coconut filling and topped with homemade coconut butter…
This bake was based on this recipe with a few minor changes. The coconut filling was inspired by this recipe, however I subbed coconut cream with dried coconut, because I did not have coconut flour. The dried coconut filing was good, but I knew that I could do better.
Contender #2 : Unsweetened French Toast Buckwheat Bake topped with raspberries and almond butter, based on this recipe.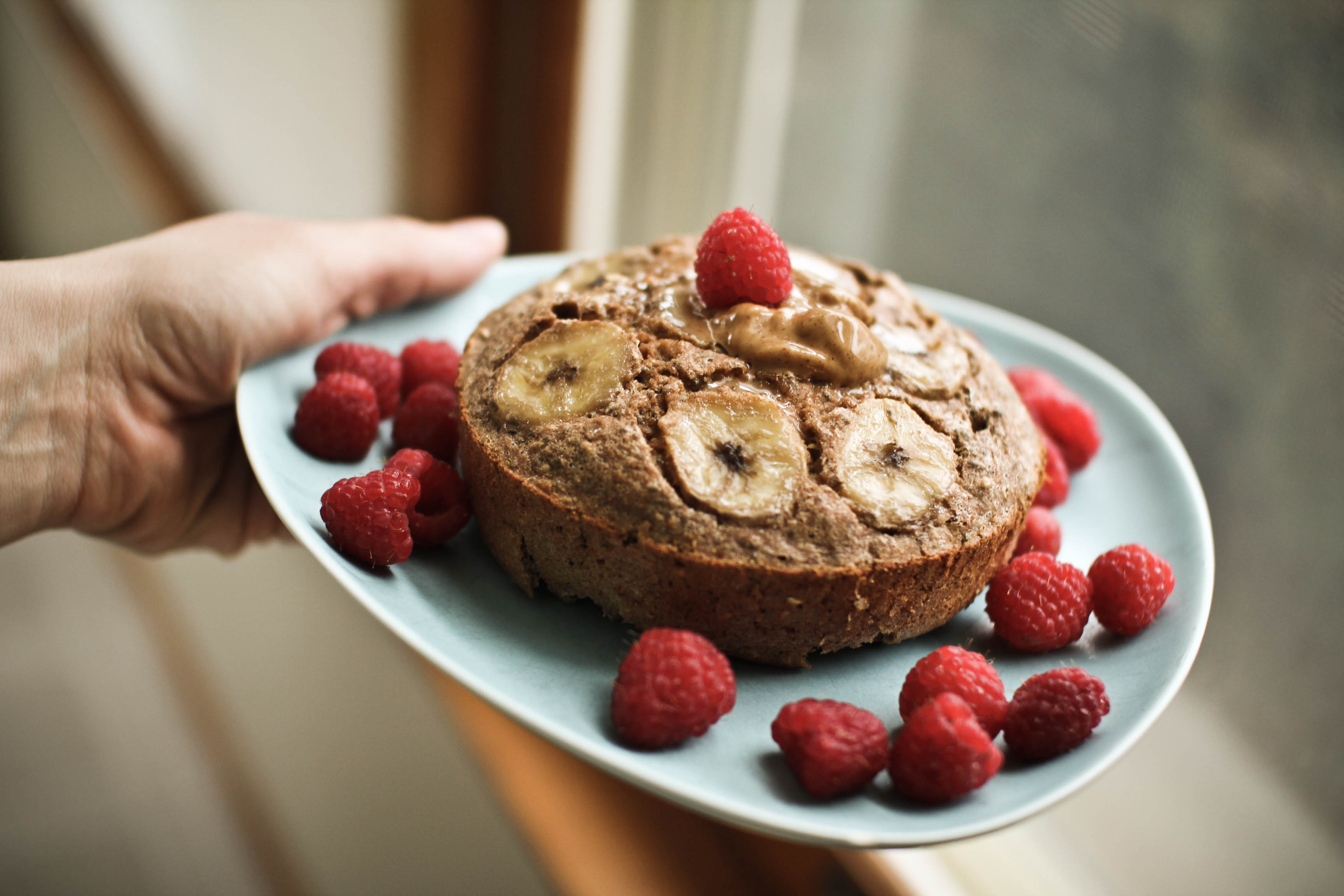 The French Toast bake was one of our favorites because we really liked the combination of cinnamon, maple and vanilla. However, Allan and I were not in love with the dense texture of the buckwheat bakes. Also, I had noticed a drop in my breastmilk production due to the elimination of oats from breakfast. So, I decided that I would try adding oats into the breakfast bakes.
The following is the breakfast bake that I used as the base for the flavors that I served at Easter Brunch.
Contender #3: Carob Banana Blueberry breakfast bake with coconut cream filling.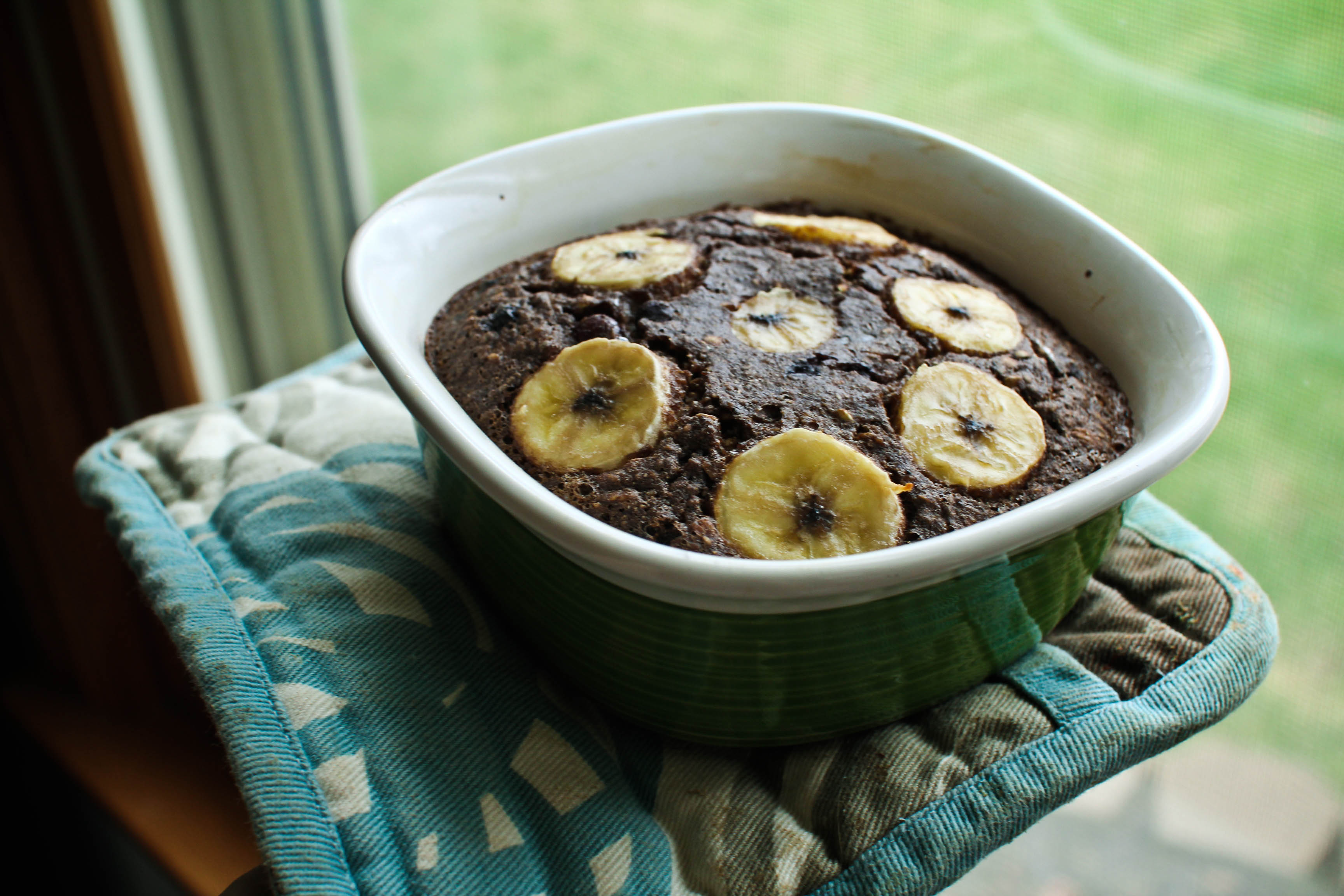 Allan and I agreed that the oat and buckwheat flour combination coupled with the increase in buckwheat groats made the breakfast bake nutrient dense, light, sweet and moist. We loved the crunchy-smooth texture!
Carob Banana Blueberry Surprise Breakfast Bake
Makes 2 breakfast bakes
1/4 c buckwheat flour (ground from raw buckwheat groats)
1/4 oat flour (ground from oats groats, steel cut oats or rolled oats)
4 Tb raw buckwheat groats
1/2 tsp baking powder
2 Tb carob powder
2 Tb chia seeds
2 Tb dried coconut, unsweetened and unsulphured
pinch sea salt
1/4 c unsweetened coconut milk, almond milk or cow's milk (not canned coconut milk)
2 eggs
1 banana, mashed
2 Tb maple syrup
1 Tb vanilla extract
1/2 sliced banana
2/3 c blueberries, frozen or fresh
2 Tb coconut flour
4 Tb coconut milk (not canned)
In a medium sized bowl combine buckwheat flour, oat flour, buckwheat groats, baking powder, carob powder, chia seeds, dried coconut and sea salt.
Whisk in coconut milk, eggs, mashed banana, maple syrup and vanilla extract.
Prepare the coconut cream. In a small bowl combine coconut flour and coconut milk and set aside.
Grease two 4-5″ wide baking dishes with coconut oil, butter or EVOO.
Pour 1/4 of the batter into each baking dish. Place 1/2 of the coconut cream into the center of the baking dish, on top of batter. Pour remaining 1/4 batter into each baking dish. Top with sliced bananas.
Place baking dishes into 375° oven for 30-35 minutes.
Top with coconut butter and blueberries.
Notes:
The coconut milk used in this recipe is diluted coconut milk, which can be found in the dairy section of the grocery store or can be made with this recipe, it is not coconut milk from a can. You can substitute almond milk or cow's milk for the coconut milk in this recipe.
This may seem like a lot of prep work to do in the morning; however, it can be simplified by combining the dry ingredients the night before. In the morning simply add the wet ingredients and make the coconut cream. This can all be done in the time it takes to preheat the oven!
This flavor combination is based on this recipe.
What is your current breakfast obsession?
Before I found breakfast bakes, we always had scrambled egg whites + 1 yolk a piece with a side of oatmeal and dried fruit. I am so happy that we switched it up!